2010-2011 JOHN SEXTON PHOTOGRAPH WORKSHOPS SCHEDULE ANNOUNCED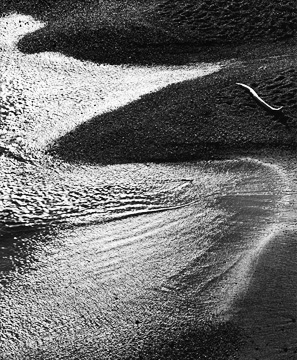 Surf and Driftwood
Point Lobos, California
©1978 John Sexton. All rights reserved.
Below you will find a sneak preview of our workshops. The real information about the workshops - including detailed workshop descriptions, staff biographies, as well as lectures and seminars I will be presenting - can be found at www.johnsexton.com.
I would also like to invite each of you to join my email newsletter list. This is the easiest and fastest way to learn about my workshops. I promise we will not bombard you with constant emails every few days. In fact, I generally send out four to six emails per year. We value your privacy and do not share your contact information with anyone. You can join the emailing list by sending an email to subscribe@johnsexton.com or calling 831/659-3130.
I am excited to be teaching two new workshops with my good friend Charles Cramer. Charlie is a gifted photographer and a superb instructor, and is a sensitive and skillful print maker in both black and white and color. Charlie's experience encompasses the traditional to the latest digital technologies. Charlie's expertise adds a new dimension to my workshop program.
It is a pleasure to continue to offer the always popular Expressive Black and White Print Workshop for the twenty-seventh consecutive year. By popular demand, I will again offer my Fine Tuning the Expressive Print Workshop for the twenty-fifth time.
If you have any questions about the workshops, please feel free to contact my assistant Laura Bayless at 831-659-3130, or email: laura@johnsexton.com. Her office hours are Monday through Thursday from 10:00 am to 5:30 pm, Pacific Time.
March 9 - 14, 2010
THE EXPRESSIVE BLACK AND WHITE PRINT WORKSHOP
Carmel Valley, California
27th consecutive year - 3 Identical sessions offered
---
March 22 - 27, 2010
THE LUMINOUS PRINT: A SYNTHESIS OF TRADITIONAL AND DIGITAL
Charles Cramer and John Sexton
Carmel Valley, California
New Workshop
---
October 10 - 15, 2010
MONO LAKE AND THE EASTERN SIERRA: EXPLORING AUTUMN LIGHT
Charles Cramer and John Sexton
Lee Vining, California
New Workshop
---
November 16 - 21, 2010
THE EXPRESSIVE BLACK AND WHITE PRINT WORKSHOP
Carmel Valley, California
27th consecutive year - 3 Identical sessions offered
---
March 1 - 6, 2011
FINE TUNING THE EXPRESSIVE PRINT WORKSHOP
Carmel Valley, California
Back by popular demand for the twenty-fifth offering
---
March 15 - 20, 2011
THE EXPRESSIVE BLACK AND WHITE PRINT WORKSHOP
Carmel Valley, California
28th consecutive year - 3 Identical sessions offered
---
Complete illustrate workshop brochure. Download now
Application form and procedures: Download now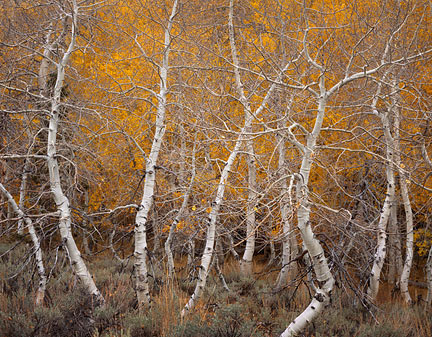 Aspen Dance, Autumn, June Lake, California
©2002 Charles Cramer. All rights reserved.

---
CENTER FOR PHOTOGRAPHIC ART FINE PRINT PROGRAM

I suspect a number of subscribers to this email newsletter may be aware of the Center for Photographic Art in Carmel, California. The photographic heritage of the Monterey Peninsula is legendary, and the Center carries on the rich tradition of photography in this area. Some of you may recall the Friends of Photography, which Ansel Adams and a number of other photographers founded in 1967. The Center for Photographic Art occupies the same gallery space today, as the Friends of Photography did at the Sunset Center in Carmel. The Friends of Photography left the Monterey Peninsula in the 1980s and unfortunately no longer exists.
The Center for Photographic Art was established in 1992, and is supported by membership, grants, and gifts. The CPA has an ongoing and vital program of exhibitions, workshops, and publications, and endeavors to promote a better understanding and awareness of the many different approaches to the photographic medium.
As is the case with many not-for-profit organizations, the difficult economic situation of the past couple of years has been challenging for the CPA. I'm pleased to report that the Center has weathered the storm and is back with a new intensity and vitality. Nancy Budd was recently appointed as the Center's new Executive Director, and there are new, enthusiastic members on the Board of Trustees.
Though based in Carmel, the Center is an organization that supports photography everywhere. Upcoming exhibitions include work by Martha Casanave, Wynn Bullock, and yours truly. As I mentioned in a previous email newsletter, I'm honored to have my traveling exhibition, John Sexton: A Photographer's Journey, on display at the Center's gallery from July 3 through August 27. There will be a lecture and book signing, followed by an opening reception on Saturday afternoon, July 10.
Readers of this newsletter might be particularly interested in the Center for Photographic Art's Fine Print Program. It's a great way to acquire signed fine art photographic prints while helping to support the Center's programs and activities. The Center is currently offering a selection of photographs from the following well known and respected photographers: Martha Casanave, Brigitte Carnochan, William Giles, Jane Olin, Ted Orland, Saelon Renkes, Ryuijie, and Kim Weston. All of the prints are $220, including tax and shipping. To find out more about the Center's Fine Print Program, visit: www.photography.org/cfpp.php
If you would like more information about the Center's many programs, call 831/625-5181 Tuesday through Sunday, between 1:00 and 5:00 pm PST or email: info@photography.org, or check out their CPA web site: www.photography.org
---
TECH TIP: WINTER PHOTOGRAPHY FOLLOW UP
In my last email newsletter (November 2009), I made mention of how valuable the chemical heat packs were for cold weather photography. I received a lot of good feedback from others who have found them to be beneficial for keeping their hands and toes comfortable while making photographs.
Our good friend and workshop supporter, Dan Madden, who lives in Colorado and does a lot of winter sports photography, suggested another use for the adhesive-backed toe warmers. He sticks them on the grip side of his camera and on the bottom where the battery compartment is located. I haven't tried it myself (since I don't have a camera with a battery pack!), but it sounds like a great tip.
A few weeks ago I found some interesting lightweight, simple, and inexpensive fleece fingerless gloves. They are called Wristies. One of the problems I've had with fingerless gloves is that the cut off fingers tend to be uncomfortable for me. These gloves are different. They don't have any cut off fingers. They just end at your large knuckle. They have a slit for your thumb. One unique attribute is they also have a pouch for a chemical warmer. Anne and I each purchased a pair, and they seem quite comfy, but we haven't had a chance to use them in the field yet. Here's a link to the Wristies.

---
SOME THOUGHTS ON PHOTOGRAPHY... AND OTHER TOPICS
"There is a vast difference between taking a picture and making a photograph."
– Robert Heinecken