The late great photographer W. Eugene Smith allegedly asked the following question of a young photographer with a brand spanking new camera, "I see you've got a new camera... got any new ideas?"
With the rapidly changing technologies in digital photographic imaging, it seems as if it's even easier to get caught up in the search for the "latest and greatest" photographic equipment, materials, and techniques than with the "old-fashioned" analog approach to photography. Since photography's inception photographers seem to have always been attracted to photographic hardware used for making images. Why not, new stuff is always fun. That being said, much of the gear in my camera pack is more than twenty-five years old and still going strong.
As a group, photographers - both traditional and digital - should ponder Smith's incisive question. We (myself included!) should be sure we are spending time refining what we want to say with our photographs, and guarding against becoming obsessed with the technical nuts and bolts of the medium. There's no excuse for sloppy, inadequate, or inappropriate technique. That can deal a fatal blow to the best idea. However, for a photograph to be something that is memorable and inspiring, it needs to convey something about what was in front of the camera and, perhaps more importantly, about what was behind the camera... the photographer.
I'm excited in this installment of my eNewsletter to announce the new offering of workshops for 2011 and early 2012. Along with my old standbys The Expressive Black and White Print and Fine Tuning the Expressive Print workshops, by popular demand Charlie Cramer and I will be repeating the workshops we first offered together last year - both of which had waiting lists.
We're even offering two identical sessions of Mono Lake and the Eastern Sierra: Exploring Autumn Light, based upon the number of people we had to turn away last year.
Anne and I wish you the best for the coming year. We hope it will be filled with great light and great images!
All the best,
John
---
ORIGINAL PRINTS AVAILABLE AT A SPECIAL DISCOUNT PRICE ONLINE
PLUS SPECIAL DISCOUNT COUPON
From time to time, I make special print offerings available at reduced prices. For the first time the Special Collector's Edition print will be one of my best known and sought after images Rock Shoreline, Dusk, Pemaquid Point, Maine. This image, along with a few other very popular images, is priced higher than most of my other 11x14" prints - which retail for $1,000. The current gallery retail price for an 11x14" print of Rock Shoreline, Dusk is $1,500. The print, shown below, is now available for order online. This print is being offered for a limited time at the very special price of $900, a savings of $600 off of the retail price. To learn more about this print, or to order, follow this link:
http://ventanaeditions.stores.yahoo.net/redeliedboan.html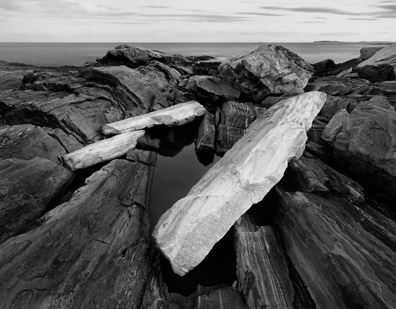 Rock Shoreline, Dusk
Pemaquid Point, Maine
©1987 John Sexton. All rights reserved.
I find the coast of Maine to be a place of spectacular beauty. My first visit to Maine was in 1981 when I taught the first of thirteen workshops I conducted for the Maine Photographic Workshops. I asked some of the locals about photographic locations, and a number of them recommended a place called Pemaquid Point. It was described to me as the "Point Lobos of Maine". From that description I anticipated it would be a place of great beauty with dramatic coastal rocks, and would be nothing like Point Lobos! I was right on both counts. Pemaquid Point became my favorite field trip location for my Maine workshops.
In 1987, the day after my workshop concluded, I headed down to Pemaquid Point to relax and see if I could find some inspiration for photography. The rocks in this image attracted my attention on my first visit, but on this particular afternoon they seemed even more luminous than in the past. After the sun set this luminosity intensified. It was as if the rocks were glowing from within.
I set up my 4x5" Linhof Technika camera with the 120mm wide-angle Nikkor lens. To achieve an arrangement that I thought was pleasing, I had to set up in a recess ofthe undulating rocks. I placedthe camera as high as I possibly could and still see the ground glass to ensure there was a small amount of breathing room between the rocks and the horizon. As I often do, when trying to exaggerate the near/far relationships of objects and give a maximum illusion of depth in the image, I used the back tilt on my view camera - a technique I learned from the late photographer Morley Baer. I added a #12 yellow filter to get a bit of tone in the dusk sky. The exposure was two minutes at f/45 on Kodak T-Max 400 film.
I enjoy images where the sense of scale is not obvious. I paced off the largest of the rocks in the foreground on one visit and it was over sixteen feet long. I actually have a workshop class portrait with the entire group, including myself and my workshop assistant, sitting on that rock. In the fall of 1991 there were a series of significant storms that caused considerable damage along the coast of Maine. The light colored rocks you see in the image were tossed about and some were broken in what must have been a dramatic climatic event. I was shocked when I returned the next summer to see that these rocks I knew so well had been changed forever. I'm glad I made this photograph when I did. I always try and remind workshop participants about a lesson I learned from Ruth Bernhard. If you see something that looks as if it's a good photograph that is the time to make the image. As Ruth used to say, "Today is the day!"
Each silver gelatin, selenium toned print is personally printed by me (as are all my prints), processed to current archival standards, signed, mounted, and matted to 16x20" on 100 percent rag museum board. Rock Shoreline, Dusk is approximately 10-1/4 x 13-1/8". This image was reproduced as Plate 26 in my collectible first book Quiet Light.
The special discounted price for this print is $900, a $600 savings from the normal retail price of $1,500. Normally there is a long waiting period for my original prints. This is a rare opportunity to obtain a print with prompt delivery, and at a special discounted price. This limited time special print offer will be shipped within four weeks from date of order.
All prints are carefully prepared and packaged in specially designed protective shipping boxes, and shipped fully insured via UPS ground. If you have any questions about my prints, please feel free to contact my assistant Laura Bayless at 831-659-3130, or email: laura@johnsexton.com. Her office hours are Monday through Thursday from 10:00 am to 5:30 pm, Pacific Time.
---
2011-2012 JOHN SEXTON PHOTOGRAPH WORKSHOPS SCHEDULE ANNOUNCED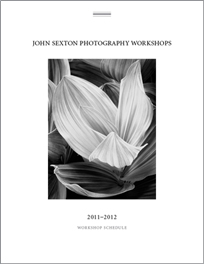 Below you will find a sneak preview of our workshops. The real information about the workshops - including detailed workshop descriptions, staff biographies, as well as lectures and seminars I will be presenting - can be found at www.johnsexton.com.
I would also like to invite each of you to join my email newsletter list. This is the easiest and fastest way to learn about my workshops. I promise we will not bombard you with constant emails every few days. In fact, I generally send out four to six emails per year. We value your privacy and do not share your contact information with anyone. You can join the emailing list by sending an email to subscribe@johnsexton.com or calling 831/659-3130.
You will see that I am conducting my always-popular Expressive Black and White Print and Fine Tuning the Expressive Print workshops on this year's program. In addition, Charlie Cramer and I are repeating our The Luminous Print: A Synthesis of Traditional and Digital workshop. We had a great group and a great time last year. By popular demand we are offering two identical sessions of the Mono Lake and the Eastern Sierra: Exploring Autumn Light workshop in October. Based upon last year's experience, we anticipate the three workshops that Charlie and I will be conducting together will all be oversubscribed and will fill almost immediately.
You can check out the dates and fees for my 2011 and early 2012 workshops here:
http://johnsexton.com/schedule.html
You can download a PDF brochure, which includes detailed information about the workshops, application procedures and policies information, as well as an application form. This year, for the first time, the application form can be completed on your computer. You will need Adobe Acrobat to do so. Of course, you can always print out the application and fill it in by hand. http://johnsexton.com/images/JSPW11BRO.pdf
If you have any questions about the workshops, please feel free to contact my assistant Laura Bayless at 831-659-3130, or email: laura@johnsexton.com. Her office hours are Monday through Thursday from 10:00 am to 5:30 pm, Pacific Time.
March 15 - 20, 2011
FINE TUNING THE EXPRESSIVE PRINT WORKSHOP
Carmel Valley, California
26th offering of this advanced workshop
April 11 - 16, 2011
THE LUMINOUS PRINT: A SYNTHESIS OF TRADITIONAL AND DIGITAL
Charles Cramer and John Sexton
Carmel Valley, California
Back by popular demand
October 2 - 7, 2011
MONO LAKE AND THE EASTERN SIERRA: EXPLORING AUTUMN LIGHT
Charles Cramer and John Sexton
Lee Vining, California
Two identical sessions offered
October 9 - 14, 2011
MONO LAKE AND THE EASTERN SIERRA: EXPLORING AUTUMN LIGHT
Charles Cramer and John Sexton
Lee Vining, California
Two identical sessions offered
November 15 - 20, 2011
THE EXPRESSIVE BLACK AND WHITE PRINT WORKSHOP
Carmel Valley, California
28th consecutive year - two identical sessions offered
March 6 - 11, 2012
THE EXPRESSIVE BLACK AND WHITE PRINT WORKSHOP
Carmel Valley, California
29th consecutive year - two identical sessions offered
---
MARK CITRET AND RAY McSAVANEY EXHIBIT AT ANSEL ADAMS GALLERY
GALLERY CLOSED JANUARY 24 THROUGH FEBRUARY 10
My good friends Ray McSavaney–with whom I've co-instructed many workshops over the years–and Mark Citret–another long-time friend–currently have a two-person exhibition at The Ansel Adams Galley in Yosemite The exhibition runs through March 6. A reception for the artists will be held on February 16. If you're heading to Yosemite for some winter photography, be sure to stop by the Ansel Adams Gallery to see their show.
Note: TheAnsel Adams Gallery will be closed from January 24, 2011 through February 10, 2011 for renovations.
---
YOSEMITE FRAZIL ICE VIDEO - CHECK THIS OUT
In the last couple of weeks a few friends emailed me links to an interesting online video I first saw sometime ago, but had forgotten about. This fascinating and informative video is about Frazil Ice in Yosemite. It's an unusual phenomenon, and I think you'll find the short video fascinating to watch.
Interestingly, many years ago, when I was doing a workshop in Yosemite in April, I had the opportunity to see the frazil ice phenomenon in person. I had no idea what it was called, but I will never forget seeing a combination of water and ice transformed into something unique.
Take a look at the video here:
http://www.youtube.com/watch?v=9V9p4mFEYXc
---
TECH TIP: DRYING WET CAMERA GEAR WITH RICE–A UNIQUE RECIPE
Cameras, lenses, light meters, and other sensitive optical and electronic equipment don't get along too well with water. Teaching workshops I've seen participants' equipment submerged in oceans, rivers, streams, and mud. Some of this equipment was damaged beyond repair, and miraculously some was working soon thereafter.
One particularly embarrassing workshop experience was when I fell into a pool in Slickhorn Gulch near the San Juan River with my camera backpack on. The pool was more than twelve feet deep, and with a forty-pound pack I was on the bottom instantly. I had some difficulty getting out of the pool, but fortunately a couple of workshop participants came to my aid. My concern was getting the pack out of the water, not me!
I had purchased the camera pack only a few weeks earlier, and I suspect the brand new waterproof coatings on the nylon exterior were what saved the gear. A number of things were wet (I poured about a cup of water out of the bellows of my Linhof Technika 4x5 camera, but after laying things out on a large boulder in the dry desert air for a few hours I was "good to go."
Recently I heard a fascinating story from our good friend, Keith Walklett. Keith is a fine photographer and workshop instructor. Some eNews subscribers have likely taken workshops from Keith and know his photographs, or some of you may use his unique BlackJacket™ focusing cloth with sleeves that he designed and manufactures. If you want more information about Keith, and his photography, check out his web site.
Keith was telling us how he had successfully revived his water-damaged iPhone through the use of something as simple as rice. When Keith's iPhone was submerged in water he did a number of things just right. First of all he immediately turned the device off, placed it in Ziploc baggie with a cotton athletic sock filled with rice and sealed with a twist tie or tie wrap. Keith prefers organic Basmati rice. He says there's no advantage to organic versus non-organic in performance, but prefers it if he decides to eat the rice later!!! Keith left his iPhone in the bag with the rice-filled sock for three days, and when he turned it on again it worked perfectly.
If Keith is preparing for an outing that might be damp, he brings a package of inexpensive cotton athletic socks, along with his bag of rice. He fills the socks with the rice, ties the end offwith twist-locks, and puts them in his camera bag and repair kit. When moving from cold and damp environment into warmer temps, Keith often places each lens in its own Ziploc baggie with a rice-filled sock until the temperatures equalize to minimize the chance of the optics fogging.
I've read online that people have had similar successes with kitty litter. I haven't tried myself, but intuitively I'm a bit afraid of the dusty residue and "deodorizing" chemicals that might be contained in kitty litter. Silica gel is a great desiccant for keeping things dry, but I like the idea of "burying" the gear in the rice. Rice seems to work great, is easily available, and inexpensive. And, as Keith says, "After you've dried out your equipment you can enjoy it for dinner." We now keep a bag of rice in the van at all times, and an extra bag in the kitchen... just in case!
---
SOME THOUGHTS ON PHOTOGRAPHY... AND OTHER TOPICS
"What use is having a great depth of field,
if there is not an adequate depth of feeling?"
– W. Eugene Smith