ORIGINAL PRINT AVAILABLE AT A SPECIAL DISCOUNT PRICE ONLINE
From time to time, I make special print offerings available at reduced prices. My new Special Collector's Edition offering of Pebble Beach at Dusk shown below is now available for order online. This print is being offered for a limited time at the very special price of $700. To learn more about this print, or to order, follow this link:
http://ventanaeditions.stores.yahoo.net/redeliedboan.html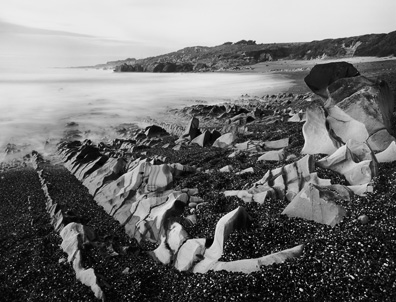 Pebble Beach at Dusk
Near Pescadero, California
©1988 John Sexton. All rights reserved.
I made the image, Pebble Beach at Dusk, about 15 minutes after sunset at the end of a brisk winter day. This small interesting beach, with some of the most unusual rock forms I've ever encountered, is not to be confused with the better known Pebble Beach on the Monterey Peninsula with all of the famous golf courses and luxurious homes. Rather this beach is located about fifteen miles south of Half Moon Bay, and is only a few hundred yards long. I first learned of this location from Brett Weston and Wynn Bullock in 1974. Both of them made a number of exciting images at this unique meeting of land and sea.
As many of you know, I enjoy working in the soft delicate light that occurs before sunrise and also after sunset. I included this image as Plate 42 in my first book Quiet Light. When I began work on that book I realized I would be spending a great deal of time in the darkroom working with existing negatives. I gave myself the assignment to photograph once a week making new negatives. My assistant at the time, Mick Briscoe, and I went to Pebble Beach every Wednesday from November 1987 through March 1988. If I had to be out of town and couldn't make it one week, then we went twice the next week. It was such an exciting project that I continued it the following winter. I particularly enjoy winter when the sun is further south, the tides are more extreme, and crowds are non-existent.
I haven't been photographing at Pebble Beach for about a year and a half now. It's time to head back soon. I'm not sure how many times I've photographed there, but I know I am not done yet. Every time I visit this special beach I see something new and different. Visiting the same location over and over not only allows you to see how the place changes, but also how you change.
Immediately after sunset the rocks in this photograph – which have an almost skeletal quality – attracted my attention, but something was missing. However, after about fifteen minutes had passed the rocks suddenly became quite luminous, and I set up to make the photograph. Because of the low light level the exposure required was 6 minutes at f/32 with a #12 yellow filter with my 90mm wide angle lens on my 4x5 Linhof camera. Sweeping the sky with my spotmeter, I could see that the left side of the sky was much brighter than the right, because of the wide field of view with the 90mm lens. To help even out the sky density in the negative I used an interesting and unusual technique that I have described in the Tech Tip section below.
This silver gelatin, selenium toned print is approximately 10-3/8 x 13-1/4", personally printed by me (as are all my prints), processed to current archival standards, signed, mounted, and matted to 16x20" on 100 percent rag museum board.
The special discounted price is $700, and is available for a limited period of time. Prints in this size retail in galleries for $1,000, so the savings of $300 is significant. Normally there is a long waiting period for my original prints. This is a rare opportunity to obtain a print with prompt delivery, and at a special discounted price.
Prints will be shipped within four weeks from the date of order.
All prints are carefully prepared and packaged in specially designed protective shipping boxes, and shipped fully insured via UPS ground. If you have any questions about the print, please feel free to contact my assistant Laura Bayless at 831-659-3130, or email: laura@johnsexton.com. Her office hours are Monday through Thursday from 10:00 am to 5:30 pm, Pacific Time.
---
ANSEL ADAMS: A PERSONAL RECOLLECTION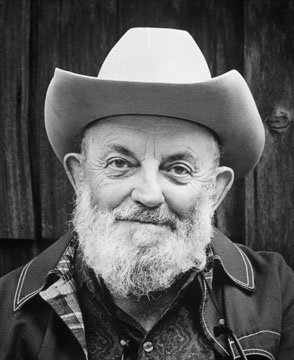 Ansel Adams
©1975 John Sexton. All rights reserved.
This coming Saturday, February 20, 2010, marks the 108th anniversary of Ansel Adams' birth. I feel very fortunate to have studied with and worked for Ansel. I've included below a personal recollection about how important Ansel was in my photography and in my life. I hope you will find it of interest.
I realized the creative possibilities within photography when I saw my first Ansel Adams original print. The seductive beauty of Ansel's luminous and dramatic images made me catch my breath and brought tears to my eyes, responses to photography I had never experienced previously. That was in 1973 when I was college photography major. A few months later, I attended Ansel's annual photography workshop in Yosemite. I found the man, like his photographs, was bigger than life.
I never imagined that a few years later I would be working as Ansel's Photographic and Technical Assistant. During that time, I found that this charismatic character was a dedicated, ethical, honest, and hard working person. He strove for perfection in his photography, and tolerated excellence. Ansel seamlessly combined his passion for the preservation of the environment with his passion for photography. He used his photographic skills to convey his personal excitement for the natural environment, as well as the irreplaceable value of the wilderness experience. Ansel's photographs came from the heart, and his mastery of the craft of photography came from a keen mind, and the two together created compelling images.
In 1979 I was assisting Ansel while he was making the official portrait of President Jimmy Carter. Ansel, along with his business manager, William Turnage, used the fifty-five minute photography session as an opportunity to present information to the President about the importance of preserving the Alaskan wilderness. It was no coincidence that Ansel presented the President and First Lady with a beautiful print of Mount McKinley and Wonder Lake, Alaska as a token of friendship that day. It was not long thereafter that President Carter signed legislation helping to protect the Alaskan wilderness. Ansel realized the power of photography to convey emotion, and I never saw Ansel more emotional about anything than protecting the planet.
What I respected most about Ansel was his dedication to quality in everything he did, along with his hard work. Ansel firmly believed that things done well would accomplish their goal.
At a lecture by noted photographer Wynn Bullock that I attended in 1974, Bullock said, "Many people have attempted to photograph in the shadow of Ansel Adams, but that is impossible for the man radiates light." I don't believe that Ansel radiated light more than any individual that has walked this planet. It is safe to say however that the images, and the effect that Ansel's photographs have produced, form a luminous legacy.
I feel fortunate to have had Ansel as my inspiration, my mentor, my friend, and my hero.
---
RAY McSAVANEY: ARTICLE AND EXHIBITION
As many eNews subscribers are aware, Ray McSavaney and I have been good friends for many years. We met in 1974 when we were randomly assigned as roommates at an Ansel Adams Gallery Easter workshop. It turned out we lived close to one another, and we quickly became close friends. We've taught more than fifty workshops together over the years. I have the highest regard for Ray as a photographer, and as a person. Ray was kind enough to write the Afterword for my most recent book Recollections.
The January 2010 issue of Rangefinder magazine included an interesting article about Ray and his photography. Fortunately they have provided it as a PDF download at this link. I would encourage you to read the text and enjoy Ray's images in the article.
For those of you who live in, or will be visiting Southern California, Ray has a large selection of photographs on display at Freestyle Photographic's Creative Center for Photography Gallery. The exhibition runs from January 21 - March 29, 2010, and is titled An American Retrospective of Flowers, Landscapes, and Bridges. Read more about the exhibition here.
If you have the opportunity to see the exhibition, I'm sure you will find it to be an inspiring experience.

---
KODAK DISCONTINUES TRI-X PROFESSIONAL FILM IN 120 and 220 SIZES
On February 5 Kodak announced it is discontinuing Kodak Professional Tri-X film in both 120 and 220 roll film sizes. This is the EI 320 Professional Tri-X film, which has an emulsion almost identical to the Professional Tri-X 120 film. Kodak will continue to offer EI 400 Tri-X Pan film in 120 size (they have not offered EI 400 Tri-X Pan film in 220 size for many years).
It is always sad to see any traditional photographic products discontinued. Kodak states that the sales of this particular emulsion in these two roll film sizes has dropped to levels where it is no longer economically feasible to offer these products for sale. You can read the entire Kodak press release here.
I've received a number of questions from former workshop participants, as well as eNews subscribers, about the keeping characteristics of Kodak Tri-X film beyond its expiration date.
Naturally it is always best to use any film before the manufacturer's stated expiration date. It's also a good idea to store film in cool stable temperature conditions. Around 1980 Kodak discontinued this same emulsion in film pack size. Ansel used a lot of 4x5" film pack late in his life. He bought a large supply of the film and froze it, and he generously gave me a considerable amount for my own use. It worked successfully for more than ten years beyond its expiration date! As time passed I would defrost some packs and test the film before taking it on an important trip. With the advent of Readyload (unfortunately now also discontinued), I no longer used the Tri-X film pack. I actually still have a few packs in the freezer. I just can't bear to get rid of them. Who knows, they might still be good!
Check my December 2005 newsletter that has some tips on extending the life of photographic papers with cold storage. The same principles and techniques in that article will also work well with film.
Those of you that love traditional silver halide photography, like myself, remember to continue to purchase products and use the emulsions that you like the best. That's the only way any manufacturer will continue to offer them for sale.
---
VIEWING THE SPACE SHUTTLE AND INTERNATIONAL SPACE STATION
As I suspect you are aware, NASA's Space Shuttle program has entered its final year of operation. The orbiter Endeavour is currently docked with the International Space Station and the two are circling the globe every 90 minutes at over 17,000 miles per hour. You may be aware that I did a self-assigned photographic project on the Space Shuttle as part of my book Places of Power. During the seven years I photographed the Space Shuttle I developed a keen interest in the Space Transport System and the space program in general.
I'm not sure how many of you have had the opportunity to see the Space Shuttle or the ISS in the night sky, but I wanted to make you aware of this unique and fascinating opportunity. When the Shuttle is docked with the Space Station, it is very bright if it passes over your area shortly after dusk or before dawn. However, my favorite time is to watch is just prior to docking or just after the two spacecraft have separated, when you will see two distinctly different points of light as the sun reflects off of the orbiter and the station. Here is a link to NASA's web page that will tell you if there will be good viewing opportunities in your area.
This NASA web page provides additional tips for viewing the Space Shuttle and the International Space Station.
Mission STS-130 is currently scheduled to land on Sunday, February 21. Remember there are only four more missions after Endeavour lands on the 21st. Then the Space Shuttle program will be completed. I would encourage you to take a look at the link above to see if there's a good viewing opportunity of the Space Shuttle and the International Space Station. This link will give you the time and location in the sky where you will need to look for the two objects as they traverse overhead. If you do see the Shuttle and Space Station, remember that there are eleven human beings onboard some 220 miles above you, traveling at approximately twenty-two times the speed of sound.
Here is another link to check to see if the Space Shuttle will be crossing your part of the world as it comes in for its landing this coming Sunday. The landing times are volatile due to weather and other conditions, so if you are interested you might want to keep up to date with this web page.
If you'd like to see some of my Space Shuttle images, please check out the Kodak and Photo District News Legends Online web site. It has a number of Space Shuttle images, as well as images of ancient Anasazi ruins, Power Plants, and Hoover Dam. There are even some video interviews with yours truly. I hope you enjoy the photographs, and have a good time viewing the Shuttle and the ISS in the pre-dawn and post dusk sky.
---
RON ROSENSTOCK AND PAUL CAPONIGRO IRELAND PHOTOGRAPHIC TOUR
I wanted to let readers know of an exciting opportunity for those interested in photographing Western Ireland. Our friend Ron Rosenstock will be joined by renowned photographer Paul Caponigro on one of Ron's photographic tours of Ireland, May 31 through June 10 of this year. Anne attended one of Ron's Ireland tours in 1991, and found it to be a most interesting experience. I had the great pleasure of studying at a couple of workshops with Paul in 1974, and we've been friends ever since.
This is an excellent opportunity to meet and get to know one of photography's living legends – Paul Caponigro. You will travel with Ron and Paul to some of Ron's favorite hidden gems near his home in County Mayo. Staying at Hillcrest House provides a wonderful setting for photography tours, with relaxed breakfast and dinners included. In the evening you will have conversations with Ron, Paul, and other like-minded photographers regarding photography, personal vision, and growth.
In all likelihood this offering will not be repeated. For detailed information, including pricing and specific itinerary information, about this once in a lifetime opportunity check out the Strabo Photo Tour web site.
It should be a great opportunity to immerse oneself in photography, experience the beauty of Ireland, and likely come home with some good photographs.
---
TECH TIP: DARKENING SKIES - A DIFFERENT APPROACH
The technique described below is useful with all camera formats, and works equally well with either film or digital capture.
Starting in the late 1970s I was honored to be a part of the Polaroid Collection. My good friend, Ray McSavaney, was a part of the Polaroid Collection program at the same time (see information about Ray in this newsletter above). I found working with the Polaroid Land instant materials to be a great education that was most helpful for me to understand light, which in my opinion is an essential element of every good photograph.
Ray and I spent a lot of time teaching and photographing together in the field. Since we were both focusing on making the best possible Polaroid images – which did not allow further interpretation or enhancement in the darkroom – we began to experiment with "burning and dodging" in front of the camera lens. Using black pieces of cardboard (remember the Polaroid film did not have a removable dark slide) we would cover portions of the lens during a long exposure to darken the areas covered. The opaque material is held close to the lens and moved slightly during the exposure to blend the exposure difference. The instant feedback of the Polaroid material verified whether the technique applied produced a desirable result. Shorter exposures could be modified by dividing the exposures into segments. For example, it would be very difficult to block the lens for a 1/2 of one-second exposure. However, using two 1/2-second exposures and covering a portion of the lens accomplished this easily.
A number of these looked great. Once the technique was applied to produce the desired Polaroid print, it could be replicated on the camera negative as well. One word of caution with multiple exposures. What looked great on a Polaroid print didn't always look so great when enlarging the negative. I found that my wooden view camera did not hold the lens board snug enough, and occasionally there was a miniscule movement of the lens board. I solved this problem by adding a small piece of tape on the front of the lens board that made for a snug fit with the lens board lock. I continue this practice today with my Linhof cameras to insure that the lens board is really LOCKED in place.
I have used this technique successfully on a wide variety of images over the years, including this issue's Special Collector's Edition print, Pebble Beach at Dusk. On that negative, in order to balance the brightness in the sky, I used a piece of opaque black material (like a film holder dark slide) to cover the upper left portion of the lens during the long exposure. I gently moved the black plastic to block the light reaching the film in the upper left hand corner for most of the exposure. Toward the end of the exposure I had to cover the lens completely a couple of times when headlights burst through in the distance. It was quite dark by the time I closed the shutter. I've used this procedure of "dodging and burning" in front of the camera lens on a number of occasions over the years. Its effects can be similar to a split neutral density filter, but can be tailored in different directions and seldom has there ever been any evidence of a line or demarcation in the final image.
Here are a few tips to help properly execute this technique:
With my view camera I look at the image on the ground glass and then hold the opaque cardboard or plastic in front of the lens – as close to the front element of the lens as possible without touching the lens (touching the lens will likely cause vibration, which can severely degrade the image). Once I see the effect I want – at the working aperture – I keep the opaque material in place and look at the position of the card in front the lens. All of my lenses have markings, such as the manufacturers name and specifics of the lens, that go around the entire area. That gives me a reference mark during the exposure – when I cannot look through the camera lens. I move the black card smoothly and gently during part of the exposure. The higher the percentage of time I block the light the darker it gets. Digital cameras will tell you if things have worked out well immediately. I prefer this technique over split neutral density filters, because of greater control and I find the results – when properly executed – are more believable.
As the old adage goes, you learn a lot more from your mistakes than your successes... and over the past forty years I've made LOTS of mistakes! Hopefully this information will help some readers with their photography. My favorite quotation about teaching photography is allegedly attributed to an old Chinese proverb. "Learn from the mistakes of others. You don't have time to make them all yourself!"
---
POLAROID COLLECTION TO BE SOLD - A GREAT LOSS
As I mentioned above, I was honored to be a part of the Polaroid Collection program in the late 1970's and early 1980's. Many people are not aware of the phenomenal collection of photographic images - both instant and traditional - that Polaroid Corporation amassed over the decades.
Ansel Adams was a great friend of Dr. Edwin Land – the inventor of instant photography. The Collection began in 1956 when Land asked Adams to assemble a collection of non-Polaroid photographs. Adams bought works by top names such as Imogen Cunningham, Edward Weston, Harry Callahan, Margaret Bourke-White, Dorothea Lange, and many others.
The collection continued to grow as Polaroid invited photographers to produce images on Polaroid film- in exchange for supplies of film and other Polaroid photographic products. You might be amazed to learn of the great number of important photographers who have work contained in the Polaroid Collection - which contains more than 16,000 images - made with both Polaroid Land instant and traditional photographic processes.
As you may know Polaroid has gone through bankruptcy yet again. Thomas Petters, who controlled Polaroid, was convicted in December on 20 counts of wire fraud, mail fraud, money laundering, and conspiracy. He is scheduled to be sentenced on March 15, and is expected to receive between 30 years and life in prison.
To pay off creditors, a bankruptcy court in Minnesota is forcing Polaroid to sell a portion of its collection at Sotheby's in New York on June 21 and 22, 2010. On the auction block will be 400 photographs by Ansel Adams alone, along with images by Chuck Close, William Wegman, Robert Rauschenberg, David Hockney, Robert Frank, Robert Mapplethorpe, Andy Warhol, and Lucas Samaras. Together the 1,200 objects are expected to fetch $7.5 million to $11.5 million.
You can find a fascinating compilation of information about the Polaroid Collection, and its impending sale, on A.D. Coleman's excellent web site.
http://nearbycafe.com/artandphoto/photocritic/?page_id=1232
In addition, take a look at these two articles (there are many more on the web) for additional information about the Polaroid Collection, the upcoming sale, and efforts to try and block the upcoming sale:
http://www.nytimes.com/2010/02/11/arts/design/11polaroid.html
http://www.bloomberg.com/apps/news?pid=20601088&sid=a49VdCIF36ZQ
As a photographer with forty-four prints in the Polaroid Collection, I am distressed to think of this unique collection - that chronicles the medium of photography for more than 60 years - being sold off piece by piece to the highest bidder. It is a great loss for photography, and a loss to the cultural history of the second half of the twentieth century.