ORIGINAL PRINT AVAILABLE AT A SPECIAL DISCOUNT PRICE ONLINE
From time to time, I make special print offerings available at reduced prices. My new Special Collector's Edition offering of Rice Fields, Dusk, Near Guilin, China shown below is now available for order online. This print is being offered for a limited time at the very special price of $600. To learn more about this print, or to order, follow this link:
lhttp://store.yahoo.com/ventanaeditions/joseorpr.html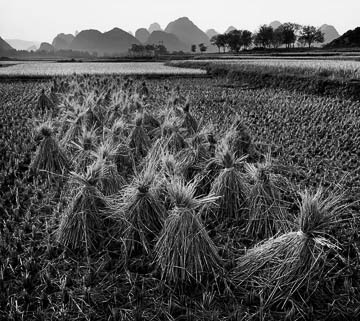 Rice Fields, Dusk
Near Guilin, China
©1984 John Sexton. All rights reserved.
In the mid 1980s I led three cultural exchanges between the Friends of Photography (at that time the largest non-profit membership organization focused on creative photography founded by Ansel Adams and others in 1967 - unfortunately the FOP no longer exists) and the China Photographers Association. This was an amazing time in China. In those days Anglos stood out among the masses of Chinese people, and attracted a great deal of attention. You can imagine how much additional attention was paid to our group, which included view cameras as large as 8x10" in size. I remember one time when we literally stopped traffic for two city blocks, as people mobbed the area to see this small group of strange looking round-eyed photographers.
While driving back to the city of Guilin at dusk, following an all-day photography trip, we came upon a wonderful scene with the rice stalks gently backlit by the bright western sky. The sun had set a short while before. Our local guide and bus driver were convinced that we did not have time to stop, as we might miss dinner at the hotel if we stayed too long to photograph. I tried to tactfully convince them that the reason we were here was for photography, and if we missed dinner no one would mind. Finally they allowed us to get off of the mini-bus and we photographed until dark. On each of my three trips I took both my 4x5" view camera, as well as a 120 roll film camera. This image was made with my Rolleiflex SL-66 camera and a 50mm wide-angle lens. The SL-66 had a front lens tilt, much like a view camera. I used that tilt to adjust the plane of focus to ensure that all areas of the photograph were sharp - from the stalks of recently cut rice to the Karst ! Formations in the far distance of the twilight haze. As soon as I made the exposure, which was one minute at f/32, I had high hopes that I had made a good photograph.
After returning home, I was excited to process all of my film, but I was especially interested in this particular roll. I was eager with anticipation, waiting until I could open up the processing tank and see if my hopes had been realized. As soon as I saw the negative I was fairly certain it could be a good image. This was confirmed when I turned on the white light to view the first print from this negative - nearly twenty-five years ago.
This print is approximately 10x11-1/4", personally printed by me (as are all my prints), processed to current archival standards, signed, mounted, and matted to 16x20" on 100 percent rag museum board.
The special discounted price is $600, a $300 savings from the normal retail price of $900. My prints in this size normally retail in galleries for $900, so the savings of $300 is significant - nearly 33%.
Prints will be shipped by June 8, 2009.
All prints are carefully prepared and packaged in specially designed protective shipping boxes, and shipped fully insured via UPS ground.
If you have any questions about the print, please feel free to contact my assistant Laura Bayless at 831-659-3130, or email: laura@johnsexton.com. Her office hours are Monday through Thursday from 9:30 am to 5:00 pm, Pacific Time.

---
ANSEL ADAMS EXHIBITION AT CENTER FOR PHOTOGRAPHIC ART IN CARMEL
EXTENDED THROUGH AUGUST 30, 2009
GEORGIA O'KEEFE AND ANSEL ADAMS: NATURAL AFFINITIES AT SF MOMA

In the last issue of my newsletter I mentioned the exhibition, People, Of and By Ansel Adams, at the Center for Photographic Art in Carmel. I'm pleased to announce that the date for the exhibition has been extended all the way through August 30th. If you're coming to the Monterey Peninsula sometime this summer, be sure to plan and stop by to see this exhibition.
In addition, on Saturday, May 23rd, there will be a special Ansel, Remembered day at the Center. The event will start at 2:00 pm with Ansel, the Boss, a panel discussion with former instructors and assistants at the Ansel Adams Workshops. Panel members will include Al Weber, Richard Garrod, Ted Orland, Martha Casanave, Jeff Nixon, and David Bayles. At 4:00 pm Michael Adams, Ansel's son, will lead a walk-through of the exhibition in the Center's gallery. A reception will follow the walk-through from 5:00 to 8:00 pm. I'm sorry to say we will not be in town for the above event. I'm sure it will be an exciting day. For further information about the exhibition, please contact the Center by phone at 831-625-5181, email at info@photography.org, or check out their web site: www.photography.org.
The opening of the exhibition on March 24 was very well attended. I saw portraits by Ansel, and of Ansel, that I had not previously seen. The text panels that accompany each of Ansel's portraits are very interesting and give insight into Ansel's relationships with his various subjects. I'm pleased that one of my portraits of Ansel is included in the exhibition.
If you find yourself in California this summer, there is another interesting exhibition featuring Ansel Adams work. The show is Georgia O'Keeffe and Ansel Adams: Natural Affinities. It will be on display at the San Francisco Museum of Modern Art from May 30 through September 7. This traveling exhibition combines the work of Georgia O'Keeffe and Ansel Adams, two of America's best known artists. Adams and O'Keeffe met in 1929 in Taos, New Mexico, and they maintained a lifelong friendship. I had the great privilege of meeting Miss O'Keeffe when she visited Ansel and Virginia while I was working for them in Carmel. If your schedule permits, it's a great opportunity to see both of these unique exhibitions featuring Ansel's work this coming summer.
---
ELOQUENT NUDE
THE LOVE AND LEGACY OF EDWARD WESTON AND CHARIS WILSON
DVD NOW AVAILABLE AT VENTANA EDITIONS ONLINE STORE

We are pleased to add another DVD to our growing collection of photography videos available at the Ventana Editions online store. Our newest addition is Eloquent Nude: The Love and Legacy of Edward Weston and Charis Wilson. This sensitive documentary explores the relationship of photographer Edward Weston and Charis Wilson. In 1945 Charis stopped posing for Edward Weston's iconic photographs, and now more than a half-century later Portland filmmaker Ian McCluskey has revealed her again. Charis was beautiful, smart, and searching. Edward was an emerging genius in the world of photography. When they met they fell instantly in love. Setting off across the West with camera and typewriter in the depths of the Great Depression, Charis Wilson and Edward Weston transformed photography and each other.
At age 90 Charis Wilson recounts her years with Weston with great humor, candor, and some regret. Combining insight from leading scholars, rare archival images, and convincingly authentic reenactments, Eloquent Nude presents a remarkable true story of love and loss, travel and adventure, and an intimate look at the creative medium of photography.
Eloquent Nude was the recipient of three Northwest Regional EMMY Awards for 2008.
This DVD is unique among our offerings in that it includes contemporary theatrical reenactments of historical events. Anne and I found it to be most interesting and fascinating. There are many bonus features included with the DVD. The running time is 58 minutes.
You can order the DVD for just $25.00, plus shipping, here: http://ventanaeditions.stores.yahoo.net/elnudvd.html
---
PIRKLE JONES AND DON WORTH PASS AWAY
TALENTED PHOTOGRAPHERS, TEACHERS, ASSISTANTS TO ANSEL ADAMS
Two fine photographers, Pirkle Jones and Don Worth, passed away on March 15 and March 18 respectively. Both Pirkle and Don had served as photographic assistants to Ansel, Pirkle in the 1940s and Don in 1950s. In addition, they were both gifted and dedicated educators, Pirkle at the San Francisco Art Institute and Don at San Francisco State University. Pirkle was 95 and Don was 84.
I had the privilege of teaching on the staff of a Friends of Photography workshop with Pirkle Jones in the 1980s. During that experience I realized how enthusiastic and dedicated he was with his students. He held nothing back in his teaching, and did the same with in his photography. His subject matter ranged from California landscapes to a photographic essay on the Black Panthers. He was a student of Ansel's at the California School of Fine Arts, and served as Adams photographic assistant from 1947 to 1953. Pirkle taught at the San Francisco Art Institute for twenty-eight years.
Don met Ansel in 1955. Ansel was impressed with Don's photographs, and they shared a common love of music. Don received a Master of Music degree at the Manhattan School of Music, and studied at the Juilliard School of Music. From 1956 to 1960, Don served as Ansel's full time photographic assistant from 1956 to 1960. In 1958 Don composed the musical score for the documentary film Ansel Adams, Photographer. Like Ansel, Don eventually focused his creative energies on photography, and the cultivation of plants.
Don is best known for his stunning black and white photographs of tropical plants and his ethereal landscape images. His quiet understated photographs were not only his artistic signature, but also a reflection of the man himself. In 1974 he was awarded a Guggenheim Fellowship to photograph the American landscape, and in 1980 he was granted a Photography Fellowship by the National Endowments for the Arts.
In 1980 Ansel asked me to direct his Yosemite workshop program. I decided to bring back photographers who had been a part of Ansel's life in the past. Don was one such individual. His quiet and calm demeanor was an interesting contrast to many of the other instructors. Don was always interested in trying to discover the inner person that was behind the photographs. I had the privilege of teaching with Don at a number of Ansel Adams workshops, as well as Friends of Photography workshops. I last saw Don in 2006 in Carmel at the book signing for his exquisite monograph Close to Infinity. Don retired from San Francisco State University in 1993, where he taught photography for more than thirty years.
It is sad coincidence that these two photographers passed just three days apart. It is reassuring to know that their respective photographs will live on as a legacy to both their creative spirits.
My thanks to Lyle Gomes, a fine photographer and longtime friend of Don Worth, for providing the detailed information about Don's life.
---
TECH TIP
SEEING THE WORLD UPSIDE DOWN FOR OBJECTIVITY
One challenge that all photographers face is rendering the reality that is in front of the camera successfully as an effective two-dimensional illusional image.
We can all likely remember our earliest attempts at photography. For most of us, these early attempts were filled with frustration and disappointment. I can recall working with a simple Kodak Instamatic camera taking pictures in the landscape, and being amazed at how small and insignificant the subjects were compared to what I anticipated. Today I still find many of the images I make don't fulfill the expectations I have when making the exposure. It is the rare successes that keep photography an exciting and challenging pursuit for me. I believe there is always an element of good fortune involved when you make a good photograph.
When one makes a successful image it is important to develop some tools to help view that image objectively. Remember that, as the person who made the photograph, you are the ONLY person on the planet who knows the intention of the photograph. Everyone else who views the image sees only the visual information contained within the photograph. In other words, they see your image objectively.
I clearly remember the first day of a painting class while I was an art major at Chapman College. My instructor was Jane Sinclair, a truly gifted and inspirational teacher. After receiving the typical list of supplies needed for the class, Jane made a statement I will never forget. She said, "If you're ever stuck on a painting and don't know what to do, put the painting on the easel upside down, walk across the studio, and look at it." This visual trick is centuries old, but I have found it to be a valuable tool in my photography, from the exposing of negatives to making and evaluating prints.
I remember with even greater clarity how frustrated I was when I first was confronted with a view camera. I was a photography major at Cypress College. The class, Intermediate Photography, required that we use a Calumet 4x5" studio view camera. I had recently purchased a Hasselblad, which I thought was a real professional camera. I found the view camera to be cumbersome and awkward. The biggest irritation for me was viewing the image upside down on the ground glass.
When I heard Jane Sinclair's most valuable suggestion, about looking at the image upside down, I realized my initial distaste for the view camera's inverted image might actually be a worthwhile tool. Today I still feel strongly that the upside down image on the ground glass is a small, but important, step away from the reality of the scene toward the illusion of the final photograph. I use this same procedure when making prints in the darkroom. I don't turn every single print upside down on my viewing board, but I do this a few times during each session - especially at critical points. I find looking at the image upside down is a great tool that can reveal areas that need to be managed by dodging and burning, and it can also reveal improperly executed dodging and burning. Along with the inverting of the image, I also change my viewing distance by backing as far as I can to the other side of the darkroom. I find that, when working on photographs, we tend to be so! mewhat "myopic" when looking at our images. Sometimes stepping away a few feet uncovers things that are invisible up close.
For those who work in the digital domain, this process is equally important. If you use Photoshop, there is a command in the 'Image' menu called 'Rotate Canvas - 180 Degrees'. This instantly inverts the image on your monitor. It's easy to create a keyboard shortcut in Photoshop so that it is easy to execute. I highly recommend this for those of you making judgments of your digital images on the monitor. That being said, be sure and look at your prints upside down, and change the viewing distance as well. One final bit of advice for those working in digital - try and print your images sooner, rather than later. It's one thing to make decisions looking at the aerial image on a monitor, but it is a totally different experience when the image is put onto paper.
I hope you find this a useful tool in your own photography. It's no substitute for getting objective critique about your work from those whose opinion you respect, but this, along with other techniques to try and simulate objectivity as you're looking at your own work, is essential. It's a lot easier than walking around trying to stand on your head. Good luck!
---
ADVICE FOR CHALLENGING ECONOMIC TIMES
Here is some information a good friend recently forwarded to me via email. I've been unable to trace the source of this piece of advice that could be of help to all of us during these difficult economic times. I hope you'll find it helpful. I think this is brilliant!
Some words of wisdom...
If you had purchased $1,000 of shares in Delta Airlines
one year ago, you will have $49.00 today.

If you had purchased $1,000 of shares in AIG
one year ago, you will have $33.00 today.

If you had purchased $1,000 of shares in Lehman Brothers
one year ago, you will have $0.00 today.

But— if you had purchased $1,000 worth of beer
one year ago, drank all the beer,
then turned in the aluminum cans for recycling refund,
you will have received $214.00.
Based on the above, the best current investment plan
is to drink heavily and recycle.
It's called the 401(keg).