Anne and I hope that spring has arrived wherever you are. We have a glorious display of poppies on the hillside across the canyon from our home. Our California coast live oaks have their seasonal inundation of oak worms... what a mess! Boots (our black and white cat) evidently becomes more hungry in springtime. We find the remains of a critter (not much left - mostly eaten) on the living room floor nearly every morning, but we still love him.
We are heading to the Southwest in just a few days. I'm privileged to have the opportunity to present a lecture on Ansel for the Center for Creative Photography at the University of Arizona. You can see details about the talk below.
In addition, I am most pleased to be the keynote speaker at the 2011 Moab Photography Symposium. Following that event Anne and I will spend some time doing what we love to do the most... making photographs.
I hope you find some information of interest in this installment of the email newsletter.
Have a great summer ahead!
John
---
ORIGINAL PRINT AVAILABLE AT A SPECIAL DISCOUNT PRICE ONLINE
PLUS SPECIAL DISCOUNT COUPON
From time to time, I make special print offerings available at reduced prices. My new Special Collector's Edition offering of Tenaya Lake, Clouds, Afternoon shown below is now available for order online. This print is being offered for a limited time at the very special price of $700.
The readers of this newsletter can save an additional 10% on this print. To receive the special 10% discount; simply enter the code 'LAKE' (without quotation marks) into the 'COUPON CODE' section of the secure web order form. Please remember to enter the coupon code during the checkout procedure to receive your special discount. This special discount is only good through May 31, 2011. To learn more about this print, or to order, follow this link:
http://ventanaeditions.stores.yahoo.net/redeliedboan.html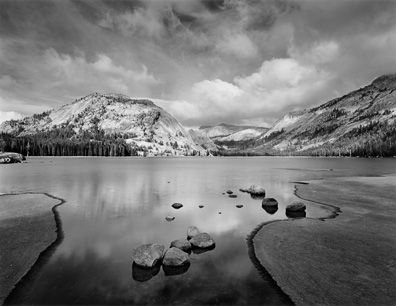 Tenaya Lake, Clouds, Afternoon
Yosemite National Park, California
©2009 John Sexton. All rights reserved.
As many subscribers know, Yosemite is one of my favorite photographic locations. In fact it's one of my favorite places period. My father told me that the first time I went to Yosemite I was two years old. I can honestly say I have no recollection of that first visit. However my most vivid and pleasant childhood memories are from our annual two-week encampments in Yosemite Valley each June. Every year during our family camping adventure we would make a few trips to the High Country. It's hard for me to believe how much I used to enjoy swimming in the cold waters of Tenaya Lake (and they are certainly too cold for an old guy like me now!). Today I find greater enjoyment in the sheer beauty of this small but elegant body of water and surrounding sculpted granite domes.
In September 2009 Anne and I had a wonderful photographic backpacking trip in the Yosemite High Country. After the conclusion of our trek we decided to head to nearby Tenaya Lake for a relaxing afternoon. Our plan was not to make photographs, but rather to recuperate from a long day's hike with heavy packs laden with photographic gear.
Shortly after we arrived at Tenaya Lake heavier clouds began to appear, and the light took on a magical quality. We rushed to the van, grabbed our 4x5 view cameras, and went to work. We photographed until well after sunset. We made a number of negatives, as the light and clouds were constantly changing. I have included a "happy snap" below with our two 4x5" cameras poised at the edge of the lake, waiting for just the right situation. This is my favorite negative from that afternoon's work. I made the photograph with a 90mm lens and used a Wratten #23A light red filter to darken the sky and separate the clouds. To slightly enhance the feeling of depth from near to far, I used the back tilt of the camera - a technique I learned from my long-time friend Morley Baer.
This silver gelatin, selenium toned print is approximately 10-1/4 x 13-1/4", personally printed by me (as are all my prints), processed to current archival standards, signed, mounted, and matted to 16x20" on 100 percent rag museumboard.
The special discounted price is $700 ($630 if you use the discount code 'LAKE' when you place your order), and is available for a limited period of time. Prints in this size retail in galleries for $1,000, so the savings of $370 is significant. Normally there is a long waiting period for my original prints. This is a rare opportunity to obtain a print with prompt delivery, and at a special discounted price.
Prints will be shipped by June 20, 2011.
All prints are carefully prepared and packaged in specially designed protective shipping boxes, and shipped fully insured via UPS ground. If you have any questions about my prints, please feel free to contact my assistant Laura Bayless at 831-659-3130, or email: laura@johnsexton.com. Her office hours are Monday through Thursday from 10:00 am to 5:30 pm, Pacific Time.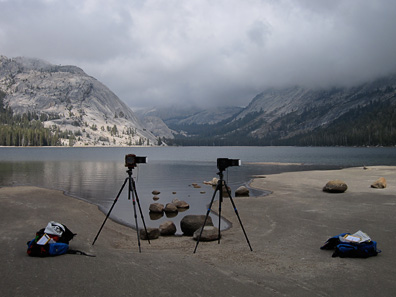 Our Cameras at Tenaya Lake
Yosemite National Park, California
©2009 Anne Larsen. All rights reserved.
---
UPCOMING LECTURES BY JOHN - TUCSON AND MOAB
Ansel Adams: A Personal Recollection
Center for Creative Photography presents a lecture by John Sexton
Monday - May 9, 2011 - 5:30 PM
Free Admission – Open to the Public
I always like speaking about Ansel and his influence on my photography, and indeed my life. I am honored to have the opportunity to present my lecture Ansel Adams: A Personal Recollection for the Center for Creative Photography on Monday, May 9, 2011 at 5:30 pm.
The lecture is being offered in association with the exhibition Ansel Adams: Arizona and the West, which is on display at the Center through May 15th. It is a rare opportunity to see this group of photographs, representing the entire course of Adams's prolific career. These images show the wide range of work Adams produced in Arizona and throughout the American West. From quiet studies of natural details to the awe-inspiring grandeur of massive mountains under cloud-filled skies, Adams chronicled the land with passion fueled by a deep appreciation of the transformative power of the wilderness.
During my lecture, which will include new material that I have not previously presented, I will discuss the nuances of Ansel's renowned photographic techniques, provide insights into Ansel's creative process, and present some of his well-known, as well as lesser known, images. A number of images will be transformed on the screen from the negative to the final print - progressing through various phases in the evolution of a finely crafted expressive print.
In addition, I will recount personal anecdotes of working side by side with Ansel. I will also be sharing a few images from my own photographic career of nearly forty years. I promise it will be a lively and entertaining presentation.
Following the lecture I will be signing copies of my books, Recollections and Places of Power.
If you would like more information, check out the Center for Creative Photography's web site:
http://www.creativephotography.org/events/index.php
John to Present Keynote Address
At 8th Annual Moab Photography Symposium
Moab, Utah
May 12-15, 2011
I am looking forward to presenting the keynote address at the upcoming 8th annual Moab Photography Symposium, May 12-15, 2011 in spectacular Moab, Utah. This event, organized by my long time friend and talented photographer, Bruce Hucko, should be a wonderful four days of information and inspiration. There will be lectures and workshops by Tom Till, Joan Myers, Jeff Vanuga, Michael Frye, Steve Troudt, Nat Coalson, Bruce Hucko, Rod Hanna, and Rory Tyler.
Along with my keynote address, which I will be presenting on Thursday evening, I will also be presenting my lecture Ansel Adams: A Personal Recollection on Saturday. In addition, I will be conducting mini-workshops titled Inspired by Light on both Friday and Saturday afternoon. My workshops are filled, but there are a few spaces available in other workshops due to cancellations and for the symposium. It will be a busy, exciting, and interesting event. You can find additional information at the web site: http://www.moabphotosym.com/
---
JOHN'S IMAGES TO BE FEATURED ON KODAK WEB SITE HOME PAGE
I am pleased to announce that my images will be featured on the Kodak.com. I've had a wonderful relationship with Kodak over the years and am honored that 2011 marks the 25th anniversary of continuous Kodak sponsorship of my workshop program. At this point it looks as if my images will most likely appear on their home page the week of May 9-15, or possibly May 16-22.
If you're doing some web surfing and have some spare time, take a look at a few of my photographs and read my blog entry, at this link.
http://www.kodak.com/eknec/PageQuerier.jhtml?pq-path=2/6868&pq-locale=en_US
---
REMEMBERING MY LONG-TIME PHOTOGRAPHIC FRIEND HILARY ARAUJO
I was recently shocked and deeply saddened to learn that my long-time photographic friend, Hilary Araujo, passed away on April 14, 2011 at the age of sixty-five, following a brief illness. Hilary was the Vice President of Marketing at Tiffen and a great supporter of my workshop program over the years. It was Hilary who approached me a number of years ago suggesting that Tiffen would like to participate as one of our corporate partners.
I first met Hilary at a photographic trade show many years ago, when he was product manager of Berkey Marketing. Later, when he was the Vice President of Marketing with GMI Photographic, he was a great resource in helping me with the use and maintenance of my Rolleiflex SL66 camera that I had for a number of years. Hilary always had a smile on his face and always wanted to know how things could be made a little better. I've used Tiffen filters for many years and have seen how subtle, as well as significant, enhancements have been made to their product line, as they listened to photographers and cinematographers. In addition to his skill in marketing for important photographic companies, Hilary was first and foremost a photographer. He loved photography and was an enthusiastic advocate of the medium. I and many others in the photographic world will dearly miss him.
---
SLOSHER FOR SHEET FILM DEVELOPING AVAILABLE AGAIN
Those of you who have attended workshops with me over the last twenty years may recall my discussion of the Slosher for sheet film developing. Prior to switching to the Jobo rotary processor for most of my sheet film developing, I used the Slosher with great success. It's a simple Plexiglas divider system that allows for very even development of sheet film. It is something I designed, based upon an idea a workshop participant sketched out on a scrap of paper on a picnic table in Ganado, Arizona during one of the first offerings of the Southwest Landscape workshop. I'm also the one who came up with the affectionate name! The design evolved over the years. I feel that rotary processing is superior for most needs, but I still use the Slosher for extremely high contrast situations, where I use a highly dilute developer with very little agitation to achieve a compensating effect.
I'm pleased to say that my long-time friend, Bob Darby, in Winthrop, Maine is making the Slosher again. Bob's craftsmanship on the device is excellent. The Sloshers I use are made by Bob. He is charging $65 for the Slosher and actual shipping cost, depending on your location. I've included his contact information below. Bob is a dedicated and skilled photographer, and would love to communicate with you via phone or email.
Bob Darby
207-377-4744
darby1203@fairpoint.net
Bob has told a number of people that the sloshers he builds would fall apart if used for developing bad pictures, but so far he has had no returns. So perhaps using the Slosher can improve both the technical and the aesthetic aspects of your photographs!
If you're interested in how I use the Slosher with highly dilute developers to handle extremely high contrast situations, you can download some information here:
http://johnsexton.com/images/Compensating_Development.pdf
---
TECH TIP: A GREAT NEW TOOL TO KEEP THINGS ON THE LEVEL
One of the many reasons I enjoy teaching workshops is how much I learn from the participants. I mentioned above that the initial idea, which evolved into the Slosher, came from a workshop participant. On last month's Luminous Print workshop, which Charlie Cramer and I co-instructed together, one of the workshop participants had a bubble level mounted on his camera, unlike any I had seen previously. The workshop participant was kind enough to give me the information about the level, and I ordered a couple immediately after the conclusion of the workshop. I'm a big believer in levels (for all kinds of cameras). Keep in mind my background is the view camera and levels are generally standard operating equipment for those type of cameras. For years Anne and I have use a slide-in level that fits into the flash shoe of our Hasselblad cameras. We find them extremely valuable (I can't tell you how many times I've accidentally made an image with a titled horizon!). We have now switched to the Ross Photographic Hinged Bubble Level, and couldn't be happier.
What is unique about the levels manufactured by Ross Photographic is that they are extremely low profile. The Hinged Bubble Level is their top of the line model. It can easily be left on the camera at all times. The craftsmanship is superb. If you rotate your camera from horizontal to vertical, you simply pull up on the Hinged Bubble Level and it is ready to go to work in that axis as well. Miniature magnets insure you have the level positioned accurately. For the first time we are able to keep the levels on our cameras all of the time, so we don't have to dig around frantically as the light is changing. They take up almost no room whatsoever. I'm super impressed with everything about the Ross levels and the way they run their business. The Hinged Bubble Level sells for $39.99 plus $3.00 standard shipping and handling.
They also offer a 2-Way Camera bubble level that does not rotate. It's even lower profile. I was speaking with Dennis Ross, the owner of Ross Photographic, and he indicated some Canon cameras require a slightly thicker mounting base and they are in the process of developing levels for a more secure fit on the Canon DSLR cameras. The 2-Way Camera Bubble Level sells for $24.99.
I think every camera with a flash shoe should be equipped with one or the other of these beautifully engineered and superbly crafted devices For more information contact Ross Photographic.
Ross Photographic
775-358-3373
denaross@sbcglobal.net

ww.cameralevel.com
---
SOME THOUGHTS ON PHOTOGRAPHY... AND OTHER TOPICS
"What use is having a great depth of field,
if there is not an adequate depth of feeling?"
– W. Eugene Smith