---
Greetings,
Spring has sprung in Carmel Valley! After six consecutive years of drought this past winter set records for rainfall in our area, as well as snow pack in the Sierra Nevada. Our normal annual rainfall here is 19.37 inches and our total rainfall this winter was 29.51 inches - more than 50% above average! Our friends at the Ansel Adams Gallery in Yosemite say they cannot remember a spring runoff like this one. Along with the huge volume of water, there is evidently also a massive volume of tourists wanting to see the spectacular aquatic display.
I want to thank the many eNews readers who sent me good wishes following my total knee replacement surgery in November. I am pleased to report that the procedure was a great success. I am able to walk great distances without pain, and have been able to do so for quite some time. The aspect that took the longest to heal was the ability to simply stand in one place for an extended period of time – as is required in the darkroom. At this point everything is working fine and I am in MUCH less pain now that I have my new "bionic" knee.
Anne and I were able to make our planned photographic trip to Venice, Italy in January and February. The time between my surgery and the trip was filled with rigorous physical therapy sessions that began in our home three days a week, along with exercises, walking, and stationary bicycling every day. This was our fifth photographic trip to Venice (thanks to our frequent flier miles and the great hospitality of our friends Marco and Luisella!). According to my iPhone we walked a little over 110 miles during our visit (walking and boats are the only modes of transportation in Venice) and climbed over 200 flights of stairs. Nearly all of this required carrying our thirty-pound camera packs and tripods. It was a great trip and we both feel we came back with some "keeper" images.
A couple of weeks ago we finished the last of four workshops this spring, including two special private workshops. We had workshop participants from China and Hong Kong, as well as our first ever attendees from Uruguay and Russia. It is exciting to see what seems to be a growing interest in film-based analog photography overseas.
I hope you find some items below of interest and wish you the best for the coming summer.
All the best,
John
---
ORIGINAL SILVER GELATIN PRINT BY JOHN AVAILABLE ONLINE AT DISCOUNTED PRICE
On a recent workshop, I was asked about photographs I had made and if the making of those photographs had formed indelible memories. The question got me thinking, and in the process of mentally gazing back over four decades of making photographs, a few images immediately came to mind. One of those images, Aspen Dream, near Ashcroft, Colorado, emerged because of the unique experience I had when making this photograph. As I began pondering that image, I decided it was time to put it back in the enlarger, and offer it as the latest addition to my ongoing Special Collectors Edition print series.
From now until June 15, 2017 I am offering this 11x14" silver gelatin print for $750 - a 25% discount off of the normal gallery retail price of $1,000. After that date the price returns to $1,000.
To place a secure online order for this print, follow this link:
http://ventanaeditions.stores.yahoo.net/asdrneasco.html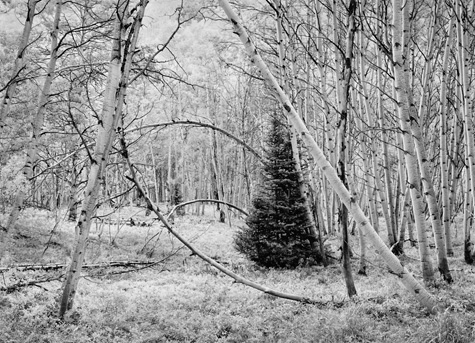 Aspen Dream
Near Ashcroft, Colorado
©1989 John Sexton. All rights reserved.
I made this image just before sunrise in an aspen grove, whose location had been suggested to me by my long time friend Jim Baker, at the time the Photography Program Director at Anderson Ranch Arts Center in nearby Snowmass Village, Colorado. I had the privilege of teaching 29 workshops for Anderson Ranch Arts Center when their photography program was oriented toward traditional photographic processes. Jim knew my photography well and thought I would very much enjoy this small, intimate grove of aspens and had mentioned that the light was beautiful in the early morning. I headed up Castle Creek Valley in the dark and followed Jim's directions to the grove. By the time I arrived the sky was beginning to glow behind the ridgeline to the east. I shouldered my camera pack, grabbed my tripod and headed off into the grove. Within a few moments I had an experience I had never had previously, and have never had since. As I was following the easiest path through beautiful aspens, all of a sudden I had a sense that I knew what would be around the bend – as if I had been in this aspen grove many times before. What amazed me was, as I meandered around some spruce trees, what I saw before me was exactly what I expected, even though I had never been here before!
I am sure we have all felt a sense of deja vu previously, but this was vivid and it was as if I knew exactly the position of the lone spruce tree and the arching aspen trunks. It was not as if I simply wanted to make the photograph, I felt I HAD to make this image. I set up my 4x5 camera, using my 150mm lens. The image came together surprisingly quickly (I guess it should have, since I seemed to know all about it from some unknown source). The challenge was the ever-brightening eastern sky, which was just outside the frame. As I still continue to do today, I used a Manfrotto Multiclip, along with a piece of black plastic, to provide additional lens shading (see more info about this technique below), and carefully positioned it. The only way I could eliminate contrast-reducing flare was to actually include the very edge of the shade into the frame of the image and then crop it out in the final printing. I was working quickly as the eastern sky was brightening, and the sun would soon crest the ridge. I used a #8 yellow filter to lighten the autumn foliage and made an exposure of 4 seconds at f/32 on 4x5 T-Max 100, giving the film N+1 development to increase the overall, as well as local, contrast.
I usually give rather bland descriptions to my photographs, but decided to title this image Aspen Dream, based upon the experience I have shared above. I suspect that the dreamlike experience I had may not convey to others through the image, but I do hope you can experience the ethereal glow and the wonderful sense of solitude and permeating light I felt that early autumn morning in Colorado. I am pleased to share this image with you.
This silver gelatin, selenium toned, print is approximately 13-3/8 x 9-3/4", personally printed by me (as are all my prints), processed to current archival standards, signed, mounted, and overmatted to 16x20" on 100 percent rag museum board.
Prints will begin shipping on June 19, 2017, and all of the prints ordered will be shipped no later than August 31, 2017.
All prints are carefully prepared and packaged in specially designed protective shipping boxes and shipped fully insured via UPS ground. If you have any questions about my prints, please feel free to contact Anne at 831-659-3130 or email: info@johnsexton.com. Our office hours are Monday through Thursday from 10:00 am to 1:00 pm Pacific time.
NOTE: The image, Aspen Dream, near Ashcroft, Colorado, was included in my book Listen to the Trees. James Baker, whose essay The Dialect of Trees was included in the book, references this specific image. We have decided to add the essay from Listen to the Trees by Jim Baker, along with the introductory text A Celebration of Trees by Stewart L. Udall, as well as my preface, Within the Forest, to our web site. Hopefully you will find some of these essays of interest. I still find myself frequently drawn to making photographs of trees and explorations in the forest. It is where I feel most comfortable.
---
OUR NATIONAL MONUMENTS: PLEASE SHARE YOUR THOUGHTS
The earth, like the sun, like the air,
belongs to everyone - and to no one.
Edward Abbey from his book The Journey Home
As I am sure nearly all readers know, on April 26, 2017 President Donald Trump signed an Executive Order instructing Interior Secretary Ryan Zinke to review any National Monument created since 1996 that covers 100,000 or more acres. The order directed Secretary Zinke to review twenty-seven National Monuments designated by the Antiquities Act.
As a part of that process the public is invited to weigh in on the review as a whole with written comments. The National Monuments under review are nearly all in the west and include monuments in the states of Arizona, California, Colorado, Idaho, Maine, Montana, Nevada, New Mexico, Oregon, Utah, and Washington - as well as five Marine National Monuments in the Pacific and Atlantic.
The most controversial of these monuments – Bears Ears National Monument – covers 1,351,849 acres with most of the land in the southeastern corner of Utah and a small portion in Nevada. Anne and I have considerable familiarity and a great love for the land that makes up Bears Ears National Monument. I first hiked in the backcountry there exactly thirty years ago this month. Most of the ancient Anasazi structures in my book "Places of Power" published in 2000 were made in what is today Bears Ears National Monument. Ray McSavaney, Anne, and I taught our Southwest Landscape: A Sense of Place workshop annually for twenty-two years. Along with road trips, day hikes, and backpacking photography trips as long as eight days, Anne and I have literally spent more than a year of time exploring and photographing in area that is today Bears Ears National Monument. To say that it is a unique and beautiful jewel is a vast understatement.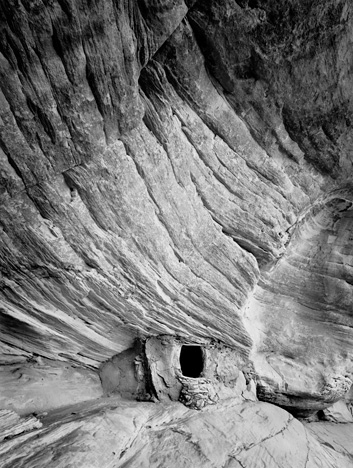 Granary In Swirling Sandstone
Bears Ears National Monument, Utah
©1998 John Sexton. All rights reserved.
Last week Secretary Zinke visited Bears Ears National Monument as part of a "listening tour." He flew over some of the region, went on some short hikes, and an extended horseback tour. The Salt Lake Tribune reported that he only spent 90 minutes with the Bears Ears Inter-Tribal Coalition and Friends of Cedar Mesa while "traveling extensively with anti-monument heavyweights" including Governor Gary Herbert and Representative Mike Noel, who took Zinke to the Grand Staircase-Escalante National Monument not to gaze upon the pristine and unique landscape, but to look at a seam of coal. Hopefully the spirit of the land allowed him to see beyond the ephemeral natural resources of oil, gas, and coal to the heart, pulse, and energy of this magical and priceless landscape.
This rugged and remote canyon country is phenomenal, and has attracted artist, writers, scientists, and assorted "desert rats" over the years. The archeological features are exceptional and considerable. I have said many times over the years that no matter how long a life a person might have you simply could not begin to scratch the surface of getting to know this country and exploring its vast and magical terrain. It is truly a photographer's paradise. To think that this treasure, along with other National Monuments, are now under review is a disappointment and of great concern.
Over the past three decades I have personally seen accidental, and indeed purposeful, damage to the cultural assets, as well as the land itself. The growing number of people entering the area without adequate knowledge of how to behave around these fragile structures and rock art panels in and of itself has degraded a number of sites that at one time were quite pristine.
The Friends of Cedar Mesa, a grassroots group based in Bluff, Utah, is doing a great job of protecting, preserving, and educating people on how to have least impact possible and behave properly in these sacred places. I remember receiving an elated email from the Friends of Cedar Mesa on the afternoon of December 28, 2016 announcing the creation of Bears Ears National Monument. Anne and I celebrated!
No matter what your political bent, I would strongly encourage you to make your thoughts known about these National Monuments. The Department of the Interior makes it easy to do so. You can comment on the review process by mail or through an online platform. For online comments follow this DIRECT LINK, or go to regulations.gov and search for "DOI-2017-0002."
You can also submit written comments by mail to:
Monument Review
MS-150
U.S. Department of the Interior
1849 C Street NW
Washington, DC 20240
The time to share your thoughts is NOW! Comments relating specifically to Bears Ears National Monument must be submitted BEFORE May 26, 2017 - less than 10 days from now! This seems to be a shockingly short period of time considering the public comment period opened just last week on May 12, 2017. Comments relating to all other National Monuments, Grand Staircase-Escalante National Monument, must be submitted before July 10, 2017.
FRAGILE WATERS EXHIBTION
PHOTOGRAPHS BY ANSEL ADAMS, ERNEST H. BROOKS II, AND DOROTHY KERPER MONNELLY
SAN JOSE MUSEUM OF ART
Anne and I recently had the opportunity to view the Fragile Watersexhibition at the San Jose Museum of Art. We very much enjoyed the synergistic blend of photographs by Ansel Adams, Ernest Brooks II, and Dorothy Monnelly sharing the common theme of water in its various manifestations. The exhibition runs through Sunday, August 6, 2017.
Jeanne Falk Adams, former Director of the Ansel Adams Gallery in Yosemite National Park and Ansel Adams' daughter in law, curated the exhibition. She conceived the idea following the tragic explosion of the oil rig Deep Water Horizon in the Gulf of Mexico in 2010. In this exhibition she unites three artists who have expressed their lifelong commitment to protecting the sanctity of the environment through the universal language of photography.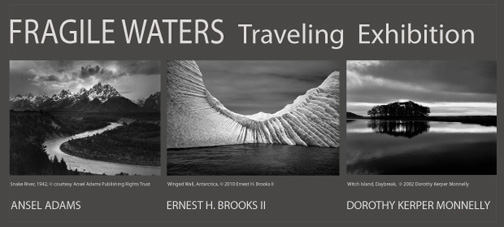 Obviously I was strongly influenced by and had a professional, as well as personal, relationship with Ansel late in his life. I have known Ernie Brooks for many years. I had the pleasure of lecturing and exhibiting my photographs on a couple of occasions at the legendary Brooks Institute of Photography in Santa Barbara, California while it was under Ernie's leadership. I met Dorothy Monnelly when she attended a workshop more than 25 years ago, and have enjoyed watching her photography progress over the years. The installation at the San Jose Museum of Art is spacious with richly colored walls and surprisingly good lighting – especially for a museum. If you are in the area I think you will find this an interesting and worthwhile traveling exhibition. Follow this Fragile Waters exhibition link for more information.
---
TECH TIP: BLACK CARDS USEFUL AS LENS SHADES AND MORE
As I referenced in my text above describing the making of Aspen Dream, Anne and I often find it useful – and in some instances essential – to add auxiliary shading in addition to a normal lens shade. For years, with my view cameras, I have carried a couple of Manfrotto 375 Multiclips and a couple of pieces of black plastic or black mat board - size 4x8" and 4x6" - for shading either the top or sides of the lens. I clamp one end to the front standard of my camera and the other end holds the black card for shading. You should be very careful to NOT pinch the bellows material with the clamp and may want to exercise caution in terms of scratching of the metal or wood surface on your camera. One simple fix is to cover the "jaws" of the clamps with some black gaffers tape. I prefer to dip the jaws into a black material called Performix Plasti Dip. After repeated dippings, the jaws will be covered with a soft grippy, rubberized material that seems to last for years. You will have to rig a way to keep the jaws open during the dipping process.
Here is an example of a Manfrotto 375 Multiclip and black card in use on Anne's Tachihara 4x5 camera. Both of the clips rotate, allowing for a multitude of placements. You must be very careful to check when shading to ensure that the shade is not infringing into the image area. This is best done by practicing at home with your camera before heading out into the field. The clamps fold up quite small and only weigh 2.5 ounces each and cost about $10 at B&H.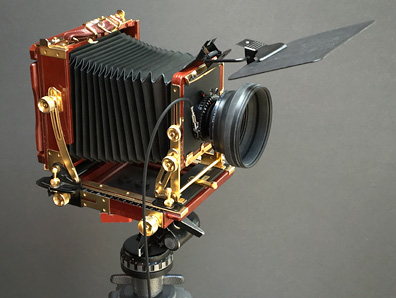 Manfrotto 375 Multiclip with Black Plastic Card Shade
Most smaller format cameras do not allow for easy use of the Manfrotto Multiclip mentioned above. On occasion when the lighting situation is extremely challenging in terms of shading (especially with working on interiors where there are bright light sources just OUTSIDE the image area), we have made use of the Wimberley The Plamp II. This is a bulkier, heavier and more costly item - $43 at B&H - but works very well. You can see the Plamp attached to the tripod leg and black card positioned with Anne's Hasselblad camera in the image below.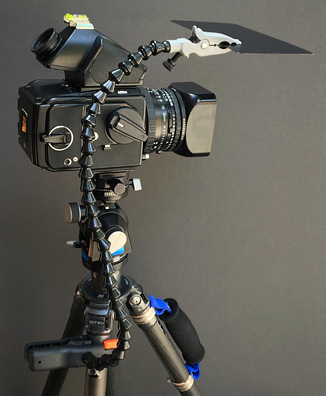 Wimberley Plamp II with Black Plastic Card Shade
Along with the use of shades, the black cards have other purposes as well. We used them constantly when photographing at night in Venice to block the lens when an illuminated boat went by in a canal (which happens all of the time!!!). The tricky part is to keep track of the time you are not exposing when the lens is covered. The same type of blocking can be done if people are walking through a scene or a vehicle with headlights is visible in the field of view during a long exposure. In addition, along the coast one can control whether rocks are exposed or hidden as the sea goes up and down during a long exposure. If making a long exposure in the forest or with grasses, and if leaves or grass begin to vibrate, one can cover the lens until things calm down and then begin the exposure again. Using the black card in this way is best done with a traditional lens shade on the camera. Make sure to NOT touch the camera lens when covering the lens.
On a few occasions I have even used a black card to "burn in" a sky during a long exposure by dropping it into the frame to a predetermined amount and moving it up and down during the exposure. You will have to add additional time to the exposure and practice is essential before attempting this on a "keeper" image in the field. I have had great success using this technique over the years.
There are disadvantages to using the Multiclip or the Plamp with a piece of black plastic – especially with long exposures. Any wind will likely create vibrations of the camera and or tripod, as the black card itself acts as aerodynamic surface, so be very careful in those situations.
Consider adding a couple of black cards to your camera case. I think you will find that you use them more often than you suspect. They cost almost nothing, take up very little space and weigh less than a cable release.
---
HUGE SIERRA SNOW PACK AND THE PLOWING OF THE TIOGA ROAD
As I mentioned above, this past winter in California was amazing. According to NASA the Sierra snow pack is greater than they were in the last four years combined! For those of you who have been over the dramatic Tioga Pass Road, which reaches 9,943 feet in elevation, you might enjoy this recent helicopter aerial view of the progress being made plowing the eastern side of the Tioga Road from Lee Vining to Tioga Pass in Yosemite National Park. It is quite a challenge to clear all that snow!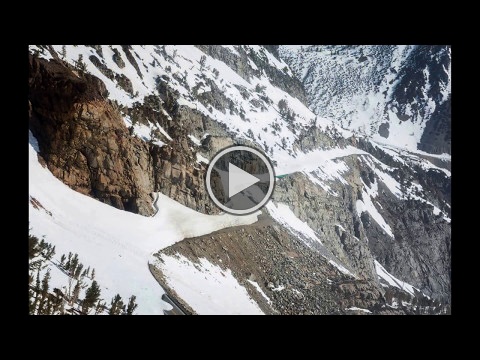 ---
VIDEOS RETURNED TO THE WEB SITE AFTER "DISAPPEARING"
Over the past few months I received a few emails that surprised me. The links to the Epson video Celebrating the Black and White Print, along with the Lexus Chasing Light video, were both found to be "dead." I have no idea when they disappeared into cyberspace, but we have brought them back and now have the videos at our own YouTube channel. Hopefully they will stay in place into the future.
As I was preparing the video content to upload, I had the opportunity to watch portions of both the videos. I must say that I am quite pleased with the way the Epson project turned out. It is a long video, but if you are suffering from insomnia it may help with that difficulty. My long-time friend Dan "Dano" Steinhardt from Epson really did a great job putting this video together, and I am glad to have it back available for individuals visiting my web site – if they choose to view it. Anne and I were transported back to the intense eight days of travel and work on the Lexus Chasing Light video. It was great getting to know the young but dedicated crew. We had a lot of fun working on the project and drove lots of miles..
You can find both of the above videos, along with a number of other videos and podcasts, on this web page.
---
SOME THOUGHTS ON PHOTOGRAPHY... AND OTHER TOPICS
"For more and more of those who now live here, however, the great plateau and its canyon wilderness is a treasure best enjoyed through the body and spirit, in situ as the archeologists say, not through commercial plunder. It is a regional, national and international treasure too valuable to be sacrificed for temporary gain, too rare to be withheld from our children. For us the wilderness and human emptiness of this land is not a source of fear but the greatest of its attractions. We would guard and defend and save it as a place for all who wish to rediscover the nearly lost pleasures of adventure, adventure not only in the physical sense, but also mental, spiritual, moral, aesthetic and intellectual adventure. A place for the free."
Edward Abbey
from his book The Journey Home