KODAK ANNOUNCES READYLOAD FILMS TO BE DISCONTINUED
For those who may not be aware, Kodak has recently announced that they will be discontinuing all Readyload films. However, all 4x5 and 8x10 sheet film products will continue to be available. I wanted to make sure that all readers of my email newsletter were aware of this situation. I know a number of you use Readyload film, as do Anne and I.
To read the actual Kodak announcement follow this link: http://www.kodak.com/global/en/professional/products/films/readyload
While it is sad to lose a valuable and unique tool like Readyload, it is good to know that the sales of professional films -- especially black and white large format films -- are doing well. I recently spoke with Scott DiSabato, Kodak's Marketing Manager for Professional Film, in detail about the Readyload situation, and films in general. He indicated that the sales of Readyload film products had been dropping, as has been the case with most films in general. Scott also related that, since Kodak changed over to single-sheet production, the manufacturing of the Readyload envelopes and insertion of the Kodak Professional film into those envelopes had been handled by a third party under a licensing agreement and direct supervision from Kodak. Initially the minimum order quantities for these components and proper manufacturing procedures were easily obtained. However, during their most recent manufacturing run the minimum requirements equated to more than two years worth of production. Many of Kodak's Professional film products have only a 24-month dating period! This means that Kodak's business model for their Readyload products evolved to a situation where a portion of their finished film inventory would expire and have to be scrapped at a considerable cost to Kodak. During my conversations with Scott, I was pleased to hear that Kodak has solid sales performance of these same products in the various size sheet film formats.
I've used Readyload films since before their introduction in the mid-1980s. I had the privilege of working on the development of the prototype materials in color, and the black and white T- Max 100. Anne and I will greatly miss the lightweight and compact capabilities of the Readyload products, as well as the fine level of cleanliness in the manufacturing process. We plan to "stock up" on the T-Max 100 film and will freeze a supply, which we will use in the coming years. As much as we will miss the availability of Kodak Readyload products, Kodak's decision to discontinue these products will hopefully help sustain Kodak's manufacturing of professional sheet and roll film products well into the future. During our conversation Scott reiterated that Kodak is dedicated to providing films of superb quality for as long into the future as possible. Evidence of this fact is the introduction last fall of the new and improved T-Max 400 black and white film. The film has received a great response, as well as rave reviews, from many photographers who have tried it (including myself!!).
I would always suggest using films prior to the published expiration date on the package. That being said, I have had success freezing T-Max 100 film, and have achieved excellent results for a number of years beyond the suggested expiration date. It is essential that the foil packet be sealed and intact when freezing film. I would NEVER freeze film that has had the airtight foil packet compromised.
As I mentioned in the "Tech Tip" section of my December 2005 newsletter a manual defrost freezer should provide better longevity enhancement than the more common frost-free models. The frost-free units raise the temperature above freezing every day to melt off the residual frost. Manual defrost freezers maintain a constant cold temperature which is advantageous when trying to preserve photographic emulsions. In addition, manual defrost units cost less, and use less energy.
Though film emulsions and paper emulsions are different, below is a link to the December 2005 newsletter that contains additional information on freezing photographic papers to extend their useful life. There is information in this previous newsletter that should be applicable to freezing films.
Information on freezing photographic papers in John's December 2005 Newsletter
As is always the case, please continue to use the films that you are fond of so that sales will stay as strong as possible. That will give us the best opportunity to have the greatest number of choices of quality films available.
---
ORIGINAL PRINT AVAILABLE AT A SPECIAL DISCOUNT PRICE ONLINE
From time to time, I make special print offerings available at reduced prices. The new Special Collectors Edition offering of Sea of Aspen shown below is now available for order online. This print is available for a limited time at the very special price of $600. To learn more about this print, or to order, follow this link: http://store.yahoo.com/ventanaeditions/joseorpr.html
I made this image during a light rain one spring evening in the spectacular Dolores River Canyon in Southwestern Colorado. While driving along I rounded a bend and found an incredibly dense grove of aspen trees blanketing a hillside in front of me. The grove was some distance away, so I used the longest lens I had at the time - a 500mm Tele-Nikkor - on my trusty 4x5" Linhof Technika camera to make this image.
When I saw how the luminous white trunks filled the ground glass of my view camera, it seemed as if I was looking at a "sea" of aspen trees. There was a delicate glow on the aspen trunks that I hope is conveyed in this online reproduction of the original print. I used a number 23A red filter to darken the background foliage and accentuate the aspen trunks, and increased the contrast of the T-Max 100 film by giving N+1 development.
I liked this image so much that I included it in my first book, Quiet Light: Fifteen Years of Photographs. I have never tired of this image, and think these recent prints are the best I have ever made of this particular image.
There are a limited number prints available at this special discounted price, so if your are interested, please act quickly. My prints in this size normally retail in galleries for $900, so the savings over the retail price is significant.
This print is approximately 11x14", personally printed by me (as are all my prints), processed to current archival standards, signed, mounted, and matted to 16x20" on 100 percent rag museum board.
Prints will be shipped within ten days of the order date.
All prints are carefully prepared and packaged in specially designed protective shipping boxes, and shipped fully insured via UPS ground.
If you prefer to order by phone, or if you have any questions, call 831-659-3130 from 9:30 am to 5:30 pm, Monday through Thursday to place an order. In addition, you can contact us at: info@johnsexton.com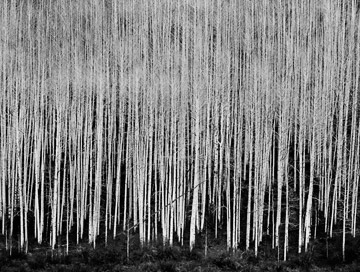 Sea of Aspen, Dolores River Canyon, Colorado
---
NEW MARIANA COOK BOOK AT VENTANA EDITIONS ONLINE STORE
Like many of you, Anne and I have an extensive library of photographic books. Among the many books we have collected over the years, there have been a few that etch their way into your being. A few months ago I came upon such a book by my long time friend, and former student, Mariana Cook. Many of you may know Mariana's excellent books of portraits, including Fathers and Daughters, Mothers and Sons, Generations of Women, Couples, and Faces of Science. Mariana's recently published book Close at Hand is a departure from her traditional black and white photographs. In this volume Mariana turns her eye to the prosaic and commonplace world we all encounter on a day-to-day basis as we go through life. Anne and I both found the book to be most inspiring. After closing this volume of personal images of every day life, you realized how much you overlook each day and how prosaic objects can be transformed into images that possess a life of their own.
Beginning January 1, 1999 Mariana set herself the task of making one serious photograph every day, forcing her to look anew at the world around her. The photographs in the book are a celebration of form and transformation, and something that we thought would be of interest to readers of this newsletter. We are pleased to offer autographed copies of Mariana's book Close at Hand at the special discounted price of $25.00 through the Ventana Editions online store. Mariana was kind enough to sign a number of copies for our inventory when she visited us a few months ago.
Mariana was a close friend of Ansel, as she was beginning her photographic adventure. In fact, I met Mariana through Ansel. He called me while I was living and teaching in Southern California, asking if I would be willing to take on a private student. Mariana and I worked long and hard on a couple of one-week intensive photographic sessions. That was thirty years ago. It's exciting to see what Mariana has accomplished with her photography, and continues to accomplish. She is currently working on a new book of portraits on mathematicians.
If you're interested in purchasing an autographed copy of Close at Hand, simply follow the link below, or contact Laura Bayless at 831/659-3130 or laura@johnsexton.com.
---
PHOTOGRAPH AMERICA NEWSLETTERS
I wanted to make my newsletter readers aware of the excellent Photograph America Newsletter published by Robert Hitchman. I've been a subscriber to these newsletters for many years, and have found them to be a valuable resource for planning photographic trips.
Bob is a photographer himself, and has been publishing the Photograph America Newsletter for 19 years. He recently published the 105th issue! The information that Bob provides is well researched, accurate, and up-to-date. He has even gone back and updated some past newsletters with current information and web links. The beauty of these newsletters is that they are based on the needs and desires of photographers, rather the general touring public. Along with photographic tips on particular locations each 12-page issue contains useful information on lighting and equipment. In addition there are helpful ideas on travel, lodging, logistics, time of year, and, when appropriate, suggestions for guides and outfitters that Bob has worked with personally.
I find his newsletters to be interesting and helpful. They cover all areas of the U.S., and even include areas of Canada. Bob offers subscriptions as printed hard copy newsletters, as well as PDF download versions. I like receiving both printed copies and the PDF version of the newsletters because I find it easier to skim the contents of something I receive already printed, but like to have the resources available as a PDF file on my laptop while I'm on the road.
If you're interested in a subscription to the Photograph America Newsletter, or to obtain back issues, simply follow this link: http://www.photographamerica.com
I think you will be very pleased with the content and production quality of each issue.
---
GLAZER'S CAMERA TAKING ORDERS FOR ULTRA LARGE FORMAT FILMS
Here is some good news about film availability. Glazer's Camera - a top-notch professional photography retailer in Seattle, Washington - has coordinated with Kodak and Ilford to offer black and white films in ultra large format sizes.
They are able to offer the new and improved Kodak T-Max 400 film, along with Ilford FP4+ and HP5+ films for special order in a variety of sizes up to 20x24". If you are interested in these films, check out this link: http://www.glazerscamera.com/kodak-ulf-film.html
Timing to meet the minimum order quantities is critical. The Ilford FP4+ and HP5+ order period ends on June 30. The Kodak T-Max 400 order deadline is July 20.
---
GOVERNOR SCHWARZENEGGER CHANGES HIS MIND ON CALIFORNIA PARKS
I am pleased to report that I recently received a bulk email from California Governor Arnold Schwarzenegger (our "Govrenator") indicating that his current budget restores funding for the California Department of Parks and Recreation, which will keep all of California's 278 State Parks open, and also keep California's State Beaches fully staffed with seasonal lifeguards. This is great news, and means that California's State Parks are protected... at least for a while!
I want to thank the many readers of this newsletter, as well as legions of others, for contacting Governor Schwarzenegger on this important issue. I received an amazing number of emails from newsletter subscribers in response to the mention of the Governor's plans to close many of our State Parks, along with copies of emails and letters that people sent to Governor Schwarzenegger.
It's good to know that the Governor listened to the outcry of so many people, and has changed his plans. Let's hope that California's State Parks, as well as many other natural treasures around the planet, are protected for future generations to enjoy.
Thanks again to everyone who helped generate a collective voice of change that had a most positive impact.
---
TECH TIP: ORGANIZATION CAN HELP THE CREATIVE PROCESS
During our recent photographic travels I was reminded of the importance of having everything in its proper place when doing photography. Photography is an interesting blend of technical and creative endeavors. Many people interested in photography think that buying a new camera, lens, or other piece of photographic equipment will help their photography. In reality it usually complicates the creative process until the photographer becomes intimately familiar with that piece of equipment, and is able to use it intuitively with little conscious thought.
As mundane as it might seem, keeping your camera case (shoulder bag, backpack, hard case, or whatever type of case you use) organized is an important part of the creative process. Each of my camera cases has evolved into a certain type of organization that makes sense to me, and likely only me. If I put things away properly at the end of each photographic session, I know just where to find my close-up glasses, view camera focusing loupe, len shade, filter adapter rings, and all of my small (as well as the large) pieces of photographic equipment.
I find it's essential for each item to have a specific "home," and to be placed in that same location each and every time.
When a piece of equipment turns up "missing in action," it always seems to happen at the worst possible time -- just as the light is fading. Imagine how frustrating it must have been for Ansel when he couldn't locate his Weston light meter as the light was beginning to fade over Hernandez, New Mexico in November 1941. Ansel, being filled with esoteric information beyond anyone's comprehension, knew that the moon reflected 250 candles per square foot and used that information, along with the exposure formula, to calculate an exposure that produced a printable negative. As Ansel said many times, paraphrasing Pasteur, "Chance favors the prepared mind."
I find it's a good idea every year or so to take everything out of your camera case and lay it out on a counter or table. It's a good time to realize what's missing, like a backup battery for your light meter, extra cable release, etc., and also find those "lost" objects that just never turned up -- things that were put into the case just at dark, and you planned to take them out as soon as you got back to your vehicle or at the end of your photographic trip. It's also a good time to look at how you're organizing your case to see if there's a way that can increase efficiency and productivity, and allow you to concentrate on the task at hand when you're out making an image -- not looking for a piece of photographic equipment. Good luck!
---
SOME THOUGHTS ON PHOTOGRAPHY... AND OTHER TOPICS
"All the wide world is beautiful, and it matters but little where we go…
The spot where we chance to be always seems the best."

- John Muir
"Finally a word of caution:
Do not jump into your automobile next June and rush out to the canyon country
hoping to see some of that which I have attempted to evoke in these pages.
In the first place you can't see anything from a car;
you've got to get out of the god damned contraption and walk,
better yet crawl, on hands and knees, over the sandstone and through the thornbush and cactus.
When traces of blood begin to mark your trail you'll see something, maybe.
Probably not."

- Edward Abbey
from his introduction to his book Desert Solitaire - first edition
(Written in Nelson's Marine Bar, Hoboken, New Jersey April 1967)