---
EPSON WEB SITE CELEBRATES THE BLACK AND WHITE PRINT
FEATURING VIDEO INTERVIEWS OF JOHN ALONG WITH KIM WESTON
Early this month Epson launched a new web site In Celebration of the Black-and-White Print. I am honored to be featured on the web site along with my longtime friend Kim Weston. The project began nearly fifteen months ago when Dan "Dano" Steinhardt from Epson America spent the day at our studio video taping me discussing my passion for the black-and-white print. He spent the next day interviewing Kim at his home at Wildcat Hill in the Carmel Highlands.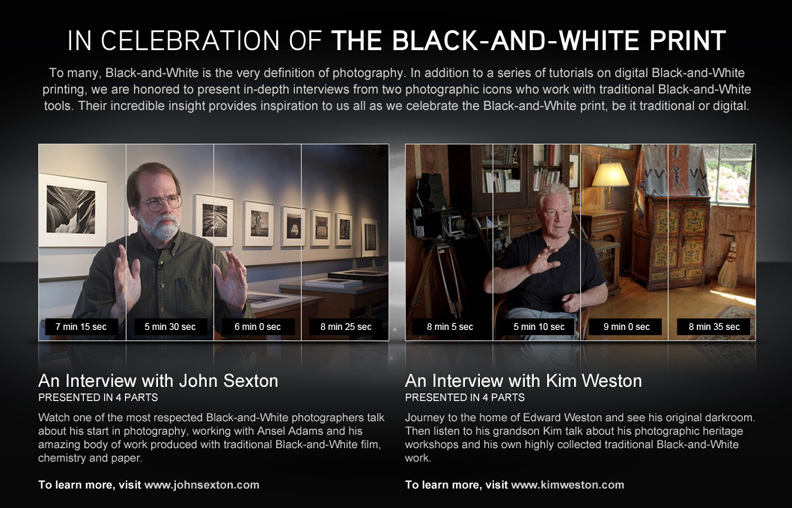 Dano was so pleased with the results that each of the videos runs for nearly one half hour! Epson is releasing the videos in "bit size" segments every two weeks. Two segments from each of us are available now, and the next episode goes live on July 10.
I am very pleased with the way my video turned out. If you have some spare time, you may want to take a look. I hope that you find some things of interest. Along with the video interviews with Kim and me, there are some good tutorials on black-and-white digital techniques by Dano along with Tony Corbell.
Iam honored to have Epson American, Inc. as the newest partner in our John Sexton Photography Workshops program.
---
REMEMBERING BRETT WESTON VIDEO
http://www.johnsexton.com/remembering_brett_weston.html
If your are in the mood for watching videos, and interested in Brett Weston, be sure to check out the Remembering Brett Weston video. Episode one is an intimate, and informal, sharing of fond memories by three photographers - Randy Efros, Kim Weston, and me. This is the first installment in Kim and Gina Weston's series of videos about "Uncle Brett." As you will discover, the three of us had a great time reminiscing about Brett. You may even learn the meaning of Brett's phrase "snake bite time"! You will gain insights into the man, and the photographer, Brett Weston, and will learn about his passion for photography and for life.
---
2013 UPCOMING LECTURES, EXHIBTIONS, AND SEMINARS
JOHN'S PUBLIC LECTURE
INSPIRATIONS: A LIFE IN PHOTOGRAPHY ON THE MONTEREY PENINSULA
SUMMER ARTS 2013 - CALIFORNIA STATE UNIVERSITY MONTEREY BAY
July 16, 2013 - 7:00 pm
Admission: $8.00 (Seniors and Students: $5.00)
http://www.csusummerarts.org/public_events_calendar_2013/july16.shtml
I am pleased to be involved with the 2013 Summer Arts program at nearby California State University Monterey Bay. I will be part of the faculty for the Creative Digital Travel Photography workshop. I am not sure what I can contribute as my photography is primarily not done with digital techniques, but we all are "light writers" so it should be fun. During my lecture I am looking forward to sharing my life in photography, share images and insights from photographers who called this spectacular area home, including Ansel Adams, Brett Weston, Wynn Bullock, Morley Baer, Henry Gilpin, Richard Garrod, Robert Byers, Al Weber, and others.
JOHN AND ANNE EXHIBITION
SUN TO MOON GALLERY
DALLAS, TEXAS
Exhibition Dates: September 5 - October 12, 2013
Opening Reception: Saturday, September 7, 2013 - 5:00 to 8:00 pm
All Day Seminar: Friday, September 6, 2013 - Sun to Moon Gallery
Free Public Lecture, Saturday, September 7, 2013 - 1:00 pm - Richland College
Anne and I are very busy preparing for our upcoming two-person exhibition at the Sun to Moon Gallery in Dallas, Texas. The show will run from September 5 through October 12, 2013. There will be an opening reception on Saturday, September 7 from 5:00 to 8:00 pm
In addition we are planning a one-day seminar on Friday, September 6. We are working on the details for the seminar at this point. Contact Sun to Moon Gallery so they can let you know once the details are announced. There will be a limited number of spaces for the seminar.
I am pleased to announce that Richland College is hosting a public lecture on Saturday, September 7 at 1:00 pm. The event if open to the public, and the admission is free. There will be a poster sale and signing following the lecture. The event will be held in the Fanning Performance Hall, F102, at Richland College. Richland College has hosted some great photography lectures in the past, and I am honored to be a part of their photography lecture series. I will also be spending some time with the Richland photography students, which I am really looking forward to. For further information about the lecture contact photography professor Wayne Loucas loucas@dcccd.edu.
If you are able to attend the lecture, be sure to stick around for the opening reception that evening. Richland College is about a 30 minute drive from the Sun to Moon Gallery. We are looking forward to seeing a bunch of our photography friends from Texas.
---