Greetings,
I became involved - and later obsessed - with photography because I loved the act of exposing light sensitive film in my camera, followed by the magic of making photographic prints on light sensitive paper in my darkroom. That passion remains as strong today as when I first experienced it more than 50 years ago. I hope you will find some of the information in this newsletter of interest to you.
This past April we experienced a confluence of sad news as three of my photographic friends, and heroes, passed away in a period of less than three weeks. Richard Garrod, William Giles, and Jerry Uelsmann all had long, and productive lives, but the news was still hard to accept. I met all three of them in the early 1970's, and we remained friends over the decades. I had the opportunity to teach with all of them at various Friends of Photography workshops, and had a great respect for each of them. They each leave behind a rich, and important, body of work that will inspire others into the future. As another late photographer, Steve Crouch, often said, "Photographers fade faster than photographs." The world of photography certainly faded a bit in April.
I do not often share my worries about what goes on outside the photographic world in my eNewsletter, but the current state of the world, and our country, is extremely concerning to both Anne and me. The war in Ukraine is tragic beyond description, and we send our very best thoughts to the Ukrainian citizens (a few of whom are photographic 'friends' on social media). We hope that this insane aggression will end soon. In our own country the needless deaths of so many people–including children–is unbelievable and unacceptable. We believe it is shameful that so many Americans care more about their supposed individual rights than the safety, health, and wellbeing of their neighbors–and the country as a whole. We are hopeful that citizens will follow the admonition of many and speak loudly and clearly with their ballots later this year. It is time for peace, and for change.
Wishing you a safe summer ahead,
John
ORIGINAL SILVER GELATIN PRINT BY JOHN
AVAILABLE ONLINE AT DISCOUNTED PRICE
NEGATIVE TO BE RETIRED

I am pleased to offer this handmade silver gelatin print of my image Boulder, Sunwapta Falls, Jasper National Park, Canada at a special reduced price at the Ventana Editions online store. Once I have fulfilled all the orders for this special print offer the negative will be retired and will never be printed in any size as a silver gelatin print in the future. The normal gallery retail price for this 11x14" print is $1,000. From now through July 30, 2022, I am offering this 11x14" print for $700 - a 30% discount from the retail price. On August 1, 2022, the retail price for any remaining prints will increase to $2,000.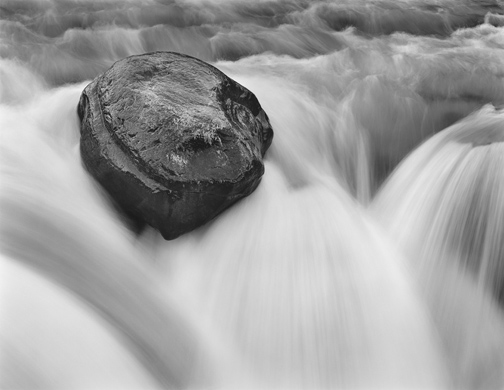 Boulder, Sunwapta Falls, Jasper National Park, Canada
© John Sexton. All rights reserved.
To learn more about the print, Boulder, Sunwapta Falls, or to place an order, follow this link:
https://ventanaeditions.stores.yahoo.net/bosufajanapa.html
Most of us are familiar with the statement, "A photograph never lies." The noted author Lawrence Clark Powell had a different perspective when he said, "Photographs don't lie, they just don't tell the truth." I think that Powell's statement is indeed accurate. I am not sure there has ever been a photograph made that has literally told the complete truth. More accurately, I feel that photographs create an illusion that people readily accept as reality. This is one of the truly amazing attributes of the medium. My photographs do not necessarily represent an accurate documentation of what was in front of the camera, but hopefully represent a personal interpretation of that which was behind the camera, the photographer–me. It is the process of discovery, interpretation, and illusion that I find exciting about the entire photographic process.
In September 1988 the Professional Photography Division of Kodak invited me to present a series of lectures in Canada. I had the pleasure of giving lectures on my photography at multiple venues in, and around, Toronto, Vancouver, and Calgary. It was exciting to meet so many enthusiastic photographers–many of whom were college and university photography students. Following the lecture tour, I spent a week exploring Banff, Yoho, and Jasper National Parks. The scenery was amazing, and I found numerous interesting photographic subjects during my wanderings.
In those days the Canadian Rockies were not as heavily visited as they are today. There were still plenty of tourists, but in September there really were not many folks, and lodging was surprisingly affordable. One of the places I visited was Sunwapta Falls in Jasper National Park. I arrived in late afternoon and there were only a handful of people there. The Sunwapta River has two channels that merge in the cataract of the 60-foot-tall upper Sunwapta Falls. Sunwapta is a Stoney Indian word meaning "turbulent river" or "radiating waves."
I was immediately attracted to a large boulder at the top of the falls. It appeared to me as if the boulder was somehow magically hovering in the turbulent water and could at any time disappear or drop. I was very intrigued by the scene, but there was a shadow from a large tree that created a tonal distraction. The lighting was not appropriate for the image I visualized in my mind's eye. I made a mental photograph and decided to take my 4x5 view camera on a stroll down the Sunwapta River, anticipating that the falls would go into soft light fairly soon.
I walked about a mile downstream to the lower falls and a bit beyond that. I set up my view camera once or twice but did not make any photographs. It was a beautiful area, but I was not able to organize an image that appealed to me. I try to never knowingly make a photograph that I am sure is not going to work. That being said, over the decades I have made many thousands of UNsuccessful images - far more than the number of successful photographs I have ever made!
By the time I returned to the top of the upper falls the entire area was in soft light as dusk was approaching. Now my visualized image and the lighting were complementing one another. The parking area was completely empty and there was no one else at the upper falls at the viewpoint. This enabled me to easily climb the low chain link fence and position my Linhof 4x5 view camera in the correct position to organize the image as I had imagined. I used my 210mm lens. The exposure was 5 seconds at f/32 on Kodak T-Max 100 film. The long exposure smoothed the moving water and formed a tactile contrast between the wet surface of the boulder and the smooth light gray tones of the water.
I knew before I ever set up the camera that the negative would likely be challenging to print. Even in soft light the scene had fairly high overall contrast. The dark boulder, which was further darkened by being wet, created significant contrast compared to the bright rushing water surrounding it. However, both the boulder and the water had relatively low local contrast. This meant I would likely need to print the negative on a higher-than-normal contrast paper to enhance the local contrast, and then employ various techniques to ensure that I could keep the illusion of three dimensions and the sense of wetness on the boulder rather than having it just be a dark 'blob.' This took considerable experimentation in the darkroom, and eventually involved significant dodging and burning, along with localized selenium intensification of the boulder itself to add a bit of density, and finally a very subtle 'taste' of dilute potassium ferricyanide bleach to the surface of the boulder to enhance the tactile quality. Once I successfully blended those elements together, I finally had a print that rekindled the excitement I felt when making the photograph and fulfilled my desires.
In 1993 when I first offered to give a print to Anne, I ask her to select whatever image she preferred. The print that she picked was this image, Boulder Sunwapta Falls. So, this image has special meaning for both Anne and me.
This silver gelatin, selenium toned, print is approximately 13-1/4 x 10-5/16", personally printed by me (as are all my prints), processed to current archival standards, signed, mounted, and matted to 16x20" on 100 percent rag museum board. Prints will begin shipping on July 20, and all of the prints ordered will be shipped no later than October 10, 2022.
All prints will be carefully prepared and packaged in specially designed protective shipping boxes and shipped fully insured via UPS Ground. If you have questions about my prints, please feel free to contact us at 831-659-3130 or email: info@johnsexton.com. Our office hours are Monday through Thursday from 10:00 am to 1:00 pm Pacific time.
You can see the image and place a secure online order for the print at the Ventana Editions web store:
https://ventanaeditions.stores.yahoo.net/bosufajanapa.html
---
KENNY ROGERS PHOTOGRAPHY EXHIBITION AT BOOTH MUSEUM
JOHN SEXTON VIDEO REMEMBRANCE
As readers of my eNewsletter may recall, years ago I conducted a private photography workshop for the legendary singer and entertainer, Kenny Rogers. In 1984, I was Kenny's "Christmas gift" from his wife at the time, Marianne. During this darkroom workshop session, Kenny and I developed a special friendship that lasted over the decades until he passed away in March 2020. In the early years of our friendship, we spent a considerable amount of time together traveling, photographing, and working in the darkroom.
The Booth Museum of Western Art in Cartersville, Georgia currently has an exhibition of Kenny's photography on display. The exhibition, Through the Years: Kenny Rogers' Photographs of America, includes approximately sixty of Kenny's photographs, and will run through September 10, 2022. For those in the area, you might find it of interest to attend the exhibition. For those like myself not able to visit in person, there is a virtual tour available here: https://my.matterport.com/show/?m=YqNbVY1sR7p
Earlier this year the Booth Museum contacted me about the possibility of presenting a lecture in conjunction with the opening of Kenny's exhibition. Unfortunately, I was unable to attend the event. We had a discussion of alternative possibilities, and I came up with the idea of producing an audio-only presentation. I also agreed to include a handful of happy snaps from the times Kenny and I shared together. The plan was for the museum to overlay projected images from the exhibition, along with my small number of happy snaps. I prepared the digital audio file and submitted it to the museum. It soon became apparent there were some problems with the concept as difficulties arose when the museum staff tried to assemble adequate visuals to accompany my words.
When I learned of this challenge, Anne and I began to dig further into the many boxes of stuff that I had from my many adventures with Kenny. My longtime friend - Bob Shanebrook from Kodak, who accompanied us on some of those photographic expeditions - shared some of his images with us as well. The small size of the snapshots was less than ideal, but we did everything possible to dig image quality out of these pictures that had not been looked at for years. This all had to be done in an extremely short timeframe. It took a considerable amount of time for Anne and me to construct a visual story that complimented the content of my audio. We finally assembled something that met our desires and expectations. It was shown during the opening reception and received a great response from those in attendance. I thought you might enjoy watching the presentation...if you have about fifteen minutes to kill!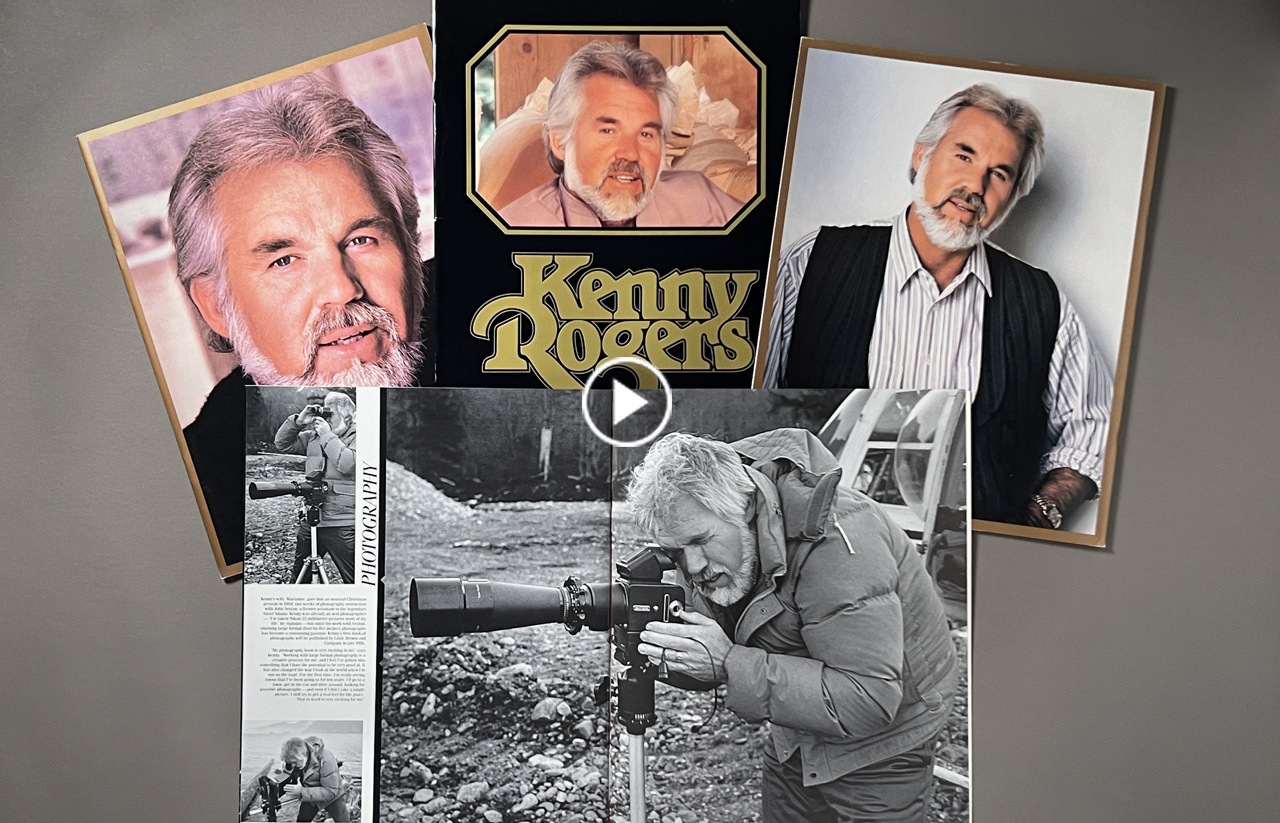 WATCH JOHN'S VIDEO PRESENTATION

Kenny had an amazing amount of energy, and during our time together he focused that energy on his photography. There were darkroom sessions that lasted until 3:00 am - or later. Often there was silliness during those long middle-of-the night darkroom sessions where we might do something like modifying the lyrics to Kenny's iconic hit, The Gambler.
You've got to know when to dodge 'em
Know when to burn 'em
Know when to walk away
And know when to run
You never count your prints
When you're sittin' in the darkroom
There'll be time enough for countin'
When the printin's done!
Anne and I wish we could see the exhibition in person, as we have not seen these prints. They include a few images made when Kenny and I were working closely together. Back in those days, Kenny handmade silver gelatin prints in his darkroom. Most of the photograph in this exhibition are digital prints. Along with landscapes, architecture, and other subject, there are sixteen portraits of Kenny's made of his celebrity friends that are indeed striking. I believe Kenny's portraits - most were made with an 8x10" view camera - are his strongest body of work.
You can watch my Kenny Rogers video, and others on my YouTube channel. I can guarantee that you will learn some things about Kenny Rogers that you do not know, and very likely learn a few things about me that you are not aware of as well! I would welcome you to subscribe to my YouTube channel. Who knows what I might be posting in the future?
---
TRIP REPORT
OUR RECENT PHOTOGRAPHIC TRIP TO THE SOUTHWEST
Anne and I recently returned from a two-week photography/camping road trip to the Southwest - one of our favorite areas for photographic explorations. I made my first photography trip to the Southwest in January 1980. Anne and I have shared countless explorations in the Southwest together for nearly 30 years. We are including some iPhone "happy snaps' from our trip with the article.
It was great to hit the road as we headed out from Carmel Valley in our 2014 Ford 4x4 van 'MR ZONE,' and began driving eastward. We purposely did not have a specific itinerary planned. However, we had assembled a wish list that included several new areas that we wanted to explore, as well as places we wanted to visit again.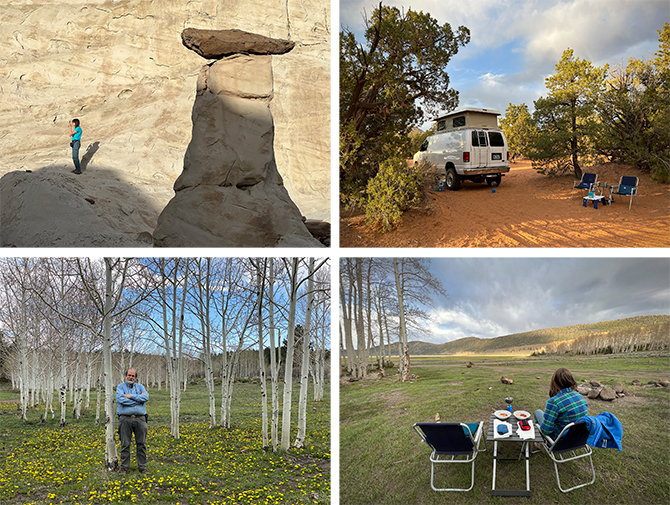 On the third day of our trip, we suddenly experienced a complete loss of air conditioning during acceleration - not a perfect situation as it was nearly 100?F outside! We had encountered the same issue about 6 months earlier, and with the help of Google search and YouTube videos, I was able to come up with a solution that fixed the problem.
With windows rolled down we headed to a NAPA Auto Parts in Cedar City, Utah. By good fortune, I found a knowledgeable, and ingenious, counter clerk. He did not have the fittings I was looking for, but cleverly came up with another solution using vacuum hose and different size adapter-fittings. I bought all the fittings they had - which were only two - as well as extra lengths of the two different size vacuum hoses. Anne and I went to work in the parking lot of the Napa Auto store in the scorching sun. Success! Off we went enjoying the relief of the cool air conditioning. About 10 miles down the road the problem returned! To make a long story short, that evening in camp I dug into the system more fully and found that ANOTHER recently installed rubber fitting had failed. Luckily the extra parts I bought at the auto parts store, along with some items I had in our emergency repair kit allowed me to fully repair the problem, and it has worked beautifully ever since!
During our trip, we encountered some very high temperatures - in excess of 106°F! If we had not been able to remedy our air conditioning problem, we both agree we would have had to end our trip prematurely. Along with the high heat, we faced the challenge of high winds - with some gusts over 60 mph!
Our wanderings took us through beautiful verdant aspen groves, red rock canyons, and amazing sandstone formations. The Southwest is truly a magnificent place! The way the light bounces in the canyons; the other worldly colors; the desert varnish patina; and the sound of a Raven croaking high above in the blue sky - soon to be answered by its mate. There is however nothing more enchanting than hearing the beautiful call of the Canyon Wren. Anne and I were sitting under the shade of a huge cottonwood tree when we heard the big voice of this tiny little bird - a series of gorgeous cascading notes echoing off the cliff walls - now we knew we were truly in the Southwest! For us the Canyon Wren's performance is the anthem of the Southwest.
We had a great time exploring back roads, often taking a longer and more winding route from place to place - and avoiding highways completely for 10 days. We logged a few hundred miles on dirt roads, and we were plenty tired of the stiff suspension in our van after hours of washboards! Lowering the air pressure in our tires helped smooth the off-road ride immensely. Fortunately, we have an onboard air compressor which allows us to easily re-inflate the tires for safe driving on paved roads.
We stayed in few motel rooms to escape the high winds, and to enjoy an occasional shower, but the majority of the time we camped in our van. Some of our camp sites were in beautiful aspen groves, while another had a spectacular elevated vista overlooking miles of the tortured topography below.
Along with the high temperatures and winds we encountered, we had one evening, near Boulder, Utah, where it was completely calm. Believe it or not, on that night, we wished for some breeze. The reason... "No see ums." We had encountered these biting gnats on previous visits to the area. Unfortunately for me, they LOVE the taste of my blood. The bites are not painful, and at the time, I often didn't realize that I was being bitten. The next day was another story! I had itching bites on my neck, ears (common places that No See Ums love) as well as on my ankles, legs, arms. Anne however, only had one single bite! Not fair!!!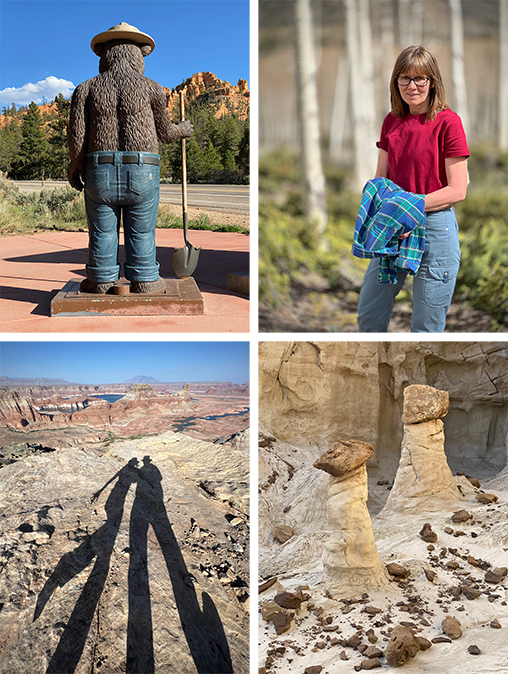 Prior to our trip we had been extremely busy in the darkroom with very little time for making new photographs. We found ourselves to be more than little "rusty" when it came to making photographs. We both experienced a frustrating and embarrassing situation with our Hasselblads. As we were photographing close to one another at a beautiful location with Hoodoo rock forms, I noticed that my T-Max 100 film magazine seemed to keep "going and going!" I looked at the counter and immediately realized what the problem was; the magazine had never been loaded. I shouted my frustration to Anne, and she yelled back that her T-Max 100 film magazine was, "really easy to wind!" We both suffered from the same dilemma of an empty film magazine.
We had both primarily been photographing with T-Max 400 film - which had been properly loaded! Fortunately, for me, I really didn't lose any images. Anne, on the other hand, had made a photograph that she particularly liked a few days prior that she exposed only on T-Max 100. She was devastated. The location was more than a hundred miles driving, and a fair amount of that distance was on a slow dirt road. Fortunately, as the trip evolved, we found ourselves in much closer proximity to where she made the photograph. We decided to go back and, for once, everything worked out as hoped. Anne was able to successfully remake her photograph. We both still feel embarrassed by our errors. To quote the apocryphal story, "How do you get to Carnegie Hall? Practice, practice, practice!" We were out of practice. As the trip evolved, we quickly slipped back into a more comfortable, productive, and intuitive working method with our photographic equipment, and most importantly, our photographic seeing.
The evidence of climate change and the severe drought in the Western US was clearly visible in so many ways throughout our trip. The most striking was the HUGE "bathtub ring" on Powell Reservoir - the second largest reservoir in the United States. It is currently lowest level since it was first filled in the 1960's. We anticipated that we would be shocked by the difference we would see, but it really exceeded our imagination. We are hopeful for ourselves, as well as for the entire Western US, that we will have a rain and snow filled winter but looking to the future around the planet it seems as if "things are a-changin'".
Even if neither of us ends up with any "keeper" photographs from this trip, it was a journey filled with adventure, relaxation, rejuvenation, inspiration, and loads of fun! Just what we needed.
VIDEO TECH TIP
TRIPODS FOR BIPODS

Regular readers of this eNewsletter are familiar with my periodic Tech Tip installments. Anne and I decided to change things up a bit and produce our first Video Tech Tip. I want to provide information that may prove useful for both analog and digital photographers and would be applicable to a variety of camera formats.
This installment is Tripods for Bipods. I find that as bipods, humans are not particularly well-designed for holding cameras steady. I hope that you will get some ideas on how to use your tripod in a way that will optimize its effectiveness.
Just as importantly, over the decades of teaching photography workshops I have seem a wide variety of UNUSUAL tripod techniques. I have also seen some real tripod related disasters which resulted in significant camera and lens damage. If you have had such a problem in the past, don't feel too bad. Look at the memo I received from Ansel in 1980 below!
I am hoping you will find the video of interest, and that it will provide some insights that may help you improve your relationship with your three-legged partner. Enjoy!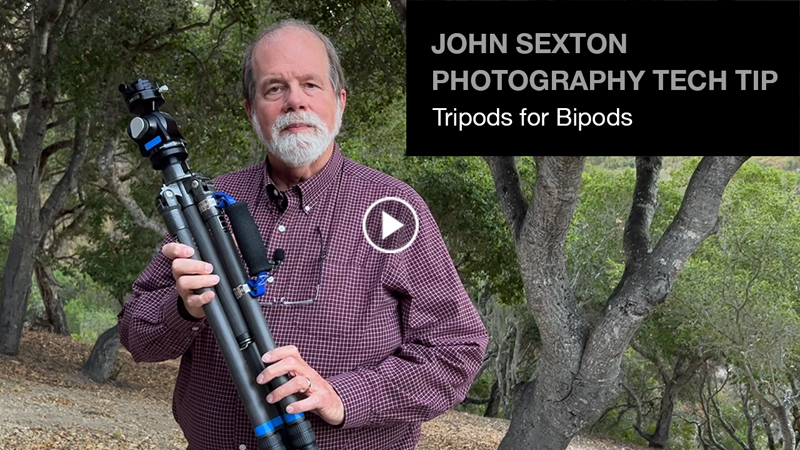 FROM THE ARCHIVE
A CLASSIC ANSEL ADAMS MEMO

Readers may recall me describing the lengthy process of sorting and organizing materials in the July 2021 installment of my eNewsletter.
I am pleased to report that the 'archive' is considerably more organized now, but there is always something more to do, and new to discover. I hinted in the earlier eNewsletter about sharing some Polaroid SX-70's, and I will be doing that at some point in the future.
While Anne and I were working on the video Tech Tip, I recalled a memo that Ansel sent in November 1980. Ansel and Virginia were visiting their son and daughter-in-law, Michael and Jeanne Adams, at their home in Fresno. As you will read below even famous photographers, like Ansel, have photographic mishaps.
This is truly a classic piece of Ansel correspondence. It is filled with his often humous typographical errors. The unique writing style, and sense of humor, are 100% Ansel! The only Ansel trademarks missing are his handwritten corrections, notes, and doodles. I hope you enjoy the document. I can hear Ansel's voice as I read it!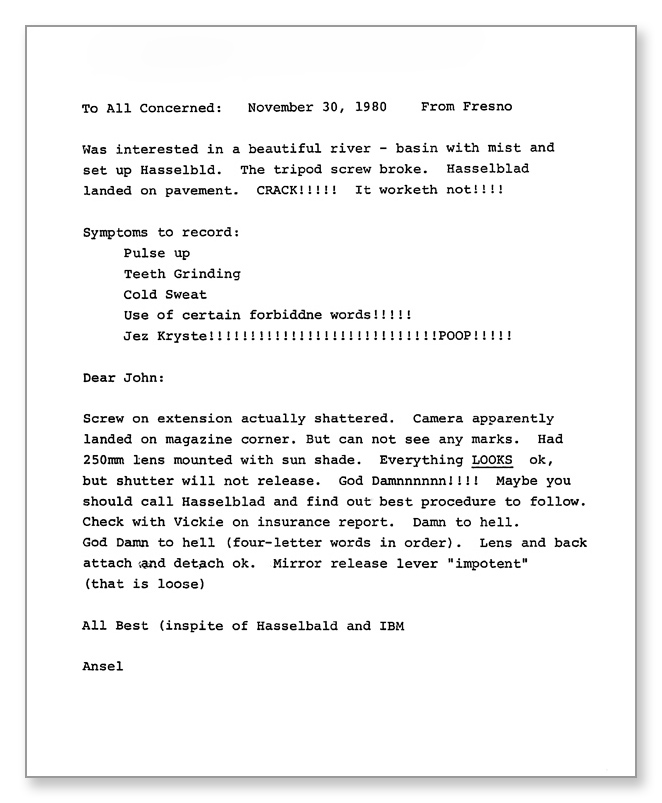 SOME THOUGHTS ON PHOTOGRAPHY... AND OTHER TOPICS
I am naturally a little envious, and a little forlorn, over my stay-at-home inclinations in the face of my friends' far journeys. But I guess we all have programs to carry out as befits our destinies! Only God and us can decide our programs!...

People wonder why I don't express more interest in travelling around the world. The fact is, I really haven't completed exploration of my backyard! Two dimensionally, I am jealous as Hell over your flying by the Himalayas! JEZUZ!!! But–after all–the other day I walked by some fresh green moss in my garden; this is a terrible confession for an old grizzled mountaineer to say–but that moss looked mighty impressive to me!
— Ansel Adams to Dorothea Lange
February 22, 1959