Greetings,
This is another mini edition of my eNewsletter. I wanted to let you know about my upcoming exhibition and lecture with the Ansel Adams Gallery in Yosemite National Park. In addition, I thought you would might be interested in the latest information about the glass plates that are alleged to have been made by Ansel.
I hope you are having a great summer!
John
---
ANSEL ADAMS GALLERY TO EXHIBIT JOHN'S WORK RECEPTION AND LECTURE AUGUST 21
I am just finishing up the prints for my upcoming exhibition at the Ansel Adams Gallery in Yosemite National Park. The show will be on display from August 18 to September 26, 2010. There will be an opening reception on Saturday, August 21 from 4:00 to 6:00 pm. I will also be presenting a lecture, Inspired by Yosemite: The Photographs of Ansel Adams and John Sexton, at the Yosemite Lodge Amphitheater at 8:30 pm that evening. If you're looking for an excuse to come to beautiful Yosemite, it would be great to see you there. The reception and the lecture are free and open to the public. You can find additional information at the Ansel Adams Gallery web site.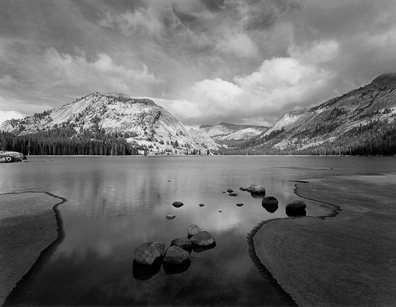 Tenaya Lake, Clouds, Afternoon
Yosemite National Park, California
©2009 John Sexton. All rights reserved.
I have been represented by the Ansel Adams Gallery since 1980, and have been fortunate to have had a number of exhibitions at the Gallery over the past thirty years. I am very pleased to have another opportunity to share my photographs at the Gallery, located in one of my very favorite places... Yosemite Valley.
---
UPDATE ON UNCLE EARL'S GLASS PLATE NEGATIVES
I am sure that nearly all readers of the newsletter have heard about the glass plate negatives that were purchased at a garage sale that are alleged to have been made by Ansel Adams. In fact there is considerable evidence that these images were made by Earl Brooks, now affectionately know around the world as "Uncle Earl".. I think you will find this recent article by Mike Boehm of the Los Angeles Times to be of interest.
http://latimesblogs.latimes.com/culturemonster/2010/08/ansel-adams-photographs.html
In case you missed my earlier eNews update about the glass plates, you can find it here:
If you are receiving this message in error, please accept our apologies. If you prefer not to receive future email updates from us, just send a quick note with your email address to:
remove@johnsexton.com
and we'll take care of it. We respect your privacy, and do not disclose email information to outside mailers.