ORIGINAL PRINT AVAILABLE AT A SPECIAL DISOUNT PRICE ONLINE
From time to time, I make special print offerings available at reduced prices. The new Special Collectors Edition offering of Boulders and Cliff, Sunrise shown below is now available for order online. This print is available for a limited time at the very special price of $600. To learn more about this print, or to order, follow this link: http://store.yahoo.com/ventanaeditions/joseorpr.html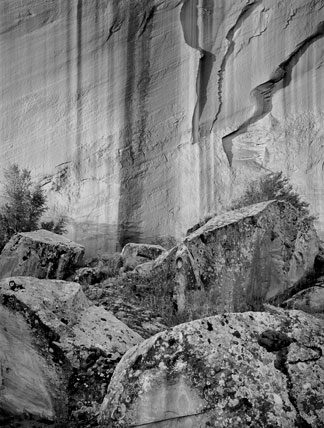 Boulders and Cliff, Sunrise
San Juan River, Utah
©1991 John Sexton. All rights reserved.

The morning I made Boulders and Cliff, Sunrise, San Juan River, Utah was one of the most spectacular mornings I've ever experienced in my many years of wandering the Southwest. The image was made along the shores of the San Juan River in the magnificent canyon country of Southeast Utah. It was made during a scouting trip for the first of four San Juan River workshops I would teach in the 1990s. We had made camp in this area at dusk the evening before. The boulders and steep canyon walls were just a few minutes walk from camp. Exploration in the dim twilight illumination made it clear that this was a beautiful spot and, after checking my topo map and compass, I realized the light at sunrise would rake across the cliff in dramatic fashion the following morning.

We were up early and photographing well before sunrise. I was working on a detail of some nearby petroglyphs, when all of a sudden the sun began to emerge over the eastern horizon. I rushed with my camera to the location you see in this photograph, which I had scoped out the night before. I hastily set up the camera with the 75mm wide-angle lens (approximately the equivalent of a 24mm lens on a 35mm camera). I used the back tilt for depth of field, and to slightly exaggerate the prominence of the foreground boulders. A #11 yellow green filter was used to enhance the striations of the desert varnish on the background cliff.

There was a considerable difference in brightness between the cliff and the boulders. I used a technique I have found very useful over the years. Working with a piece of black plastic, such as a dark slide, I estimated where I needed to darken the image by looking on the ground glass of the camera. During the fifteen-second exposure I simply covered the top portion of the lens with the opaque material, moving it up and down slightly, but being careful not to touch the lens. In essence, I created a customized "split neutral density filter". It was like dodging a print under the enlarger. I've used this technique successfully on a number of images.

I hope the reproduction can convey the luminosity of the print and the original scene. Within a few moments the lighting conditions had changed dramatically, and the photograph had disappeared. I included this image, along with a few others made along the San Juan River, in my most recent book Recollections.

There are a limited number prints available at this special discounted price, so if your are interested, please act quickly. Earlier this year I needed to print this image for a long-standing project, and liked the printing so much that I made some additional prints which I am offering for sale at this time.

My prints in this size normally retail in galleries for $900, so the savings over the retail price is significant.
This print is approximately 11x14", personally printed by me (as are all my prints), processed to current archival standards, signed, mounted, and matted to 16x20" on 100 percent rag museum board.

Prints will be shipped within ten days of the order date.

All prints are carefully prepared and packaged in specially designed protective shipping boxes, and shipped fully insured via UPS ground.

If you prefer to order over the phone, or if you have any questions, call 831-659-3130 from 9:30 am to 5:30 pm, Monday through Thursday to place an order. In addition, you can contact us at: info@johnsexton.com

---
JOHN TO LECTURE FOR SPECTRUM ART GALLERY IN FRESNO
I am honored to be presenting a lecture for the Spectrum Art Gallery in Fresno, California on Thursday evening, October 23 at 7:00 pm. The talk will be held at the Bonner Auditorium at the Fresno Art Museum. This presentation is part of Spectrum Art Gallery's grand reopening celebration for their new location in Fresno's Tower Arts District. This event will kick off their annual print auction weekend. Admission to the lecture will be $10.00.

My talk will include images that span my thirty-five year career in photography. In addition, a portion of the talk will incorporate examples and anecdotes drawn from my close working relationship with Ansel Adams. Images will be transformed on the screen from the negative to the final print, progressing through various creative steps in the evolution of an expressive photographic print. I will be available after the lecture to sign copies of my most recent book,Recollections.

I'm looking forward to seeing a number of my photographic friends from the Fresno and Central Valley area, as well as making new friends.

As an added bonus, each attendee at my presentation will be issued a drawing ticket. There will be a drawing at the Spectrum Art Gallery Auction on Saturday night, October 25. One lucky attendee will win an 11x14" print of my image Sea of Aspen. The ticket holder must be present at the auction to be eligible to win the special drawing. In addition, I am pleased that I will have an additional image, Frost Covered Boulders, included in the fund-raising auction.

For additional details on my lecture, visit the Spectrum Art Gallery's web site: http://spectrumphotogallery.org/sexton-lecture.html There is more information about the Spectrum Gallery print auction at this page on their web site: http://spectrumphotogallery.org/featured-auction.html

For further information please contact the Spectrum Art Gallery
Phone: 559-266-0691
photoinfo@spectrumphotogallery.org
---
POLAROID 20x24 CAMERA AND FILM LIVES ON
As I mentioned in the February newsletter, Polaroid announced it was discontinuing all of its instant film products. I am pleased to convey the news that the ultra-large format 20x24 Polaroid camera and films will continue to live on. My old friend, John Reuter, along with philanthropist Daniel H. Stern, has formed a company, 20x24 Holdings LLC, which will support the Polaroid 20x24 process. They will operate their massive 20x24 instant camera in New York and continue to supply film for it. I believe this is good news for traditional photography.

I have a fond attachment to the hefty Polaroid 20x24 camera. In late 1982, while I was working as a consultant for Polaroid Corporation, I was trained in the operation and maintenance of the Polaroid 20x24. I had the great honor to make the first ever black and white 20x24 Polaroid's outside of the Research and Development lab. It was an memorable day, working at the Kennedy Library in Boston with this huge apparatus.

The camera had been in use for a number of years with color instant film. The black and white film was so new that one of the scientists had to head back to his Polaroid laboratory twice during the day to get additional print coaters to protect the surface of the black and white film, which was a similar emulsion to Type 52 4x5 Polaroid. As I remember it took us about one dozen coaters to coat a single print! In early 1983 I was loaned one of the six Polaroid 20x24 cameras to make landscape photographs around California. My assistant and I took it to many locations, including the Eastern Sierra Nevada and Death Valley. It is not a device well suited for backpacking!

It was during this time that I met John Reuter. He was working for Polaroid at the time. For a number of years, John has managed the Polaroid 20x24 studio and has collaborated with many well known photographic artists. John is a fine photographer in his own right. I have a great respect for him and wish him much success with this exciting project.

Here is a link to the Wall Street Journal article with more details about the 20x24 instant process and its new life:
http://online.wsj.com/public/article_print/SB121797626872014909.html

---
TECH TIP: KEEPING FILM STILL FOR SHARP IMAGES
As many readers know I enjoying working in low light situations (along with many other types of lighting situations!). This inevitably leads to long exposures. Obviously a tripod is essential to keep the camera stable, but what about the film inside the camera? With view cameras it is also important to keep the film steady. Roll film users don't have to worry about the challenges listed below, as a roll film camera keeps the film taut and it is held securely in place by the pressure plate.

With large format cameras, when the dark slide is pulled the film is exposed to a new and often different temperature and humidity situation from the closed film holder. Since the film is a polyester base, coated with a gelatin emulsion, the film will tend to warp --- dramatically or very subtly -- depending on the type of film. This can cause the film to "pop" or move in the film holder. Here are a couple of ideas of how to minimize (unfortunately not eliminate) these problems.

First of all, whenever making an exposure of a second or more, I GENTLY tap the film holder on the palm of my hand to help ensure that the film is at the bottom of the holder. For a horizontal image the film holder would be held horizontally, as it would go into the camera, and be held vertically for a vertical image. Do not tap the holder vigorously, as this can dislodge dust. You're trying to get the film seated squarely in the bottom of the holder. That way, if the film tries to move in the holder it will not drop, as it will be positioned at the bottom of the holder, and gravity will keep it there.

In addition, I try and always allow the film to "acclimate" to the interior of the view camera by pulling the dark slide (with the lens closed!) for two minutes before starting the exposure. This sounds like a lot of wasted time, but it is during this time that I take my final meter readings and get ready for the exposure. It's astonishing how quickly two minutes can fly by. During that two-minute period the film will usually go through its various subtle microscopic movements that can cause a double image. If the film movement occurs a few seconds into a one minute exposure, no problem. If the movement occurs approximately half way between the exposure, a big problem! Evidence of these types of difficulties can be an inexplicable area on a piece of film with soft focus. I've seen these countless times on workshop participants' negatives. When viewed carefully under a loupe, one can almost always detect a double image.

What if the light is failing? Then by all means go ahead and make the exposure as quickly as possible. In all likelihood you won't have a problem. However, if there is time and the light is not diminishing quickly, think about adding this to your long exposure working procedures. Every large format photographer that I've talked with about this has had problems due to this difficulty.

By the way, this will also happen with Readyload and Quickload backs. Even though there is a pressure plate, the surface area is just too large.

Even with taking the steps described here I have lost some images. Once at the Kennedy Space Center I made four negatives in a very strange situation between high heat and humidity and a clean room environment with temperature and humidity control. All four negatives had some degree of popping and were not printable. Very disappointing!

---
SOME THOUGHTS ON PHOTOGRAPHY... AND OTHER TOPICS
"The most beautiful thing we can experience is the mysterious.
It is the source of all true art and science."
– Albert Einstein

"Available light is any damn light that's available."
– W. Eugene Smith