This installment of my periodic eNewsletter is being sent later than I initially planned due to many 'stops and starts' in the process of which the most serious one was the wildfire in our area.
In the wee hours of Sunday, August 16th hundreds of wildfires were started due to an unusual lightning storm that came across central and northern California. The 'River Fire' was started by such a lightning strike at that time. The fire rapidly grew into a sizeable wildfire about 8 air miles from our home. The fire got our attention, but we were not overly concerned in terms of our own safety. However, a couple days later the 'Carmel Fire' started. Anne was on our deck and asked me to come out. She had just noticed a smoke plume appearing over the ridge to the east. The plume grew in size with amazing rapidity. I decided to call 911 on the outside chance that it might not yet have been reported. I spoke with the Cal Fire dispatcher who informed me they were indeed aware of the fire, and that crews and equipment were on the way. The column of smoke grew to the height of many thousands of feet in minutes, and shortly thereafter a DC 10 jet supertanker screamed over our home at a very low altitude. We dropped everything and began to organize and pack. Initially the fire was about 3 air miles from our home – too close for comfort. As the fire grew in size it expanded to the northwest towards us, as well as to the southeast. Tragically it burned a number of homes the very first day, and additional homes later on. The fire got as close as 1.05 air miles from our home - with just that single ridge between us and the northwest face of the fire.
On Friday afternoon we received an evacuation warning, and on Saturday morning we received a mandatory evacuation order. The primary reason for this mandatory order was another approaching storm front arriving on Sunday evening with a forecast for more dry lightning and potential wind gusts up to 65 mph associated with localized thunderstorms. We completed the packing process having filled our van and Honda Pilot. Finally we buckled our cat Boots - unhappily inside his transport crate - into the passenger seat next to Anne. It was an emotional moment when we backed out of our driveway to evacuate. The oak tree in front of our entrance was wrapped with police tape that had been put there by Sheriff's deputies when they came by to make sure we were aware of the evacuation order. We could only hope that our home would be safe and sound when we were able to return. We found a motel that graciously made an exception to allow our kitty cat to stay with us during the evacuation.
On late Monday morning August 24 we received a text message from the Office of Emergency Services saying that the evacuation order for our area had been lifted. Hurray! We packed our belongings back into our vehicles and headed back home. It was such a joy to see that our home – and all of the homes in our area - were safe and sound. Boots was just as happy as the two of us to be home again!
We feel extremely fortunate to have had such a positive outcome, but share a great sense of loss for our friends and neighbors who lost their homes due to the three wildfires in our area – the River Fire, Carmel Fire, and Dolan Fire, not to mention the tens of thousands of fellow Californians still under evacuation notice due to the massive wildfires in our state. Since the lightning siege that started on Sunday, August 16 2020, there have been nearly 14,000 lightning strikes. During this time-period, there have been more than 840 new wildfires, which have now burned more than 1.42 million acres. The significant acreage burned makes the fires collectively larger than the State of Delaware! In this siege, there have been seven reported fatalities, and nearly 2,500 structures destroyed.
As California is battling wildfires Hurricane Laura's ferocious winds pummeled Louisiana, Texas and other states in her path. Our hearts go out to the people who have lost so much due to Hurricane Laura.
Well, here at last is the actual newsletter. I have left the original introduction intact and hope that you will find some things below to be of interest to you. We want to take this opportunity to thank our many friends and eNewsletter subscribers for your kind emails, voice mails, and text messages of concern about our well-being. Each one was reassuring to us and helped ease the difficult situation we experienced. We apologize for not replying to every single message, but please do know that we read each and every one carefully, and were touched by your kind words.
Please stay safe and healthy!
John and Anne
Greetings,
Anne and I hope that all of our eNewsletter readers, along with your families, friends, and colleagues, are safe and healthy. It's been a long time (November 2019) since the last installment of our eNewsletter series was sent out. No one could have imagined all of the events that have transpired since that time. The COVID-19 pandemic has certainly turned all of our lives upside down – a number of times over! In early March, after much deliberation, contemplation, and consternation, we decided we needed to cancel our upcoming The Expressive Black and White Print, as well as Fine Tuning the Expressive Print, workshops based in our home and studio. This was one of the most difficult decisions I have faced in my forty-six years of teaching photography workshops. When we emailed the participants with this news on March 5th we could not have imagined that we would be under a shelter in place order two weeks later.
In early August, in consultation with our co-instructor Charlie Cramer, we sent out similar news to the registered participants for our upcoming Mono Lake and the Eastern Sierra: Exploring Autumn Light workshop scheduled for this coming October. All of these workshops had been full for a long period of time. Enrollees had invested considerable time, money, and energy in preparing their photographs for the valuable portfolio review sessions on each workshop. That being said, the response to our decision to cancel the workshops for the safety of all involved was met with nearly universal acceptance, along with a few "sighs of relief," and "my family was very pleased to hear this news," replies.
Over the years during workshops I have often joked that if a workshop were cancelled a participant who invested thought, time, and effort in preparation for the workshop (reviewing, editing, and printing images) would still benefit from their pre-workshop efforts. Hopefully such will be the case for those folks that were enrolled in our 2020 workshops.
We remain 'hunkered down' in our home and studio. We consider ourselves to be very fortunate that we work at home, and have our studio and darkroom just down the stairs from our house and office. In addition, since we live in a rural area it's easy for us to walk from our home for two or three miles and only occasionally encounter other people. We have used the past five months to focus on various photographic projects. Our primary concentration has been working in the darkroom making prints for the upcoming book Anne and I will be doing together of our photographs of Venice, Italy.
Along with printing for our Venice book, we have worked on a number of other photographic endeavors, as well as trying to finish up tasks we never quite got completed over the years. I have been involved with some research projects helping others, and recently was interviewed by Jennifer Quick of the Baker Library, Harvard Business School about the years I spent as a consultant photographer to Polaroid Corporation. The interview was of course done virtually, but it was great fun to relive some of the memories of the experiences I had making the very first ever black and white 20x24 Polaroid photographs outside of the research laboratory, as well as the time spent as part of the Polaroid Collection.
One of the things I have discovered as the days merge into one after the after is that the list I create on a regular basis just seems to get longer and longer. As much as our objective has been to try and 'tidy up' unfinished projects it seems that new things come out of nowhere, and many times the list at the end of the day is longer than it was that morning. I've said to friends in communication over the past few months "In my entire life I've never spent more time accomplishing so little!" Hopefully you have been more productive than I have!!!
We had planned a photographic trip to the Southwest in May, but decided it was not the right time to undertake such an adventure. Our cat Boots is glad that we are home all of the time. He seems to be relatively unfazed by our pandemic life style. He still concentrates on what he does best… cat-napping!
Anne and I hope the world will return to normal soon, and that you remain healthy and strong.
John
---
ORIGINAL SILVER GELATIN PRINT BY JOHN AVAILABLE ONLINE AT DISCOUNTED PRICE
NEGATIVE TO BE RETIRED
Since we have not been on a photography trip since last October Anne and I have been frequently reminiscing about the wonderful photographic adventures we have shared together over the past twenty-six years. A few weeks ago we were talking about a 2003 trip which took us to Yellowstone National Park among many other fascinating locations. As we started sharing our memories from the trip, we both recalled the same highlights like breakfast at Old Faithful Lodge after many cold nights of camping, the many herds of bison, the moose, the grizzly kill and of course the geologic wonders of the park. The hydrothermal feature that stood out to us both was the Grand Prismatic Spring. Our discussion led me to decide to print my favorite image from that trip one last time before retiring the negative.
I am pleased to offer this handmade silver gelatin print of my image Tree Trunks, Grand Prismatic Pool, Yellowstone National Park, Wyoming at a special reduced price at the Ventana Editions online store. The normal gallery retail price for this 11x14" print is $1,000. From now through September 30, 2020 I am offering this 11x14" print for $700 - a 30% discount from the retail price. Once I have fulfilled all of the orders for this special print offer the negative will be retired, and will never be printed in any size as a silver gelatin print in the future. On October 1, 2020 the retail price for any remaining prints will increase to $2,000.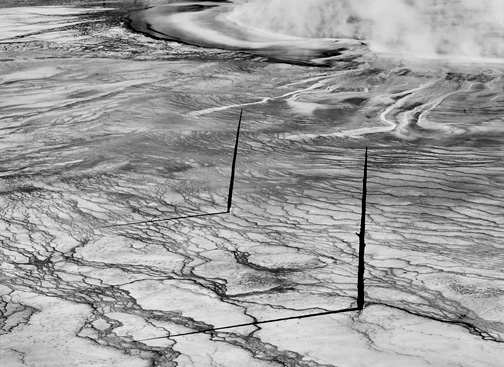 Tree Trunks, Grand Prismatic Pool, Yellowstone National Park, Wyoming 2003
©2003 John Sexton. All rights reserved.
To learn more about the print, Tree Trunks, Grand Prismatic Pool, or to place an order, follow this link:
https://ventanaeditions.stores.yahoo.net/trtrgrprpoye.html
Following my two-week long hands-on large format photography and darkroom-printing workshop at Anderson Ranch Arts Center in Colorado, Anne and I decided to head north toward Wyoming. We did not have a specific agenda or plan. We thought we would just follow the light and our interests, and be directed by the weather, as is the way we generally like to explore on our photographic journeys. In mid-September we found ourselves in spectacular Yellowstone National Park. Aside from the anticipated crowds of tourists at Old Faithful and other nearby geysers, as well as Mammoth Hot Springs, the rest of the park was rather quiet at that time of year and the weather was "brisk." One afternoon we pulled into the parking lot for the Grand Prismatic Spring. We walked around the pool on the wooden boardwalk and made a few photographs. The sheer size of the pool and it's incredible colors were mind-blowing. We wondered what the view would be like from the hillside to the north of the pool.
The next morning it was COLD! The inside temperature in the van was 25?F. It was tempting to remain in our sleeping bags, but we got up and headed out. On our drive back to the Grand Prismatic Spring we encountered interesting heavy fog wafting back and forth, which made for fascinating photographic possibilities. An hour later we reached the trailhead that would take us to the hillside north of the pool. We started the leisurely stroll of a little over a half mile to this hill. The hill, at one point, had been densely covered with lodgepole pines. These had all burned during the massive Yellowstone wildfire of 1988. The climb up the hillside would have been quite easy except for the fact that we constantly had to climb over fallen lodge pole pine trunks. As we gained elevation, working with my viewing frame I began to get an idea of a photograph I wanted to make. It would require the use of my longest lens – a 450mm Fujinon-CS – on my 4x5" Linhof Technika camera. I carefully determined where I thought the camera should go with the use of my viewing frame and set it up. I then decided I wanted to move position. This would have been easy except I had to go over three or four intertwined fallen tree trunks, some of which were two or three feet above the ground, lying on top of others. It took quite a while to move just a few feet, but the new vantage point was indeed better. I have since learned that in 2017 a viewing platform for the Grand Prismatic Spring has been built on the hillside.
I was interested in the two bare lodgepole pine trunks in contrast with the vividly colorful mineral flows and the steam coming off the thermal pool on this chilly morning. I looked through a few different filters and settled on the Wratten No. 23A light-red filter. It was not easy to meter the scene from such a great distance with my spot meter. When I first determined the contrast range in the scene I was surprised at how low the contrast was, as it was now a crystal clear blue sky above. After double-checking my meter readings, I decided that I would utilize a N+2 development to achieve the contrast range I desired in this abstract image. I used T-Max 100 film, and the exposure time was 1/4 second at f/32. After processing the negative, and making a contact sheet, I could see that I really wanted a higher contrast rendering. So then I selenium intensified the negative to add additional contrast. This image is included as Plate 4 in my book Recollections. Even with the N+2 development and the additional contrast produced by the selenium intensification of the negative, I still had to print it on a rather high contrast grade 3-1/2 paper. The making of this image was a good reminder that the contrast of a particular lighting situation can sometimes actually be different than what we anticipate. Even though the sun was bright and intense, I needed to utilize a variety of techniques to increase the contrast to match the visualized image in my mind's eye. Sometimes soft lighting can require a reduction of contrast to achieve the image you desire, while in this instance seemingly harsh light needed even more contrast to achieve what I desired. This is part of 'seeing photographically,' and it is an ongoing learning experience.
This silver gelatin, selenium toned, print is approximately 13-3/8 x 9-3/4", personally printed by me (as are all my prints), processed to current archival standards, signed, mounted, and matted to 16x20" on 100 percent rag museum board.
Prints will begin shipping on September 7, 2020. All prints are carefully prepared and packaged in specially designed protective shipping boxes, and shipped fully insured via UPS ground. If you have any questions about the print, please feel free to contact Anne at 831-659-3130, or email: info@johnsexton.com.
Our office hours are Monday through Thursday from 10:00 am to 1:00 pm, Pacific Time.
You can see the image and place a secure online order for the print at the Ventana Editions web store:
https://ventanaeditions.stores.yahoo.net/trtrgrprpoye.html
---
PANDEMIC JOURNAL - PRINTING OUR PHOTOGRAPHS OF VENICE, ITALY
As I mentioned briefly above, Anne and I have both been busy in the darkroom exploring negatives for our upcoming photographic book on Venice, Italy. We have truly enjoyed poring over our contact sheets together - selecting and marking the images of interest to us. Sometimes I would point out an image of Anne's that had not initially attracted her attention, and vice versa. We had some lively debates, but the most fun was reliving the memories of the wonderful times we had getting to know Venice during our seven visits. We both decided we would like to return again at some point, but we have faced the realization that the photography for this project has been concluded.
Below is a reproduction of my print from a negative I just removed from my enlarger after working on it for a number of days, and getting the final exhibition and reproduction print completed. I made this image at the well-known Piazza San Marco on a winter morning. You may notice that the Piazza is flooded due to the acqua alta (high water) that occurred that morning. During our visits to Venice we have experienced varying degrees of acqua alta on a number of occasions. The first time we tried to make photographs during an acqua alta our feet got soaked. We brought along some lightweight nylon wading boots - which worked great except the acqua alta was deeper than the height of our wading boots - lesson learned. On the following trip we arrived armed with lightweight nylon hip waders - which are anything but stylish! Those waders have served us well ever since. During our visits acqua alta most often happened during the very early hours in the morning.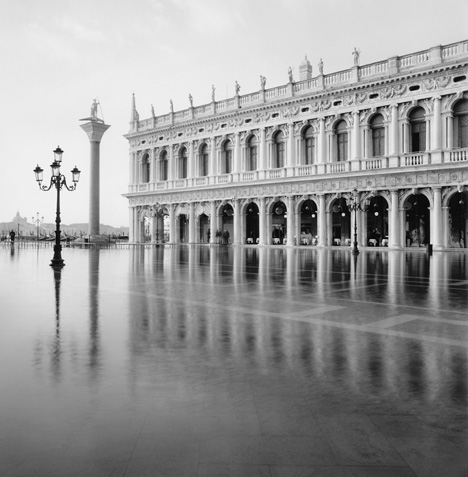 Piazza San Marco, Acqua Alta, Venice, Italy
©2014 John Sexton. All rights reserved.
We would leave our apartment suited up for the high water and walk the short distance to the vaporetto (water bus) dock that would take us across the Giudecca canal to Piazza San Marco. You find out when you depart from the same vaporetto dock in the dark and cold early morning hours that you run into the same Venetians each day. Each, and every, morning we headed out early we would encounter an older Venetian gentleman who did not speak any English. He would always wave and give us a nod, and occasionally say something to us in Venetian. We always greeted him with our limited Italian skills and smiles. The first morning he saw us in our waders his eyes got as big as saucers, and you could tell he thought we were totally 'nuts.' As time passed I think he began to realize we were serious about what we were doing. We always had our tripods and large camera packs. After a while, when we were wearing our waders, he didn't seem to notice.
Photographing during an acqua alta event introduces a number of challenges that were more subtle and harder to imagine than simply keeping your feet dry. After the first time we photographed in the acqua alta (when we had soaking feet due to our short boots) we realized that if the salt water were much deeper it would submerge the bottom tripod leg joints. The precision-machined aluminum threads on our Gitzo carbon fiber tripods would not be happy with this occurrence. As I've written about in past newsletters, we always carry silicone 'Rescue Tape' for in the field emergency repairs. It struck me that this might be a good solution to keep the bottom tripod joint dry, even if it was submerged in the salt water. We did a test and it worked perfectly.
A number of years ago a good friend made us each a simple 'tripod caddy,' which is nothing more than a piece of lightweight fabric that is suspended between the tripod legs with Velcro attachments – kind of like a hammock with three attachment points. This has proven to be an extremely handy and convenient lightweight tool for all photography. It becomes nearly essential when working with a film camera in a flooded area, as was the case when making this photograph. It is perfect for keeping filters, lens shades, etc, as well as extra film. We found that having a neck lanyard was an excellent place to have easy access to our viewing frames, stopwatches, plus our spotmeters when working in an acqua alta situation. Of course we utilize any and all pockets, but having the tripod caddy and a few things around one's neck was most helpful. Remember you have to have everything prepared and with you out of your camera pack or case before you begin wading out into the water. You can keep the camera pack on your back, but accessing it is not really feasible. Today there are cleverly designed backpacks and sling-packs that do allow you to swivel the pack around, but I have not seen one of these that isn't all-too-small for carrying a medium format film camera system, such as we do with multiple lenses.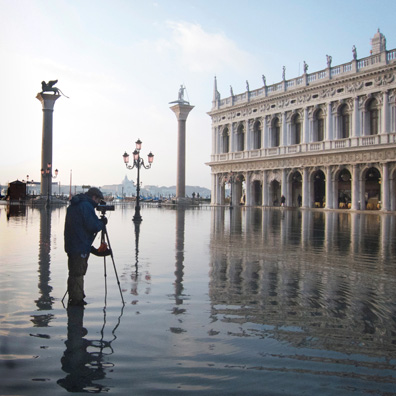 John Sexton, Piazza San Marco, Acqua Alta, Venice, Italy
©2014 Anne Larsen. All rights reserved.
As dawn blends towards sunrise and the illumination brightens you also begin to see something that isn't anticipated. The residue from the throngs of tourists from previous days is now floating in and on the surface of the water in your field of view! Some of these items would be easily taken care of in the digital domain, but in the analog world they can be real 'showstoppers.' Another challenge is that acqua alta is a highly desirable thing to experience as a tourist and photographer. You end up spending a great deal of time waiting for another photographer or photography group complete their photograph. This can be very frustrating!
Anne made some 'happy snaps' of me while I was making this photograph. It may be difficult to make out the waders and the tripod caddy, as I am bundled up for the cold. The sunrise that morning was obscured by some thin clouds and fog, and the fog was breaking up in cloud-like patterns in the sky. Just when everything seemed it would be perfect someone would decide they needed to walk through the Piazza. I was able to expose a few negatives, and this is the image that worked best for me. I hope you enjoy it.
Stay tuned to future eNewsletters for additional information about our forthcoming book of Venetian photographs, and exhibitions!
TECH TIP: CROPPING L's - VALUABLE CREATIVE TOOLS
It is always my goal to use as much of the negative as possible when making prints. Anne and I try to always carefully study the image on the ground glass, or viewfinder, before making an exposure - paying particular attention to the edges of the frame. In addition, we have all of our negative carriers filed out so we can print the entire full-frame of the image, including a small amount of the clear film if needed. That being said sometimes there are subjects that simply do not fit the aspect ratio of the camera format, or there are times when things just need to be 'cleaned up' on the edges. In the December 2010 edition of my eNewsletter I explained the importance of a viewing frame as a visualization tool.
Another set of tools Anne and I both find to be extremely important are our 'cropping L's.' These L's are cut from museum board, and we have them in variety of sizes so that they can be used on large prints, and all of the way down to contact sheets (as illustrated below).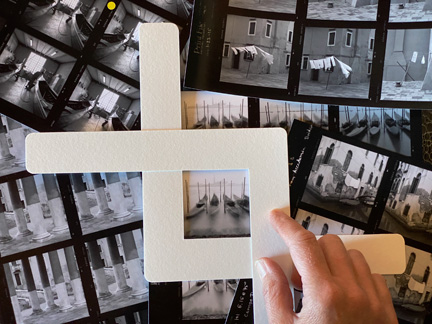 It is a different experience viewing a print compared to studying the image through the camera or on an illuminated device. Once you have the actual print in front of you, and you begin to examine the image with cropping L's, you become more aware of the edges. You immediately go through a process of deciding what to include, or what to crop out.
One of the many valuable things I learned from Ansel was how important he felt the edges of a photograph were. Not because it was some kind of formula or rule, but as human beings our vision and brain are designed to protect us from things that could be harmful to us – such as tripping on a curb, falling off a cliff, or walking into a wall. So when we look at a photograph the eye and the brain subconsciously spend more time at the edges of the image. Ansel used to use his thumbs when looking at and commenting on a photographer's work. I remember him taking his thumbs and covering up distracting elements. He would often take the edge of a mount board from another print to suggest a crop that would strengthen a final image.
Both Anne and I have discovered smaller areas in photographs that we have made when examining them with cropping L's that inspired us to return to that same location to work on a detail that had initially escaped our attention. In July 1977 I made some photographs in downtown Los Angeles of a soap factory on Banning Street using an 8x10" Deardorff camera that I had burrowed from my close friend, and student at the time, Jack Waltman. I photographed the entire building facade. This was during a time when I was teaching photography for the North Orange County Community College District. One of the assignments I gave in class was to have my students bring multiple prints from the same negative, and then explore with cropping L's and actually cut the prints down and mount the smaller prints on a board.
I always found it useful to participate with my students, so I brought along multiple contact prints from my 8x10" negative of the building facade mentioned above. I ended up finding an area that was a detail of a warehouse gate that was about a 35mm section from an 8x10" negative. It didn't seem wise to print a 35mm negative from an 8x10" negative. I made a note that I wanted to go back and make a photograph of just the warehouse gate. When I went there a couple of months later the lighting was completely different, but it was about the same time of day. Looking to the west I could see tall 'skyscraper' buildings that at a certain time of year would allow the sun to sweep down the length of Banning Street, as it had done in my initial photograph. I knew the date of that negative, so I marked my calendar.
I was teaching a Zone System summer class at Cypress College the following year, and I scheduled a field trip for that approximate day. When we arrived I pointed out the area and said that later this afternoon the buildings would be bathed with warm light and long shadows revealing the texture. The students thought I was crazy. It didn't appear as if that was going to happen. However, I knew it would since the day was clear and the sun would track between the two buildings just at the right time. I had my 4x5" view camera setup and ready to go and made the photograph - Warehouse Gate - which you can see below. The students were quite impressed with my ability to visualize this in advance. I then told them my experience and they were a little less impressed. I'm not sure I ever would have made this photograph if it had not been for discovering that area through the use of cropping L's.
>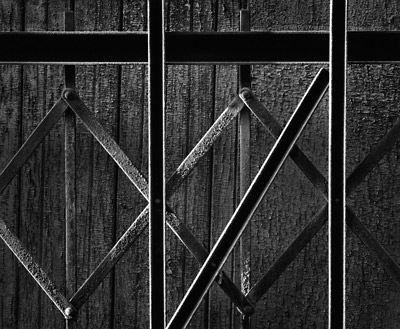 Warehouse Gate, Los Angeles, California
©1978 John Sexton. All rights reserved.
Anne and I would not want to make photographs without our viewing frames, and we would not want to study our photographs without having cropping L's available. For the many of you who have attended workshops you know that we always have cropping L's to try and look for the strongest way of seeing within your prints, and we do the same with our own images.
JOHN'S PHOTOGRAPHS INCLUDED IN
MASTERWORKS: HIGHLIGHTS FROM THE IPHF COLLECTION EXHIBITION
Through October 17, 2020 at the International Photography Hall of Fame, St. Louis, Missouri
I am thrilled to share the news that I have three images included in the Masterworks: Highlights from the IPHF Collection exhibition at the International Photography Hall of Fame in St. Louis, Missouri. As some eNews subscribers may recall I was honored to be inducted into the Hall of Fame in 2018. This is a special exhibition in celebration of the IPHF's 55th Anniversary and it showcases more than 50 photographs included in the IPHF permanent collection. I am pleased to have my prints on display with so many notable photographers, and Hall of Fame inductees, such as Ansel Adams, Ruth Bernhard, Margaret Bourke-White, Julia Margaret Cameron, Bruce Davidson, Ernst Haas, Ralph Gibson, Yousuf Karsh, Steve McCurry, Olivia Parker, Gordon Parks, Sebastião Salgado, Edward Steichen, Alfred Steiglitz, W. Eugene Smith, Jerry Uelsmann, and many others.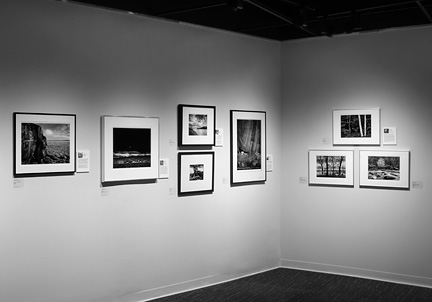 A Selection from Masterworks Exhibition
©2020 Richard Sprengeler. All rights reserved.
The exhibition was scheduled to open in April, but this was impossible due to the COVID-19 pandemic. The physical exhibition opened on July 8 with special safety procedures in place to ensure the safety of visitors and staff, and will continue through October 17, 2020. In addition there is a 360º Virtual Tour of the exhibition for a nominal fee. You can find out more details about the IPHF Masterworks exhibition by following this link:
https://iphf.org/exhibitions/masterworks/

EXCERPTS FROM BOOTS' DIARY
Have you ever found mysterious characters appearing on your laptop's monitor upon waking the device? We have sometimes found typing in a document like, "CE78CX9OL?XAQ!..." We believe we had solved the mystery of the phantom 'typing' when one day, as we rounded the corner to enter our office, we head a quiet 'boom-boom,' and then we encountered our adorable black-and-white cat Boots, sitting innocently on the floor. He had been attracted to the warmth of the computer keyboard, and in the process of lounging he had haphazardly pushed on the keys. This seemed like a logical explanation.
As time went on the length of the typing strings grew longer - especially during times when Boots was stressed. Since we have some good friends that work in computer programing, I discussed the situation with them. It turns out one of them had been working on a computer program that could 'de-code' a cat's typing. So, using a heretofore super-secret beta version of 'iCat recognition software,' we present an excerpt of what Boots recently wrote during the 'Carmel Fire' in what we now call Boots' diary.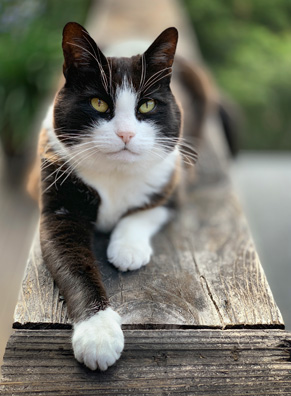 Boots the Cat
Friend, Companion, Guard Cat, and Author
Wednesday, August 19
Something is up! I am not sure what is going on, but my mom and dad are not acting normally! All of a sudden the pictures on the walls are being taken down, and there are duffel bags on the floor - strange... Oh and did I mention that they are behaving funny around me. Every time they see me, they say in a happy voice "Hi little Boots" or "Good boy Boots." It is as if they are hiding something. I know them!
Thursday, August 20
Hi diary - today I am going to relax. I just wish it wasn't so hot and smoky outside. Breakfast was so-so. I like dinner better - dad makes that. Mom always wants me to try new flavors, I don't understand why. I went out back on the deck, but there were so many big birds in the sky making thunderous noises. I have heard mom and dad refer to them as planes and helicopters. They are scary! When they are really loud mom and dad come out on the deck to look at them.
Friday, August 21
Today I had tuna for breakfast yum!!! I went outside for a good long catnap, but the smoke was simply too much. When I came back in my mom and dad came up from downstairs. They call it the darkroom. I don't know why. Whenever I am in there the lights are always on. They brought lots of boxes up, and put them in the big car they call the van. Later that day they drove them all away. When they came back the car was empty. I know that because I like jumping up into the van, and crawling to the back to look out of the window. It is a good hiding spot. Got to go - dinner time!
Saturday, August 22
What is going on? This morning everything was fine. I had my breakfast. I did my usual tour to make sure nothing had changed overnight inside and outside the house, and everything was in order. Suddenly mom and dad's phones started to make loud noises. Their phones do that all the time, but this time they got upset. The first thing they did was to close all doors going outside. That raised a red flag for me. "I am going stealth," I said to myself, and went hiding. What happened after that I don't know. The next thing I see is my mom's face. She is lying on her tummy looking at me under the bed. "Hi sweetie" she says. I am digging my claws in the carpet. I know what is coming. She grabs me, pulls me out, and into the crate I go. Where am I going? To the vet? Dad puts my crate with me on the front seat of the little car, and straps me in with the seat belt. The car is packed with boxes and all sorts of stuff. There is no room in the back. Dad gets into the van. I am riding with mom. She is crying. Now I am crying too. Dad comes on the walkie-talkie. He is trying to cheer us up but I can tell that he is sad too. I don't like it when mom and dad are sad.
Sunday, August 23
If this is what humans call vacation - it sucks! I am stuck in a motel room with my mom and dad. They brought my bed, my blanket, my favorite toys, and all the things I like at home, but I don't want any of them. I get all the petting I want, I get treats when I want, but I just want to go home!!! They keep trying to cheer me up, but I am scared!
Monday, August 24
I am so excited!!! I am home!!! This morning is all a blur to me, but that is okay. I am home! I am home again and I didn't have to go to the vet! The first thing I did was check everything out. House okay, my pal Jerry next door is okay, no one has been messing with MY yard. I am so happy and so tired. I am going to take a nap in my favorite spot - dad's recycle box in his office.
Tuesday, August 25
Breakfast was great this morning! I think mom finally figured out what I like. I am going to relax on my deck all day. There is hardly any smoke in the air, no ash, and not so many of the gigantic birds in the air, it is all pure joy. It is good to be home!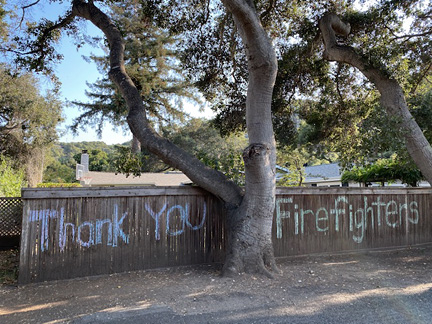 Neighborhood Kids Honor our Heroic Firefighters

BLAST FROM THE PAST
JOHN AND THE SPACE SHUTTLE
YOU FIND THE MOST UNLIKELY THINGS ON THE WEB
I wonder how many readers have experiences similar to mine when searching the web? You begin a search looking for one thing, which then leads to another and another, and often you find the most interesting and unexpected things that have absolutely NOTHING to do with the initial search. A quick look at the clock on your monitor indicates that you've spent a considerable amount of time traveling through these various 'rabbit holes.'
This happened a few weeks ago when I was doing a Google search related to the Space Shuttle. I saw an entry on a search page with my name, Space Shuttle, and NASA. I doubted this could be about me, but I clicked on the link. I was surprised when I ended up at an Internet Archive page where there was a color image of the Space Shuttle Discovery. The image brought back some vivid memories. I then read the accompanying text:
"KENNEDY SPACE CENTER, FL -- Space Shuttle Discovery sits on Launch Pad 39B against a backdrop of blue sky and the blue-green Atlantic Ocean. At the top left is the 290-foot-high water tank that holds 300,000 gallons of water for the sound suppression system during liftoff. At the bottom, on the Rotating Service Structure, is photographer John Sexton, taking photos for a book."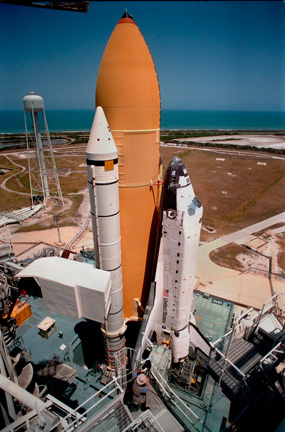 John Sexton Photographing the Space Shuttle Discovery, Lauch Pad 39B
Kennedy Space Center, Florida - April 23,1999
Photograph credit: NASA

If you look closely at the photograph above you will see me (mostly my hat) looking through my 4x5" Linhof Technikardan 45S view camera making a photograph of the Space Shuttle Orbiter Discovery as it arrives at the launch pad. I have included an image I made that day from my 4x5" negative. The image was made on April 23, 1999 during one of my thirteen different week-long photography trips between 1993 and 2000. I was working on the Space Shuttle section of my book Places of Power: The Aesthetics of Technology. I remember the excitement of being so close to the Orbiter, External Fuel Tank, and Solid Rocket Boosters from my perch nearly 200 feet up on the launch pad tower.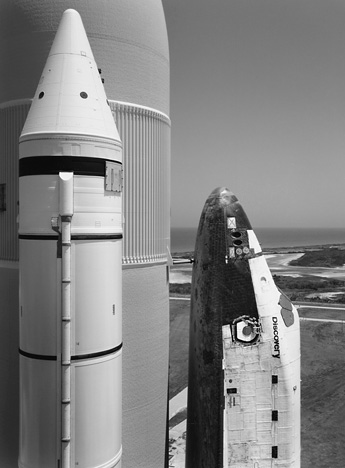 Space Shuttle Discovery, External Tank, and Solid Rocket Booster, Launch Pad 39B
Kennedy Space Center, Florida
©1999 John Sexton. All rights reserved.
I was very fortunate to have the support of the Kennedy Space Center NASA team allowing me unparalleled access to the Space Shuttle, and its related components and support systems. The day these photographs were made was a long one for me, and my primary NASA Public Affairs escort Manny Virata. The process of getting a fully assembled Space Shuttle to the launch pad is a long and slow operation - taking many hours to complete. I arrived that day to meet my friend Manny at the Press Site at 3:00 am! We headed directly to the huge Vehicle Assembly Building where I made my first exposure of the day at 3:45 am.
.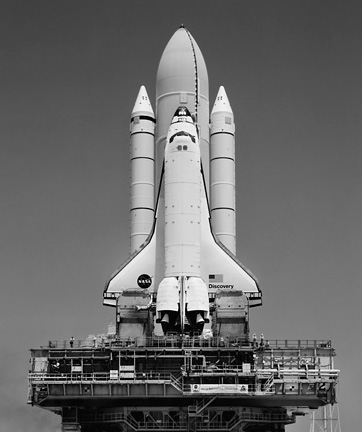 Space Shuttle Discovery, External Tank, and Solid Rocket Boosters
Atop Mobile Lancher and Crawler Transporter, En Route to Launch Pad 39B
Kennedy Space Center, Florida
©1999 John Sexton. All rights reserved.
A fully assembled Space Shuttle and Mobile Launcher weighs approximately 11 million pounds. For the 'Rollout' to the launch pad the entire ensemble is carried on a massive Crawler Transporter - weighing nearly 6 million pounds itself. The Crawler Transporter travels at a maximum speed of 1 mile per hour during the 3-1/2 mile journey to the launch pad. I have included an image of the Discovery on its way to the pad above. This is also a 4x5" negative, and while 1 mph does not sound fast, it is challenging to photograph even a slow moving object with a view camera! Manny and I arrived back at the press site at 6 pm - 15 hours after we began working together that day. It was most kind, and generous, of Manny to help me in a truly 'above and beyond the call of duty' fashion. I used approximately 50 sheets of 4x5" film that day. Likely the most 4x5" negatives I have ever exposed in the field during a single day. It is a day I will always remember!
SCAPE SUITS - NOT SPACE SUITS

If you're a space 'geek' like me I suspect you have followed with great interest over the past few months as the United States for the first time in nearly nine years launched astronauts into space on board a United States spacecraft. The mission went perfectly, and seemed to catch the attention of folks around the globe.
Like me you might have noticed the unique design of the new SpaceX space suits that were worn by astronauts Bob Behnken and Doug Hurley during the launch and descent of their Crew Dragon Endeavour capsule. You might have thought that the Star Wars Imperial Storm Troopers' outfits may have been the inspiration for the new 'modern' space suits. However I think the SCAPE suits that I photographed in March 1998 at the Kennedy Space Center bear a striking resemblance to the brand new SpaceX astronaut attire!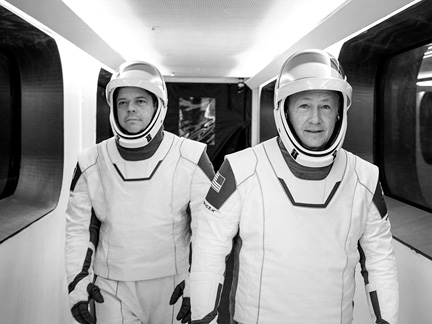 NASA astronauts Bob Behnken and Doug Hurley, wearing SpaceX Space Suits
Kennedy Space Center, Florida
Photograph credit: SpaceX
NASA loves acronyms! After all, 'NASA' is an acronym for 'National Aeronautics and Space Administration.' 'SCAPE' is acronym for 'Self-Contained Atmosphere Protective Ensemble.' While doing research for my book, Places of Power, I learned from the folks at NASA that SCAPE suits were worn by personnel during operations involving toxic propellants during the Space Shuttle era, and SCAPE suits are still in use for space missions today - including the most recent SpaceX mission.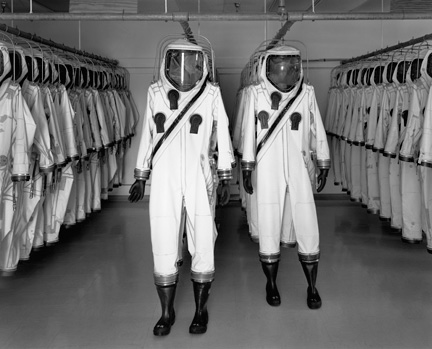 SCAPE Suits
Kennedy Space Center, Florida
©1998 John Sexton. All rights reserved.
EXCELLENT ADVICE FROM ANSEL ADAMS
"I wish I had gotten into the environmental work earlier because I think that's a citizen's fundamental responsibility. The channeling of creative arts in that direction has been very difficult. As I said, I never made a picture with a direct environmental objective, but if they can be used for that, that's fine. I think young people are pretty aware of the dangers, but they're sort of pessimistic. They think everything is set up and it doesn't make a difference who they vote for. They don't realize they have to go out and vote themselves."
– Ansel Adams
From Ansel Adams - The Last Interview conducted by Milton Esterow and published in ARTnews, Summer 1984 issue.
EVERYONE PLEASE VOTE ON NOVEMBER 3rd!!! Remember, Ansel says it is important!