Last week we had an unexpected (and uncomfortable) heat wave in California. Temperatures were around the century mark for four continuous days, with a high at our house in Carmel Valley of 102 degrees. The high today was in the mid-60s, and the Sierra High Country has received significant snowfall above 8,000 feet. What a difference a week makes.
Anne and I are about to depart for the premier offering of the Mono Lake and the Eastern Sierra: Exploring Autumn Light workshop with Charlie Cramer. We are monitoring the weather and road conditions. Tioga Pass through Yosemite is currently closed, along with the next three passes to the north. If the passes don't open, our 6-hour trip becomes a 9-10 hour ordeal. We are keeping our fingers and tripod legs crossed.
The response to this premier offering of this workshop was beyond our wildest expectations. At this point we have received enough applications to fill nearly four sessions of the workshop! Charlie and I had a great time teaching together on our Luminous Print: A Synthesis of Traditional and Digital workshop in the spring, and we are looking forward to this exciting field workshop exploring the Mono Basin and the Sierra. We are hoping we will encounter some glorious fall colors, now complete with snow-capped peaks in the background, during the workshop.
This past summer has been a busy one for me. My 60-print retrospective exhibition at the Center for Photographic Art in Carmel was very well received. We had a full house for the lecture and a terrific crowd for the opening reception. The visitation to the exhibit was impressive. My smaller exhibit at the Ansel Adams Gallery in Yosemite just concluded. It was amazing how many people showed up for the opening reception, and we had a great crowd for my first ever outdoor lecture in the Yosemite Lodge Amphitheater. In addition, I presented three other lectures during the summer.
I hope you'll find some items of interest in this installment of the newsletter. As always, I appreciate your interest and support of my photographic endeavors.
Cheers,
John
---
ORIGINAL PRINTS AVAILABLE AT A SPECIAL DISCOUNT PRICE ONLINE
PLUS SPECIAL DISCOUNT COUPON
From time to time, I make special print offerings available at reduced prices. By popular demand this is the first time I will simultaneously offer two new Special Collector's Edition prints. The prints Monument Valley, Dusk, from Hunt's Mesa and Birch Trees shown below are now available for order online. Each print is being offered for a limited time at the very special price of $700. To learn more about this print, or to order, follow this link:
http://ventanaeditions.stores.yahoo.net/redeliedboan.html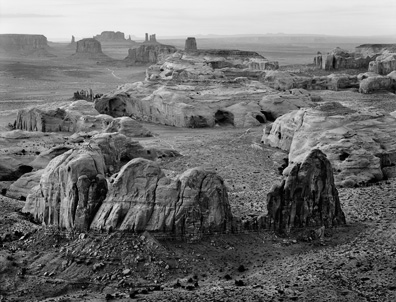 Monument Valley, Dusk
From Hunt's Mesa, Arizona
©2008 John Sexton. All rights reserved.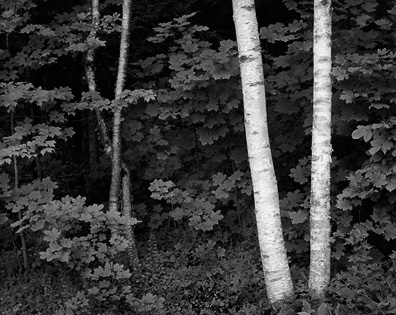 Birch Trees
Rockport, Maine
©1981 John Sexton. All rights reserved.
Hunt's Mesa is located just south of Monument Valley Tribal Park. The view from this remote elevated perch is spectacular. Anne and I, and our long-time photographer friend Ray McSavaney, made an overnight trip in May 2008 to the top of Hunt's Mesa after the conclusion of one of our many Southwest Landscape workshops. This is Navajo tribal land, and an authorized guide must accompany you on a trip such as this. Though it is only a few miles as the crow flies south of Monument Valley, it is a long trip - with rugged 4x4 sections - to reach the top of Hunt's Mesa.
We wanted to be able to work in both the late afternoon and early morning light. The three of us had been making photographs in this area for a few hours after our arrival. For me, it was not until after the sun had set that this dramatic landscape seemed to take on a haunting glow. The negative was made with my 200mm lens and a # 21 orange filter. The exposure was 30 seconds at f/11-16 on Kodak Tri-X Professional film, which was developed N+1 to slightly increase the contrast of this softly illuminated scene.
I made the photograph Birch Trees the first day I was in the state of Maine. I had arrived a few days early to scout field trip locations for a workshop I was teaching at the Maine Photographic Workshops in Rockport. After checking in at Workshop headquarters, I headed off to my assigned housing in nearby Camden. A short distance from the Workshops I noticed the beautiful white birch trunks in contrast to the dark foliage behind. However, in the harsh bright sun, dark shadows were cast across the birch trunks, disrupting the shape of the trunks themselves. I stopped the rental car and examined the possibilities with my always-present viewing frame. I could easily see that the sun would be moving in a direction that would put the scene into soft light in a few hours.
I hopped back into the rental car and moved into my temporary housing. After getting organized, I grabbed my 4x5 camera gear and drove back to the location. Though the sun was still up, the hardwood forest behind the birch trees blocked all direct sun and put the subject into the subtle light I desired. Working with my 4x5" Linhof view camera, I used my 210mm lens. The exposure was 1/2 second at f/32 on Kodak Tri-X Professional film, which was normally developed.
Each silver gelatin, selenium toned print is personally printed by me (as are all my prints), processed to current archival standards, signed, mounted, and matted to 16x20" on 100 percent rag museum board. Monument Valley, Dusk is approximately 10-1/4 x 13-1/2" and Birch Trees is approximately 10-1/4 x 13-1/8".
The special discounted price is $700 per print, and is available for a limited period of time. Prints in this size retail in galleries for $1,000, so the savings of $300 is significant. Normally there is a long waiting period for my original prints. This is a rare opportunity to obtain a print with prompt delivery, and at a special discounted price.
Prints will be shipped within six weeks from the date of order.
All prints are carefully prepared and packaged in specially designed protective shipping boxes, and shipped fully insured via UPS ground. If you have any questions about the print, please feel free to contact my assistant Laura Bayless at 831-659-3130, or email: laura@johnsexton.com. Her office hours are Monday through Thursday from 10:00 am to 5:30 pm, Pacific Time.
---
CHARLES CRAMER EXHIBITION AT CENTER FOR PHOTOGRAPHIC ART
Our good friend Charlie Cramer will be having an exhibition at the Center for Photographic Art in Carmel this month. Charlie will be rushing back after the conclusion of our Mono Lake and the Eastern Sierra: Exploring Autumn Light workshop to supervise the installation of his work. The exhibition, Earth, Water, Light, runs from October 23 through January 9, 2011.
Charlie will be presenting a lecture Photography: Interpretation and Performance on Saturday, October 23 at 2:30 PM. The lecture is free and open to the public, and will be held in Carpenter Hall at the Sunset Center, just a few steps away from the CPA gallery. An opening reception will follow the lecture from 4:00-6:00 PM.
Having seen Charlie's prints over the years, I know you will find this to be an inspiring exhibition.
For further information about Charlie and his exhibition at the Center for Photographic Art, check out their web site: http://www.photography.org/exhibitions.php#ccrammer
---
UNCLE EARL GLASS PLATE NEGATIVES UPDATE
It's hard to imagine there is anyone who hasn't heard about the garage sale find of the glass plate negatives and the claim by the purchaser, and his legal team, that these glass plates were made by none other than Ansel Adams. Readers of my newsletter certainly know about it, as I sent out a mailing about it a couple of months ago. You can search on the web and find countless articles, blog posts, and web sites sharing various points of view.
When I first became aware of this "treasure trove" of glass plates a few years ago, and saw a couple of examples of the images in newspapers and on the web, I was convinced that these were not Ansel's images. In late July, when the current media blast began and a few more images were available for viewing on the web, I was much more certain that the images were not made by Ansel.
Since that time I have had the opportunity to view digital files of sixty-one of the sixty-five glass plates. These digital files were much higher resolution than available for viewing on the web - which only shows approximately seventeen of the images. In addition, in preparing for the two Ansel Adams lectures I recently gave, I had considerable communication with the Center for Creative Photography at the University of Arizona, which Ansel co-founded and houses his archive. I was also able to obtain high-resolution digital files of some of Ansel's glass plates in their archive.
After reviewing all of these materials, and refreshing my memory from Ansel's own writings, I find myself now even more fully convinced that someone other than Ansel made the garage sale glass plates. My good friend and Ansel's photographic assistant prior to me, Alan Ross, shares the same opinion.
As I mentioned in my previous email installment, it appears the most likely candidate for the photographerwho made these images is Earl Brooks - now affectionately known to millions as "Uncle Earl." Hopefully someday it can be determined if Uncle Earl made these photographs or it was some other photographer. One thing we do know is that the SAME photographer made three of the known Uncle Earl landscape images, as well as the glass plates purchased at the garage sale.
On Friday, September 25th, there was an "unprecedented public exhibition" of a few of the glass plate negatives, along with some prints from the negatives. The public relations team that promotes the glass plates said they had been "inundated with calls from art lovers who will be traveling from around the world to attend this once in a lifetime event." Evidently this event, which was described as "highly-anticipated" had more anticipation than participation.
Two good friends made the required reservations to attend the one-day event at different times of the day. In both instances there was virtually no one else in the gallery during their entire visit! For those of you who have attended an exhibition opening or a genuine Ansel Adams exhibition over the years, you know that it's difficult to see the photographs at such an event, because of the mass of people in attendance. Perhaps as Uncle Earl's reputation grows, so too will the audience for his work.
---
KODAK ANNOUNCES NEW COLOR NEGATIVE FILM AT PHOTOKINA
AND A NEW WAY FOR ORDERING EXTREMELY LARGE FORMAT FILM
Kodak seemed to surprise many of the journalists covering Photokina, the largest photographic trade show in the world, that was recently held in Cologne, Germany. Theirsurprise was the introduction of another new color negative professional film - Kodak Portra 400.
Scott DiSabato, USA marketing manager for Professional film at Kodak (as well as a great friend and supporter of my photography workshops), said that the response to other recently added products to their film inventory has been so great that they are continuing to refine and improve their films. In an interview with the British Journal of Photography, Scott said, "We won't make a product like this if we don't believe we'll see a return on it. Luckily color negative film sales have been very stable over the past year. Black-and-white is also doing extremely well. It almost feels that there is a very real resurgence for film." Like a number of films that Kodak has enhanced over the years, they are borrowing technology from film that has been developed for Kodak's motion picture film product line.
Read Scott's entire interview with the British Journal of Photography here:
http://www.bjp-online.com/british-journal-of-photography/q-and-a/1735570/kodak-there-real-resurgence-film#ixzz10y40QMzv
In addition, Kodak has set up a new method for compiling orders of extremely large format film. My long-time friend and view camera builder, Keith Canham, will be coordinating these special orders of extremely large Kodak film. Having an easily accessible single source where photographers can compile the necessary minimums for special product runs should be a great benefit to those working in extremely large formats. You can find out more information about pricing and how the order process will work by visiting Keith Canham's web site.
http://www.canhamcameras.com/kodakfilm.html
---
BOOKS, BOOKS, BOOKS
Fall is when many new photography and art books are published... just in time for the holidays! What a coincidence? I wanted to bring to your attention four new interesting and very different books, three of which are by photographic friends and one by my mentor Ansel Adams. I hope one or more of these volumes is of interest to you. My images are even included in two of the books.
WAY BEYOND MONOCHROME
Way Beyond Monochrome by Ralph Lambrecht and Chris Woodhouse is hot off the press and available now. This new edition is a significant update to this amazing compendium of photographic information. The original book was 304 pages, and the new second edition is a whopping 560 pages of reliable technical information and inspiration. I was flattered when my long-time friend and former workshop participant Ralph Lambrecht wanted to use two of my photographs, Merced River and Forest and Birch Trunks, New Hampshire. I haven't yet seen a copy, but I'm looking forward to getting one soon.
For more information check out: Way Beyond Monochrome 2nd Edition
WHY PHOTOGRAPHS WORK
Why Photographs Work: 52 Great Images, Who Made Them, What Makes Them Special and Why by George Barr is currently in the final stages of production and should be available soon. From the communication I've had with George during the past year or so, along with the materials that he has sent me, it looks like it's going to be a very interesting book that tackles the difficult task of attempting to explain "why photographs work." The book features 52 photographers, many of whom are long-time friends and colleagues, including Bruce Barnbaum, Dan Burkholder, Charles Cramer, Michael Kenna, and Huntington Witherill.
Each of the fifty-two photographers included in the book has one image reproduced. George Barr has written an essay about what he feels makes the image an effective photograph. In addition, each photographer comments on the photograph as well. If you're interested in photography, whether traditional or digital, color or black and white, this will likely be an interesting and unique addition to your library.
You will find more information here: Why Photographs Work
ANSEL ADAMS IN THE NATIONAL PARKS
I want to mention a book that has none of my photographs, because it's a new book by Ansel Adams, Ansel Adams in the National Parks: Photographs from America's Wild Places. The book will be out soon and will certainly contain many images you've seen previously, as well as some I'm sure you have not seen before, that Ansel made in our National Parks. I had the pleasure of working with the book's editor Andrea Stillman on fine tuning the photographic information on a few of the "mini-essays," which are included in the book. This new book contains more than 200 photographs - many rarely seen and some never before published. This is the most comprehensive collection of Ansel's photographs from National Parks and wilderness areas. This book has just begun shipping.
Read about this new Ansel Adams book here:
Ansel Adams in the National Parks: Photographs from America's Wild Places
MAKING KODAK FILM
Last, but certainly not least, in this small list of new photographic publications is by my long-time friend Bob Shanebrook. Bob's book Making Kodak Film: The Illustrated Story of State-of-the-Art Photographic Film Manufacturing is an amazing compilation based on Bob's personal knowledge and experience, along with input from other experts in the field. Bob worked for Eastman Kodak Company for thirty-five years before retiring in 2003. I had the privilege of working with Bob as a consultant on a number of projects while he was Worldwide Product-Line Manager for Kodak Professional films. I can't think of anyone better equipped to write this book on how our traditional silver halide film emulsions are manufactured than Bob.
Bob worked closely with a number of former Kodak employees, each of whom had great expertise in film manufacturing. Kodak provided Bob unparalleled access to Kodak Park during the production of his book. If you are seriously interested in photography, and interested in traditional photographic materials, this book will give you a unique perspective on how photographic emulsions are manufactured. It's filled with interesting behind-the-scenes images of how your films are made.
As a special benefit for readers of my eNewsletter, Bob has kindly agreed to autograph copies of his new book (at no additional charge). Simply mention my newsletter when you place an order.
More information can be found on the book's web page: http://www.makingkodakfilm.com/
To place orders you can contact Bob at: makingKODAKfilm@yahoo.com
---


MONTEREY PENINSULA PHOTO EVENTS BLOG
I've had the good fortune to live on the Monterey Peninsula for more than thirty years, and Anne and I feel fortunate to be able to call this area our home. As many of you know, the Monterey Peninsula is an area rich in photographic possibilities, and the photographic community here is active and vibrant.
For those of you who are planning a trip to the area in the future I wanted to share with you a wonderfully complete blog about the photographic activities on the Monterey Peninsula. Our good friend Gin invests a great deal of energy in preparing and maintaining this blog. It has current gallery shows, exhibition opening receptions, lectures, workshop, and photography group meetings, along with biographical information about photographers from this area. Be sure to check it out the next time you're heading our way. Check it often to see what's going on. It's continually updated. http://mpenphotoevents.blogspot.com