---
JOHN'S PHOTOGRAPH INCLUDED AS WALLPAPER IMAGE IN APPLE'S NEW iOS 7

I am thrilled to have my image Tenaya Lake, Clouds, Afternoon included as one of the wallpaper images in Apple's new iOS 7. Imagine a "dinosaur" like me having my image included in a state of the art mobile operating system. Over 250 million iOS devices upgraded to iOS 7 in the first ten days following its release.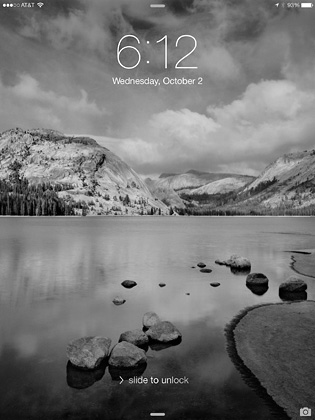 As you might imagine I am honored to have one of my images as a small part of this completely redesigned operating system. The image can be found in the "Wallpaper" section of the "Settings" app in iOS 7.
If you have an Apple iOS device running iOS 7 you have a limited edition image 1/250,000,000! I am glad I didn't have to make that many prints in the darkroom!!!
---
ANNE LARSEN + JOHN SEXTON: LIGHT AND FORM EXHIBIT CLOSES OCTOBER 12, 2013
OUR RECENT VISIT TO DALLAS, TEXAS - IT WAS A GREAT TRIP

Our exhibition at Sun to Moon Gallery is entering its final week. If you are in the Dallas - Ft. Worth area, and would like to see our prints, please stop by. The last day of the show is Saturday, October 12, 2013. You can find all of the details at the Sun to Moon Gallery web site.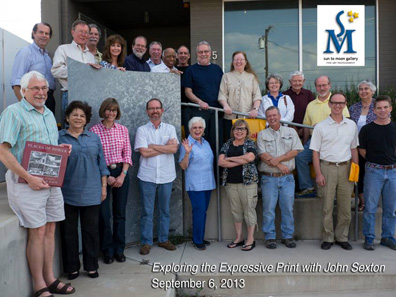 We had a grand time seeing old friends, and making new ones, during our visit to Dallas last month.The warm Texas hospitality was greatly appreciated, but the warm temperatures (each day was 100 degrees or more!) were not as appealing!
We visited with the photography students at Richland College. We also had lunch with a group of friends that meets every week to share their love of photography. Friday I presented (with Anne's essential help) a daylong seminar Exploring the Expressive Print. We had a great time with the twenty enthusiastic seminar participants. The seminar filled immediately after it was announced, and some of them travelled from great distances to attend. The day flew by for Anne and me.
Saturday started off with a crowd of over 200 people for my lecture at Richland College. It was a very responsive group. I had a lot of fun sharing my photographs, along with some of Ansel's images. There was a reception and poster signing that followed the lecture. We had just enough time to drive back to Sun to Moon Gallery to meet the large crowd that showed up for our opening reception. As I mentioned earlier I saw a number of photographic friends that I hadn't seen since my last exhibit in Dallas twenty-three years ago! We also made lots of new friends - including a father and son that drove from Louisiana!
It was a great trip, and we had a fine time. We look forward to our next visit to the Lone Star state.
---
JOHN'S IMAGE FOAM ON WATER INCLUDED IN UPCOMING EXHIBITION AND BOOK
SEE THE LIGHT: PHOTOGRAPHY, PERCEPTION, COGNITION
LOS ANGELES COUNTY MUSEUM OF ART
OCTOBER 27 2013 THROUGH MARCH 23, 2014
I am honored to have my image Foam on Water, Yosemite National Park, California included in the upcoming exhibition and accompanying book, See the Light: Photography, Perception, Cognition at the Los Angeles County Museum of Art (LACMA). The exhibition, which includes 220 photographs from LACMA's Marjorie and Leonard Vernon Collection, takes a historical perspective, identifying parallels between photography and visual experience over time. When I received the news that my print would be included in the exhibition and book it made my day! I have a hard time believing that my work will be included along with so many of my photographic heroes including: Ansel Adams, Margaret Bourke-White, Wynn Bullock, Julia Margaret Cameron, Paul Caponigro, Imogen Cunningham, Frederick H. Evans, William Henry Fox Talbot, Sally Mann, Man Ray, Edward Steichen, Alfred Stieglitz, Carleton Watkins, Edward Weston, Minor White and many other legendary photographers.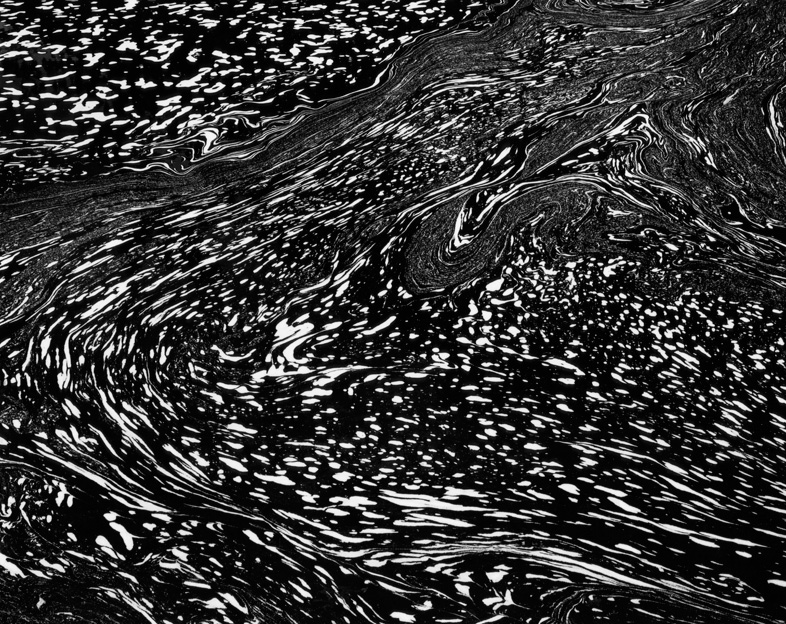 Foam on Water, Yosemite National Park, California
©1974 John Sexton. All rights reserved.
The exhibition opens to the public on October 27, 2013 and runs through March 23, 2014. You can learn more about the exhibition, and the book, at the LACMA web site.
My longtime friends Marjorie and Leonard began to collect photography in 1975, eventually building a collection of more than 3,600 photographs, from 700 photographers, spanning the entire history of the medium. In 2008 LACMA acquired the complete collection. LACMA curator Britt Salvesen has authored a new book of the same title that includes 100 images from the exhibition. The book is scheduled to be released in November 2013, but can be pre-ordered through Amazon.com.
---