ORIGINAL PRINT AVAILABLE AT A SPECIAL DISOUNT PRICE ONLINE
From time to time, I make special print offerings available at reduced prices. My new Special Collector's Edition offering of Fresh Snow on Trees, Sun shown below is now available for order online. This print is available for a limited time at the very special price of $600. To learn more about this print, or to order, follow this link: http://store.yahoo.com/ventanaeditions/joseorpr.html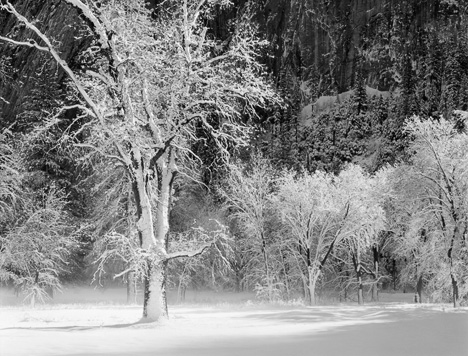 Fresh Snow on Trees, Sun
Yosemite Valley, California
©2005 John Sexton. All rights reserved.
I made the image Fresh Snow on Trees, Sun, Yosemite Valley, California, Plate 45 in Recollections, mid-afternoon on what started out as a cold, dark winter day in Yosemite. That morning I had not been feeling well, due to the aftereffects of some food poisoning from the evening before! Anne and I had even talked about heading back to Carmel Valley earlier than anticipated. I took some medicine for my discomfort, and fortunately it worked! Not only did I feel better, but the afternoon proved to be a very productive photographic experience for both Anne and me.
One of my favorite areas in Yosemite Valley has always been El Capitan Meadow. I loved to wander around the meadow during our annual two-week summer vacation family camping trips when I was a youngster, and still find it an interesting and exciting place to photograph today. At least a few times during each visit to Yosemite I find myself walking with my camera, enjoying the beauty and serenity of El Capitan Meadow.
The snow that day was pristine and beautiful. It had been overcast all morning and early afternoon. Suddenly the clouds began to evaporate and the light broke through, brilliantly illuminating the snow. Anne and I both set up our view cameras as quickly as we could. I anticipated that the light would move quickly, but was shocked by the rapidity of change that day. As fast I could load Readyload film packets into my camera, the shadows moved, quickly altering the image. I worked with a Wratten #12 deep yellow filter, which I often use when photographing snow to try and reveal as much of the subtle texture and modulation in the snow surface as possible. I made over a dozen negatives that afternoon without moving the camera more than a few feet. No two were alike. Just after I made this exposure the shadows started moving up the trunk of the tree and the image I desired was gone. The negative I printed has the most favorable balance of sunlight and shadow.
This print is approximately 11x14", personally printed by me (as are all my prints), processed to current archival standards, signed, mounted, and matted to 16x20" on 100 percent rag museum board.
The special discounted price is $600, a $300 savings from the normal retail price of $900.
Prints will be shipped within two weeks of the order date.
All prints are carefully prepared and packaged in specially designed protective shipping boxes, and shipped fully insured via UPS ground.
The readers of this newsletter can save an additional 10% on this print, as well as all other items purchased at the Ventana Editions online store between now and December 15th, 2008. To receive the special 10% discount; simply enter the code 'WINTER' (without quotation marks) into the 'COUPON CODE' section of the secure web order form. Please remember to enter the coupon code during the checkout procedure to receive your special discount. If you have any questions about the print, please feel free to contact my assistant Laura Bayless at 831-659-3130, email: laura@johnsexton.com. Her office hours are Monday through Thursday from 9:30 am to 5:00 pm, Pacific Time.
---
SPECIAL 10% DISCOUNT FOR EMAIL NEWSLETTER READERS
The readers of this newsletter can save 10% on all purchases at the Ventana Editions online store between now and December 15th, 2008. This includes all of my books and posters, along with the new Collector's Edition print described above. In addition, we have autographed books by Mark Citret, Mariana Cook, Tillman Crane, Ray McSavaney, and Huntington Witherill. The Ventana Editions online store can be found at: http://store.yahoo.com/ventanaeditions
To receive the special 10% discount, simply enter the code 'WINTER' (without quotation marks) into the 'COUPON CODE' section of the secure web order form. Please remember to enter the coupon code during the checkout procedure to receive your special discount. This special 10% discount is good for orders placed through December 15, 2008. Remember that UPS ground shipping (to the 48 continental United States) is only $5.00 per order. If you prefer, you may also place an order by calling Ventana Editions toll free at 888-390-4545 or 831-659-3130, Monday through Thursday from 9:30 am to 5:00 pm, Pacific Time.
---
VISITING MANFROTTO IN ITALY
This past October, while on our photographic adventure in Italy, we had the opportunity to stop in and visit the team at Manfrotto's headquarters in Bassano del Grappa, and their manufacturing facility in Feltre. Manfrotto produces their own extensive line of tripods, heads, lighting supports, and accessories. They also manufacture the Gitzo line of tripods, heads, and related products. I have been using Gitzo tripods for the past twenty-five years, and have had the privilege to work closely with their U.S. affiliate, Bogen Imaging, along with the Manfrotto staff in Italy, to enhance the features and performance of their products.
When we arrived at the headquarters we were greeted like old friends. We had meetings sharing ideas and firsthand experiences gleaned from years of working with Gitzo and Manfrotto products. We then had the opportunity to see their very impressive research and development facility. The computer design and machining operations were amazing. They had recently gotten a new piece of equipment that allowed them to prototype complex parts almost immediately. This allows the research and development team to experiment with prototypes of various designs much more easily than in the past resulting in better finished products.
The next day we drove about an hour to Feltre, which is located in a valley at the southern end of the beautiful Dolomite Mountains. It's an amazing location for an industrial manufacturing facility. We toured where they make the tools for casting, as well as the production facilities for Manfrotto and Gitzo. The cleanliness, precision, and efficiency of the facility was very impressive. We were particularly impressed with the fact that the Gitzo product line has its own production facility, and each tripod and head is virtually hand-assembled. We saw miles of aluminum tubing, as well as carbon fiber tubing. I anticipated it would be interesting to tour the manufacturing facilities, but both Anne and I found it fascinating beyond any of our expectations. In addition, we saw patterns and photographic possibilities that we had not anticipated.
After our tour was over we asked if we could have some additional time with an escort to make photographs with our cameras. We grabbed our gear, and of course our Gitzo tripods and heads, and worked for a couple of hours making photographs. The subjects were abstract patterns of tubes, thousands of small pieces in bins, and even the residue metal from the machining process in the tool production facility. If we had not had an appointment later that day, we would have asked for more time. We felt lucky to have been able to use our cameras there in the production facilities.
We ended our visit at Manfrotto, having made a number of new friends and being even more impressed with the products that they produce.
---
GLADDING McBEAN PHOTOGRAPHY WORKSHOP
A few weeks ago Anne and I had the wonderful opportunity to be guests at the Gladding McBean Photography Workshop, organized by Gene Kennedy and The Viewpoint Photographic Art Center. We both had a wonderful time photographing for two days in this beautiful facility.
The historic Gladding McBean Pottery is located in the Placer County town of Lincoln, nestled in the Sierra Foothills northeast of Sacramento. This huge factory, which has been in continuous operation since 1875, is the largest clay-pipe manufacturing facility in the United States. It is also one of only three companies in the country making high quality architectural terra cotta. Inside the massive facility is a living museum of architectural ornamentation from the last century and a quarter, sitting as silent witness while the factory continues to produce exterior cladding and decoration for new and old buildings, using the same techniques employed there more than a hundred years ago. When you enter the facility time appears to have stood still.
Since 1996 the Gladding McBean factory has been host to popular photographic workshops organized by Gene Kennedy. I've known Gene for more than twenty-five years, and he is a fine photographer and great person. Through his efforts photographers have access to the visually interesting and historically rich buildings. Within the facility are massive beehive kilns and an old modeling studio, which looks as if it's been untouched for decades, The factory provides an ample supply of compelling subjects and extraordinary light -- which changes throughout the day.
Anne and I both exposed a LOT of 4x5 film and had a great time working with other photographers. Because of the size of the facility, it's almost always possible to find a private out of the way place or you can photograph alongside others. People were working with everything from the latest digital gear to view cameras as large as 12x20 inches in size!
Because of the intensity of the photographic experience and the fact that everyone is interested in making as many images as possible during the limited time, there is no formalized instruction. However Gene, along with other guest instructors including Mark Citret, Gordon Hutchings, Markus Pfitzner, David Robertson, and Ken Templeton, were available to help answer questions, and offered presentations on various topics during the day for those interested.
If you're looking for an experience where you will definitely make a lot of photographs, consider the possibility of attending one of these workshops in the future. The 2009 dates are January 16-18, March 6-8, and October 23-25. Anne and I hope to return to photograph again at Gladding McBean when our schedule will allow us to do so.
For further information about the Gladding McBean workshops as well as other Viewpoint workshops, contact Gene Kennedy, 2015 J Street, Suite 101, Sacramento, California 95811. Web site: www.viewpointgallery.org. Phone: 916-441-2341. Email: director@viewpointgallery.org
---
FROM THE BOOK SHELF: THE DARKROOM COOKBOOK THIRD EDITION
I've known photographer and author Steve Anchell for many years. His book, The Darkroom Cookbook, has been a valuable resource for me since it was first published. I was pleased and flattered when Steve contacted me a number of months ago, asking if I could contribute a photographic technique for inclusion in the third edition of The Darkroom Cookbook. I've included the text from my contribution about steaming silver gelatin prints to enhance their surface characteristics as this issue's Tech Tip below.
The new third edition of The Darkroom Cookbook is now available. This volume, like its predecessors, will serve as an essential compendium of photographic formulae and information for anyone who is interested in the traditional photographic processes. New to this edition are specific techniques contributed by other photographers. Among those who have contributed techniques, as well as photographs, are a number of friends I have worked with over the years, including Henry Gilpin, Richard Garrod, Gordon Hutchings, Ryuijie, Jay Dusard, and Bruce Barnbaum.
There are over 200 "recipes," some common and some not so well known, which will be useful in expanding the creative possibilities of the traditional darkroom. There's also considerable information on developers, various processing techniques, darkroom equipment, as well as tips on setting up a darkroom, and darkroom safety.
The new edition of The Darkroom Cookbook (ISBN: 978-0-240-81055-3), can be purchased online directly from the publisher at: http://www.elsevierdirect.com/product.jsp?isbn=9780240810553
It is also in stock and available from Amazon.com at: http://www.amazon.com/exec/obidos/ASIN/0240810554/johnsextonp0f-20
---
TECH TIP: STEAMING SILVER GELATIN PRINTS TO ENHANCE SURFACE
During the past few years a number of articles have appeared in photographic periodicals in which the author claims to have "invented" a new photographic technique. The vast majority of these "inventions" actually are the resurfacing of old, and sometimes forgotten, photographic procedures. Many of these techniques were first generated during the heyday of the growth of the craft of photography, the 1920s through the 1940s. During this time many innovative thinkers came up with ideas that we accept as the norm today, and we often do not know their origins. The process that follows, or variations thereof, emerged at some point during this period. I wish I knew the person, people, or company that first came up with the idea so I could offer them my sincere appreciation. The process is the application of steam to the emulsion of air-dried silver gelatin fiber base photographic prints. This procedure has helped me solve countless technical and aesthetic photographic problems over the years.
The gelatin surface of a black-and-white print is amazingly complex and durable, but nonetheless fragile. For most of my own photography, I prefer a glossy surface paper which I then air dry to a semi-gloss finish. When all goes according to plan, I find this surface to be the most appealing for a majority of the photographs I make. However, for a variety of reasons, this surface can be problematic. The application of steam to the emulsion of the print can help solve many of these surface problems.
I have encountered, in some photographic emulsions, great batch-to-batch variations in the surface characteristics of the paper. Though labeled double-weight glossy on all the boxes, the surfaces when air-dried have ranged from a pleasant sheen to a dull matte surface. By applying steam to virtually any smooth surface paper after air-drying, the surface gloss can be enhanced or intensified. With some papers, this increase in gloss is not desirable because of the already high surface sheen characteristic of that particular paper. However, when one unexpectedly encounters a box of paper that has a duller surface than usual, this can nearly always be restored to its expected sheen by a brief application of steam. Along with the increase in surface gloss comes a measurable increase in the maximum black, or D-Max, of the print.
Please note that you cannot take a matte surface paper and make it glossy by applying steam. That being said, the change in gloss level on some air-dried glossy emulsions can be dramatic. Each type of paper, and indeed each individual emulsion batch, can behave differently.
In addition, when spotting (or more correctly unspotting) prints, telltale residue from retouching dyes can sometimes be visible when looking at the print at an oblique angle. Steaming, which micro-swells the upper layer of the gelatin, will allow the print dyes to be absorbed within the surface of the print, thus minimizing or sometimes completely eliminating any surface evidence of the dye's application. Be cautioned however that once the dyes are steamed into the surface of the print, they are NOT easily removed.
Steaming does not involve sophisticated equipment. I use a standard tea kettle, with the water brought to a boil. The print is suspended, emulsion down 8 to 10 inches above the steaming spout, and moved back and forth for 5 to 15 seconds, ensuring that all areas of the print are exposed to steam. Caution: STEAM CAN EASILY CAUSE SEVERE BURNS TO THE SKIN!
Generally, I make two separate applications of steam over the tea kettle a minute or so apart to help ensure the entire print surface is evenly covered with steam. Normally, I steam prints prior to dry mounting. If this is the case, you will notice that the print will curl vigorously toward the emulsion side during the steaming process, and while drying. Turning the print over and giving a brief application of steam to the base side of the print will minimize this tendency toward curling.
Occasionally, I need to steam a dry mounted print. There is a tendency in the steaming process for the edge of a mounted print to "lift" from the mat board. I find this raised edge mechanically and aesthetically undesirable. If I need to steam a mounted print for some reason, I cut a hole in heavy slip sheet paper the appropriate size of the area needing steaming. I then cover the entire mount with the slip sheet mask and apply steam only to the area that needs treatment. This will immediately regenerate the surface gloss of the print without exposing the edges of the mounted print to steam.
I understand that fabric steamers, which are used for taking the wrinkles out of draperies and garments, can be used as well, though I have no first hand experience with them.
Remember: As is the case with any new procedure be sure to test print steaming on unimportant prints before trying to enhance one of your "masterpieces."
I've given out the above information to my workshop participants for a number of years and am pleased to have this tech tip, along with one of my images, included in the third edition of Steve Anchell's The Darkroom Cookbook described above.
I recently experimented with this steaming technique on a variety of fiber base inkjet printing papers. There was no enhancement or alteration of the print surface whatsoever once the prints had dried.
---
SOME THOUGHTS ON PHOTOGRAPHY... AND OTHER TOPICS
"This world is but canvas to our imaginations."
– Henry David Thoreau
"The harder you work, the luckier you get."
– Ansel Adams