---
It is hard to believe that I have been perusing photography for the past forty years! I still find the medium of photography to be filled with magic and excitement - along with frustration and disappointment when images do not meet my expectations (which is the case with most images!). I am amazed that 2013 is now almost gone. It seems to Anne and me as if it has been our busiest, and in many ways, most exciting year of photography to date.
We recently concluded our final workshop for this year. It is always exciting to share the wonder of photography - whether in the field or in the darkroom - with eager and excited workshop participants. Check out the panoramic image below from our recent Mono Lake and the Eastern Sierra workshop that we instructed with Charlie Cramer.
2014 looks as if it too will be a busy year, with a number of exciting photographic trips, workshops, and events already on our calendar. All of our workshops for next year are filled, and there are only a few spaces available for the March 2015 Expressive Black and White Print workshop. If you're interested in applying to the waiting list for a filled workshop, just send in a signed application form. There is no need to send a deposit to be added to a workshop waiting list.
We have much to be thankful for, and feel extremely fortunate to be able to have photography as the centerpiece of our lives.
Anne and I wish you and your family a wonderful Thanksgiving, and Holiday season ahead.
John

Arriving at a field session on the 2013 Mono Lake and the Eastern Sierra workshop
©2013 Alejandro Gulminelli. All rights reserved.
---
ORIGINAL PRINTS BY JOHN AVAILABLE ONLINE AT DISCOUNTED PRICE
As 2013 draws to a close I have decided to offer two new Special Collector's Edition prints at greatly reduced prices. I am pleased to offer one of my best know images, Corn Lily, Eastern Sierra Nevada, as one of these prints. This photograph is the cover image, as well as Plate 22, in my first book Quiet Light. The normal gallery price for an 11x14" print of this image is $1,500. However, because of the ongoing popularity of this image, the retail price will increase to $2,000 effective January 1, 2014.
For a limited time this 11x14" print is being offered at the very special discount price of $1,000. The special price is available only for orders placed through December 31, 2013.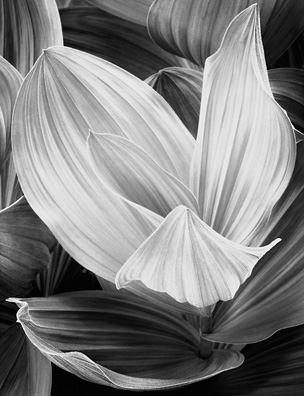 Corn Lily, Eastern Sierra Nevada, California
©1977 John Sexton. All rights reserved.
You can place a secure online order for this print at the Ventana Editions web store.

In addition to the print above, I am pleased to offer an 8x10" print of my image Painted Window for the special price of $500. The retail gallery price for this print is $750. The special price is good for order placed through December 31, 2013.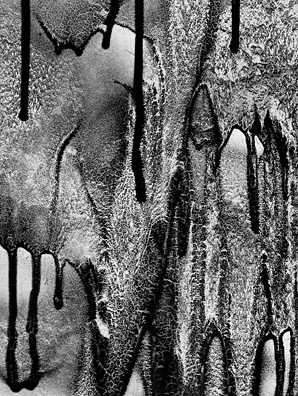 Painted Window, Anaheim, California
©1978 John Sexton. All rights reserved.
You can place a secure online order for this print at the Ventana Editions web store.

The California Corn Lily (also know as California False Hellebore) graces boggy areas in alpine meadows for only a few weeks each year after the snow melts. Among a group of nearly 100 corn lily plants in the Upper Rock Creek region of the Sierra Nevada I made the photograph of Corn Lily, Eastern Sierra Nevada. Along the edge of a bog, the forest formed a dense canopy over the lilies. Beneath a hazy sun the light filtering through this canopy created a singular "spotlight" effect on this particular plant.

To make the photograph the camera had to be suspended upside down with the center column of the tripod inverted so the camera was just inches off the ground. To look through the ground glass I lay on my stomach in the mud. (Most 4x5 view cameras, including the one I was using, are not made to be operated upside down! The controls do not lock, nor do they unlock properly, and nothing works smoothly. Not exactly a recommended procedure). To obtain adequate depth of field at this close distance, I used a 4 second exposure at f/64, as there is considerable distance from foreground to background and a small aperture was needed to achieve sharp focus throughout. I used my 210mm lens-which was perfect for this subject. That is a good thing as it was the only lens I owned for my 4x5 view camera until 1980! The Kodak Tri-X film was given N+1 development in Kodak HC-110 developer. The negative later received overall selenium intensification to further increase the contrast.

The image Painted Window, reproduced as plate 27 in my book Recollections, was made in Anaheim California in 1978, not far from my parent's home - where I was living at the time. A photographer friend and I had learned that an old abandoned hotel was scheduled for demolition the next day, and we thought there might be some interesting images in the soon to be destroyed building. We snuck in to the structure, and found the badly damaged and dilapidated interior to be interesting. It was clear that individuals had been living in the abandoned structure. As I entered one room I was immediately struck by a window that had been spray-painted with deep red primer paint - evidently to provide a bit of privacy.

The window had a metallic quality that was enhanced by the fact it was transilluminated by the soft skylight. I set up my 4x5" view camera (the same camera used for the Corn Lily image mentioned above. It worked much more easily as it was being used in its proper orientation!). The Kodak Tri-X film was given an exposure of 6 seconds at f/22, and the negative received Normal development using a variant of Edward Weston's ABC Pyro developer formula.
After making two identical exposures (that's how I still work today - two identical exposures of every image when possible) I was saddened by the fact the window would be destroyed - along with the rest of the building - the next day. I decided to see if I could break the glass out of the wooden window frame as I noticed the caulking had long ago failed. I gave the glass a substantial hit with my fist, and out it came. It came out so easily that I almost dropped it three stories onto the sidewalk below! I still have the window safely stored in our studio. I have photographed it a number of times over the years. I made a number of images of my defaced window in black and white with the 20x24 Polaroid camera, and there is an 8x10 Polacolor image of my window included in The Polaroid Book: Selections from the Polaroid Collections of Photography.
The prints of the Painted Window will begin shipping on December 12, 2013. If you would like to receive your print in time for the Holidays, please be sure to let us know at the time of the order. It would probably be a good idea to follow up with an email. We will make every effort to ship prints out in time for Holiday gift giving to those who need them, but because of a very busy schedule at this time we cannot promise that we can do so. Email us with your Holiday gift giving desires, and we will let you know if we can meet your wishes. All of the prints ordered will be shipped no later than March 31, 2014. All the prints are carefully prepared and packaged in specially designed protective shipping boxes, and shipped fully insured via UPS ground.
If you have any questions about the prints, please feel free to contact Anne at 831-659-3130, or email: info@johnsexton.com Our office hours are Monday through Thursday from 10:00 am to 1:00 pm, Pacific Time.
---
RECOLLECTIONS BOOK PRICE INCREASE JANUARY 1, 2014
Ventana Editions published my fourth book, Recollections, Three Decades of Photographs, in the fall of 2006. During the past seven years the book has received a number of awards, and enjoyed great success. The good news is sales have been sufficient so that there are only a limited quantity of copies remaining in inventory. Effective January 1st, 2014 the price for Recollections will increase to $110 retail price. We will continue to have autographed copies available from the Ventana Editions online store, but at a higher price.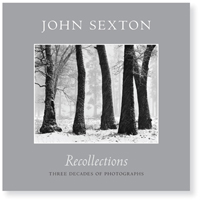 If you are interested in obtaining a copy for yourself, or for someone else, you can still purchase autographed first edition copies at the discounted price of $65 at the Ventana Editions online store through December 31st. After that date the price will increase. We will still offer the book at a discount, but that price has not yet been determined. You may place an order for autographed copies of Recollections here.
---
FOLLOWING IN ANSEL'S FOOTSTEPS ACROSS CALIFORNIA IN LEXUS SUV'S

The idea for this project was to visit different locations where Ansel had made some of his inspiring images. I play the part of a photographer (not too much of a stretch in the casting department) who is guiding my photographic friend, Brian Vance (Senior Photographer at Motor Trend Magazine) to these sites. As you might guess we are traveling in Lexus SUV's. One of the Lexus vehicles was even equipped with a roof top platform similar to what Ansel had on his own vehicles over the years.
Our adventure began when we met the crew in Death Valley, just over a week ago. We photographed and filmed at Zabriskie Point, Twenty Mule Canyon, as well as Badwater. Next we were off to the Owens Valley where we worked at the sites where Ansel made his iconic images Winter Sunrise and Mt. Williamson.
We had planned to head north and enter Yosemite from Tioga Pass. That plan got changed when an early Winter Storm closed Tioga Pass. We had to take the long way around to get to Yosemite. Anne and I arrived just before dark to do some last minute location checking. The 8-person crew - filled with energy and talent - arrived after midnight as they were filming the Lexus vehicles in the spectacular Alabama Hills near Lone Pine.
We had great clouds and mist at the Tunnel View in Yosemite Valley. See the cool photograph below by Brian Vance of the entire crew including our National Park Service Ranger escorts. This was made as we were preparing to leave that location after hours of filming, to head off to other great spots in Yosemite Valley.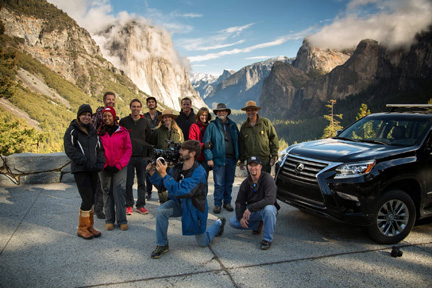 ©2013 Brian Vance. All rights reserved.
The "expedition" ended two days ago with a visit to the home of Michael and Jeanne Adams where the crew saw Ansel's darkroom and home for the last 20+ years of his life. We covered more than 1,500 miles on the trip. We were often up at 4:00 am to be ready to go for sunrise light, and worked on location until after dark. We returned with some new images, some great video footage for the upcoming 8 to 10 minute video (more details on that in a future newsletter), as well as some fantastic memories, and 8 terrific friends. One of the crew members emailed me after they returned home, and said they were so excited by Ansel's photographs, and the week we shared together, that they are planning to sign up for a photography class as soon as time permits.
I think Ansel would be pleased to know that his photographs continue to inspire new generations. What more can a photographer ask for?
---
TECH TIP: RESCUE TAPE TO THE RESCUE
Ansel frequently paraphrased Pasteur citing the phrase, "Chance favors the prepared mind." Often this was in reference to being prepared for unexpected photographic opportunities like his famous image, Moonrise, Hernandez, New Mexico. During the time I worked for Ansel I was impressed with Ansel's advance preparation in case problems might occur on a photographic outing. We always took along a camera repair kit, and believe it or not, many years ago Ansel used to regularly carry an extra axle for his car when he was on a photographic trip!
During our recent Mono Lake workshop one of our participants had his 4x5" wooden field camera take a tumble in the Yosemite high country. We were photographing long after sunset when the accident occurred. The workshop participant did not realize the extent of the damage to his view camera until the next day when we arrived for our field session at the ghost town of Bodie. The rear standard of the camera was seriously damaged when the camera struck the ground. In fact the rivets that secured the rear standard to the focusing track had been sheared off. This made the camera unusable.
As soon as the participant realized their dilemma they asked Anne for assistance. She radioed me on her walkie-talkie (we find these very helpful during our field workshops). As I saw the damage I was perplexed as to how we could somehow make the camera usable - at least in the short term.
I always keep a product called Rescue Tape in the van. It is part of our "get back" kit. These are tools and items to help us get back to civilization, and proper repair facilities, when we are on a photographic trip. Rescue Tape is a self-fusing silicone repair tape with seemingly infinite uses. It was first used by the US military. It is not an adhesive tape, but it does stick to itself. With Rescue Tape you can repair leaks on radiator hoses and such, and also use it to insulate electrical wiring, and much more. It needs to be stretched tight when wrapped on to itself to achieve a secure bond.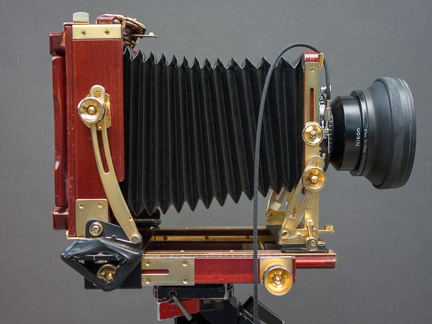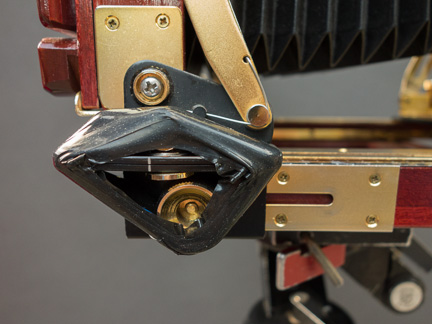 As I pondered the dilemma that our workshop participant had with his field camera, I suddenly thought of the Rescue Tape we always have with us. I grabbed a roll of this magical stuff, and Anne and began to wrap the rear standard. After a few wraps it looked as if this might be a viable temporary fix. We applied a few extra wraps to ensure everything was securely in place, and our workshop participant was ready to make photographs again. One of the great things about Rescue Tape is that since it is NOT an adhesive tape it does not leave a sticky mess when you remove it. You simply cut it off, and you are back to where you started.
In the images below we have simulated the fix we applied at Bodie on Anne's Tachihara 4x5" field camera. This is exactly the same model of camera that our workshop participant had the problem with. Rescue Tape is very inexpensive (about $10 for a 12 foot roll), and is easily available from a variety of sources, including Amazon.com. You might want to think about getting some to keep in you camera repair kit, as well as in your vehicles, and around the house. Rescue Tape to the rescue!
---
SOME THOUGHTS ON PHOTOGRAPHY... AND OTHER TOPICS
In 1976 while I was still in college - studying photography and art - my dear friend, the late photographer, Oliver Gagliani wisely guided me by saying:
"You will never make a photograph that everyone likes. So, make sure you like every one of your photographs."
This has proven to be sage advice over the years.