---
Greetings,
It's hard for Anne and me to imagine that this installment of my eNewsletter is the 50th issue. When I sent out the first issue in September 2001 to a much smaller subscriber list it was exciting to receive almost immediate feedback via email - especially compared to past mailings that had be sent via "snail mail." Our list of loyal subscribers has grown, as has the reach of this publication. We continue to get positive feedback from readers, along with individuals that scour the eNewsletter archives here: http://www.johnsexton.com/newsletterarchive.html
I am very pleased to include a guest author in this issue of my newsletter. I hope that you will read the essay, Prints, by my good friend Rob Pike. I think you will find it interesting and thought provoking.
Regular readers may have noticed that you have received fewer eNewsletters in 2014. This was not our plan at the beginning of the year, but it is how the past eleven months have unfolded. It has been a complicated, and extremely busy year. Our dear friend Ray McSavaney's illness and passing, along with attempting to help preserve his photographic legacy, took more time than Anne or I could have possibly imagined. That being said, we are pleased to have offered help as we could, and we know that if the tables were turned, Ray would do the same for us. Please see below for an update on the efforts to protect and preserve Ray's photographic archive.
2014 has also given us many happy moments to look back on. Please read further down in the newsletter to find out about some of those events.
Anne and I wish you, and your family, a wonderful Thanksgiving (we have a LOT to be thankful for) along with a warm, cozy, and peaceful Holiday season ahead.
There is a lot to cover in this - the 50th - issue of my eNewsletter, so let's get to it.
John
---
LIMITED EDITION PRINT BY JOHN AVAILABLE ONLINE AT DISCOUNTED INTRODUCTORY PRICE
I am thrilled to introduce a new Limited Edition print offer as part of my Special Collector's Edition print series. As many of you know, most of my prints are issued as non-numbered "open editions," but over the years I have offered a small number of Limited Edition prints. It has been two years since my last Limited Edition print offer, so the timing seems right. I am pleased to say that nearly all of these previous Limited Edition prints sold out very quickly which, as you might imagine, has been very flattering. My new Limited Edition print of Black Oaks, Snowstorm, Yosemite Valley, California is now available for order online.
This print is offered in a Limited Edition of 100 signed and numbered silver gelatin prints, plus 10 Artist's Proofs. When the edition is sold out no further prints will be made for sale in any size. Though my open edition 11x14" prints have a retail price in galleries of $1,000, the introductory price of this Limited Edition print is $700. After December 31, 2014 the price will increase to $1,500.
To place a secure online order for this print, follow this link: http://ventanaeditions.stores.yahoo.net/fatrandwahal.html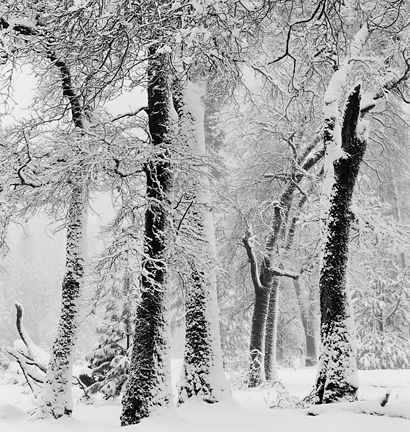 Black Oaks, Snowstorm, Yosemite Valley, California
©2011 John Sexton. All rights reserved.
In 2011 Anne and I went to Yosemite to attend an exhibition opening reception at The Ansel Adams Gallery for our friends Mark Citret and Ray McSavaney. There was snow in the forecast, so we brought all of our winter gear just in case. The first day we had a slushy mixture of rain and snow that created challenging and frustrating conditions for trying to make photographs, but the following days were incredible. I have spent many days in Yosemite Valley during winter storms, but I had never seen a winter wonderland as we experienced on this trip. This image was made with my Hasselblad. It was late afternoon at El Capitan Meadow, millions of huge wet snowflakes were coming down transforming the beautiful scenery into a magical dream-like landscape.
This silver gelatin, selenium toned print is approximately 9-3/4 x 10-1/4", personally printed by me (as are all my prints), processed to current archival standards, signed, numbered, mounted, and matted to 16x20" on 100 percent rag museum board.
Prints will begin shipping on December 1. If you would like to receive your print in time for the Holidays, please be sure to let us know at the time of the order. It would probably be a good idea to follow up with an email. We will make every effort to ship prints out in time for Holiday gift giving to those who need them. All of the prints ordered will be shipped no later than February 28, 2015.
All prints are carefully prepared and packaged in specially designed protective shipping boxes, and shipped fully insured via UPS ground. If you have any questions about the prints, please feel free to contact Anne at 831-659-3130, or email: info@johnsexton.com. Our office hours are Monday through Thursday from 10:00 am to 1:00 pm, Pacific Time.
---
WELL-KNOWN ORIGINAL PRINT AVAILABLE IN 16X20 SIZE
AT SPECIAL DISCOUNT PRICE ONLINE
This image below, Aspens, Dusk, Conway Summit, has always had a special place in my heart. It was made in the fall of 1978. Not too long before making this image I had made my first long exposure after sunset, but photographing until it was completely dark was not yet part of my normal photographic routine. On this particular evening, while photographing the aspen grove, I noticed how the luminosity of the white aspen trunks seemed to intensify as the ambient light level diminished. During the making of this photograph I made a conscious decision to continue to photograph as long as there was enough light to make a technically successful exposure. This is a working procedure that I still employ today - which means Anne and I often have late dinners! The exposure on the 4x5" Kodak Tri-X Professional film (currently celebrating it's 60th anniversary!) was 2 minutes at f/22.
I currently have this negative in the enlarger, and am working to fulfill some orders in 16x20" print size. The other day I decided that as much as I still have great fondness for this negative, it is time to retire it - so this will be the last time I will be printing Aspens, Dusk, Conway Summit as a silver gelatin print in any size.
Up to this point, I have not offered any images in 16x20" print size as a Special Collector's Edition for my eNewsletter readers. So this is a rare opportunity to purchase one of my best-known images, Aspens, Dusk, Conway Summit, in this larger size from the final silver gelatin printing session.
This print, shown below, is now available for order online. This 16x20" print is being offered for a limited time at the very special price of $1,500. After December 31, 2014 the price will increase to $3,000. The print is only being made in 16x20" size, and I am sorry to say that we do not have any 11x14" prints for sale. Aspens, Dusk, Conway Summit was offered in my August 2009 eNewsletter in 11x14" print size.
To place a secure online order for this print, follow this link: http://ventanaeditions.stores.yahoo.net/trblsnlied.html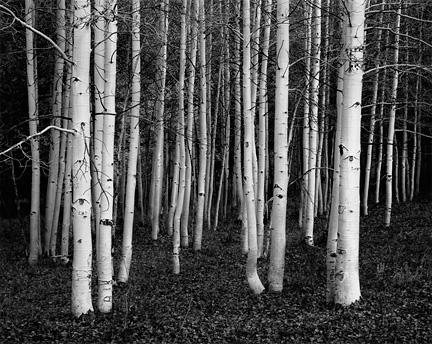 Aspens, Dusk, Conway Summit, California
©1978 John Sexton. All rights reserved.
This print is approximately 19x15-1/4", personally printed by me (as are all my prints), processed to current archival standards, signed, mounted, and matted to 22x28" on 100 percent rag museum board.
Prints will begin shipping on December 1, 2014. If you would like to receive your print in time for the Holidays, please be sure to let us know at the time of the order. It would probably be a good idea to follow up with an email. We will make every effort to ship prints out in time for Holiday gift giving to those who need them. All of the prints ordered will be shipped no later than February 28, 2015.
All prints are carefully prepared and packaged in specially designed protective shipping boxes, and shipped fully insured via UPS ground. If you have any questions about the prints, please feel free to contact Anne at 831-659-3130, or email: info@johnsexton.com. Our office hours are Monday through Thursday from 10:00 am to 1:00 pm, Pacific Time.
If you would like to know a bit more about how Aspens, Dusk, Conway Summit image helped "introduce" my photography to a larger audience, please see the information below.
In the fall of 1984 - exactly thirty years ago - Kodak used this image as the centerpiece for their advertising campaign, introducing their new flagship black and white paper, Kodak Elite Fine Art. Aspens, Dusk, Conway Summit was reproduced as a two-page spread in virtually every photography magazine around the world. Thousands of posters and brochures featuring this image were printed for photographic retailers in the USA and abroad. In addition I traveled to Photokina in Germany, and had an exhibition there printed exclusively on the brand new Kodak Elite Fine Art paper. During Photokina, I was part of a press conference announcing the new Kodak paper to the photographic world. Having this image so widely reproduced around the globe was a great boost to my fledgling photographic career. You can see two of these "vintage" Kodak advertisements featuring Aspens, Dusk here: http://www.johnsexton.com/print_offer_conway_ads.html
---
2015 AND EARLY 2016 JOHN SEXTON PHOTOGRAPHY WORKSHOPS SCHEDULE ANNOUNCED
I am pleased to announce my new workshop schedule for 2015 through early 2016. One of the most gratifying aspects over the past four decades of teaching workshops is the number of friends I have made, and have maintained, over the years. It pleases me to see people, who have been intensely pursuing their passion for photography, making great progress along the way. Recently I received a note from one such photographer, and I was humbled and honored when they related that I had contributed, in some small way, to their success in photography.
We are happy to again offer three sessions of The Expressive Black and White Print workshop, which has been offered with multiple sessions every year for the past thirty-two years, and still has great interest! The number of participants from outside of North America that are attending this particular workshop astonishes us.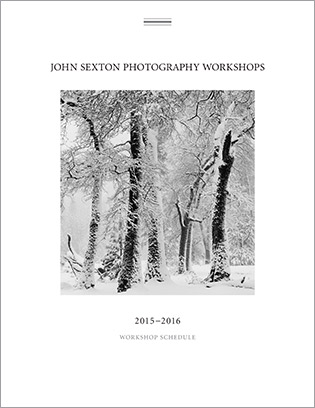 You can see the complete schedule, get detailed information about the workshops,
and download an illustrated PDF of the new workshop brochure here:
http://www.johnsexton.com/schedule.html
A number of you have been eagerly waiting for the official announcement of the Mono Lake and Eastern Sierra: Exploring Autumn Light workshop for 2015. This extremely popular workshop will be held October 18-23, 2015. We have a long waiting list of people who were not able to get into the 2014 session, so this workshop will likely fill up very quickly. If you are interested in attending, please apply for the workshop as soon as possible. Charlie and I personally review each application to try and assemble a balanced workshop group to help ensure the maximum benefit for all workshop participants.
We recently advised people that had been on our targeted interest list of the upcoming twenty-eighth offering of the Fine Tuning the Expressive Print workshop, and the workshop filled almost instantly. The Fine Tuning workshop is open only to those people who have taken The Expressive Black and White Print workshop, or a handful of other printing workshops listed in the downloadable workshop brochure. If you are interested in the Fine Tuning workshop be sure to apply to the waiting list. There is no deposit necessary.
Again, to learn more about the workshops, or to apply, please visit my web site www.johnsexton.com where you can download the complete workshop brochure as well as the application form.
---
PRINTS - AN IMPORTANT ESSAY BY ROB PIKE - PLEASE READ THIS TEXT
I first met Rob Pike nearly 25 years ago when he attended my Expressive Black and White Print workshop. We kept in touch following the workshop, and developed a friendship that has grown over the years. Rob is a gifted photographer, and as you will note in his brief biography below, Rob is best known for his contributions to the computing world. I was honored to have Rob contribute an eloquent essay, The Power of Humanity, to my book, Places of Power.
Last year when we were having dinner the conversation turned to the importance of making prints of photographic images. As you might imagine, I think a print is an important tangible manifestation of the photographic process, but that should come as no surprise to readers as printmaking is an integral part of my traditional approach to the photographic medium. In the course of this, and other conversations, Rob was emphatic about the importance of printing photographic images - not just for the aesthetic experience of holding a print, but more importantly to help ensure the life of the image. As the conversation evolved I asked Rob if he would consider putting his thoughts down in an essay about the topic. I STRONGLY encourage you to read Rob's insightful text, and more importantly, I urge you to follow Rob's admonition to make prints of the images that you would like to survive over the years - whether those are your favorite "masterpieces," the recordings of personal events, or any images you do not want to have evaporate into the ether. Don't take my word for it, please read Rob's informed essay below.
Here is an extremely abbreviated biographical sketch of my good friend, Rob Pike. A Google search will bring up considerably more information about Rob many accomplishments, which he states, "vary in veracity."
Rob Pike is a Distinguished Engineer at Google, where he works on systems software and is a co-creator of the Go programming language. Before Google, he worked for many years in the Computing Sciences Research Center of Bell Laboratories, in the group that developed Unix and C, the foundations of the Internet. He has been photographing for decades using 16mm, 8x10" and every film format in between. He still enjoys the smell of fixer.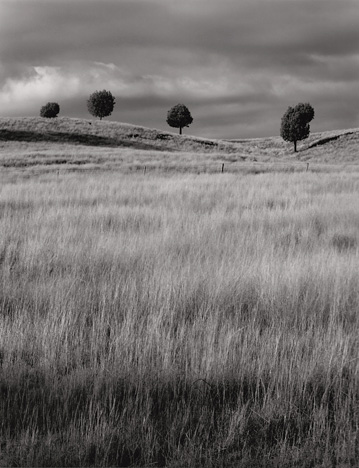 Little Trees, Coonabarabran, Australia
©1998 Rob Pike. All rights reserved.
PRINTS
ROB PIKE
Two long-buried caches of photographs came to light last year. One was a stack of cellulose nitrate negatives made on the Scott Antarctic expedition almost a hundred years ago. Over time, they became stuck together into a moldy brick, but it was possible to tease the negatives apart and see what they revealed. You can view the images at the web site of the New Zealand Antarctic Heritage Trust. The results show ragged edges and mold spots but, even beyond their historical importance, the photographs are evocative and in some cases very beautiful.
The other cache contained images not quite so old and of less general interest but of personal importance. My mother moved from the house she had occupied for decades into a smaller apartment and while preparing to move she found the proverbial shoe box of old pictures in a closet. Some of the images are from my youth, some from hers, and some even from her parents'. One of the photographs, from 1931, shows my paternal great-grandparents. I never met my paternal grandparents, let alone great-grandparents, so this photograph touches something almost primordial for me. And some of the photographs in the box were even older.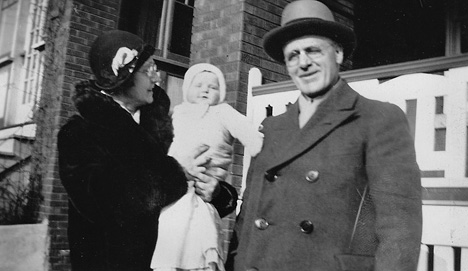 Rob Pike's Paternal Great-Grandparents 1931
Due to the miracle of photography, we are able to see over a hundred years into the past. Of course this is not news; all of us have seen 19th century photographs by the pioneers of the medium. By the turn of the 20th century photography was so common that huge numbers of images, from the historical to the mundane, had been created. And sometimes we are lucky enough to chance upon forgotten images that open a window into a past that would otherwise fade from view.
But such windows are becoming rare. A hundred years from now, there will be far fewer photo caches to find. Although the transition to digital photography has made photos almost unimaginably commonplace—one estimate puts the number of shutter activations at a trillion images worldwide per year—very few of those images become artifacts that can be left in a shoe box.
We live in what has been named a Digital Dark Age. Because digital technology evolves so fast, we are rapidly losing the ability to understand yesterday's media. As file formats change, software becomes obsolete, and hardware becomes outmoded, old digital files become unreadable and unrecoverable.
There are many examples of lost information, but here is an illustrative story of disaster narrowly averted. Early development of the Unix operating system, which became the software foundation for the Internet, was done in the late 1960s and early 1970s on Digital Equipment Corporation computers. Backups were made on a magnetic medium called a DECtape. By the mid 1970s, DECtape was obsolete and by the 1980s there were no remaining DECtape drives that could read the old backups. The scientists in the original Unix lab had kept a box of old backups under the raised floor of the computer room, but the tapes had spontaneously become unreadable because the device to read them no longer existed in the lab or anywhere else as far as anyone knew. And even if it did, no computer that could run the device was still powered on. Fortunately, around 1990 Paul Vixie and Keith Bostic, working for a different company, stumbled across an old junked DECtape drive and managed to get it up and running again by resurrecting an old computer to connect it to. They contacted the Unix research group and offered one last chance to recover the data on the backup tapes before the computer and DECtape drive were finally decommissioned. Time and resources were limited, but some of the key archival pieces of early Unix development were recovered through this combination of charity and a great deal of luck. This story has a happy ending, but not all digital archives survive. Far from it.
The problem is that as technology advances, data needs to be curated. Files need to have their formats converted, and then transferred to new media. A backup disk in a box somewhere might be unreadable a few years from now. Its format may be obsolete, the software to read it might not run on current hardware, or the media might have physically decayed. NASA lost a large part of the data collected by the Viking Mars missions because the iron oxide fell off the tapes storing the data.
Backups are important but they too are temporary, subject to the same problems as the data they attempt to protect. Backup software can become obsolete and media can fail. The same affliction that damaged the Viking tapes also wiped out my personal backup archive; I lost the only copy of my computer work from the 1970s. (It's worth noting my negatives and prints from the period survived.)
It's not just tapes that go bad. Consider CDs and DVDs, media often used for backup. The disks, especially the writable kind use for backups, are very fragile, much more so than the mass-produced read-only kind used to store music and movies. Within a few years, especially in humid environments, the metal film can separate from the backing medium. Even if the backup medium survives, the formats used to store the backups might become obsolete. The software that reads the backups might not run on the next computer one buys. Today, CDs are already becoming relics; many computers today do not even come with a CD or DVD drive. What were once the gold standard for backup are already looking old-fashioned just a few years on. They will be antiquated and obscure a century from now.
To summarize, digital information requires maintenance. It's not sufficient to make backups; the backups also need to be maintained, upgraded, transferred, and curated. Without conscientious care, the data of today will be lost forever in a few years. Even with care, it's possible through software or hardware changes to lose access forever. That shoebox of old backup CDs will be unreadable soon.
Which brings us back to those old photo caches. They held negatives and prints, physical objects that stored images. They needed no attention, no curating, no updating. They sat untended and forgotten for decades, but through all that time faithfully held their information, waiting for a future discoverer. As a result, we can all see what the Scott Antarctic expedition saw, and I can see what my great-grandparents looked like.
It is a sad irony that modern technology makes it unlikely that future generations will see the images made today.
Ask yourself whether your great-grandchildren will be able to see your photographs. If the images exist only as a digital image file, the answer is almost certainly, "No". If, however, there are physical prints, the odds improve. Those digital images need to be made real to endure. Without a print, a digital photograph has no future.
We live in a Digital Dark Age, but as individuals we can shine a little light. If you are one of the uncounted photographers who enjoy digital photography, keep in mind the fragility of data. When you have a digital image you care about, for whatever reason, artistic or sentimental, please make a print and put that print away. It will sit quietly in the dark, holding fast, never forgetting, ready to reveal itself to a grateful future generation.
VISIT ROB'S BLOG - "COMMAND CENTER"
http://commandcenter.blogspot.com/2014/08/prints.html
---
RAY McSAVANEY'S PHOTOGRAPHIC ARCHIVE - AN UPDATE
The response to my July 2014 eNewsletter honoring my longtime friend Ray McSavaney was unprecedented in the history of this publication. Here is a link to that eNewsletter if you did not see it: http://www.johnsexton.com/newsletter07-2014.html
It is a shame that Ray could not experience the many kind messages that came from around the globe after his passing. He would have been thrilled and astonished with the sale of his book, Explorations. A surprisingly high percentage of the book orders were from outside of North America. Hopefully, somehow Ray is aware of his new, and growing, legion of fans!
People that had been friends with Ray for decades, along with people that never met him, gave generous donations to the Friends of Ray fund. Those contributions have allowed Ken Karagozian, the temporary custodian of Ray's photographic archive, to rent a temperature controlled storage room, and purchase a sizable quantity of archival materials, along with shelving, to help ensure that  Ray's treasures are properly stored and  protected. Ken, and a small group of Ray's close friends, have been working diligently and steadily bringing order and organization to Ray's materials. This is an ongoing project that will continue into the next year. Anne and I have made two trips to Southern California to assist Ken is this worthy endeavor, along with frequent email and phone communications.
Everyone involved in trying to preserve Ray's photographic heritage hopes that Ken's tenure as caretaker of Ray's legacy will be short-lived. The goal is to find an appropriate institution with a desire to accept Ray's archive, and to protect and preserve his legacy into the future.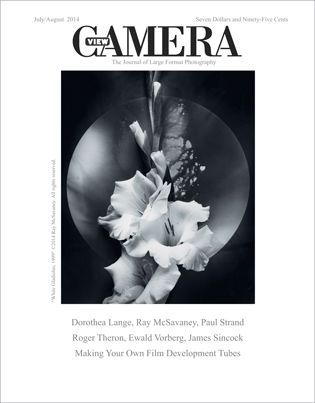 Ray's good friend, and talented photographer, Eric Biggerstaff organized and wrote a touching introductory essay for an article in the current issue of View Camera magazine entitled, Remembering Ray: A Tribute to Ray McSavaney. Along with Eric's essay, there are texts remembering Ray by Bruce Barnbaum, Eric Biggerstaff, Paul Caponigro, Charles Cramer, Ken Karagozian, John Nichols, Huntington Witherill, and yours truly. One or Ray's photographs accompanies each personal text. All of us involved in putting this article together hope that it would be something that would please Ray. I am sure Ray would be happy to know that one of his images will grace the cover of View Camera for the third time - a record in the twenty-six year history of the publication. Ray even had the honor of having his image on the very first issue of View Camera in August 1988!
Subscribers should be receiving the issue featuring Ray in the next few days. Single issues can be purchased directly from View Camera. You can find information at their web site: http://www.viewcamera.com
To see more of Ray's images, and to learn more about our good friend, please visit Ray's web site, which is being maintained with the help of donations to the Friends of Ray: http://www.raymcsavaneyphotography.com
---
LEXUS - ANSEL ADAMS: CHASING LIIGHT VIDEO
NOMINATED AS FINALIST IN DIGIDAY VIDEO AWARDS
Exactly one year ago Anne and I were in Lone Pine working with a young and energetic production crew from The Enthusiasts Network (TEN), on a video for Lexus. The production, undertaken with the cooperation of The Ansel Adams Publishing Rights Trust, culminated in a 13-minute video: Chasing Light – Inspired by Ansel Adams.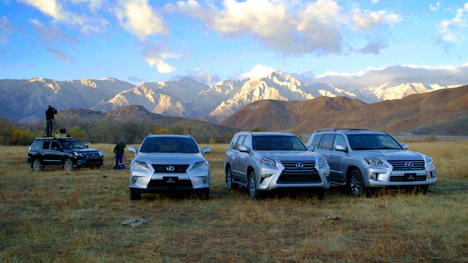 Lexus Vehicles at Ansel Adams' Winter Sunrise Location
Lone Pine, California
Well, the video has just been nominated as a finalist in the prestigious Digiday Video Awards in the "Best Video Design - Consumer" category. I was pleased to be a part of the production, and Anne and I thought the final result was excellent. We are thrilled for the hard working production team at TEN, and have many fond memories from the intense week we spent with them visiting photographic locations around California. Our days regularly began at 4:00 am (ugh!!!) and on occasion we were still rigging or driving after midnight! It was hard work, but we had fun!
You can read in greater detail about the project in last year's eNewsletter here.
If you haven't already seen it, I hope you will watch the video here.
By the way... those Lexus SUV's are very comfortable! It was the fist time I had experienced air-conditioned seats in a vehicle (aka bun chillers!). I hope you enjoy the video, and I am sure you will learn a thing or two about Ansel that you might not already know through the insightful comments of William Turnage, the Managing Trustee of the Ansel Adams Publishing Rights Trust.
---
TIDBITS - 2014 EXHIBITIONS, AWARDS, HONORS, AND MORE - A RECAP
Imaging USA - Phoenix, Arizona - January 2014
John Receives 2014 American Society of Photographers International Award
John Presents "Inspirations: A Life In Photography" Lecture
I was honored, and humbled, to receive the International Award from the American Society of Photographers during the Professional Photographers of America 2014 Imaging USA conference in 2014. This award is the highest honor that the ASP bestows to non-members. The beautiful crystal trophy reads, "For contributions to professional photography as an art and a science." Needless to say this was an unexpected, and greatly appreciate honor.
A few hours before the black tie ASP awards ceremony I presented a lecture, Inspirations: A Life in Photography to a packed house of over 600 enthusiastic photographers. I was astounded when I received an extended standing ovation from the audience at the conclusion of my talk. The beginning of my lecture was also a special experience. My longtime friend, and former student - the legendary entertainer Kenny Rogers - was receiving the PPA's highest honor, an honorary "Master of Photography" degree during the conference. Kenny was kind enough to fly in a day early to attend my lecture and award ceremony, and he generously offered to introduce me at my lecture. I am certain that this will be the only time in my life that I will have Kenny Rogers as my "opening act!"
Kenny received his prestigious award the following evening at a gala event. He invited me to join him on stage at the Phoenix Symphony Hall for his photographic presentation Places I've Been, Things I've Seen. We had a great time reminiscing about photographic adventures we shared together over the past thirty years. The one-hour on stage flew by for us, and based upon the feedback of photographers in the audience (as well as Anne) it was an enjoyable experience for all.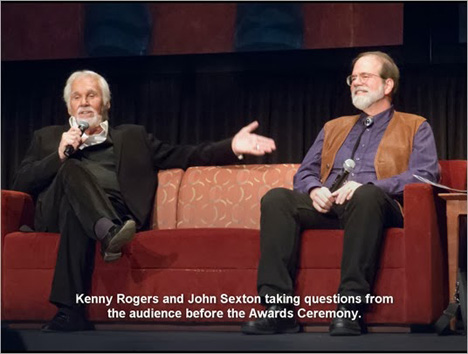 Camera Craftsmen of America Annual Meeting - April 2014
John presents Keynote Address
John inducted as first Honorary Member since Wynn Bullock in 1970

In April I was invited to present the Keynote Address at the annual meeting of the Camera Craftsmen of America in beautiful Napa, California. Anne and I had a wonderful few days with the members of this historic organization, which was founded in 1905. I was stunned when I was invited to become an Honorary Member of the CCA during the introduction for my lecture by longtime friend, and talented photographer, Tony Corbell. I was informed that I had been selected for the honor by a unanimous vote of the attending members. Needless to say I gladly, and graciously, accepted the honor. The last time that an Honorary Member had been invited to join the CCA was when Wynn Bullock (whom I studied with, and revere) was inducted in 1970!
John's photographs included in the "Power of the Image" exhibition in Beijing, China - April and May 2014
John is a recipient of the inaugural "Power of the Image - George Eastman Medal"

I had twelve photographs included in the "Power of the Image" exhibition on display during April and May 2014 at the Temple of Heaven in Beijing, China. Along with my images, the exhibition features more than 200 photographs by 20 internationally-renowned professional photographers, including Pep Bonet, Michael Crouser, Lauren Greenfield, Peter Guttman, Jocelyn Bain Hogg, Nadav Kander, Frederic LaGrange, Yann Layma, Roman Loranc, Gerd Ludwig, Steve McCurry, Eric Meola, Sylvia Plachy, Matthew Jordan Smith, Eddie Soloway, Art Streiber, Joyce Tenneson, Art Wolfe and Qin Yuhai. The photographers included in the exhibition were each awarded the inaugural Power of the Image - George Eastman Medal.
John's Photographs Included in exhibition at the National Art Museum of China, Beijing, China
November and December 2014

It is a great honor to have twelve of my prints included in the new exhibition Journey of the Heart: Exhibition of Straight Photography Original Print 1839-2014 on display at the National Art Museum of China through December 10, 2014. This large exhibition looks at the entire history of photography. I am further honored to have some of my prints added to NAMOC's permanent collection. I am thrilled to have my work on the walls with such legends as Ansel Adams, Edward Weston, William Henry Fox Talbot, Imogen Cunningham, and many others! There is a bit more information on the exhibition here.
John and Anne's photographs included in the Sun to Moon Gallery 13th Anniversary Exhibition
November 20, 2014 through January 15, 2015

Anne and I are honored to have photographs included in the current 13th Anniversary exhibition at the Sun to Moon Gallery in Dallas, Texas. We wish we could attend the celebration, and see the show, but unfortunately our schedule will not allow us to do so.
Kodak Tri-X Film Celebrates 60th Anniversary

Kodak Tri-X Film Celebrates 60th Anniversary November 2014 Kodak's legendary Tri-X film celebrated its 60th anniversary on November 1, 2014. It is amazing that Kodak Tri-X is still the most widely used black and white film on the planet after six decades! There are very few technological products that still exist after sixty years, let alone are still the standard of the industry. Congratulations to Kodak and Tri-X. Here is an interesting article about Tri-X film.
As I noted above, my image Aspens, Dusk, Conway Summit was made on Kodak 4x5" Tri-X Professional film - as were nearly all of my images from 1973 until 1986, when I transitioned to Kodak T-Max 100 and 400 films. Long live film!!!