---
Greetings,
Anne and I recently returned from a two-week photography and camping trip in the beautiful Eastern Sierra. We began our trip after we completed our annual Mono Lake and the Eastern Sierra workshop with Charlie Cramer. As we try to do on photographic trips, we did not make any specific plans in terns of itinerary or schedule. It was great to simply be guided by the changing autumn light and our desires for photography exploration and rejuvenation. The fall temperatures dipped well into the 20s at night, but the daytime highs were surprisingly warm. We had a great time.
Our workshop with Charlie, based in Lee Vining, California, was a great success. We had a terrific group of workshop participants. As much as Charlie, Anne, and I 'conduct' the workshop, the participants are the actual 'performers.' This year in particular our 'choir' of participants made beautiful photographic music together. Every so often you encounter a workshop group that just seems to blend together and generate 'harmony.' That was the case with this year's Mono Lake workshop group.
Speaking of workshops, I am pleased to announce 2018-2019 John Sexton Photography Workshops schedule. 2018 marks the 30th anniversary of the always-popular Expressive Black and White Print workshop. It is hard to imagine we will also be offering the Fine Tuning the Expressive Print workshop for the 30th time, and of course Charlie, Anne, and I will be offering the above mentioned Mono Lake and the Eastern Sierra workshop again in 2018.
Anne and I are both including special print offers at discounted prices below. We are very pleased to be sharing a two person exhibition at The Ansel Adams Gallery that runs through January 7, 2018, and we had a successful two person exhibition at the Timeless Gallery in Beijing, China that closed a few days ago. I have also included a link to a new video below that features me as part of the ongoing Epson Print Your Legacy campaign.
During our recent workshop I received the sad news that Bill Turnage, Ansel Adams' business manager, as well as managing trustee of the Ansel Adams Publishing Rights Trust, had passed away. I have included some recollections and information about Bill's life, as well as his influence on Ansel's photography and photography in general, below.
Anne and I send you warm wishes for the holiday season ahead. I hope you will find some of the material below of interest.
Happy Autumn!
John
---
ORIGINAL SILVER GELATIN PRINTS BY JOHN AND ANNE
AVAILABLE ONLINE AT DISCOUNTED PRICE
It has been a number of years since Anne and I have simultaneously offered prints at special discounted prices to our eNewsletter subscribers. I will be offering the image, Trees in Mist, Huangshan, China, and the image Anne has chosen is a Limited Edition print, Two Trees in Snow, Yosemite Valley.
From now until December 31, 2017 I am offering my 11x14" silver gelatin print for $750 - a 25% discount off of the normal gallery retail price of $1,000. Anne is also offering a 25% discount on her new Limited Edition print – the discounted price for her print is $335. Anne's retail gallery price for her open edition prints is $450. After December 31, 2017 the price for my print returns to $1,000, and the price for Anne's print will increase to $600.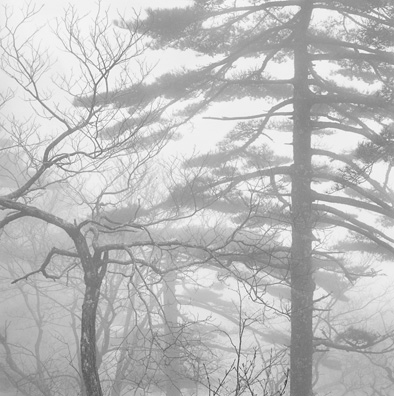 Trees in Mist, Huangshan, China
©1986 John Sexton. All rights reserved.
To learn more about the print, Trees In Mist, or to place an order, follow this link:
http://ventanaeditions.stores.yahoo.net/redeliedboan.html
The image Trees in Mist, Huangshan, China was made during the last of three workshops I led in China during the 1980s. These workshops were part of a cultural exchange program between the Friends of Photography and the China Photographers Association. I led workshops in 1983, 1984, and 1986. Each of these workshops was approximately three weeks in length. My national guide, Mr. Yu, became a close friend as we traveled together on these expeditions. One evening, while taking a break from a bicycle ride we shared together, Mr. Yu told me of an old Chinese proverb, which went something like: 'If an artist dies without having seen Huangshan, his eyes will never close.' As you might imagine, this peaked my interest! I had never heard of Huangshan, but immediately wanted to visit there and began planning the 1986 event. I did learn that a gondola was being built to effortlessly ferry people from the base to the lodge, an elevation gain of 950 meters (2,985 feet). I knew that the gondola would not be completed when we visited in April of 1986, which pleased me greatly. I wanted to see Huangshan before the anticipated increase in visitors due to the ease of access provided by the gondola.
I turned out we were the first American photography group that had ever had an official visit to Huangshan. We had camera formats from 35mm to 8x10. The temperature was in the 70s and the humidity was at 100%. We hiked the steep 9 kilometers (5.6 miles) in a light rain. It was quite a trudge. I was wearing my first Gore-Tex jacket, but I was soaked. I generated as much moisture on the inside of the jacket as the rain generated outside – so much for breathable, waterproof fabric! We arrived at our primitive lodging. We were so excited.
The group's excitement, as well as mine, diminished significantly when we entered our 'accommodations.' There was a piece of plywood with a thin pad filled with some sort of seed or grass-like material. It was as humid in the room as it was outside. The 'rustic' lodge provided complimentary Mao jackets, which were as wet as the ones we were taking off. There were flush toilets in the facility, however the plumbing had stopped working some considerable time prior to our arrival (likely many days). I won't go into all the details, but it was a bit more "roughing it" than some of the workshop participants anticipated. That being said, everybody was flexible and we were excited to make photographs. There was a problem however…
Though we were atop Huangshan we NEVER saw Huangshan. The photograph I have included as this special print offer is the only image I made during our two-day trip to Huangshan, as this was the maximum visibility that occurred during our time there. We had hoped for mist and fog to have accentuated the legendary mythic spires of rock so predominant in Chinese landscape paintings, however we had way too much fog to even get a glimpse of the most subtle revelation of any such shapes.
Early on in my photography I learned an important lesson - not to have preconceived ideas of what I hoped to photograph. If I imagined a scene with dramatic clouds, the sky would be completely clear. If I hoped for soft light, there would be brilliant sunlight. Returning home after one such photographic outing it dawned on me that this was not an enjoyable or productive way to work, and in fact it was truly frustrating. In addition, I realized I was missing opportunities that were in front of me because I had been "blinded" by my predetermined ideas.
On my next photographic outing I took a different approach. I had an idea where I wanted to go, but beyond that I tried to just explore and photograph what came my way. I found this a much more enjoyable, and indeed a more productive experience. It is the way I try and operate to this day. When planning this photographic expedition to Huangshan I had many desires for the workshop group, as well as for myself. As I described above, the situation that unfolded was completely unexpected. I believe my approach of photographing that which I see, respond to, and feel gave me the 'gift' of this photograph, which I am very pleased to share with you.
The print size for this image is approximately 9-7/8 x 10", and is mounted vertically and overmatted on 16 x 20" 100% rag museum board.
You can see this image and place a secure online order for this print at the Ventana Editions web store:
http://ventanaeditions.stores.yahoo.net/redeliedboan.html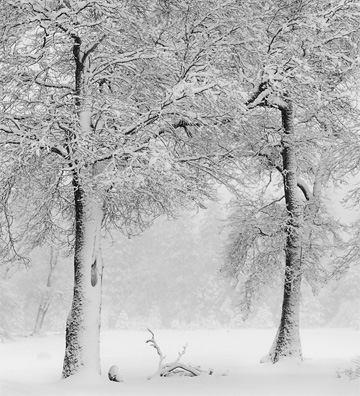 Two Trees in Snow, Yosemite Valley, California
©2011 Anne Larsen. All rights reserved.
To learn more about the print, Two Trees in Snow, Yosemite Valley, California or to place an order, follow this link:
http://ventanaeditions.stores.yahoo.net/anlaorsipr.html
Here is Anne's recollection of making her image:
"The photograph I have chosen to share with our subscribers and friends is a new Limited Edition print of my image Two Trees in Snow, Yosemite Valley. That winter, John and I went on two winter camping trips to Yosemite. On this particular trip it was snowing heavily as we pulled into the campground in the valley. The next morning we woke up to a beautiful snow-covered landscape. Lying in our sleeping bags we could hear how quiet everything was. It had stopped snowing and it was cold - very cold! We reluctantly got out of our warm bags - only because the fresh snow on the branches was speaking to us. It had snowed so much that John had to put our van into four-wheel drive low in order for us to get out of our campsite. It was still dark. Our first destination was a quick stop at the Lodge cafeteria for coffee. We had brought homemade pumpkin bread on the trip so with coffee and sweets we were fueled for photography! A more substantial breakfast would have to wait. Photography was much more important.
We drove to El Capitan Meadow. It was absolutely beautiful. Wherever we looked it was a perfect winter wonderland. I made a number of images with my Hasselblad that morning, but the one that stood out among the others was the image you see above. I was excited when I made it, but I was even more thrilled when I saw the negative and the contact print. It would please me if you could feel the chill in the early morning air, and hear the soft crunch of fresh snow under my boots as you look at my image. I hope you will enjoy it as much as me!"
The Image Two Trees in Snow, Yosemite Valley, is approximately 6-1/2 x 7". Personally printed by me, processed to current archival standards, signed, numbered, mounted, and matted to 14 x 17" on 100% rag museum board. This print is offered in a Limited Edition of 75 numbered silver gelatin prints, plus 10 artist proofs. When the edition is sold out no further prints will be made for sale in any size.
You can see this image and place a secure online order for this print at the Ventana Editions web store:
http://ventanaeditions.stores.yahoo.net/anlaorsipr.html
Prints will begin shipping on December 4, 2017. If you would like to receive your print in time for the Holidays, please be sure to let us know at the time of the order. It would probably be a good idea to follow up with an email. We will make every effort to ship prints out in time for Holiday gift giving to those who need them. All of the prints ordered will be shipped no later than February 28, 2018.
All the prints are carefully prepared and packaged in specially designed protective shipping boxes, and shipped fully insured via UPS Ground. If you have any questions about the prints, please feel free to contact Anne at 831-659-3130, or email: info@johnsexon.com. Our office hours are Monday through Thursday from 10:00 am to 1:00 pm, Pacific Time.
---
2018 AND EARLY 2019 JOHN SEXTON PHOTOGRAPHY WORKSHOPS SCHEDULE ANNOUNCED
I am pleased to announce my new workshop schedule for 2018 through early 2019. I continue to be amazed at the interest in the workshops that we offer. It is particularly rewarding to note the international interest in our traditional printmaking workshop, The Expressive Black and White Print, being offered is celebrating its 35th anniversary! By popular demand we are once again offering the Fine Tuning the Expressive Print workshop in April 2018. This workshop is open only to individuals who have previously taken one of my printing workshops.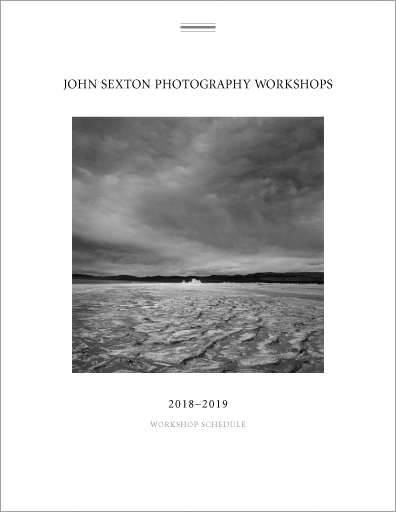 You can access the complete schedule, get detailed information about the workshops, and download an illustrated PDF of the new workshop brochure here: http://www.johnsexton.com/schedule.html
We have indicated that past offerings of the Fine Tuning the Expressive Print workshop could be the last such offering. However we continue to get workshop alumni specifically requesting the opportunity to take this workshop, so we are planning to offer it one more time again. Will it be the last offering? At this point we think so… but who knows what the future holds?
If you're interested in next October's Mono Lake and the Eastern Sierra: Exploring Autumn Light workshop, be sure to apply early, as this workshop fills quickly. Charlie Cramer and I both personally review all applications and try and put together a workshop group that will create a stimulating environment for all who attend – both traditional and digital photographers are invited to apply for this synergistic field workshop experience.
I want to thank all of our workshop Corporate Partners and Associate Partners for their support of the program once again this year. It is amazing to realize it was more than forty years ago that I taught my first small workshop with my long-time friend John Charles Woods for a few fellow photography majors at Cypress College. We had a great time on that workshop, and I continue to learn so much from participants today. I always believe the instructor learns more than any individual student in a workshop experience. On our workshops we try and provide an environment that presents useful information, as well as inspiration, to encourage personal growth in your photography.
Again, to learn more about the workshops, or to apply, please visit my web site www.johnsexton.com where you can download the complete workshop brochure as well as the application form.
EXHIBITION
ANNE LARSEN AND JOHN SEXTON: EXPLORING LIGHT
THE ANSEL ADAMS GALLERY
YOSEMITE NATIONAL PARK
NOVEMBER 12, 2017 - JANUARY 7, 2018
Anne and I are thrilled to be sharing a two-person photographic exhibition, Exploring Light, at the Ansel Adams Gallery in Yosemite National Park. The exhibition runs from November 12th, 2017 through January 7th, 2018. This will be our second two-person exhibition at the Ansel Adams Gallery.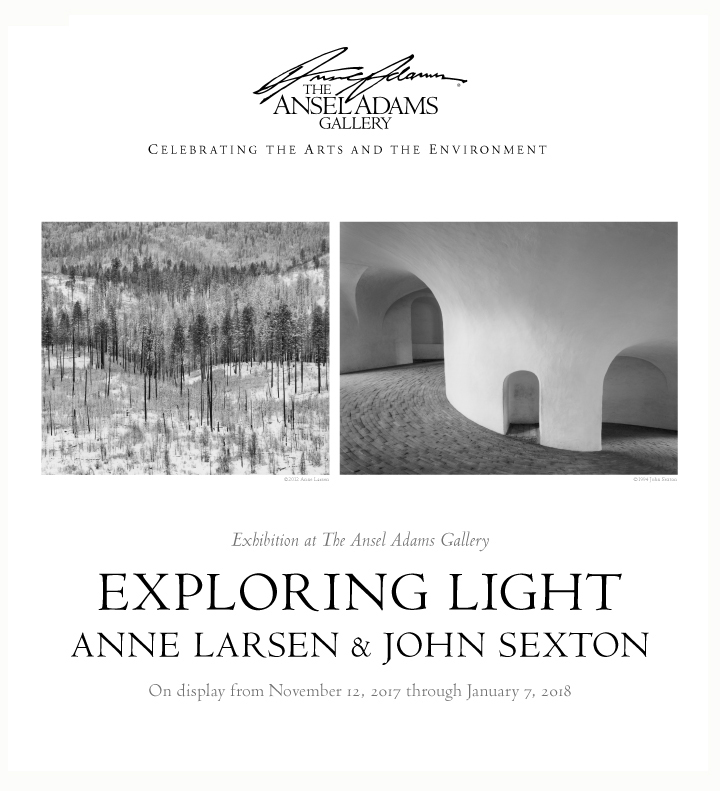 We are pleased to share images not only of the natural environment, but the show will also include human-made subjects. For each of us, the use of light as it graces the subject, is an integral aspect of our creative photographic process. Though Anne and I have different palettes, we both work hard in the making of negatives, as well as in the execution of prints, to create an experience of beauty and luminosity. Naturally all of the prints in the exhibition will be black and white, silver gelatin prints hand-printed in our traditional wet darkroom.
We hope, if you are visiting Yosemite during the exhibition between now and January 7, 2018, you will have an opportunity to stop by and see our photographs on display.
---
NEW EPSON VIDEO FEATURING JOHN
EPSON "PRINT YOUR LEGACY" CAMPAIGN
I am honored to have a new video interview included at the Epson web site and YouTube channel as part of their ongoing Print Your Legacy campaign. I am particularly flattered to be the first photographer included in this project who makes silver gelatin prints in the traditional wet darkroom. I am pleased to be in the company of such highly regarded photographers such as John Paul Caponigro, Lois Greenfield, Steve McCurry, Mark Seliger, Stephen Wilkes, and others included in the Epson Print Your Legacy project.
It was a pleasure working again with my long-time friend Dan 'Dano' Steinhardt. He and his dedicated hard-working production team did a fine job with the video production. It provided me an opportunity to share my thoughts about photography and the importance of printmaking, and they did their best to reproduce my original prints as accurately as possible in the video. In addition, to the online video there will be a series of print ads and promotions featuring me holding one of my favorite silver gelatin prints Corn Lily, Eastern Sierra, Nevada.
I was pleasantly surprised when it was first suggest by Dano that Epson would be interested in having a photographic "dinosaur" like me be a part of their Print Your Legacy campaign. I am most impressed by the fact that Epson's underlying idea is to get people to make prints - whether on an Epson (their strong preference!) inkjet printer, another brand of digital printer, in a traditional wet darkroom, or at a photographic lab. Anne and I share this passion for the tangible and sensuous qualities inherent in a print that are different than an image on a device or display. Our good friend Rob Pike shared an essay on the importance of making prints in a previous edition of the eNewsletter. I think you will find it of great interest, and you can find it here.
If you have five minutes of free time, please take a look. I hope you will find the video of interest. And, in addition, perhaps it will motivate you to head into the darkroom, or fire up your Epson printer, to make some prints! Have fun.
---
WILLIAM A.TURNAGE
ANSEL ADAMS BUSINESS MANAGER AND ENVIRONMENTALIST
PASSES AWAY
Just moments before our Mono Lake workshop began I received an email with very sad news. My friend for many years, William A. Turnage, had passed away at the age of 74. Those of you who have read Ansel's books will likely be familiar with the name Bill Turnage. Bill served as Ansel's business manager in the 1970s. He also served as the managing trustee of the Ansel Adams Publishing Rights Trust from the time the Trust was formed until just a few months ago.
I first met Bill Turnage in 1973 when I was a student at Ansel's annual Yosemite workshop. Bill was managing the Ansel Adams Gallery and overseeing Ansel's Yosemite Workshop Program. By the time I began my full-time employment as Ansel's Photographic and Technical Assistant in 1979 Bill had moved to Washington, DC where he served as Executive Director of the Wilderness Society, a position he held until 1986. Bill was an unstoppable force defending wilderness.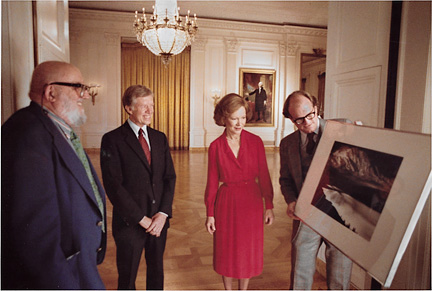 Ansel Adams, President Jimmy Carter, Rosalynn Carter, William Turnage
Washington, DC 1979
White House Photograph
One event in particular stands out among the experiences I shared with Bill over the years. In November 1979 Ansel was asked to make the official portraits of President Jimmy Carter and Vice President Walter Mondale in Washington, DC. This was the first time the "official" portrait of a president would be a photograph, rather than an oil painting. Bill was in attendance at both of the photographic sessions. During the fifty-five minutes that Ansel spent with President Carter making photographs and moving between locations in the White House, both Ansel and Bill used every possible moment to speak with the president about the importance of protecting the Alaska Wilderness. Ansel and Bill saw this as an exceptional opportunity to have direct contact with the President on this important environmental issue. It was no coincidence that Bill and Ansel together had selected a beautiful 20x24" print of Ansel's well-known image Mount McKinley and Wonder Lake, Alaska to give as a gift to President and Mrs. Carter. You can see Bill and Ansel, along with the Carter's, in the photograph above made by the White House photographer at then end of our visit.
I was recently reviewing my pocket note pad from that trip and came across an interesting note I made that day. As we were waiting in the White House for President Carter to arrive in the private dining room, where the first portrait was going to be made with the 20x24 Polaroid camera, we were all more than a bit nervous. Bill reached into his pocket and pulled out a beautiful tin pillbox and generously offered Ansel a mint. Ansel replied, "Sure," and popped the mint in his mouth. Within just seconds he spit the "mint" into his hand. There was a grimace on Ansel's face as he said, "This is an aspirin!" None of the rest of us was offered a mint, but we all got a good laugh out of it, and it took some of our nervousness away. Moments later President Carter quietly entered the room. During the introductions, Bill presented President Carter with his Wilderness Society business card. It got immediate attention from the President, and everyone else in the room. The business card was beautifully designed and printed on elegant heavy card stock, but it was a miniature business card, less than half the size of a traditional business card. After the resident's reaction to the size, Bill mentioned, "It's an environmentalist business card," which generated a beaming smile on President Carter's face.
On December 2, 1980 President Carter signed the Alaska National Interest Lands Conservation Act setting aside for conservation an area of land larger than the State of California. Bill and Ansel did their part to encourage the president in support of the Act in Congress.
In 1975 Bill convinced Ansel that he should quit taking print orders for his images. This took some convincing on Bill's part, but Ansel agreed and December 31, 1975 was the date of the last print order. It took Ansel all of 1976, 1977, and a bit of 1978 to complete all of the orders. He wanted to do this prior to undergoing a successful heart surgery, which Ansel often referred to as "a valve job and a tune-up!" Because of the lack of availability of Ansel's very popular prints prices began to soar, and photography became much more collectible in the art world. Special auctions of photographs began to generate considerable sums of money and the entire photographic market began to increase, a change that continues today. I honestly feel that Bill's encouraging Ansel to stop talking print orders, helped create a strong market for his photographs, along with many other photographers. Without the significant price increase and collectability of iconic photographers such as Ansel Adams, Edward Weston, Alfred Steiglitz, and many other historic and contemporary artists, I think it would be difficult today to survive as a fine art photographer.
I am not alone in this view. Sandra S. Phillips, Curator Emerita of Photography at the San Francisco Museum of Art, said, "In some ways you can say the whole rise of photography as an art form in the contemporary market since the 1970s has to do with Ansel Adams rise as a master artist photographer, and that was framed by Bill Turnage." She goes on to say this about Bill's relationship with Ansel, "Bill adored Adams as a person and considered him a supreme and essential American artist. The integrity of Ansel's work as we know it now is due to Bill's tenacious oversight."
Anne and I will miss Bill, as will many. We enjoyed our infrequent, but memorable, meals with Bill and his wonderful wife Annemarie – always at his favorite restaurant in Sausalito, "Sushi Ran." I greatly appreciate the insights and wisdom he shared with me over the years, and also have fond memories of vigorous debates we shared on a variety of topics.
---
KENNY ROGERS TO RECEIVE INTERNATIONAL PHOTOGRAPHY HALL OF FAME LIFETIME ACHIEVEMENT AWARD
Anne and I are thrilled that Kenny Rogers - our longtime friend, and former student - will be receiving 2017 International Photography Hall of Fame Lifetime Achievement Award this Friday, November 17, 2007 in St. Louis. Here's an excerpt from the statement about the award, "Kenny Rogers, singer, songwriter, record producer, actor, photographer, and author, will receive the 2017 IPHF Lifetime Achievement Award, the first of its kind awarded by the IPHF."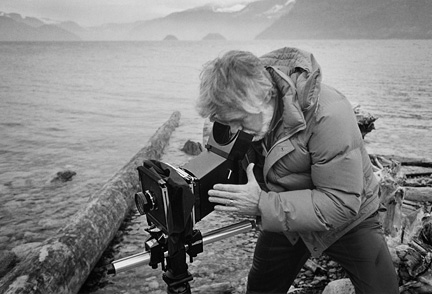 Kenny Rogers Photographing In British Columbia
©1985 John Sexton. All rights reserved.
That evening nine legendary photographers will be inducted into the International Photography Hall of Fame: Harry Benson, Ernest H. Brooks, Edward S. Curtis, William Eggleston, Anne Geddes, Ryszard Horowitz, James Nachtwey, Cindy Sherman, and Jerry Uelsmann. I am proud to call a number of these fine photographers friends.
Below is a 'happy snap' of Kenny working with his 4x5" Sinar view camera along the shores of British Columbia on one of the many photography trips we shared together. As Kenny, 'The Gambler,' and I use to often say in the wee hours of the morning - after a long session working in the darkroom together - "You got to know when to dodge 'em, know when to burn 'em!" Congrats to Kenny!!!
---
SOME THOUGHTS ON PHOTOGRAPHY... AND OTHER TOPICS
"If music is the language of the soul, photography is the language of the spirit."
Oliver Gagliani