Greetings,
It has been a busy autumn for Anne and me. In October we had our 10th annual offering of the Mono Lake and the Eastern Sierra workshop with Charlie Cramer. We had a great group of participants. Anne and I were able to spend some time camping and photographing both before and following the workshop. We did not make any specific plans in terns of itinerary or schedule. It was great to simply be guided by the changing autumn light and our desires for photography exploration and rejuvenation.
We were only home a few days when we were instructors at a workshop organized by Jonathan Chritchley. It was a pleasure teaching alongside Jonathan, Susan Burnstine, Michael Kenna, and Michael Levin. We hosted the participants for a traditional silver gelatin printing demonstration in our darkroom and studio, and spent time reviewing prints that participants had brought with them. The days were long, but invigorating. Just yesterday we concluded a special two-day printing workshop for a dedicated and passionate group of analog photographers from Argentina.
I'm pleased to announce a new special print offer below, along with our upcoming 2020 John Sexton Photography Workshops schedule. As you may have read in my previous eNewsletter, Anne and I are taking a "sabbatical " from workshops at our home in studio in 2021, so that we can completely concentrate our time in the darkroom on the forthcoming book of Venice photographs by the two of us. We are planning to offer other workshops, seminars (like the "Out of Yosemite" conference detailed below), and lectures in other locations, and we will keep you posted as the schedule evolves.
Anne and I hope that you and your family have a wonderful Thanksgiving, as well as a joyful holiday season ahead. We want to thank you for your friendship, interest, and support. We continue to be amazed by the kind notes we receive from our readers as we send out these eNewsletters. It's hard to believe that this is the 63rd installment since the first eNewsletter went out 18 years ago!
Thanks for reading!
John
---
ORIGINAL SILVER GELATIN PRINT BY JOHN AVAILABLE ONLINE AT DISCOUNTED PRICE
NEGATIVE TO BE RETIRED
I am pleased to offer a handmade silver gelatin print of my image Aspen Quiet Light, near Aspen, Colorado at a special reduced price at the Ventana Editions online store. I have not printed this image in a number of years, since Agfa Record Rapid paper was discontinued. I recently decided to see how this negative might print on Ilford Multigrade Warmtone paper - which has similar characteristics to the old Agfa paper. After making a few adjustments to the printing and processing procedures, I was pleasantly surprised by how the new prints had the same character and luminosity as my 'vintage' prints.
As readers of this newsletter know, recently I have decided to retire a number of negatives in order to allow more time to work on new negatives and projects. The normal gallery retail price for this 11x14" print is $1,500. From now until the end of the year I am offering this 11x14" print for $900 - a 40% discount from the retail price. Once I have fulfilled all of the orders for this special print offer the negative will be retired, and will never be printed in any size as a silver gelatin print in the future. On January 1, 2020 the retail price for any remaining prints of this image will increase to $2,500. The print is only being made in 11x14" size.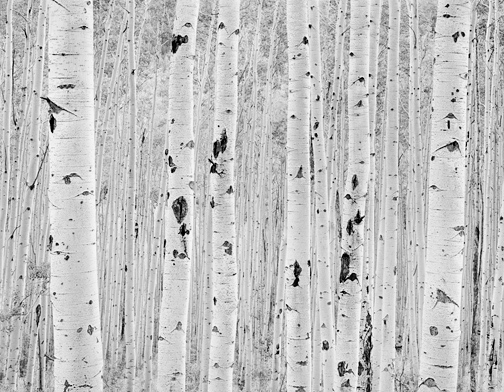 Aspen Quiet Light, near Aspen, Colorado
©1989 John Sexton. All rights reserved.
To learn more about the print, Aspen,Quiet Light, or to place an order, follow this link:
https://ventanaeditions.stores.yahoo.net/asqulineasco.html
Aspen, Quiet Light (plate 34) in my book Listen to the Trees was made just after the conclusion of an intense week-long photography workshop. I went to one of my favorite aspen groves fully intending not to make photographs; rather, I wanted to enjoy the aspens with their fall plumage in the late afternoon light, and to rejuvenate my physically and mentally drained being. Arriving at the grove, I began to read from a book I had brought along. Periodically, I would glance up from my book and enjoy my view of the aspens, with their straight alabaster trunks. I felt refreshed by being surrounded with their beauty. Then, a surprising thing happened. The light began to change—the trees were now illuminated by the bright western sky. The sun had just set below a ridge, and the last beams of light were striking a few thunderclouds, reflecting onto the east-facing side of the trunks and creating an amazing quality of light that emphasized the cylindrical trunks.
It wasn't as though I wanted to make a photograph; it was more that I had to. I quickly set up my view camera, but was shocked when my light meter indicated a 4-minute exposure at f/45 with Kodak T-Max 400 film. How could a scene that seemed so filled with light actually be so dim? This is a mystery of photography and of the forest!
An initial printing of the negative produced a rather harsh interpretation, and I put the negative away. It was several months, perhaps even a year, before I began to work with this negative again, having forgotten about the previous printing session. This time I printed it with a much softer and lighter palette. The print now began to rekindle my memory of being surrounded by the luminous aspen trunks that September evening. I knew of no better description for this photograph than Aspen, Quiet Light. Though the image is about the aspen trees, it is just as much about the soft glowing light that beckoned me to record them on film.
Too often we attempt to force a photograph out of a situation rather than allow the situation to speak to us. I don't feel that I compose my photographs by bringing together outside elements. Rather, I take the challenge of organizing the elements within the frame, deciding which tree, or group of trees, communicates the feeling of a particular experience I have had in the forest.
The selection of camera position is of extreme importance to the effective organization of a photograph. Sometimes I hide one tree behind another, other times I separate them, allowing each to have its own sense of space within the image. I always study the scene, alert for "windows" of bright light that might distract the eye that might, for example, take away from the subtle glow on an aspen trunk. Just as the life of the forest—indeed, the planet and the universe—is in a constant process of evolution, so does the artist grow and change. Photographs reveal not only what is in front of the camera, but we hope, what is behind the camera: the photographer. Meaningful images are not made merely from photographic experience but also from life experience, and should in some way be a photographer's self-portrait.
This silver gelatin, selenium toned, print is approximately 13 x 10-1/8", personally printed by me (as are all my prints), processed to current archival standards, signed, mounted, and matted to 16x20" on 100 percent rag museum board.
Prints will begin shipping on December 9. If you would like to receive your print in time for the Holidays, please be sure to let us know at the time of the order. We strongly suggest you follow up with an email advising us of the desire for expedited delivery. We will make every effort to ship prints out in time for Holiday gift giving to those who need them. All of the remaining prints ordered will be shipped no later than March 2, 2020.
All prints are carefully prepared and packaged in specially designed protective shipping boxes, and shipped fully insured via UPS ground. If you have any questions about the prints, please feel free to contact Anne at 831-659-3130, or email: info@johnsexton.com. Our office hours are Monday through Thursday from 10:00 am to 1:00 pm, Pacific Time.
You can see these two images and place a secure online order for these prints at the Ventana Editions web store:
https://ventanaeditions.stores.yahoo.net/asqulineasco.html
---
2020 JOHN SEXTON PHOTOGRAPHY WORKSHOPS SCHEDULE ANNOUNCED
I am pleased to announce my new workshop schedule for 2020. I continue to be amazed at the intense interest in the workshops we offer, and in traditional analog photography. It is particularly rewarding to note the increase in international interest in our traditional printmaking workshops, The Expressive Black and White Print, having been offered for more than thirty-five years! By popular demand we are yet once again offering the Fine Tuning the Expressive Print workshop in March 2020. This workshop is open only to individuals who have previously taken one of my printing workshops.
I am sorry to say that the Expressive Black and White Print and the Fine Tuning the Expressive Print workshops in March 2020 have long been filled and each has a waiting list. You are welcome to apply to the waiting list – no deposit is necessary – simply submit a completed and signed application form, which can be downloaded here.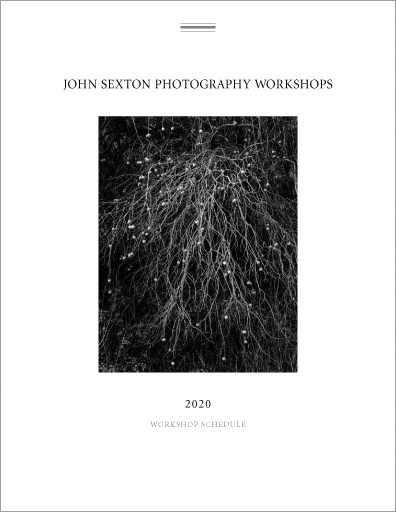 If you are interested in next October's Mono Lake and the Eastern Sierra: Exploring Autumn Light workshop, be sure to apply early, as this workshop fills quickly. The 2020 session will be the 11th offering of this workshop! Charlie Cramer and I both personally review all applications and try to assemble a workshop group that will create a stimulating environment for all who attend – both traditional and digital photographers are invited to apply for this synergistic field workshop experience.
I want to thank all of our workshop Corporate Partners and Associate Partners for their support of the program once again this year. It is amazing to realize it was more than forty years ago that I taught my first small workshop with my long-time friend John Charles Woods for a few fellow photography majors at Cypress College. We had a great time on that workshop, and I continue to learn so much from participants today. I always believe the instructor learns more than any individual student in a workshop experience. On our workshops we try and provide an environment that presents useful information, as well as inspiration, to encourage personal growth in your photography.
Again, to learn more about the workshops, or to apply, please visit my web site www.johnsexton.com where you can download the complete workshop brochure as well as the application form here: http://www.johnsexton.com/schedule.html.
JOHN INSTRUCTING AT "OUT OF YOSEMITE" PHOTOGRAPHY CONFERENCE - FEBRUARY 2020
I am most excited to have been invited to be a part of the upcoming Out of Yosemite Landscape Photography Conference February 5-9, 2020 in Yosemite Valley. I am honored to be presenting the opening keynote address at the event. In addition, Anne and I will be leading photographic field trips, along with indoor sessions. I will be teaching alongside an outstanding group of photographers at the this unique event.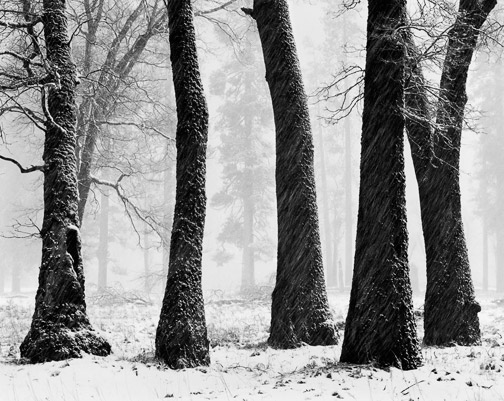 Trees, Blowing Snow, Yosemite Valley, California
©1982 John Sexton. All rights reserved.
Other instructors include: Charles Cramer, Alan Ross, Michael Frye, William Neill, Jack Curran, Charlotte Hamilton Gibb, Colleen Miniuk, Jennifer King, Alex Noriega, Matt Payne, Harold Davis, and Tim Cooper.
There are only a few spaces remaining. Use the discount code 'SEXTON' when you register to receive a $250 discount. We are all hoping for snow during the conference, but in Yosemite Valley you never know what kind of weather you will encounter. One thing is for sure, Yosemite is beautiful any time of year!
For additional information about the Out of Yosemite Conference, or to register visit:
www.outofchicago.com/yosemite
ANSEL'S PORTRAITS OF PRESIDENT JIMMY CARTER AND VICE PRESIDENT WALTER MONDALE
FORTY YEARS LATER - BEHIND THE SCENES
I started work as Ansel Adams' Photographic and Technical Assistant in July 1979 - just over 40 years ago. A few months after that, Ansel received communications from the White House indicating that Joan Mondale - Vice President Mondale's wife, who had a keen interest in the arts - wanted the official portraits of the Carter Administration to be photographs, rather than paintings as had always previously been the case. Ansel received a special request to make the official portraits of both President Jimmy Carter and Vice President Walter Mondale.
Though Ansel is best known for his dramatic black and white landscapes of the American West, he had done many portraits over the years. Ansel graciously accepted the challenging assignment (receiving no fee), and we began to prepare for the journey East to undertake this project.
Ansel wanted to approach the making of the portraits in a bigger than life fashion. He contacted John McCann at Polaroid Corporation and asked if he could use the massive Polaroid 20x24 Land camera for the project. John McCann thought this was a splendid idea and agreed to provide not only camera and film, but also a team of skilled individuals to assist with the operation of the camera. In addition to the large Polaroid camera, we packed up Ansel's 4x5 Horseman view camera along with the necessary lenses and other equipment he would need.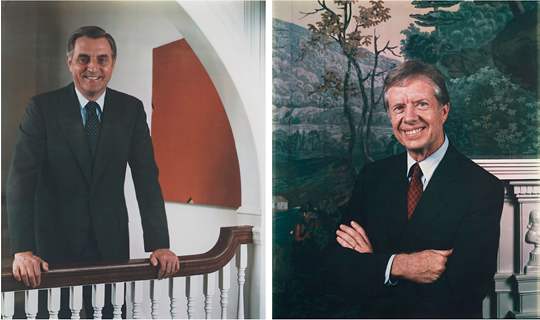 Vice President Walter Mondale - President Jimmy Carter
Official Portraits by Ansel Adams - National Portrait Gallery
20x24 Polaroid Land Photographs
© Ansel Adams Publishing Rights Trust
As the 40th anniversary of this project approached I began to review my notes, documents, and memorabilia related to our trip to Washington D.C. In addition, I re-read relevant sections from Ansel's "Book of Letters" as well as his "Autobiography." I had completely forgotten about a passage in his Autobiography where Ansel had kind words to share about my involvement in this challenging undertaking.
"I telephoned my good friend John McCann at Polaroid and inquired if they would be interested in cooperating with me in this complicated job. If so, I would at least have immediate feedback in terms of acceptable likeness on sheets of Polaroid material. They enthusiastically agreed; the 20x24-inch camera would be at my disposal with all the lighting equipment required and a staff of four to assist! Fortified with those happy answers and knowing I would have my own very capable assistant John Sexton with me, I accepted the assignment."
Ansel photographed Vice President Mondale on November 5th, 1979 and President Jimmy Carter, along with First Lady Rosalynn Carter, the following day. Ansel, Andrea Gray Stillman (Ansel's Administrative Assistant at the time), the team from Polaroid, and I spent a few days scouting at the White House and the Vice President's residence. According to the notes I made it was during those days of scouting that Ansel came up with the following unexpected quip. "Over hill and Mondale, we will drag out Carter drawn by the Horseman on the road to Olympus." How Ansel spontaneously conjured up this witty phrase is beyond my comprehension. For those that may not be photographers, 'Horseman' was the brand of the 4x5 view camera that Ansel was using at the time, and Ansel also had a small 'Olympus' 35mm camera that he used on occasion for 'happy snap' images. This is a classic example of Ansel's unique wit and sense of humor. Ansel loved to laugh, and truly enjoyed making others laugh. I have feel that Ansel often used humor as a "relief valve" for the pressure he often encountered because of his amazingly intense work ethic.
Tom Zito of the Washington Post accompanied us on the photography sessions. Tom's article in the November 6, 1979 edition of the Post vividly describes some of the memorable communications between the Vice President and Ansel during the portrait session. Here are a few excerpts:
"Strolling into the vice presidential mansion yesterday afternoon, Fritz Mondale encountered a 4-by-3.5 foot camera occupying much of his reception room. "Well, I guess this is a big enough camera to capture the egos in this town," he said.
"Perched on a step ladder, the grand old man of American photography, Ansel Adams, was fine-tuning the composition for the first of two official portraits he is making here this week. Yesterday it was Mondale's. Today he will photograph President Jimmy Carter at the White House. He is doing it for free."
"I want you to move just a little bit this way," he said to Mondale, who was standing on the main stairway of his house. "I hate to move to the right," came the response. "Do you think you can capture my beauty, Ansel?" "If not, we'll bring in a bigger camera."
Adams gently ordered Mondale about: "Stand a little straighter, but lean forward." "Move the hands up just an inch on the railing." A little bit over now so that painting doesn't slip under your arm." "My office is good for this kind of work," he said. "I stand where I'm told."
"Prepare for an Armageddon of light," Adams cautioned Mondale, just before a huge bank of strobes fired off for the first shot."
You can read Tom's colorful commentary about our time with Vice President Mondale in his full Washington Post article here:
https://www.washingtonpost.com/archive/lifestyle/1979/11/06/snapping-the-big-shots-the-cabinet-and-the-clock/6dba7455-bb77-44fe-a08c-062dda4e9555/?noredirect=on
In preparation for the photography sessions with the President and the Vice President we did countless test photographs with the gigantic 20x24 Polaroid camera, as well as smaller Polaroid tests with the Ansel's 4x5 camera. The process involved many refinements as Ansel studied the test images. We would have limited time with the Vice President as well as the President, so I made careful notes of all of the details so that we could set the images us quickly, efficiently, and accurately. Ansel decided, because of the prominent visibility Rosalynn Carter had during President Carter's tenure, he wanted to do a portrait of the two of them together. Andrea was the stand-in for Mrs. Carter, while Polaroid truck driver Dominic Sawicki served as substitute for President Carter. A have included a 4x5 Polaroid Land test print of Dominic and Andrea below.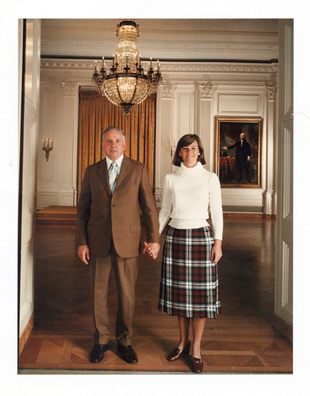 Dominic Sawicki and Andrea Gray Stillman
Stand-ins for President Jimmy Carter and First Lady Rosalynn Carter
4x5 Polaroid Land Test Photograph by Ansel Adams
© Ansel Adams Publishing Rights Trust
Ansel had approximately one hour with the President that day. This was a much longer period of time than other well-known photographers had been granted in the past for Presidential portraits. Ansel made multiple photographs during both sessions with the Polaroid 20x24 as well has his 4x5 camera. During our scouting times we had been given a briefing on the proper protocol and behavior when around the President. We were informed that, if President Carter referred to us as "Mr. McCann" or "Mr. Sexton," we were to refer to him as "Mr. President." The first photograph of the session was made in the President's personal private dining room in the White House. As you can imagine, all of us involved in this project were extremely nervous. The large 20x24 camera was set up and everything was arranged. Suddenly out of nowhere appeared President Carter. The Head Usher gave introductions. When President Carter extended a warm handshake, he greeted me with "nice to meet you Mr. Sexton." This was the regimen with all of the individuals within the room until finally he extended a warm greeting to "Ansel." President Carter wanted Ansel to refer to him as 'Jimmy.' This was a great sign of respect for Ansel.
After making that photograph, we made a photograph on the Truman Balcony. We then headed down the ground floor for the final photograph of the day with President and Mrs. Carter standing in the entrance to the magnificent East Room. Everything was all set. Everyone had a job to do before the photograph was made. I had assisted Ansel with the focusing of the camera and had the film holders ready to go. The photograph included here, made with Ansel's 4x5 view camera ended up being the favorite of the Carters from among all of the images Ansel made that day.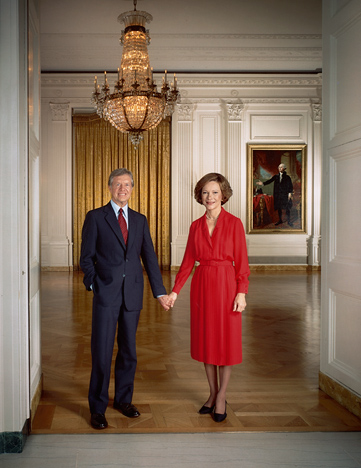 President Jimmy Carter and First Lady Rosalynn Carter
Photography by Ansel Adams
© Ansel Adams Publishing Rights Trust
As most readers of this newsletter know, Ansel had two passions that dominated his life - photography and the preservation of the planet. During the fifty-five minutes allotted for the portrait he and his former business manager, William Turnage, who at that point was Executive Director of the Wilderness Society, spent every available moment talking to President Carter about the importance of preserving the Alaskan Wilderness. At the conclusion of the visit, Ansel gave a 20x24" print of his striking image Mount McKinley and Wonder Lake, Denali National Park, Alaska to President and Mrs. Carter, as a personal token of friendship. I recently saw a photograph of President Carter being interviewed in his home office. Ansel's Mount McKinley print had a prominent place on his office wall. It is no coincidence that a few months later in his administration President Carter signed the Alaska National Interest Lands Conservation Act. The following June President Carter bestowed the Presidential Medal of Freedom upon Ansel. This is the highest honor the United States Government can grant a United States civilian.
Ansel did a wonderful job on all of the portraits that day. At the end of the day we were all exhausted, and Ansel was relieved that things had gone so well. In my notebook I wrote down Ansel's exact words - expressed with a great sense of satisfaction, "We did OK!" It was wonderful to be able to assist Ansel on this project. It certainly is an adventure I will never forget. My memories today are as vivid as they were forty years ago!
---
NEW ANSEL ADAMS BOOK
ANSEL ADAMS' YOSEMITE: THE SPECIAL EDITION PRINTS
I was excited when I learned of the new Ansel Adams Yosemite book Ansel Adams' Yosemite: The Special Edition Prints. This is the first volume to include all of Ansel's Yosemite Special Edition Prints, as well as many other images by Ansel of my favorite place - Yosemite. Along with the photographs there is an introduction by Pete Souza, who was the Chief Official White House Photographer for President Obama and the Director of the White House Photo Office; a history of the Yosemite Special Edition Prints by Claudia Rice, Trustee and General Manager of The Ansel Adams Publishing Rights Trust, and an interesting essay by longtime friend Alan Ross about the making of the Special Edition Prints. Alan was Ansel's photographic assistant prior to me, and has been making the Special Edition Prints to Ansel's exacting standards continuously since 1975.
I have a special fondness for the Yosemite Special Edition Prints. The very first photographic print I ever purchased was Ansel's Special Edition Print of Half Dome, Merced River, Winter. I purchased this print while I was a student at the 1973 Ansel Adams Yosemite workshop. I spent considerable time studying the Special Edition Print wall in The Ansel Adams Gallery over the two weeks of the workshop. I finally settled on the Half Dome, Merced River, Winter print, and made the purchase. I could only afford one print at the time. The price, with the special discount offered to all workshop participants, was a whopping $10.00! This print is still a treasured part of our photographic collection.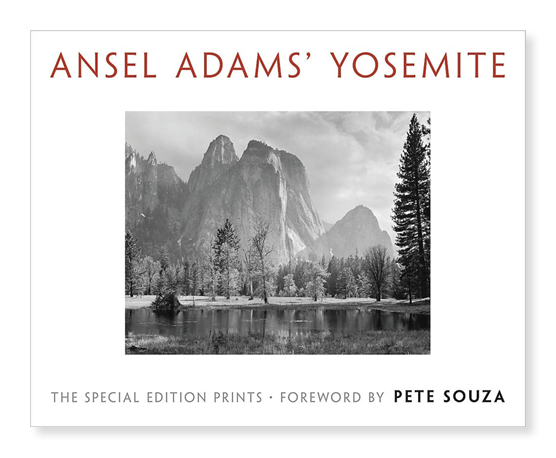 Anne and I recently received our copy of the book and found the printing quality to be excellent, which was so important to Ansel during his lifetime and continues to be a priority of the Ansel Adams Publishing Rights Trust. Here is an excerpt from Pete Souza's very personal Foreword in the book:
Ansel's spirit was very much with us when we traveled to Yosemite in 2016. If you look back at my archived official White House Instagram account, you'll find a picture President Obama took of me and some of my colleagues; I refer to him in the caption as "Ansel Obama." When the President and his family hiked the Four Mile Trail, I switched my DSLR to black and white mode. But since my primary responsibility was to photograph the President, my occasional landscape and waterfall photographs were hardly Anselesque.... I know Ansel would have enjoyed meeting my former boss and discussing their mutual enthusiasm for experiencing the national parks, and their deep desire to protect the environment for future generations. This book reminds us why we should all strive to do both.
You may also be interested in a recently released Podcast by "Everybody's National Parks." The podcast features Alan Ross, mentioned above, along with Ansel's son Michael Adams, and Ansel's grandson Matthew Adams, the president of The Ansel Adams Gallery. You will hear interesting stories about Ansel, the making of the Yosemite Special Edition Prints, and a lot more. Here is a link to the podcast page:
https://www.everybodysnationalparks.com/ENP-19-4-Yosemite-Ansel-Adams-Legacy

I think readers of my eNewsletter will find the book of interest, and it's refreshing to find it modestly priced with a suggested retail price of $40.00. Here's a link to the book from Amazon.com with a current price of $36.00:
https://www.amazon.com/Ansel-Adams-Yosemite-Special-Prints/dp/0316456128/ref=sr_1_2?keywords=ansel+Adams+Yosemite&qid=1574285039&sr=8-2
If we didn't have the book already, it would be on Anne's and my Christmas list!
CAUTION - NEW 3D X-RAY AIRPORT SCANNERS WILL DAMAGE UNPROCESSED FILM
I recently read a distressing article at PetaPixel.com indicating that new 3D X-ray airport scanners are being installed in various airports around the United States. These new Computed Tomography X-Ray scanners will provide TSA security personnel an instant 3D view of our carry-on luggage contents. However, according to the article, these new CT scanners will completely fog your photographic film with a single scan! This means that anyone traveling with unprocessed photographic film of any ISO must request hand inspection of that film to avoid having the film ruined.
Here is a link to the PetaPixel article: https://petapixel.com/2019/10/21/beware-new-3d-airport-scanners-will-destroy-your-camera-film/
Over 145 of these scanning machines have now been deployed around the country. While older properly calibrated X-ray machines used for carry-on luggage produced fairly low dose radiation levels, and the risk was low for most films up to ISO 800. These new 3D machines have upped the radiation level dramatically, and even a single exposure will completely ruin unprocessed film. I have always been suspect of the lead lined bags that purported protection from X-ray exposure. The published information at this point is that such bags do NOT offer any protection from the new generation of X-ray scanners.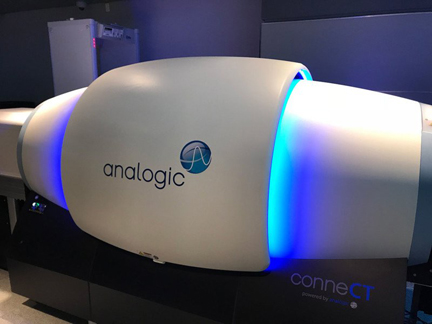 Analogic 'Film Fryer' 3D Computed Tomography X-ray Scanner

Here's a link to the official TSA page with additional information about the 3D Computed Tomography X-ray scanning equipment, including a list of the airports where the scanners are installed.
https://www.tsa.gov/computed-tomography?fbclid=IwAR1JBaOvlInAVZYQ0RucrwtNd8xgx2E9OUplLAy2iiisXX-XzRaHn8LG_7Q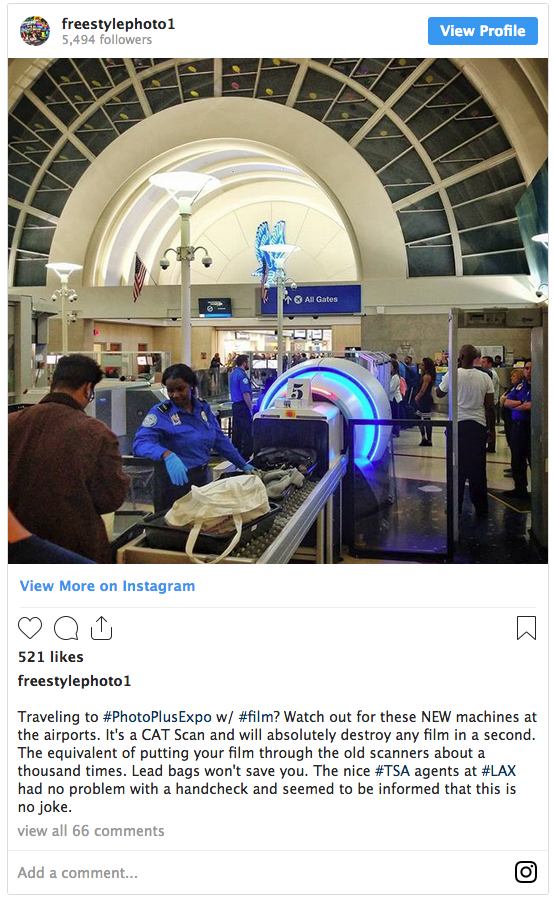 Instagram post from our Workshop Corporate Partner Freestyle Photographic Supplies

Here is information our longtime friend Bob Shanebrook - author of the book Making Kodak Film recently received directly from the TSA:
"If you are traveling with the following types of film, please pack it in a clear plastic bag, remove it from your carry-on bag at the checkpoint, and ask for a hand inspection:• Film with an ASA\ISO 800 or higher
• Highly sensitive X-ray or scientific films
• Film that is or will be underexposed
• Film that you intend to "push process"
• Sheet film
• Large format film
• Medical film
• Scientific film
• Motion picture film
• Professional grade film
• Film of any speed that is subjected to x-ray screening more than five times
The x-ray equipment used for screening CHECKED baggage will damage undeveloped film; therefore, please place undeveloped film in carry-on bags."
Some readers may recall that Anne and I had a significant amount of Kodak T-Max 400 film damaged on one of our photographic trips to Venice a few years ago when returning home through the Venice airport. We had our film organized in clear Ziploc plastic bags, but the security staff would not allow us to get hand-inspection on the film. Obviously that particular X-ray machine was out of calibration or not operating properly. At least that was the opinion of the experts at Eastman Kodak when they inspected the damage. Fortunately we have never had difficulty obtaining hand inspection of our roll films – unexposed or exposed – at a USA airport. We always try to arrive super early and have the film in clear Ziploc bags, making it as easy as possible for the TSA agents to do their hand inspection. We greatly appreciate their efforts, and always make sure to thank them profusely for their assistance.
It appears as if hand inspection will be a necessity for those of us traveling with photographic film from this point forward.
NATURE FIRST - THE ALLIANCE FOR RESPONSIBLE NATURE PHOTOGRAPHY
Anne and I learned about a new and most worthwhile organization from a workshop participant from Switzerland just over a week ago – even though it's a USA organization. Nature First: The Alliance for Responsible Nature Photography was founded a few months ago by a small dedicated group of nature photographers. The organization is built on seven core principles that help communicate how each of us can photograph in the natural environment responsibly. The seven underlying principles of Nature First were developed to educate and guide both professional, as well as recreational, photographers in sustainable, minimal impact practices that will help preserve the planet.

THE NATURE FIRST PRINCIPLES
- Prioritize the well-being of nature over photography.
- Educate yourself about the places you photograph.
- Reflect on the possible impact of your actions.
- Use discretion if sharing photographic locations.
- Know and follow rules and regulations for the areas that you photograph.
- Always follow 'Leave no Trace' principles, and strive to leave places better than you found them.
- Actively promote and educate others about these principles.
There is no cost and no catch to be involved with the organization. There are no fees, no spam, no advertising, no meetings, and no requirements to 'sell' or promote the alliance to others. This is an opportunity to make a declaration of your commitment to care for our wild places by practicing ethical principles and know that you are part of the movement.
Upon learning about Nature First, Anne and I both joined the alliance and are proud to be a part of this growing group of concerned photographers.
Over the years – particularly in the past five years – Anne and I have seen locations that we have visited often suffer irreparable and unnecessary change and damage, often due to people wanting to make photographs of these locations. With the advent of social media image sharing – particularly Instagram – we have even seen areas permanently closed off due to the high visitation of people making photographs, whether with a professional camera or an iPhone. Sadly we have also seen photographic groups, including workshops, behaving irresponsibly and not following regulations in extremely fragile and sensitive locations.
Anne and I urge you to visit the Nature First web site to see what they are all about. There seems to be a lot of potential pluses and no negatives related to this organization. We are proud to be associated with the alliance, and hope it will continue to grow, and most importantly, enlighten photographers so we are better stewards of the planet that we have the privilege to explore, and photograph. #naturefirst
You can find additional information about Nature First here:
https://www.naturefirstphotography.org