Greetings,
What a year this has been! Anne and I hope that you and your family are remaining healthy, and relatively happy, during these most challenging times. As the end of 2020 is on the horizon it is an understatement that this has been a year like no other. The lack of in-person communication and gatherings, along with workshops, has been something we have dearly missed. We are hoping we will be able to offer our annual Mono Lake and the Eastern Sierra: Exploring Autumn Light workshop in October 2021. There is more information about this below.
At some point early in the pandemic Anne and I began our morning by enjoying a mug of coffee outside among the coastal live oaks below our house. From there we have a beautiful view of the rolling hills above Carmel Valley in the distance. We usually discuss the day ahead, or simply enjoy watching the morning light come up over the hills and backlight the trees. When we began this morning ritual the temperature was pleasant, but now the weather often calls for a down jacket! The other morning, following the first rain of the season, was spectacular! The fog and mist were wafting through the trees, obscuring the rolling hills in the background along with the trees in the distance. The view of the oaks on our hillside was transformed into one of mystery and rapidly changing beauty.
After this brief, but most interesting display, the fog cleared, and the sun bathed us in welcome warmth in the chilly morning air. We began to discuss photographs of fog. I recalled an image I had made in 1979, shortly after I went to work for Ansel as his Photographic Assistant, of some Monterey Pine trees in fog a short distance from my the house I was renting on one of the highest hills in Monterey, California. I decided it was time to put that negative back into the enlarger – after many years – and reinvestigate it. I am very pleased with the results I obtained and I am offering it as a Special Collectors Edition print with details below.
In late October Anne and I hopped into our trusty camper van and headed east across the Sierra to the Owens Valley. This was our first time out on a photography trip since early February. We were anxious to make photographs, and even more in need of the opportunity to "tune out" all of the news, emails, and day-to-day office communications. Our goal was to have a "contact free" trip as much as possible. We had no planned itinerary, and few planned destinations. Our goal was to limit face-to-face human contact to a couple of resupply visits to grocery stores.
We had a wonderful relaxing and rejuvenating trip. As anticipated, the weather was chilly. A few nights the low temperature dropped into the high teens (which was better than the 11 degrees which had been forecast for that night!). We did experience two days of exceptionally high winds, which created challenges for us, but in spite of that we had a great time. We encountered very few people in the remote areas where we were hiking and photographing. Nearly all of the people we did come across provided plenty of "breathing room" when passing on the trails. We both have some negatives which we hope will be "keepers" from the trip, and look forward to proofing them in the near future – as time permits.
This holiday season will be a "different" one for many of us due to the COVID-19 pandemic. Anne and I had planned to travel to Denmark for Christmas, as well as for her parent's 60th wedding anniversary. Sadly we had to cancel our trip. We know that many others will be having unique "socially-distanced" holiday events this season. We are hopeful that 2021 will be a year of new beginnings for all of our subscribers, our country, and the world. We were buoyed with hope for our new President Elect Joe Biden and Vice President Elect Kamala Harris.
As I mentioned in my most recent eNewsletter it feels as if everything takes longer to accomplish these days. A number of others indicated that they had the same feeling. As I considered this dilemma I surmised a possible cause. I wonder if, by chance, light and all other positive energy, might actually travel more slowly during a pandemic? It's something to ponder!
Anne and I wish you, along with your family and friends, a peaceful and healthy holiday season ahead.
John
P.S. As we were putting the finishing touches on the eNewsletter Anne and I learned that our longtime friend Ernest Brooks had passed away. We were stunned, and saddened, by this news. Ernie was a dedicated photographic educator and underwater photographer extraordinaire! To paraphrase our beloved friend Ruth Bernhard (who is also no longer with us physically), we are sure that Ernie is 'swimming with the angels!' RIP Ernie.
ORIGINAL SILVER GELATIN PRINT BY JOHN AVAILABLE ONLINE AT DISCOUNTED PRICE
NEGATIVE TO BE RETIRED
I am pleased to offer this handmade silver gelatin print of my image Monterey Pines in Fog, California 1979 at a special reduced price at the Ventana Editions online store. Once I have fulfilled all of the orders for this special print offer the negative will be retired, and will never be printed in any size as a silver gelatin print in the future. The normal gallery retail price for this 11x14" print is $1,000. From now through December 31, 2020 I am offering this 11x14" print for $700 - a 30% discount from the retail price. On December 31, 2020 the retail price for any remaining prints will increase to $2,000.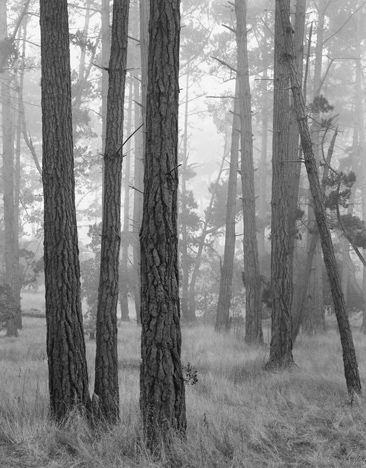 Monterey Pines in Fog, Monterey, California 1979
©1979 John Sexton. All rights reserved.
To learn more about the print, Monterey Pines in Fog, or to place an order, follow this link:
https://ventanaeditions.stores.yahoo.net/mopiinfomoca.html
When I worked for Ansel Adams as his Photographic and Technical Assistant from 1979 through 1982, my "official" work-week was Monday through Thursday. This was an idea that Ansel came up with during our conversations about me moving to the Monterey Peninsula and going to work for him. Ansel was extremely supportive of my photography workshop teaching, and decided that if I had a four-day workweek, (but actually worked five days - Monday through Friday), then I would accumulate a week off every four weeks that I worked. He encouraged me to use this time off, coordinated with his schedule, to conduct my workshops, which was most generous and innovative of him.
My normal starting time at work each day was 9 am. I had rented a house high on a hill above Monterey and just across the canyon from the back of the house is Veteran's Memorial Park, filled with beautiful Monterey Pine trees. I always kept my photographic equipment in my van "just in case" it was needed for a photographic possibility. One morning, not too long after I had begun working for Ansel, it was extremely foggy as I left my house. I decided to take an alternate route to Ansel's going through the park to see what the Monterey Pines looked like in the ethereal fog. As I drove through the park I saw a group of pines that looked interesting. I pulled my van over, grabbed my camera gear and began to explore with my viewing frame.
I quickly found an arrangement of trees that interested me, and set up my 4x5 Super Cambo monorail view camera with my 210mm lens (it's easy for me to remember precisely that this was the lens I used, as it was the ONLY view camera lens I owned at the time!). After making some adjustments in the camera position I decided to make a 4x5 Polaroid Type 52 image, as I was part of the Polaroid Collection program (see the reference to the Outdoor Photographer article below for more information about this). I was pleased with the rendering of the Polaroid print, and made a second identical Polaroid. I then inserted my film pack adapter back loaded with Kodak Tri-X Professional film. The Kodak 4x5 Film Pack was a light-tight cassette with 16 sheets of 4x5" film – on a much thinner base than typical sheet film. This allowed you to carry a considerable amount of film with much less bulk and weight than conventional sheet film and holders. The thin film base created a few challenges, including the necessity of always using a glass negative carrier when printing the film pack negatives.
I re-metered the scene with my Pentax Spot Meter and determined that with compensation for reciprocity departure the exposure would be 30 seconds at f/45 for the Tri-X film. Because of the fog I had to wipe the condensation from the front element of the lens between each exposure even though I was using a lens-shade. I worked quickly and carefully, making two identical exposures of the scene, packed up my gear, stowed it in the van, and headed off to Ansel's house.
I arrived twenty minutes late for work. I must say that this was the only job I have ever had where arriving late to work with an excuse of "I stopped to make a photograph" was acceptable. Rather than being scolded for my tardiness, Ansel's reply was "do you think you got a good one?" I told Ansel about the situation, and showed him the two Polaroid prints. He could tell I was pleased with the photographs, and kindly gave me a hearty encouraging response.
When I moved from Southern California to go to work for Ansel it was a number of months before I was able to complete construction of a darkroom. Ansel very generously allowed me to use his darkroom in the evenings, or on weekends, whenever he was not using it himself. The two negatives were processed in Ansel's darkroom. I gave them N+1 development in HC-110 developer. It was my habit at that point to NOT make contact proof prints. I found the process to be tedious, and felt I had enough skill in reading negatives on a light-box to make decisions. The two Tri-X negatives of this scene appeared quite flat and low in contrast on the light table. I thought they would be too soft to print. For one reason or another – frankly I can't remember why – I did end up making contact proof prints of both these negatives, and was surprised by the contrast and fidelity of the negatives as they printed on paper. This was an extremely valuable lesson for me, and since that day I have made contact proof prints of every single exposure that I have made. A few months later I had my own darkroom up and running and the first negative I put in the enlarger was Monterey Pines in Fog. I am pleased to once again offer this image for sale.
Prints will begin shipping on November 30, 2020. If you would like to receive your print in time for the Holidays, please be sure to let us know at the time of your order. It would be a good idea to follow up with an email as well. We will make every effort to ship prints out in time for holiday gift giving for those who need them. All of the remaining prints ordered will be shipped no later than February 28, 2021.
This silver gelatin, selenium toned, print is approximately 10-3/16 x 13", personally printed by me (as are all my prints), processed to current archival standards, signed, mounted, and matted to 16x20" on 100 percent rag museum board. All prints are carefully prepared and packaged in specially designed protective shipping boxes, and shipped fully insured via UPS ground. If you have any questions about the print, please feel free to contact Anne at 831-659-3130, or email: info@johnsexton.com. Our office hours are Monday through Thursday from 10:00 am to 1:00 pm, Pacific Time.
You can see the image and place a secure online order for the print at the Ventana Editions web store:
https://ventanaeditions.stores.yahoo.net/mopiinfomoca.html
---
12th ANNUAL "MONO LAKE AND THE EASTERN SIERRA: EXPLORING AUTUMN LIGHT" WORKSHOP WITH CHARLES CRAMER PLANNED FOR OCTOBER 2021
As we mentioned during our most recent eNewsletter the COVID-19 pandemic necessitated that we cancel all of our 2020 photography workshops. Readers may also recall that Anne and I had planned to take a sabbatical from all workshops held at our home and studio in Carmel Valley in 2021 to allow us to concentrate on the work necessary for our forthcoming photography book of Venice, Italy (see additional information about he book production schedule below). We are continuing with our planned sabbatical from workshops at our home, but are hopeful that we will be able to offer the extremely popular Mono Lake and The Eastern Sierra: Exploring Autumn Light workshop with our good friend, and most talented photographer and instructor, Charlie Cramer. This workshop has always been an enjoyable and productive experience for the three of us as instructors and organizers, and based upon the comments we have received, as well as the high percentage of people who have repeated this particular workshop, it has also proven to be a most worthwhile experience for them.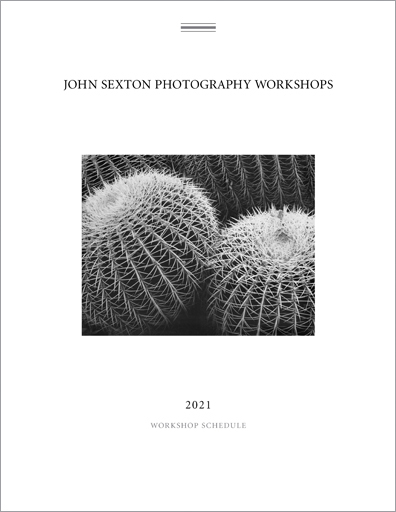 The workshop is already filled with registrants from the cancelled 2020 session.You are welcome to apply to the waiting list – no deposit please – simply submit a completed and signed application form, which you may download here. There is no way to know if we will have cancellations as the workshop draws closer, but we will contact individuals from the waiting list if an opening appears.
Charlie, Anne and I are hopeful that by next October the COVID pandemic situation will have improved so we can safely offer our Mono Lake workshop again, and enjoy the photographic possibilities of the spectacular Mono Lake Basin.
For additional information please visit my web site www.johnsexton.com where you can download the complete workshop brochure as well as the application form here: http://www.johnsexton.com/schedule.html.
---
VENICE BOOK TIMELINE UPDATE
As many readers our aware, Anne and I are working on a book of photographs from our explorations in Venice, Italy. We have mentioned in the past that the book publication and related exhibitions would be in the fall of 2021.
The COVID-19 pandemic presented numerous challenges for us, as it did for nearly everyone. As I noted previously we cancelled all of our 2020 workshops, each of which was fully enrolled. This meant we refunded a significant amount of money in workshop tuition fees to the registrants. In addition like many other businesses we have been, and remain, under a 'shelter-in-place' order by Monterey County. As you might imagine, with challenges such as these for many of our friends and followers, the desire for photographic prints (which are certainly not 'essential' items) has greatly diminished.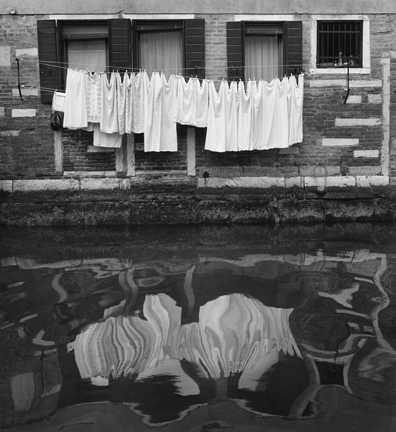 Sunday Laundry and Reflections,Venice, Italy
©2015 Anne Larsen. All rights reserved.
The only way we have been able to survive financially has been to tap into the money we worked hard to save to fund the printing and publication of our Venice book. We will be self-publishing our new book just as we have done with my two most recent books, Places of Power and Recollections. Therefore Anne and I have reached the difficult decision that we must delay the publication of our Venice book by a year. Our original schedule – before the pandemic – was to publish the book for next year's 2021 Holiday Season when the vast majority of 'coffee-table' photographic books are sold. Our new, updated, production schedule is now to publish one year later in the fall of 2022. It is at that time that related exhibitions, lectures, and book signings will begin to take place as well. Anne and I remain fully committed to the project, and will keep you posted as it evolves.
JOHN'S POLAROID IMAGES FEATURED IN OUTDOOR PHOTOGRAPHER MAGAZINE
NOVEMBER 2020 ISSUE
Over the years I have had my photographs included in Outdoor Photographer magazine a number of times, and written a few articles along the way. A few months ago I was in communication with Wes Pitts, the Executive Editor of Outdoor Photographer. Wes asked me if I would be interested in publishing some "lesser known" images. I had recently been working with the folks at the Baker Library, Harvard Business related to my time as a consultant to Polaroid. This project inspired me to pull out several portfolio boxes filled with overmatted Polaroid Land instant prints I had made over the years. I was a participant in the Polaroid Collection program from 1977 through 1980. I proposed an idea of writing an article about my experiences with the Polaroid Collection and Polaroid Land Instant film, as well as my years as a Polaroid consultant. Wes was excited by the idea, and we proceeded to work on the project together.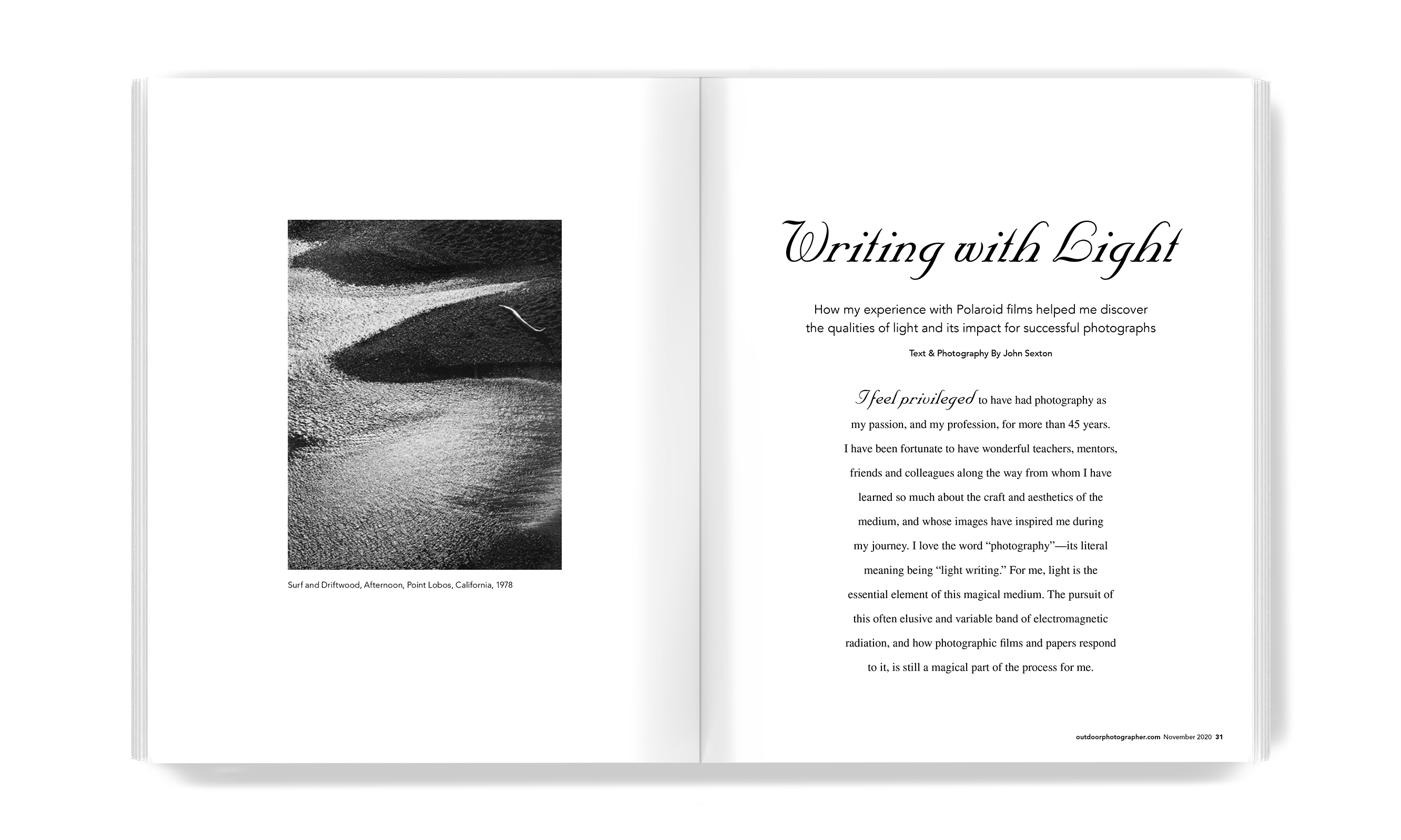 I am pleased to let readers know that the November 2020 issue of Outdoor Photographer features a selection of twelve of my 4x5" black and white Type 52 Polaroid prints, along with my article Writing with Light. I found working with Wes and his dedicated team at Outdoor Photographer to be a most enjoyable and rewarding process. It is a refreshing surprise to encounter folks who are dedicated to getting things "just right." I am happy with the way the feature turned out. The November 2020 issue should be on newsstands through about December 1st (if you can find a newsstand near you these days!). You can also purchase single issues, or subscriptions in both traditional print along with digital editions online at the Outdoor Photographer web site.
NEW IN OUR LIBRARY
WONDERFUL NEW BOOKS BY LONGTIME FRIENDS WILLIAM NEILL & MARK KLETT
LIGHT ON THE LANDSCAPE
PHOTOGRAPHS AND LESSONS FROM A LIFE IN PHOTOGRAPHY
BY WILLIAM NEILL

Bill Neill and I have been friends since the early 1980's. I first met Bill when he was working at the Ansel Adams Galley in Yosemite National Park. He served as an assistant at Ansel's annual photography workshops in Yosemite, and also after the workshops moved to the Monterey Peninsula for a few years before Ansel's passing. Bill is a creative and dedicated photographer, and has produced a large body of work over the decades. Along with his ability to communicate with images, Bill is a talented and prolific writer, and gifted teacher.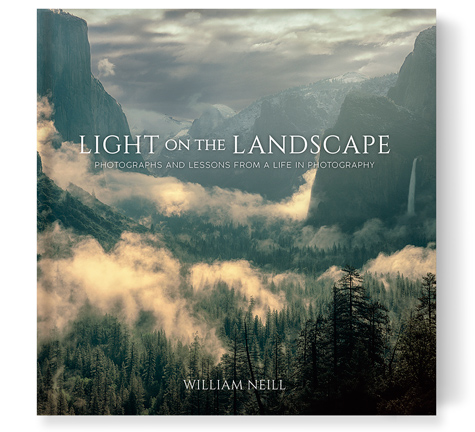 His latest book "Light on the Landscape" is a book filled with beautiful and inspiring images, as well as his incisive and thought-provoking text. I believe that readers of my newsletter will find both his words and images to provide great inspiration. Bill says that one of his motivations for doing this book, was Ansel's book Examples. Included in the 288 page volume are 128 stunning images, along with 62 essays by Bill sharing his photographic thoughts and ideas. There is also a most helpful "Photograph Information" section in the back of the book with a thumbnail reproduction of each image, along with the relevant technical photographic information. The book is elegantly designed and handsomely printed. It is the kind of book that you will want to return to again and again over the years.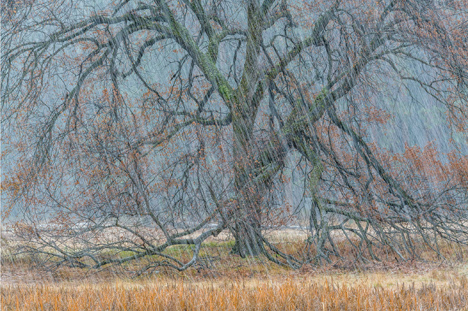 Autumn Snowstorm, Yosemite National Park, California
©2015 William Neill. All rights reserved.
If you are interested in getting more information about Bill's handsome volume, Light on the Landscape, or purchasing a copy, here are some links:
Bill is offering a limited edition signed (and personalized if desired) hardcover book, along with a print or prints, at his web site.
The publisher, Rocky Nook, has hardcover signed books available, as well as softcover editions. They have provided a most generous 35% discount coupon code good for Bill's books, along with their other publications. The discount code is: WNEILL35
SEEING TIME
FORTY YEARS OF PHOTOGRAPHS
BY MARK KLETT
I have known Mark Klett for more than thirty years. I have a great respect for him as an innovative and talented photographer, as well as a gifted teacher. We share a passion for the western landscape, and both love to photograph that subject. However, our approach to photographing the land is quite different.
Anne and I recently purchased Mark Klett's new retrospective book, Seeing Time: Forty Years of Photographs. This massive volume (480 pages, 7.2 pounds) presents a wonderful biographical 'portrait' of my gifted and prolific friend. Some books seem to substitute quantity for quality. Mark's new book reveals both attributes, and clearly illustrates his decades-long dedication and passion for photography.
The variety of projects included in the book are considerable. They range from black and white landscapes of the Southwest, to his well-known rephotographic projects, and so much more. Unlike my photography, Mark nearly always includes evidence of human activity, and often human beings interacting with the land. I am fascinated by Mark's images because of the questions they ask, as well as the answers they provide. There is an austere but engaging quality in his black and white, as well as his color, imagery. In addition, Mark shares his own thoughts, and there are insightful texts by respected curators Anne Wilkes Tucker, Keith E. Davis, and Rebecca Senf.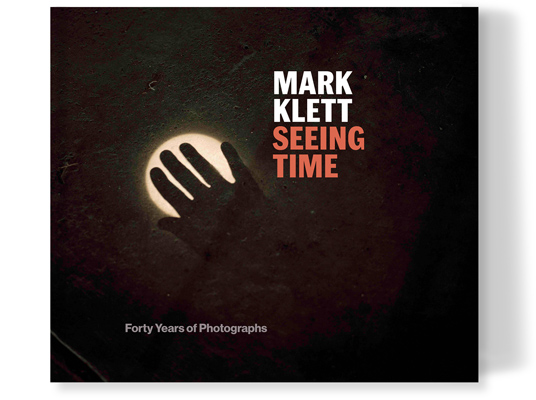 In 1990 Anderson Ranch Arts Center (where both Mark and I served as workshop instructors for many years) organized a San Juan River Expedition instructed by photographer Linda Connor and painter Helen Stanley. James Baker, the Photography Program Director at Anderson Ranch, invited photographers David Hiser, Mark Klett, and myself to join the group as "hangers-on." We would not have to teach, but could use the expedition as an opportunity to do our own work, as well as interact with the workshop participants. It was a wonderful and memorable experience. I knew Linda Connor, and had been photographing with David Hiser previously. I had met Mark Klett briefly on a couple of occasions, but did not know him well. I was however familiar with his photographs and had a great respect for his talent. In the back of my mind I hoped I would find an opportunity to do a portrait of Mark during the week we would be floating, camping, and photographing together. Since Mark's photographs of the landscape nearly always include a human being, or signs of human activity in the landscape, the image I had imagined was Mark as a part of the landscape.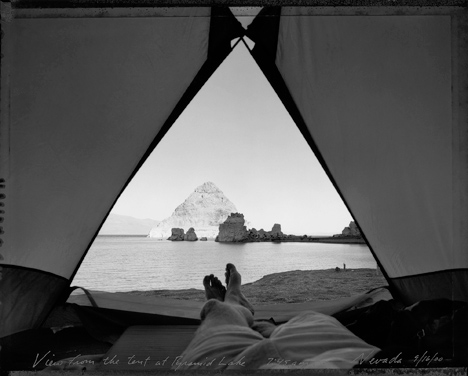 View from the tent at Pyramid Lake, 7:45 am, Nevada, 9/16/00
©2000 Mark Klett. All rights reserved.
We were photographing in a wonderful side canyon of the San Juan River, Slickhorn Gulch. The sun had set in the deep canyon and the area had moved into "quiet light," one of my favorite times to work. I was under my focusing cloth organizing an image with reflections on a small pool of water when I heard a familiar voice call my name. I peeked out from under my cloth and it was Mark. He had been much further up the gulch and was wandering his way back to camp. His path would take him through my image, and he courteously asked if that would be OK. I responded, "Sure," and appreciated his concern. As I was looking at the ground glass a reflection of Mark's backlit figure moved across the surface of the water. I instantly knew that I wanted to make a photograph of Mark's reflection in the pool!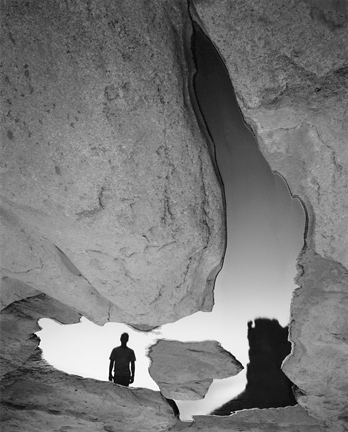 Mark Klett, Slickhorn Gulch, San Juan River, Utah
©1990 John Sexton. All rights reserved.
I asked Mark if he was in a hurry to get back to camp, and if not, if he'd be willing to step back into the image I was organizing on my ground glass. He kindly agreed. It took only a moment or two to find exactly where I wanted Mark to stand, and I made the photograph. I had a good feeling about the image because it was not something I had contemplated in advance. It presented itself to me. I find that images such as this often end up being successes.
A few months later I took the negative into the darkroom to make my first prints. The contact sheet had looked promising, and I was excited to print the negative. After making a test strip, as I always do, I made a straight print – without any dodging, burning, or other manipulation. As I mentioned in the Tech Tip section of my May 2009 eNewsletter in a text titled Seeing the World Upside Down for Objectivity, I turned the print upside down on my viewing board to look at the print objectively. This was a technique I learned from Jane Sinclair, my painting instructor at Chapman University in the mid 1970'as. It is one of the aspects that I really like about working with a large format view camera – seeing the image upside-down on the ground glass. I find that this takes me one step closer to the final abstract rendering of a photographic print.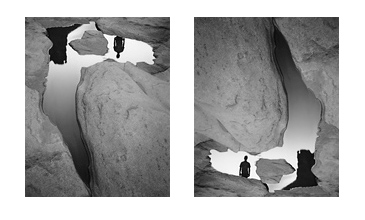 Image on left as made.
Image on right inverted - as seen on ground glass and as presented.
This time when I inverted the print something very strange happened. The image seemed almost believable in its upside-down form. Those of you that know the canyons of the Southwest know there are many places that have an almost "other worldly" quality. Such is the case with the canyons of the San Juan River. It is a magical and unique place. As I continued to print the negative, I decided that when I matted the print I was going to present it upside-down. For me it added to the mystery of the image, and was a more revealing portrait of Mark as I had come to know him better over the previous few days.
You can purchase copies of Mark's beautiful new book, Seeing Time: Forty Years of Photographs from the publisher, University of Texas Press, and signed copies are available from Photo-Eye.
ANNE'S RECOMMENDATION
DESERT SOLITAIRE BY EDWARD ABBEY

In 1992 I attended the San Juan River workshop taught by James Baker and John Sexton. It was a life changing experience for me. It was my first river trip; the first time I slept under the stars; the first time I saw star shadows; the first time I paddled an inflatable kayak through what seemed like "big" water; the first time I saw a king snake; the first time I was bitten by a fire ant; the first I saw a scorpion; the first time I heard coyotes yipping as they prepared to go hunting; and the first time I climbed a 40-foot tall very step sandstone wall to reach a beautiful little Anasazi ruin. It is safe to say that the experience changed my life, and during the trip I fell in love with the desert and the Southwest.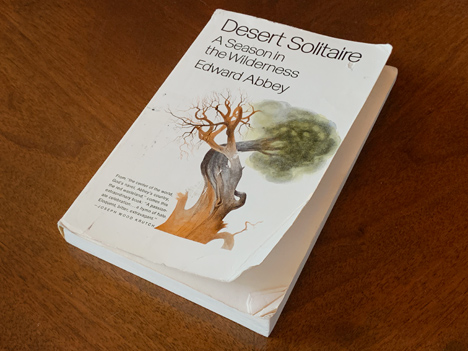 Following the conclusion of the workshop James Baker gave me a ride to Grand Junction, Colorado where I was to catch my first of three flights back to Denmark. On the way we stopped at the Back of Beyond bookstore in Moab. The store had a phenomenal selection of books focusing on the Southwest. Jim picked out a book for me called Desert Solitaire: A Season in the Wilderness by Edward Abbey. About half an hour later we left the store, I with my newly purchased book, and Jim with a brown paper bag filled with many books.
I was anxious to read the book, but quickly realized that my English vocabulary was too limited. I started reading the book with my English/Danish dictionary in hand, but it became too tedious and I put the book away.
About two months ago, John suggested that we should listen to Edward Abbey's book Desert Solitaire on Audible.com. He knew that I had never finished reading my copy that I bought back in 1992. He had often encouraged me to try again, since it is one of his favorite books.
We purchased the book on Audible, and each evening we sat outside listening to the words from the pages. They were mesmerizing. Abbey's words transformed into pictures in our minds, and that imagery brought back a flood of fond memories from our explorations in the Southwest together. At times we were sitting on the edge of our deck chairs in suspense of what would happen next. We laughed and I (not John), cringed as we listened to Abbey's straightforward and "colorful" language.
The book is a wonderful description of Abbey's seasonal job as a park ranger at what was then Arches National Monument (today Arches National Park) near Moab, Utah. He brings us along on his adventures, and through his words we feel his love for the desert and his respect for the land.
I wholeheartedly recommend this book!
SHOW RESPECT FOR ONE ANOTHER
GIVE CREDIT WHERE CREDIT IS DUE

It seems as if email newsletters, such as this one, and other electronic communications have increased over the past 8 months. Perhaps it is because people have more time to spend on preparing such things, or perhaps it is because I, like many others, have spent more time staring at my computer monitor!
One of things that both Anne and I have noticed during that time is how photographers, and photographic organizations, have been 'acquiring,' altering, and publishing images without the permission of the creator, and in a number of instances without the photographer's proper attribution. I believe the people involved with the decision-making were often well-intentioned, but it has happened often enough that I decided to take this opportunity to remind all of us that our photographs, along with nearly all other photographer's photographs, are copyrighted material, and not 'public domain.' Virtually all digital content - including photographs - enjoys the same copyright protections as non-digital, content - such as a print. Copying material from the Internet and posting it on a web site or publishing it in a newsletter without express (usually written) permission, may violate the copyright of the person who created the photograph.
I have seen well-known portraits of Ansel digitally altered to include a surgical mask on Ansel's face. In addition, it was distressing to see Yousuf Karsh's iconic portrait of Albert Einstein also digitally manipulated with the addition of a surgical mask. In these instances there was no reference to the photographer who made the original photograph. While these images are somewhat 'cute,' and convey an important message about mask wearing during the pandemic, they do not show respect to the photographer or their intellectual and creative property.
It is important for us all to remember that we likely would not be pleased if someone manipulated one of our photographs without first asking our permission, and also without properly giving credit and copyright attribution to the photographer. So, let's all remember to respect the integrity of each other's photographic work, which may help create an environment where photographers will find their creative integrity respected by others.