Greetings,
Somehow it seems as if each passing year takes less time to reach our favorite season– autumn. That acceleration of time appears to be intensified by the ongoing challenges of the COVID pandemic, and all the related complications and disturbances in our lives. Anne and I continue to methodically work in the darkroom on our upcoming Venice, Italy book, however we have concluded – after a great amount of discussion and consideration – that in order to self-publish the book in the way we desire, we need to delay the publication by another year. The new planned publication date for our joint book of photographs from Venice is now fall of 2023. We will keep you updated as this complex process evolves.
Along with working longer hours (and seemingly accomplishing less!), we have found some of our most enjoyable moments have been watching cat videos!!! Boots however seems completely uninterested in the videos and finds our behavior most unusual. It is amazing how much joy and laughter the videos bring, and they provide a nice break from the complications of daily life. Meow!
Earlier this summer we made another difficult decision to cancel our annual Mono Lake and The Eastern Sierra: Exploring Autumn Light workshop due to the Delta COVID variant. We just did not see how we could safely offer a workshop that would allow the participants to have the same quality of photographic learning and interpersonal experience with the unknowns of how the situation would unfold. The 2022 session is already filled with participants from this year's offering. Nearly all the enrolled participants signed up for this workshop in November 2019 – two years ago! We have some very dedicated and loyal workshop participants, whom we greatly appreciate. If you would like to apply for the waiting list to the workshop you can download the 2022 John Sexton Photography Workshop program and application information here.

Anne and I hope that you will find some things of interest in this installment of our periodic eNewsletter. We hope that you and your family have a wonderful Thanksgiving, as well as a safe and happy holiday season ahead.
Cheers!
John
LIMITED EDITION SILVER GELATIN PRINT BY JOHN AVAILABLE ONLINE
AT SPECIAL DISCOUNTED INTRODUCTORY PRICE
DARKROOM EDITION PRINT SERIES

I am pleased to introduce my image Glowing Aspens, Castle Creek Valley, Colorado as Darkroom Edition 2021. I began the Darkroom Edition series in 1986, thirty-five years ago, and am pleased to add this new limited edition print to the series. This 11x14" silver gelatin print is offered in a limited edition of seventy-five, signed and numbered prints, plus ten Artist's Proofs. When the edition is sold out no further silver gelatin prints will be made for sale in any size. Though my open edition 11x14" prints have a retail price in galleries of $1,000, the special introductory price for this limited edition print is $800–a 20% discount. On January 1, 2022, the retail price for any remaining unsold prints will increase to $2,000 and will escalate as the edition sells.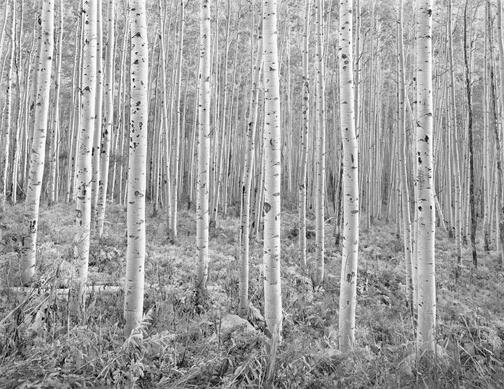 Glowing Aspens, Castle Creek Valley, Colorado
© John Sexton. All rights reserved.
To place an order for the print follow this link:
https://ventanaeditions.stores.yahoo.net/glasliedsige.html
Glowing Aspens was made following one of my annual two-week workshops that I taught at Anderson Ranch Arts Center in Snowmass Village, Colorado. During the workshop we always made a visit to this beautiful aspen grove in Castle Creek Valley, one of my favorite stands of aspens. As readers of my eNewsletter know I often talk about the making of the photograph when I release a special print offer like the limited edition of this image. This time I thought I would do something a bit different, as it seems the best way to express how I feel about these specific aspen trees, and the experience of spending many afternoons in this grove.
Following one of those workshops I drove to these aspens in Castle Creek Valley to explore for photographs. As I was walking through the trees, I felt a sense of tranquility and peace. I pulled out my small handheld tape recorder that I always have with me and began recording my thoughts about the experience of being in and photographing this luminous grove of aspen trees.
Normally I find that transposing from speech to text requires considerable editing. That afternoon, for some reason, the words I spoke transposed to a text I was very pleased with. No one was more surprised than me when the finished essay, Within the Forest, required changing only a handful of words. I wish my mind would function that clearly more often, and I wish my photographic vision would also function with the same efficiency. Sadly, I must report that such is seldom the case. That being said, exploring, enjoying, and photographing the forest remains a wonderful passion for me today. I hope you enjoy my essay.
WITHIN THE FOREST
As I stand within an aspen grove in Castle Creek Valley, Colorado, I am reminded again of the rejuvenating quality of trees, how being surrounded by them can cleanse the mind, body, and soul of the distractions of what we call the real world. I am afraid that, as time has passed, what we accept as the real world has become distorted. As I wander with my camera in this beautiful stand of aspens, it is clear to me the real world is right here. The real world is within the natural environment, and for me one place to find the real world is within the forest.
Forests are sanctuaries. This aspen forest is like a room, with luminous white trunks for walls. I find myself looking upward to the green leaves quaking in the wind... toward the ceiling of thunderclouds passing by. In the distance thunder rolls through the valley... the sound of birds singing within the forest mingles with the remote whisper of a creek as it rushes over the rocks in its path. The forest creates an envelope like a protective cocoon. I feel at one with the trees, more comfortable among hundreds of them than in a group of people.

And as with people, trees have body language. Each tree is unique, has its own posture and gesture. Each has a quality that makes it an individual. As I stand here raindrops begin to fall from my ceiling of sky. Soon, the trunks that form the walls of my room will change their character, as moisture begins to streak down them, altering the quality of their surfaces, altering the way they reflect light.

During photographic workshops I have been asked what makes me stop and make a photograph. For me, with any subject it is the quality of light. It is a question of whether the light reveals or obscures the personality, the shape, the individuality of the tree. In the delicate light of this misty rain, the trees seem to glow as if illuminated from within. For me, then, the challenge becomes finding a group of trees that seem to relate to one another.

I am not often drawn to photograph a stand of trees in the distance, but would rather be within the forest, surrounding myself, and the viewer, with my woodland walls. As I look out the windows of my tree house, I see blue spruce, I see pine trees among the aspens, and I hear the leaves flutter as their trunks move gently and smoothly in the wind. I feel at home here, I feel at peace, I feel as if I have been delivered from those distractions we accept as the real world.
—John Sexton
Preface from the book, Listen to the Trees
Prints will begin shipping on December 6, 2021. If you would like to receive your print in time for the Holidays, please be sure to let us know at the time of your order. It would be a good idea to follow up with an email as well. We will make every effort to ship prints out in time for Holiday gift-giving for those who need them. All of the remaining prints ordered will be shipped no later than March 31, 2022.
This limited edition silver gelatin, selenium toned, print is made on Ilford Warmtone fiber-base photographic paper. It is approximately 10-1/4 x 13-1/4" in size, personally printed by me (as are all my prints), processed to current archival standards, signed, numbered, mounted and over-matted to 16x20" on 100% rag museum board. As has been the case with all previous Darkroom Edition series prints, a beautifully printed archival presentation sheet will accompany each print.
All prints are carefully prepared and packaged in specially designed protective shipping boxes, and shipped fully insured via UPS ground. If you have any questions about the print, please feel free to contact Anne at 831-659-3130, or email: info@johnsexton.com. Our office hours are Monday through Thursday from 10:00 am to 1:00 pm, Pacific Time.
You can see the image and place a secure online order for the print at the Ventana Editions web store:
https://ventanaeditions.stores.yahoo.net/glasliedsige.html
---
TECH TIP
LIVE WITH YOUR PRINTS
As Anne and I have been studying, editing, selecting, and working in the darkroom with negatives from our numerous trips to Venice, Italy we have both found it to be an inspiring, exciting, and at times frustrating, experience. Along the way we have had a number of enjoyable darkroom sessions, which have yielded finished prints that met, or even exceeded, our expectations. We both feel that is one of the most exciting aspect about working in our traditional darkroom – which we consider to be a sanctuary.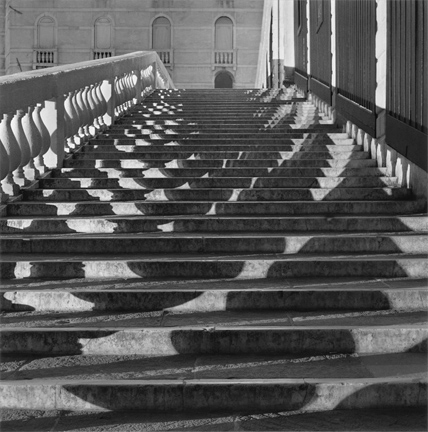 Dancing Light, Rialto Bridge, Venice, Italy
© Anne Larsen. All rights reserved.
In addition, we have both encountered negatives which we thought would be definite keepers, but after spending a considerable amount of time, and photographic paper, we ended up with real duds! As part of an interview for upcoming issue of ELEMENTS magazine (see more detail in the section below) I was asked, In your traditional darkroom, when do you realize you're satisfied with your print? I answered honestly, and stated that I NEVER know if I have a successful print from a new negative while I am working in the darkroom. As many of you know – having taken workshops from me in the past – I try to work slowly, methodically, but efficiently when making prints. One of the things that I respect and enjoy about working in a traditional darkroom is the simple fact that it is nearly impossible to rush the process along. The methodical pace provides a rhythm to the process that Anne and I truly enjoy.
I consider the printing process to be a conversation between myself, the photographic paper, and the image. The language that I use to communicate with the photographic emulsion includes paper selection, contrast, aperture, exposure time, degree of development, and other controls. As this process evolves I begin to incorporate local print enhancements – such as dodging, burning, flashing, etc. Each change is like asking a question. When turning on the white light the answer is revealed. For both of us printing a new negative generally involves multiple days working with that negative in the darkroom. At a certain point we both take a work print and mount it on a piece of scrap museum board so we can view the print with greater objectivity.
The wonderful, and inspiring, photographer Ruth Bernhard often said that a successful print needs to be more than just a replication of the subject. It needs to be an intensification of the experience - as the viewer has not shared the excitement the photographer had when making the photograph. I clearly remember when I first heard this wisdom from Ruth in 1974. Since that time I have tried to follow her advice when printing my negatives. My goal is to make a print that will invite a viewer to look at the image, and possibly have an emotional or physical reaction to the print. Ruth described seeing an exhibition of photographs by Sebastião Salgado that she referred to as a two-hanky exhibition. In other words, a single handkerchief was not enough to wipe the tears from Ruth's eyes when viewing Salgado's transcendent photographs.
I recall visiting Brett Weston at his Carmel Valley home in early March, 1978. For a number of years before I moved to the Monterey Peninsula, Brett was kind enough to let me use his driveway as a campsite, and his home as a base of operations for my photography forays in the area. Brett's home was austere, as was his entire lifestyle. When you entered the front door you immediately encountered Brett's photographs on a panel to the left. A few feet later, you would see more of Brett's photographs on the walls of his living room. As I entered the house, having not been there for a few months, I immediately noticed that the prints I saw on the wall were all new to me. As I studied the prints I realized – moving from one to the another – that they all read '1978,' next to his signature. All of the images had been made, and printed, during the past two months! Brett frequently said that he used his informal gallery setting to study his new work, and to get rid of the dogs! I recall on multiple occasions Brett sitting in his Eames lounge chair, puffing on his pipe, conversing with friends over a glass of wine, when he would suddenly stop mid-sentence, get up from his chair, and walk to a print on the wall. He would remove the print from its frame, tear the print into pieces, and throw it in the fireplace. Brett was a decisive person, and he had decided the print was not successful – so he destroyed it – finito!
As digital imaging technology evolves we find ourselves almost always with some sort of camera at hand – whether it is an iPhone, a dedicated digital camera, or an 'old fashioned' film camera. I find it strange, and quite frankly somewhat disappointing, to see people in such a hurry to post their images to Instagram, Facebook, or other social media platforms. It is one thing to share a "happy snap" from a moment in life, but it is another to hastily share a finished image. I catch myself exclaiming, more often than I would like when looking at images on an electronic device, What's the rush? I am notoriously slow as a photographer, and I wish I could work more quickly. That being said, I would rather exercise patience and discretion, and try to share photographs that I feel are ready for others to experience. I live with them, so I can decide if they will stand the test of time for me. Over the years I have found on a number of occasions that a new "favorite" image wears out after a few weeks on the print rail in our studio. When that happens it is best to retire the negative, or as Brett often said get rid of the dogs! Woof-woof!!!
---
JOHN'S IMAGES INCLUDED IN ELEMENTS MAGAZINE
SPECIAL "CELEBRATION OF THE PRINT" DECEMBER 2021 ISSUE
I am pleased to let readers know that the December 2021 issue of ELEMENTS Magazine will include three of my photographs along with some of my thoughts on the magic of printing photographs. This is going to be a special issue of ELEMENTS, and is titled, Celebration of the Print. I am honored to have my images and words included alongside a distinguished group of photographers: Bruce Barnbaum, Christopher Burkett, Charles Cramer, Michael Frye, R. Mac Holbert, Joseph Holmes, Michael Kenna, Roman Loranc, Lynn Radeka, and John Wawrzonek. I have known, and respected, many of these talented photographers for more than forty years. I guess we are all getting old!!!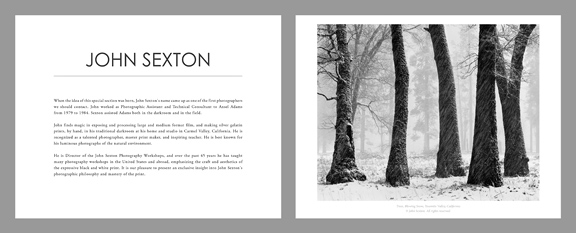 Each photographer was asked five personalize questions about printing, and our answers are presented along with three of our images. In addition this special issue includes an in-depth interview with our pal Evan Russel, Curator at The Ansel Adams Gallery in Yosemite. (The Ansel Adams Gallery happens to represent my work, as well as Anne's, and a number of the photographers mentioned above).
ELEMENTS is a monthly online publication whose focus is on landscape photography. The publisher kindly created a special discount coupon for my eNewsletter readers. Use the code JOHN10 to receive a 10% discount on an annual subscription of 12 issues.). You can learn more about ELEMENTS, and subscriptions here.
NEW LIFE FOR TWO ANSEL ADAMS CLASSIC BOOKS
EXAMPLES: THE MAKING OF FORTY PHOTOGRAPHS
We recently received a copy of the newly-released softcover reprint of Ansel Adams' book, Examples: The Making of 40 Photographs. This new edition is easily recognizable because rather than the forest green cover, which all subsequent editions have had, the new version has a white background with red, black, and gray type elegantly designed by Lance Hidy.
This new printing is identical to all previous editions in terms of content, however what makes the latest printing of Examples special is that it's the first to utilize current digital prepress technology. All of the photographic reproductions have been lovingly restored by Thomas Palmer based on scans of original prints in Ansel's archive at the Center for Creative Photography. The project was supervised by Sandra Klimt, and spearheaded by Claudia Rice, the Managing Trustee of The Ansel Adams Publishing Rights Trust. The skillful use of digital prepress tools provides reproductions in this new edition a vibrancy and fidelity that surpasses some of the more recent softcover printings.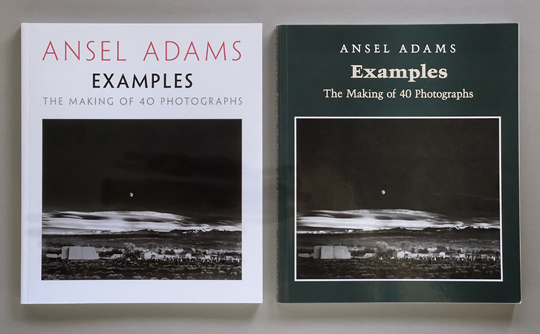 I have enjoyed Examples since it was first published in 1983, but I am a bit biased. Aside from Ansel and Virginia, I believe I was the first person to know about Ansel's initial desire to make the book Examples. An important meeting with Ansel's publisher Little, Brown and Company, along with the Ansel Adams Publishing Rights Trust trustees, and Ansel's staff, was scheduled for Saturday, February 20, 1982 – Ansel's 80th birthday. All of the above mentioned parties were in town for the multiple exhibition openings and Ansel's gala birthday 'bash' that evening. So it was the perfect time to combine business with pleasure. Ansel asked me to come in early that morning to help him organize his materials, along with the items for my presentation - reporting on my progress on The Print (Book 3 in The New Ansel Adams Photography Series), for which I did all of the technical testing and illustrations. When I arrived I found Ansel beaming with excitement. He had just completed a rough draft of the first "example" essay, and exuberantly explained about his concept for the book. I rushed to make multiple copies of Ansel's first draft, in addition to the materials we were already gathering and organizing, for the meeting.
Once the meeting was underway Ansel quickly announced his new idea for Examples. This changed the entire direction of the meeting, and all present seemed to think it was a good idea. Initially Examples was slated to be Book 4 in The New Ansel Adams Photography Series. After a few months it was decided that it would be a standalone volume, different in terms of size, paper quality, and reproduction quality. From the onset Ansel was concerned about the reproduction quality in Examples. In a memo that he sent to me a few weeks after his birthday he stated, As you know, I am working on EXAMPLES and I am pleased to state that all concerned seem to think it is a good idea. I'm sure it will work out well – I have about 15 of the essays prepared in the rough...I am insisting on fine scanned reproductions...I would want you to read the text as your judgment is much respected. I want to be certain that I have not given information that conflicts with earlier statements about the pictures used.
In a memo sent to his publisher, Little, Brown and Company, on the same day Ansel states, I am discussing the image quality in considerable detail and it is very important that all the plates are of high quality...I assume they must be scanned for maximum effect. I was honored to be a part of the team that helped Examples become a reality.
I have recommended Examples to workshop participants in pre-workshop mailings since the book was first published. In addition, if someone with an interest in photography asks me if there is one book of Ansel's that I would recommend I always suggest Examples. It is where Ansel shares not only how the photograph was made, but comes as close as he ever does in terms of "why" the photograph was made. The combination of Ansel's words and high-quality reproductions in this new edition are something I hope will give this book a life that continues well-beyond its current thirty-eight years in print. If you do not have this book in your photographic library it may be time to mention to friends and family members that the holidays are approaching!
You (or your potential gift-givers) can find additional information about Examples, along with a list of online retailers, from Little, Brown and Company, the exclusive publisher of Ansel's work since 1976, here.
BORN FREE AND EQUAL: THE STORY OF LOYAL JAPANESE AMERICANS – ANSEL ADAMS
NEW HARDCOVER EDITION PUBLISHED

Nearly everyone is familiar with Ansel Adams iconic landscape photographs. However far fewer are aware of the wide variety of subjects Ansel photographed during his long and productive career. Over the years I have found a number of Ansel Adams 'fans' surprised when they learned about the body of work that Ansel did during World War II at the Manzanar War Relocation Center, located in the Owens Valley on the eastern side of the Sierra Nevada mountains. Manzanar, along with nine other War Relocation Centers, came into being when President Roosevelt signed Executive Order 9066, resulting in the incarceration of approximately 120,000 Japanese America men, women, and children residing in the western states.
This body of work was published as the book, Born Free and Equal: The Story of Loyal Japanese Americans. In late 1943 Ansel's old Sierra Club friend, Ralph Merritt, to whom the book is dedicated, was visiting Ansel in Yosemite. Merritt had recently been appointed director of the Manzanar facility, and suggested that Ansel photograph the plight of the 10,000 Japanese Americans that were imprisoned at Manzanar. Ansel had many friends of Japanese descent, and found the situation appalling. That October he made his first of four trips to photograph at Manzanar. While working on the project Ansel also made two of his best-known photographs, Mount Williamson, Sierra Nevada and Winter Sunrise, Sierra Nevada. (Both of these images are included in Examples mentioned above).
The book was published in late 1944 by U.S. Camera. It was not well received, and many of the original copies were destroyed. The production quality of the original edition was unfortunately not good. Only recently did I learn that there were a small number of hardcover copies of the book produced. I only recall seeing softcover books, like the well-worn vintage copy that we own.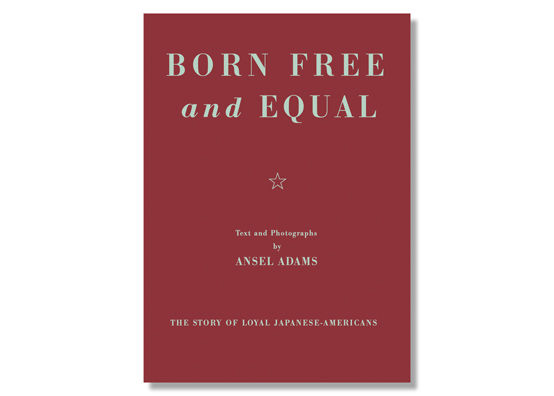 The Eastern Sierra Interpretive Association has just republished a hardcover facsimile edition of Born Free and Equal in a limited edition of 3,000 copies. The book is only available for purchase at the ESIA online store, and at the Manzanar National Historical Site visitor center.
Alan Ross, my good friend and Ansel's Photographic Assistant prior to me, skillfully prepared digital image files for this new edition. The reproduction quality in the new printing is cleaner, and brighter, than the original volume. The design, layout, as well Ansel's text and images are identical to the original edition. There is a new introductory text that was added referencing this specific reprint project.
Until now the only way to obtain a copy of Born Free and Equal was to search for a used copy of the book. In order to obtain an affordable copy it would likely be a less than pristine copy like the one Anne and I have. After all the original book was published more than 75 years ago! This new hardcover edition of this historic book is available for the reasonable price of $49.95 at the ESIA online store.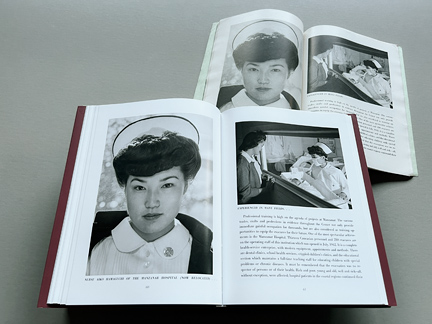 Born Free and Equal by Ansel Adams
New edition in foreground, vintage 1944 edition in background
I was recently communicating with Ansel and Virginia's son, Dr. Michael Adams, about the new edition of the book. Here is some of what Michael said, I was happy to receive a copy of the new reprint of Born Free and Equal sponsored by the Eastern Sierra Interpretive Association. The quality of the photographs is a huge improvement over the original paperback product published by U.S. Camera. The color of the cover and type is true to the original. The wartime paper and materials were not good, and I know Ansel was disappointed with the original book. I think he would be pleased with this reprint.
If you have not visited Manzanar National Historic Site, and spent the time to experience the excellent displays and audio-visual presentations (which include a number of Ansel's photographs!), you really should make an effort to do so. Anne and I visited there a few years ago with her parents, and we all found it to be an emotional, moving, and memorable experience. In addition, it is located in one of the most photogenic areas of California – the Owens Valley with the Eastern Sierra crest just a few miles to the west – where countless photographic opportunities abound.
I will end this article with the words that Ansel used to close his text in Born Free and Equal. Sadly, Ansel's words are as relevant today as they were more than three-quarters of a century ago...
You have now met some of the people at Manzanar, seen a small part of their daily life and work. I hope you have become aware of their tragic problem.

As I write this men are dying and destruction roars in almost every part of the globe. The end is not yet in sight.

What is the true enemy the democratic peoples are fighting? Collectively, the enemy is every nation and every individual of predatory instincts and actions. We fight to assure a cooperative civilization in opposition to the predatory Nazi-Fascist-Militarist methods and ideologies of government. We must prosecute this war with all the ruthless efficiency, stern realism, and clarity of purpose that is at our command. We must not compromise or appease. We must assure our people that there will be no further human catastrophes such as the destruction of Rotterdam, the annihilation of Lidice, the rape of Nanking, or the decimation of the Jews.

We must be certain that, as the rights of the individual are the most sacred elements of our society, we will not allow passion, vengeance, hatred, and racial antagonism to cloud the principles of universal justice and mercy.
FROM OUR BOOKSHELF
A BROTHERHOOD OF SPIES: THE U-2 AND THE CIA'S SECRET WAR

In January 2020 Anne and I had a wonderful visit from our dear friends John and Mary McCann. I met them many years ago when they participated in Ansel's Yosemite Workshop. Both John and Mary both had long careers at Polaroid, and worked very closely with Dr. Edwin Land, the legendary founder and head of Polaroid Corporation. At that time they gave us a book as a gift. John McCann said he thought the book by Monte Reel, A Brotherhood of Spies: The U-2 and the CIA's Secret War, might be of interest as it described very accurately Dr. Land's essential involvement in the development of the super-secret U-2 spy plane. I began reading the book a few weeks later, and found it to be fascinating. However, things became extremely busy, and I had to set the book aside for a few days – hoping to return to it when things calmed down. That was about the same time the COVID pandemic unfolded, and all of our lives were changed. This past summer, while Anne was visiting her family in Denmark (first time in two years!), I picked the book back up and started again from the beginning. As I dove deeper into the book I was amazed how much of the book was about Dr. Land, and how the plane likely never would have become a reality without his leadership of the project.
As readers may recall, I had the wonderful opportunity to meet Dr. Land in his Osborn Street laboratory office on one of my consulting trips to Polaroid. This was a memorable experience for me. As many readers are aware Ansel and Dr. Land were dear friends for many decades.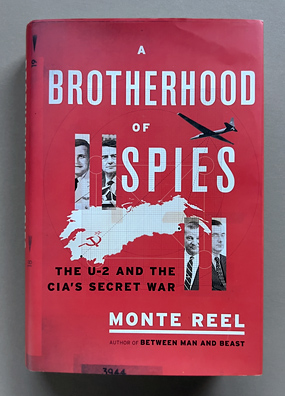 I bring this non-photographic book to my eNewsletter readers' attention not just because it is a captivating book, but if you are interested in the Dr. Land's genius, and the intricacies of his unique personality, you will find this of great interest. Anne is currently reading the book and is enjoying it! I was aware that Dr. Land was integrally involved in the development of the camera system for the U-2 spy plane, but I did not realize how involved Land, working hand-in-hand with Lockheed's legendary aeronautical designer Kelly Johnson, was in so many aspects of the plane's structural and functional design. The U-2 was unlike any plane prior to it, and nearly every plane since. The purpose of the plane was to covertly fly over the Soviet Union and obtain super-high-quality aerial photographic images during the cold war. The U.S. government still flies some U-2's – 65 years after its maiden covert flight on July 4,1956.
The story, beautifully woven by Monte Reel, reveals the fascinating personalities of those involved in the project, and weaves back and forth from the CIA to Lockheed to Polaroid to the U-2 secret bases, and the pilots themselves. I recently spoke with John and Mary McCann about the book. John said that Reel's writing succeeded in making him feel as if he was actually in the room with Land – hearing his voice. John and Mary asked Reel about this, and he told them he had read through countless declassified transcripts of CIA meetings about the U-2 - many of which included Land. Reel also shared his insight that he thought it was ironic that spies would write everything down! Interestingly, John McCann's first office at Polaroid had previously been used as a meeting room for the secret meetings that Land held with the U-2 team members – long before John began working at Polaroid.
Anne and I are so glad that John and Mary gave us this wonderful book, as I suspect we would never have found it on our own. I hope some of you will feel the same if you decide to take the book for a test flight.
The book goes into amazing detail about the challenges faced in designing a high-altitude spy plane built with the sole purpose of recording photographic images of earth below with image quality that was beyond anything possible at the time. Many sophisticated, as well as simple utilitarian solutions were needed to solve countless challenges. In the book you will learn what sanitary napkins have to do with the successful operation of a U-2 plane! A myriad of photographic and technical innovations included Kodak designing a special super-thin polyester based film to save weight, and also allow for a greater number of photographs to be made during a single flight over the Soviet Union. In addition, legendary astronomer and optical designer Dr. James Baker designed new high-performance lenses and camera systems for the U-2. Years later Land turned to his old friend, Baker, to design the complex and innovative optical system for the folding Polaroid SX-70 camera.
Here are two of my favorite quotations (among many) from the book:
One of the best ways to keep a great secret is to shout it.
— Edwin Land

You can't put your foot in your mouth if you keep your mouth shut.
— Clarence Kelly Johnson
Anne says the book A Brotherhood of Spies, is not just for tech geeks like me! We both highly recommend it! Here is the link to A Brotherhood of Spies at Amazon.com.
SOME THOUGHTS ON PHOTOGRAPHY... AND OTHER TOPICS
There is something about photographers and scientists
that has been helpful during the past two years.
Our jobs are to look for things in nature, images and ideas.
We cannot be too invested in old expectations,
because that hinders us from seeing, and finding,
excitements in the future.
— John McCann