Winter weather has arrived in Carmel Valley as Anne and I are preparing this eNewsletter. We have received our first serious rain, and the temperatures have dropped considerably. It is the kind of weather we enjoy in our little side canyon off of Carmel Valley.
We recently returned from the Eastern Sierra having completed our first in-person workshop in three years! We were afraid that we might have "lost our touch," but once the workshop was underway, it was kind of like riding a bicycle - relatively smooth sailing almost immediately. I taught my first photography workshop in 1975, so I guess over the decades I have developed a certain "muscle memory" in my approach to teaching.
It was great to be surrounded by a wonderful group of energetic and enthusiastic photographers. We were extremely fortunate with the timing of the fall colors and having favorable weather during the workshop. The day after the conclusion of the workshop, we experienced 70+ miles per hour winds - along with rain, hail, sleet, and snow - not to mention the longest lasting rainbow (more than two hours!) either of us had ever experienced. This was all in one day! Had this weather occurred during the workshop, it would have likely required us to spend the entire day inside. While it was beautiful to the eye, the wind would have created insurmountable photographic challenges - especially for those folks working with large format view cameras!!!
We are pleased to be offering the Mono Lake and the Eastern Sierra: Exploring Autumn Light workshop next year. This will be the thirteenth offering of this very popular workshop. You can get all of the detailed information concerning the workshop below.
As unwanted emails continue to grow in number and frequency it is a challenge for us to try and make sure our eNewsletters successfully reach our subscribers. I have a more dificult time than some–thanks to my last name!
Please help us reach you by making sure you have your spam filters and email software set to accept info@johnsexton.com, and be sure to let us know if you change your email address.Thanks!
Anne and I hope that you and your family have a wonderful Thanksgiving and holiday season ahead. I will be busy in the darkroom making prints for the new special print offer announced below - as well as a few other projects.
Cheers!
John
ORIGINAL SILVER GELATIN PRINT BY JOHN
AVAILABLE ONLINE AT DISCOUNTED PRICE
I am pleased to offer this handmade silver gelatin print of my image Winter Trees, Fog, Yosemite Valley, California at a special reduced price at the Ventana Editions online store. From now until December 31, 2022 I am offering this 11x14" silver gelatin print for $700 - a 30% discount off of the normal gallery retail price of $1,000. On January 1, 2023 the price increases to $1,250.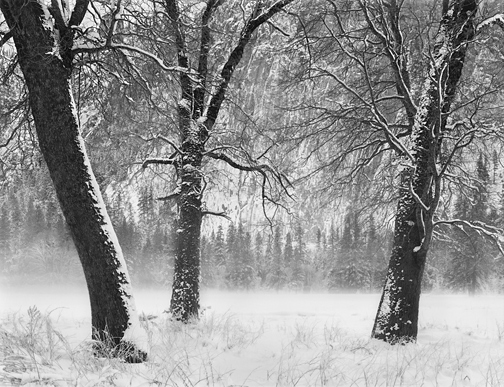 Winter Trees, Fog, Yosemite Valley, California
©1990 John Sexton. All rights reserved.
To learn more about the print, Winter Trees, Fog, or to place an order, follow this link:
https://ventanaeditions.stores.yahoo.net/witrfoyovaca.html
This photograph was made two days before Christmas in 1990. It was on this trip that I first attended the legendary Bracebridge Dinner (written in large part by Ansel Adams) at the historic Ahwahnee Hotel in Yosemite Valley. A few years before, a group of close photography friends decided we would all enter the lottery to attend the Bracebridge Dinner. (At that time there were only three Bracebridge offerings each year, and demand greatly exceeded capacity). Our agreement was that if one of us was fortunate enough to win a table in the lottery, we would all attend. This all came together in 1990. Since we were all interested in photography, we stayed additional days in Yosemite Valley to explore photographically, along with having a fantastic time attending the memorable dinner and performance.
It was the coldest time I have ever experienced in Yosemite Valley. The low temperature got down to 6 degrees Fahrenheit as I recall. Some of us were staying in very rustic, and in those days affordable, Curry Village cabins. Without going into great detail, I can only say that the flush toilets stopped working as the drainpipes were frozen!
Along with the cold, we were fortunate to have snowy conditions. As I have mentioned in past newsletters, El Capitan Meadow is one of my favorite areas of Yosemite Valley - especially if there is snow. This image, Winter Trees, Fog, Yosemite Valley, was made one afternoon as a few of us from the group were wandering about El Capitan Meadow enjoying the winter wonderland. I can still hear the cold snow crunching under my boots and feel the sting of the frigid breeze on my skin. As is often the case as the temperature begins to change, mist and fog can quickly form and then dissipate in various parts of the valley. I had been studying this group of three oak trees. I liked the dark curving gestures of the trunks in contrast with the snow covered meadow, but felt something was missing. Then the mist began to appear!
I quickly set up my 4x5 Linhof Technika camera with my 120 mm Nikkor-SW lens. I used the slightly wide angle lens to try and give the dark tree trunks a sense of presence hoping that the mist would add a tonal separation and create an illusionary sense of depth by lightening and obscuring the details in the background. I had to work quickly as the fog was constantly moving. As is the case with many photographs that I make in the snow, I used my Wratten #12 yellow filter in an attempt to reveal the subtle modulation in the snow, which can be so difficult to render in soft light. The negative is challenging to print in terms of balancing the tones of the near tree trunks as well as the distant cliff and row of trees at the bottom.
It was a cold day, but I am glad that we decided to bundle up and defy the frigid weather, rather than spending the afternoon indoors by a cozy warm fire. I hope you enjoy the image!
Prints will begin shipping on December 1, 2022. If you would like to receive your print in time for the Holidays, please be sure to let us know at the time of your order. It would be a good idea to follow up with an email as well. We will make every effort to ship prints out in time for holiday gift giving for those who need them. All of the remaining prints ordered will be shipped no later than March 15, 2023.
This silver gelatin, selenium toned, print is approximately 13-1/4 x 10-1/14", personally printed by me (as are all my prints), processed to current archival standards, signed, mounted, and matted to 16x20" on 100 percent rag museum board. All prints are carefully prepared and packaged in specially designed protective shipping boxes, and shipped fully insured via UPS ground. If you have any questions about the print, please feel free to contact Anne at 831-659-3130, or email: info@johnsexton.com. Our office hours are Monday through Thursday from 10:00 am to 1:00 pm, Pacific Time.
You can see the image and place a secure online order for the print at the Ventana Editions web store:
https://ventanaeditions.stores.yahoo.net/witrfoyovaca.html
---
13th ANNUAL "MONO LAKE AND THE EASTERN SIERRA: EXPLORING AUTUMN LIGHT" WORKSHOP
WITH ANNE AND JOHN OFFERED IN OCTOBER 2023
As mentioned above, Anne and I had a wonderful time leading (at last!) our recent Mono Lake and the Eastern Sierra: Exploring Autumn Light workshop. We are pleased to announce next year's offering of this special workshop.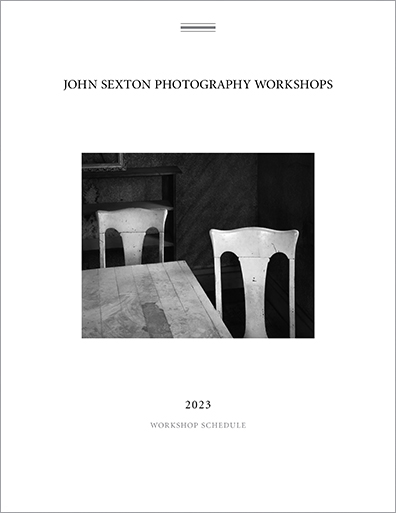 If you are interested in next October's Mono Lake and the Eastern Sierra: Exploring Autumn Light workshop, be sure to apply early, as this workshop always fills quickly. The 2023 session will be the 13th offering of this popular workshop! Anne and I both personally review all applications and try to assemble a workshop group that will create a stimulating environment for all who attend – both traditional and digital photographers are invited to apply for this synergistic field workshop experience. On our workshops we try and provide an environment that presents useful information, as well as inspiration, to encourage personal growth in your photography.
I want to thank all of our workshop Corporate Partners and Associate Partners for their support of the program over the years. It is amazing to realize it was more than 45 years ago that I taught my first small workshop with my long-time friend John Charles Woods for a handful of fellow photography majors at Cypress College.
Again, to learn more about the workshops, or to apply, please visit my web site www.johnsexton.com where you can download the complete workshop brochure as well as the application form here: http://www.johnsexton.com/schedule.html.
---
REMEMBERING BEVERLY AND JACK WALTMAN
FRIENDS, COLLEAGUES, PATRONS, COLLECTORS
AND SO MUCH MORE
A number of readers will remember our dear friends Jack and Beverly Waltman from workshops that you attended at our home and studio over the years, or from other photography workshop programs and organizations that they were both involved with. Jack passed in December 2019, and Beverly passed in late August of this year. I wanted to take this opportunity to reflect on these two wonderful human beings, that Anne and I were privileged to call friends.
I first met Jack and Beverly Waltman in 1976 at Brett Weston's home in Carmel Valley, California. Brett very generously invited me to "camp" in his driveway when I made trips from my home in Southern California to the Monterey Peninsula - which typically happened four or five times a year. It was on one of those trips that I met two amazing people. I had no idea that they would become such close friends, and over the time would begin to refer to me as "part of the family."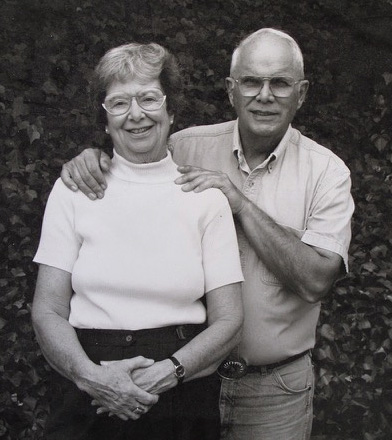 Beverly and Jack Waltman
©Ray McSavaney. All rights reserved.
As was typically the case when staying with Brett, I would head out after breakfast for a day of photography or visiting other photographers. On this day, Brett inquired about my plans. I told him, I was planning to photograph at Point Lobos. His said to be sure to be back by "4'ish." He wanted me to meet some "important collectors" from Southern California - my neck of the woods.
I arrived back at Brett's home around 3:30 pm. Brett was fully prepared with two large stacks of his prints on the counter. Promptly at 4:00 pm, there was a knock on the door. Two smiling people entered, and Brett introduced me to 'Jack and Bev.' Brett showed them his most recent work and they - as had been hoped by Brett - purchased several prints. Brett suggested that they might like to see some of my work, and I was happy to share it with them. After viewing prints, we had a lively discussion in Brett's living room. Jack asked for my contact information, and he and Bev shared theirs with me. I mentioned that I would soon be having my Senior Exhibition at Chapman College in Orange, California. They said, they would love to attend the exhibition.
Each Saturday of my Senior Exhibition at the Guggenheim Gallery at Chapman, I was in the gallery welcoming visitors. Jack and Beverly were there and carefully studied every print. It was that day that they purchased their first prints from me for the whopping price of $30 per print! We kept in touch through the summer months. I advised Jack that I was going to be teaching an evening class in Creative Photography for the North Orange County Community College District beginning in September. Although it was about a 100-mile round trip, Jack signed up for my very first offering of what would become a popular photography class. He made the long drive every week and continued to take classes each semester - including summer sessions - through June 1979.
I can honestly say that I never had a more enthusiastic, or harder working, student than Jack. In addition, Jack also attended numerous workshops I taught over the years. Once he had taken every single class and workshop, I had available, I invited him to assist me on my most advanced workshop–Fine Tuning the Expressive Black and White Print. Jack assisted me very ably for more than a decade on that workshop.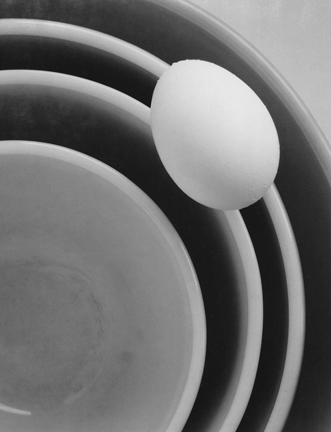 Egg and Bowls
From Around the House Portolio by Jack Waltman
Polaroid Land Type-52 print
©1977 Jack Walman. All rights reserved.
Jack was a most talented photographer in his own right. Even though Beverly was not a photographer, she was always with Jack. She likely knew the content of my workshop better than me, and on a few occasions would remind me of a story I had forgotten to tell, or something that did not jive with a previous session - which I always welcomed! Jack always laughed at the correct moment as if he had never heard that joke or story previously. In reality, he had heard some of these tales countless times before. He was always interested and generous. Sharing his knowledge, his photographs, and his insights with workshop participants. Jack was a great person at building and maintaining camaraderie, and Beverly was an important part of that process. One could not ask for better workshop partners than Jack and Bev.
In 1980, when I took over as Director of the Ansel Adams workshops in Yosemite, I asked Jack to be one of the group assistants. In 1982, when we moved the workshops to the Monterey Peninsula, Jack continued to assist at those workshops as well as other workshops offered by the Friends of Photography, and participate as an instructor and assistant on other workshop programs.
Jack's "day job" was that of a radiologist. During workshops, I would often joke that Jack was one of the few radiologists that offered dodging and burning of his x-rays for his patients! As it turns out, Jack's skills as a radiologist actually played an essential part in a famous Robert Rauschenberg print, Booster. In 1967 while working at the hospital, Jack received a call from an old high school friend and former fraternity brother at USC. It was Sidney Felsen, one of the founders of the legendary printmaking workshop, Gemini G.E.L. He told Jack that he had an artist named Robert Rauschenberg, who wanted to have a life size full-body x-ray made of himself for a print he was working on. Jack asked Sidney to send him over and he would be happy to accommodate. Rauschenberg posed nude (except for his Army boots) for the set of six x-rays. The finished print was at the time the largest hand-printed lithograph ever produced measuring nearly six feet in length. Once the edition of prints was completed, Jack and Beverly were offered one of the huge images for an extremely modest price. They passed on the offer. On a number of occasions, they both said it might have been the biggest financial mistake they ever made! Booster sold at auction for more than $137,500 in 2016.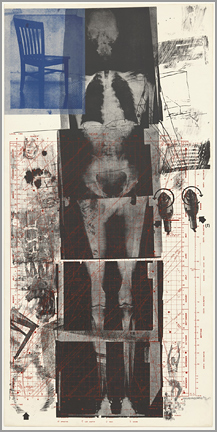 Booster
Robert Rauschenberg
X-ray exposures by Dr. Jack M. Waltman
©1967 Robert Rauschenberg Foundation. All rights reserved.
As our friendship grew, Jack and Bev continued to collect my work and became my longest running and most consistent patrons. They truly were "angels!" Their photography collection was not only vast, the quality of the prints that they had by so many highly regarded photographers was most impressive. I was honored to be a part of that collection. I actually had learned about Jack and Beverly - without knowing it at the time - a few months before I met them. I had curated an exhibition of Oliver Gagliani's photographs as part of my senior project as an art major at Chapman College. This was Oliver's first exhibition in Southern California. He came down from his home in South San Francisco for the opening - which was very well attended - and he stayed at my parents' house.
One day we drove into Los Angeles and visited the only two photography galleries at the time - G. Ray Hawkins Gallery and the Stephen White Gallery. During our drive, Oliver mentioned that he had collectors in Southern California who always bought print number 26 whenever they purchased a limited edition print. Oliver could not remember the couple's name, but both of us thought selecting print number 26 was an unusual choice. Not long after I met Jack and Beverly, I learned that they were the collectors who chose print 26. Jack explained that when they began collecting photography, they knew they would likely never get print number one out of a limited edition, so they chose 26 as it represents 1926 - the year of both Jack and Beverly's birth.
Jack liked to tell the story of an early purchase of Ansel Adams' Portfolio Four. The introductory price, when the portfolio was published by the Sierra Club in 1963, was $150. Jack had recently completed medical school, and their financial situation was "tight." Jack asked Beverly if he could purchase the portfolio and she responded, "$150 for some photographs?" Jack contacted the Sierra Club office in San Francisco and asked if it would be possible to make time payments. They said that was no problem. Beverly reluctantly agreed to the purchase. After six monthly payments of $25.00 they received their portfolio of fifteen original Ansel Adams prints. (Yup, $10 per print!). This was one of their best investments in photography, but more than that it was a treasure they never parted with. Portfolio Four (my personal favorite among all of Ansel's portfolios) sold at auction for more than $56,000 (~ $3,750 per print!). Portfolio Four became a foundational cornerstone of their amazing photography, modern art, and book collection as it grew in size and quality over the decades. A number of prints from their collection are in the permanent collection at The Huntington Library in San Marino, California.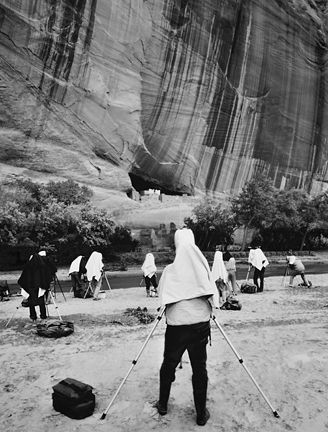 The Zonies
Canyon de Chelly National Monument, Arizona
Jack Waltman in foreground
©1987 John Sexton. All rights reserved.
As the years passed folks on workshops would often ask Jack and Bev how they stayed so young. Beverly would always reply with a version of, "We stay young because we surround ourselves with young people." Anne and I were most fortunate to be included in their group of young friends. Even as they advanced in years, their love of life, and their enthusiasm for art and photography, were truly inspirational for us.
Anne and I miss Jack and Beverly greatly. They were special friends to us and to many others. They helped us get through difficult times, not just by collecting photographs and supporting our work, but by being true friends. To borrow a saying from our mutual friend Ruth Bernhard, they are now "flying with the angels."
ARTEMIS I MISSION TO THE MOON LAUNCHES
WITH HELP OF SPACE SHUTTLE PROPULSION
A BEHIND THE SCENES LOOK
A few hours ago, NASA's Artemis I Mission thundered off of Launch Pad 39B at NASA's Kennedy Space Center in Florida. What you may not be aware of is that the four R-25 engines providing thrust to Artemis I have all flown previously on Space Shuttle missions. These four powerful, reusable, engines have flown on a total of 25 previous Space Shuttle flights. At that time, they were known as Space Shuttle Main Engines (SSME's) and each orbiter was equipped with three such engines. The new Space Launch System (SLS) achieves its primary thrust from two huge Solid Rocket Boosters (SRB's). These boosters also contain segments that flew on Space Shuttle missions in the past.
The Artemis Program consists of four planned missions. The program is named after the Greek goddess Artemis–twin sister of Apollo– both divine archers. There is no crew on Artemis I. If Artemis I is successful, Artemis II will take four astronauts near the moon in 2024. After that, Artemis III will take a crewed spacecraft for a moon landing. Finally, Artemis IV will fly to a space station near the moon. Artemis I is scheduled to be away from Earth for a planned 25 day mission. During much of that time Artemis I will be traveling 1.3 million miles–many of those miles orbiting the moon–before the Orion capsule splashes down in the Atlantic on December 11, 2022.
As many readers know, I undertook a personal project to photograph NASA's Space Shuttle. I worked on the project for more than seven years, and had many magical experiences while attempting to photograph the complex technological, mechanical elements of the Space Shuttle system as aesthetic objects. I had the wonderful opportunity to get "up close and personal" with the Space Shuttle orbiters as well as their many components, including the Space Shuttle Main Engines and the Solid Rocket Boosters. I had no idea that at some point in the future NASA would go to its own "Pick & Pull Junk Yard" to appropriate propulsion hardware for this Artemis I mission.
I thought readers might find it interesting to take a closer look at the Space Shuttle Main Engines as well as the Solid Rocket Boosters in the images below.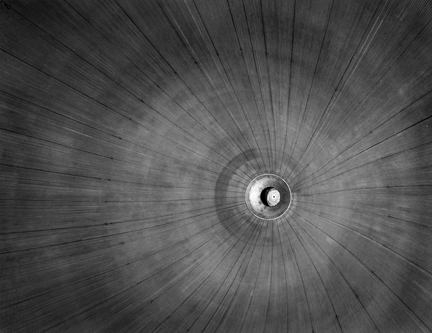 Space Shuttle Main Engine Detail Kennedy Space Center, Florida
©1996 John Sexton. All rights reserved.
This amazing visual vortex is a view directly into the exhaust bell of a Space Shuttle Main Engine, or SSME. The linear pattern within the exhaust bell is created by 1,024 titanium tubes which are constantly filled with super-cooled liquid hydrogen to provide cooling of the exhaust bell housing.
These powerful rocket engines - the only reusable rocket engines in history - each produced over 400,000 pounds of thrust. To put this in perspective each SSME generates as much power - converted to Watts - as seven and a half Hoover Dams. A single engine consumes 970 pounds of Liquid Oxygen and 162 pounds of Liquid Hydrogen per second. The turbo pumps on the three main engines are so powerful they would empty a typical swimming pool in 23 seconds.Each R-25 engine used on Artemis missions has been upgraded, and now can produce more than 500,000 pounds of thrust.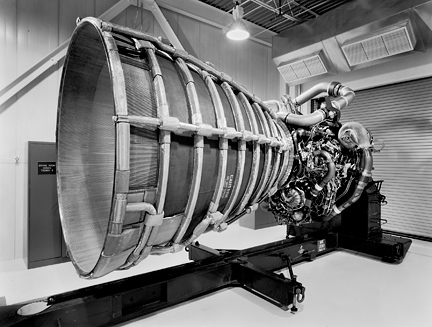 Space Shuttle Main Engine on SSME Handler, Kennedy Space Center, Florida
©1999 John Sexton. All rights reserved.
The Space Shuttle Main Engine (SSME) is the world's most sophisticated reusable rocket engine. Each powerful main engine is fourteen feet long, weighs nearly 7,000 pounds, is 7.5 feet in diameter at the end of the nozzle, and produced 400,500 pounds of thrust at liftoff. These engines operate at greater temperature extremes than any mechanical system in common use today. The fuel, liquid hydrogen, is -423 degrees Fahrenheit, the second coldest liquid on earth, and when burned with liquid oxygen, the temperature in the engine's combustion chamber reaches +6,000 degrees Fahrenheit, hotter than the boiling point of iron.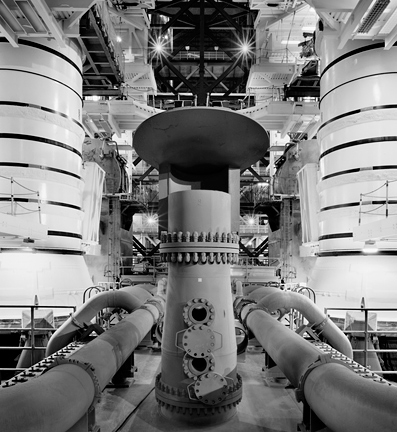 Rain Bird and Solid Rocket Boosters, Vehicle Assembly Building Kennedy
Space Center, Florida
©1997 John Sexton. All rights reserved.
The central object in this image is commonly referred to in 'NASA speak' as a Rain Bird, and it is essentially that–a gigantic sprinkler. This unit, and five other Rain Birds, along with other water outlets make up the Sound Suppression System. This system disperses 300,000 gallons of water in twenty seconds to protect the launch pad from the intense heat of the Space Shuttle's powerful Solid Rocket Boosters, and provides a cushion from the acoustic shock wave from rocket's exhaust. Without this protection cushion the blast from the Solid Rocket Booster's ignition would literally shake the Space Shuttle to pieces. Each Rain Bird stands twelve feet tall, and is forty-one inches in diameter. The Solid Rocket Boosters visible on the sides of the image are twelve feet in diameter, standing 150 feet tall, with each booster weighing over one million pounds.
Anne and I were fortunate to experience one Space Shuttle launch. Like the Artemis I liftoff, it was a night launch. NASA folks had told us how bright it would become as the spacecraft left the launch pad. One friend said, "It will be bright enough to read a newspaper." We assumed that was likely a bit of an exaggeration. It was not!!! Anne and I will never forget the experience we had from atop the 525 foot high Vehicle Assembly Building watching, feeling, and hearing the power of Atlantis soar into the heavens.
Go Artemis I !!!
BRETT WESTON EXHIBTION
SAN JOSE MUSEUM OF ART
BEHIND THE SCENES STORY
Anne and I recently had the opportunity to visit the exhibition Brett Weston at the San Jose Museum of Art. The exhibition, which includes 51 silver gelatin prints by Brett, opened in July and is on display through January 22, 2023. I was unaware of the exhibition until I received an email from a friend that mentioned a story about me that was included in a Wall Street Journal online article in September. I was surprised, and quickly clicked on the link. The article by William Meyers is a review of Brett's exhibition at the San Jose Museum of Art, and in the article I found this story mentioning me:
"Pan Grease, California" (1976) has an interesting back story. Photographer John Sexton was camping at Weston's home in Carmel, Calif.; Weston made a fancy wine-soaked dinner and afterward put the greasy pan in the sink with some soap. The next morning, Sexton got up at 6 and found Weston already at work in the backyard photographing the greasy pan. Weston shot a whole roll of film, 12 exposures, and by afternoon had a print of the pan, ameboid globules floating over the shiny metal. When people speak of someone having "an eye," they mean the ability to see the potential for beauty in a greasy pan.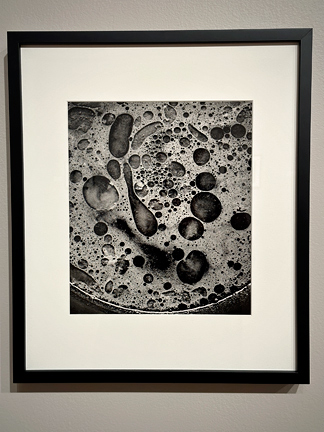 Pan Grease, Carmel Valley, California
©1976 Brett Weston Archive. All rights reserved.
I do not believe I know Mr. Meyers and I am not sure where he heard this story as I have never written about it - at least to the best of my recollection. I have told the story several times on workshops and may have mentioned it briefly in a lecture or two over the years.
The WSJ article has a few errors, but the general flavor of the story is accurate. Let me fill in a few additional details and clarifications...
As mentioned above in the text about Jack and Beverly Waltman, I did frequently "camp" in my van in Brett's driveway. Brett had recently moved from Carmel to Carmel Valley when this transpired. Brett and I had enjoyed a dinner together. Brett's cooking repertoire was limited - but everything he made was very tasty. Among my favorites were "Eggs Brett." That evening we had "Wino Burgers." The main ingredient - aside from ground beef - was red wine and lots of it!
When I came in the front door early in the next morning to head to the shower, I heard the unmistakable sound of a mirror locking up on Brett's Rollei SL-66 camera. Brett had the pan he had used for cooking the "Wino Burgers" positioned on the floor. The evening before he had put some dishwashing detergent and water in the pan so it would be easier to clean in the morning. Unlike most people who might just have thought "this looks interesting," Brett took the pan, set it by the sliding glass door inside the house - not outside. He was hovering over his Rollei with the tripod set low pointed straight down at the pan. I can not recall if Brett exposed a full roll of film-but he probably did. I do recall that he was using Agfapan 25 and he did process the film that day using Agfa Rodinal developer. I can assure you he did not print the negatives that day. Brett normally started the day printing in the darkroom around three in the morning. As I recall, it was the next morning when he began to print from the roll of film and made the print today known as "Pan Grease." A print of that image is included among the 51 prints currently on exhibit at the San Jose Museum of Art.
Several the prints included in the exhibit are vintage prints. Unfortunately, a few of these seem to be suffering from deterioration due to age and possibly accidental improper processing. I have always felt that Brett's most effective and memorable photographs are his abstractions and the exhibit at the San Jose Museum illustrated this clearly for Anne and me.
Along with the photographs, the film Brett Weston: Photographer by my old pal, Art Wright, is showing continuously. I used to rent the 16mm film from Art every semester to show to my photography classes. I recently came across a 1977 rental receipt from Art and we had a good laugh via email when I sent him a copy. He made the film in 1972 and it is a very accurate depiction of a one-of-a-kind person with a unique photographic vision - Brett Weston. We offer a DVD version of Brett Weston: Photographer at our Ventana Editions online store.
If you are in the Bay Area, I think that you should consider visiting this exhibition. As is the case with nearly all museum exhibitions, the lighting - to use a technical term - sucks. We have seen far worse but the lighting level required for museum standards for black and white silver gelatin photographs never allows the prints to reach their full potential. It was exciting to see such a handsome collection of Brett's abstract images - along with several landscape photographs. It was particularly interesting to see my old pal Pan Grease on the wall.
FUN DURING OUR RECENT EASTERN SIERRA TRIP
Anne and I had a great time during our recent trip to the Eastern Sierra. Our Mono Lake and the Eastern Sierra: Exploring Autumn Light workshop was a blast! In addition, we had a bunch of fun before, and after, the workshop. We hope you enjoy a few of our iPhone happy snaps!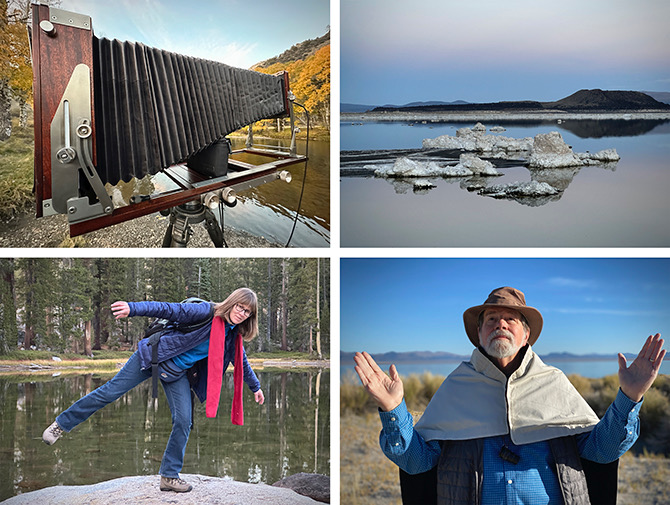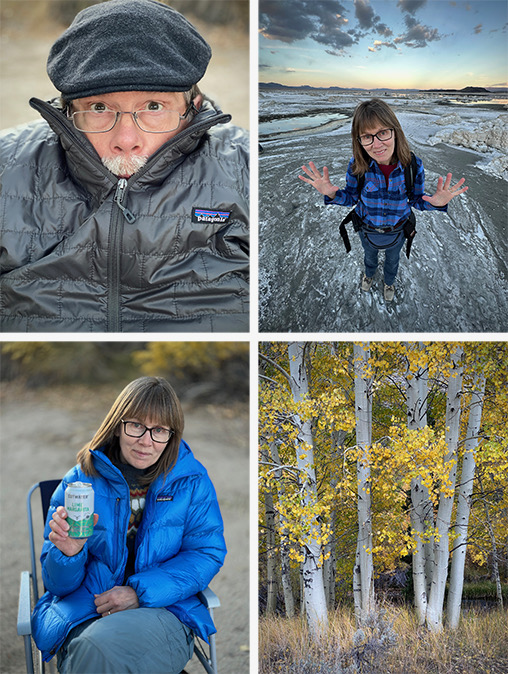 Cheers!!!
---