JOHN SEXTON PHOTOGRAPHY NEWSLETTER
December 2006


---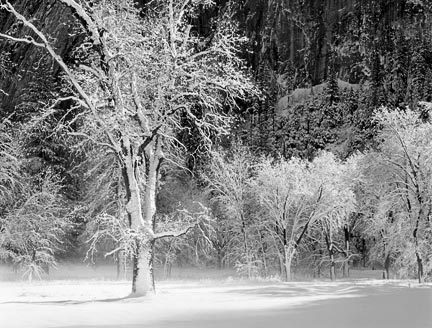 Fresh Snow on Trees, Sun, Yosemite Valley, California 2005
from the book Recollections: Three Decades of Photographs

---
Greetings,
Anne and I want to wish all of our email newsletter subscribers a Happy Holiday season. It's amazing that 2006 is already nearly gone. Needless to say, it was a busy year for us with the final production and publication of my new book Recollections.
I wanted to give you an update on Recollections...
The sales of both the hardcover edition, and the Deluxe Limited Edition of Recollections have exceeded our expectations. We have been shipping out lots of signed and inscribed copies to those who have purchased the book directly from us. In addition, the book has enjoyed great success at online retailers and booksellers throughout the country. I am flattered that two of the four Deluxe Limited Edition images have already sold out, and the third image is nearly gone. I want to express my thanks to all of you who have purchased the book.
The feedback we have received about the book has been terrific. I have received many complimentary emails, notes, and letters about Recollections. A few weeks ago I received a number of emails from friends directing me to a review about Recollections at a web site called Tao of Photography. I was honored, and humbled, by the most generous and thoughtful review written by Andrew Ilachinski. I have never met Andy, and until a few days ago when I asked permission to quote from his review, I had never communicated with him. Here is what Andy has to say about Recollections:
The on-line Oxford Dictionary defines the word magnificent simply as "impressively beautiful"; where beauty is said to be "a combination of qualities that delights the aesthetic senses." While both words come to mind in describing John Sexton's new book, Recollections: Three Decades of Photographs, if we are to go by Oxford's rather banal definitions, neither word even comes close to conveying the depths of visual and spiritual pleasures that await anyone who focuses their eye on the masterful B&W images assembled here.

Though I own hundreds of photography books, and regularly peruse most of them for years, I have had a relatively few "Wow!" reactions over the years - indeed, the last such experiences are at least two decades old (!): to Bruce Barnbaum's late 1970s' Visual Symphony and, in the middle 1980s, to Fay Godwin's Land - but Sexton's new Opus not only evoked an immediate heartfelt "Wow!" from me, it also raises the bar on what will trigger a similar exclamation from me in the future. I sat transfixed for hours after receiving it in the mail yesterday, and already consider it a sacrosanct member of the deepest core of my photography library. It is truly an extraordinary work of art; one that I will be savoring - and learning from - for years to come.

It is also clearly the work of a master photographer and printer, at the height of his creative powers; and a "master" not just of the "moment" compared to his living peers, but a "master" as judged in the context of the history of the medium.

Of course, it is impossible to describe the "contents" of this book, except to say that it contains 52 plates (and a few short essays) of such things as rocks, trees, and water. But, as with all great photographic art, by the time you get to even the second image, such conventional, blandly and trivially representational categories are understood as absurd and meaningless. The best of Sexton's images - and there are none in this book that are not! - capture spirit itself.
As you might imagine I was thrilled by this completely unsolicited review. (I would not have been so generous myself!) Reading the review made the day for both Anne and me. Check out Andy's web site and his Tao of Photography blog. It is described as "Musings, speculations and links relating to photography, science, art and the creative process (and an occasional photograph or two)." I hope to meet Andy some day so I can say "thank you" to him in person.
During our whirlwind three-week tour on the East Coast I presented 9 lecture/book signing events. We made lots of new friends among the nearly 1,500 people that attended the lectures. While in Rochester, New York I had a meeting with Antonio Perez, Chairman and CEO of Kodak, where we discussed the importance of ongoing production of silver halide film emulsions into the future. I came away from our meeting reassured that Kodak Professional films would be available well into the future... as long was we continue to buy them!!! I will give you more details about this meeting in a future newsletter.
While in New York City for the PhotoPlus Expo (where we visited with hundreds of photographers during three days of book signings) I did my first "Podcast" interview. It was great fun visiting with Annie Frisbie of Zoom In Online and talking with her about my new book. You can listen to the interview at the Zoom In Online web site. You don't need an iPod to listen (I don't have one myself!) ... just your web browser.
Look for more reviews and articles about Recollections in photographic magazines during the coming months in Emulsion, Photo District News, Black and White (from the U.K), Popular Photography, and others.
Finally, I will be presenting lectures in Southern California, including one on Ansel Adams, in March 2007. I will have a detailed schedule of these events in the next edition of the newsletter.
Wishing you happiness, peace and good health for the Holidays and in the coming New Year.
John
---

If you are receiving this message in error, please accept our apologies. If you prefer not to receive future email updates from us, just send a quick note with your email address to mailto:remove@johnsexton.com and we'll take care of it. We respect your privacy, and do not disclose email information to outside mailers.


Copyright © 2006 John Sexton. All rights reserved.