Draped Torso 1962
Photograph by Ruth Bernhard
©1962 Ruth Bernhard. All rights reserved.
---
I have some sad news to report. My long-time friend Ruth Bernhard passed away peacefully at her home in San Francisco Monday morning, December 18th. Ruth was 101 years young! Anne and I were deeply saddened by the loss of our friend, but find solace in the fact that Ruth lived such a remarkable life.

There are a number of subscribers to this email newsletter that experienced Ruth's magical personality firsthand on workshops that we taught together over the years. Those of you who knew Ruth will understand completely when I say that Ruth was truly one-of-a-kind. People who did not know her firsthand can find her inspiration in the legacy of photographs she leaves behind.

Ruth's career in photography spanned more than seven decades. Her photographs always seemed to be ahead of their time. Along with her amazing talent as a photographer, Ruth was a gifted teacher. I first met Ruth in 1974 when I was a student at a small workshop she conducted in Southern California. From that very first experience, I knew that Ruth was an exceptional person. I feel privileged to have known her over these many years.

With Ruth's passing a bright light in the world of photography has been dimmed— but only temporarily. Ruth's photographs will shine with great luminosity, and beauty far into the future. Rather than try to describe more fully what Ruth was about, I thought I would include some of her words— Recipe For A Long and Happy Life— which she presented to all the attendees at both her 90th and 100th birthday celebrations. I believe there is wisdom to be found in Ruth's words. You can find Ruth's recipe below. In addition, here are links to articles about Ruth's rich life that appeared in the December 19th San Francisco Chronicle and the December 20th Los Angeles Times.

Many will miss Ruth (including Anne and me), but no one will forget her. As Ruth said many times, she is now "flying with the angels." I think the angels will soon be seeing things with new eyes!

Here's to you Ruth,
John


---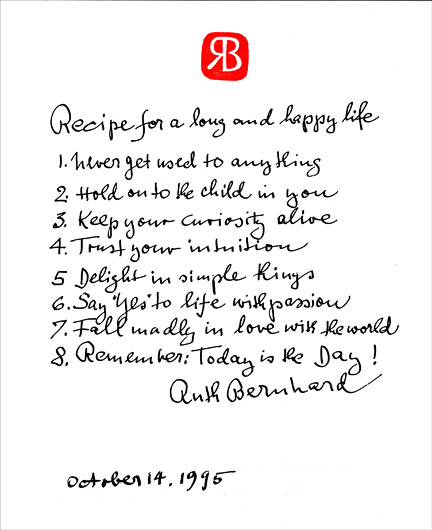 RECIPE FOR A LONG AND HAPPY LIFE
1. Never get used to anything
2. Hold on to the child in you
3. Keep your curiosity alive
4. Trust your intuition
5. Delight in simple things
6. Say "Yes" to life with passion
7. Fall madly in love with the world
8. Remember: Today is the Day!
–Ruth Bernhard
October 14, 1995
---

If everyone could love life,
the world would be a better place.
– Ruth Bernhard