It's time for the last of my occasional eNewsletters for 2010. Anne and I hope you had a Happy Thanksgiving. We had a busy day working in the darkroom, but found time to enjoy a terrific Thanksgiving feast together.
Just a few days before Thanksgiving we completed yet another offering of the Expressive Black and White Print workshop. We had an enthusiastic group of participants, and I believe it's safe to say that all involved (including Anne and me) found it to be an invigorating and enjoyable experience. Long ago I lost count of how many times I've instructed this particular workshop, but I still have a great time conducting this class. No two workshops have ever been the same, and each one has been a great opportunity for me to learn from the participants and hopefully share some worthwhile information with them.
In October, Charlie Cramer and I instructed the premier offering of our Mono Lake and the Eastern Sierra: Exploring Autumn Light workshop. We had a huge waiting list for this workshop, and based on the feedback we got from participants it was a great success. I am looking forward to repeating the Mono Lake and the Eastern Sierra workshop, as well as The Luminous Print: A Synthesis of Traditional and Digital workshop with Charlie in 2011. Each of these workshops had sizable waiting lists, so if you're interested be sure to apply early. Those who are eNews subscribers will be among the first to receive specific dates and registration information. Naturally I'll be offering the Expressive Black and White Print workshop in 2011, and by popular demand we will have two offerings of my Fine Tuning the Expressive Print workshop. We anticipate making announcements about the upcoming workshops shortly after the first of the year. If you're not yet subscribed to this eNewsletter, now would be a great time to do so.
2010 has been a very busy year for us. My retrospective exhibition John Sexton: A Photographer's Journey was a big hit at the Center for Photographic Art in Carmel. I was flattered to learn that the exhibit broke the single month attendance record at the Center for recent years. It was wonderful to see so many friends and eNews subscribers at the lecture I offered in conjunction with the opening. Speaking of the Center for Photographic Art, they held their annual fundraising print auction a couple of weeks ago, and it was a great success. I was pleasantly surprised to learn that the print I donated sold for the highest price of all the prints included in the auction. It went for more than two and a half times its retail price, which was good for the Center and pleased Anne and me a great deal.
In August I had a successful exhibition at the Ansel Adams Gallery in Yosemite. Again we saw lots of old friends, and met a number of new ones at the opening reception. I presented my first outdoor lecture - which had an amazing attendance at the Yosemite Lodge the evening of the opening reception. I can't remember how many exhibitions I've had at the Ansel Adams Gallery over the years, but my first show there was thirty years ago. Wow, time flies!
In my previous email newsletter, I offered two Special Collector's Edition prints available simultaneously. The response was so positive that I'm doing the same thing again with this eNewsletter. In addition, we are offering a special discount coupon to eNews subscribers. If you enter 'HOLIDAY10' (without the quotation marks) during the checkout process, you'll receive 10% off either or both of the two new images listed in detail below.
In closing Anne and I hope you and your family will have a joyous Holiday Season ahead. May 2011 be a year filled with good health and prosperity for all of us... as well as filled with a number of new, exciting images!
Happy Holidays,
John
---
ORIGINAL PRINTS AVAILABLE AT A SPECIAL DISCOUNT PRICE ONLINE
PLUS SPECIAL DISCOUNT COUPON
From time to time, I make special print offerings available at reduced prices. By popular demand this is the second time I will simultaneously offer two new Special Collector's Edition prints. The prints Interior, The Grotto and Beech Forest, Blown Snow shown below are now available for order online. Each print is being offered for a limited time at the very special price of $700. To learn more about these prints, or to order, follow this link:
http://ventanaeditions.stores.yahoo.net/redeliedboan.html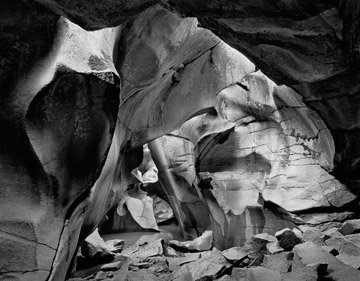 Interior, The Grotto
Near Aspen, Colorado
©1988 John Sexton. All rights reserved.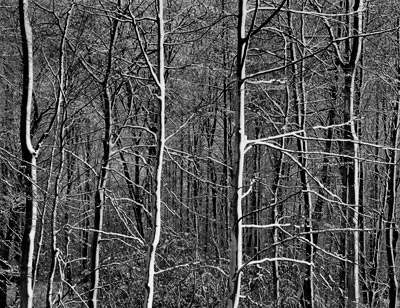 Beech Forest, Blown Snow
Langesø, Denmark
©1993 John Sexton. All rights reserved.
Over the years I've taught more than twenty workshops for Anderson Ranch Art Center, which is located just outside Aspen, Colorado. When I taught my first workshop in 1988 I learned from some of the resident staff members at the Art Center about a place called the ice caves at the Grotto. I had been near this location a number of times, but had never discovered the caves. In those days they were not marked, as they are today.
I was amazed when I climbed down the narrow crack in the granite and saw this beautiful sculpted cavern carved by ice over the eons. It was one of those moments when I knew I HAD to make a photograph.
I worked with my 90mm lens. The contrast was considerable, so I processed the 4x5 T-Max 100 film to N-3 to reduce the contrast of the negative. The camera movements available on my 4x5 view camera were a valuable asset in the making of this image, because of the extreme amount of depth of field needed. It was an overcast day and it is always rather dark inside the grotto. As I was about halfway through my four-minute exposure at f/45, I noticed something unusual appearing in the air. A light snowfall was beginning overhead, even though it was in early September. Some good friends of ours lived in the area for more than 30 years. During that time they experienced snowfall at least once on every calendar day! The ever-changing weather, magical light, and beautiful scenery is what has always attracted me to Colorado, as one of my favorite photographic destinations. You can find this image as Plate 41 in my first book Quiet Light.
I made Beech Forest, Blown Snow on one of my early trips to Denmark to visit my girlfriend Anne Larsen, today my wife! We were in Denmark for Christmas, staying at Anne's parents' house, which is near this location. A few months before I had made my first visit to Denmark and was immediately impressed with the beautiful beech forests.
I love photographing trees, and have a particular attraction to working in the forest in winter. While I enjoy the beauty of trees with spring and summer greenery, and find fall foliage to be striking, I continually find myself attracted to the naked dignity of bare trees in winter. I love how the shape and form of the trunks, limbs, and branches reveals the personality of trees.
When Anne and I encountered this group of beautiful beech trees, it was the day after a light snowfall just before Christmas. I was fascinated with the way the snow on the trunks and limbs created an inherently abstract pattern. Working with my 4x5 camera, I used a 300mm lens to make this photograph. The image was made at dusk (afternoon in Denmark!) and required a 15 second exposure at f/22. The T-Max 100 film was given N+1 development to intensify the abstract patterns within the image.
Rather than giving the impression of being within the forest, I wanted to try and create a two-dimensional abstract interpretation of the rhythm of the trunks and branches. This image is Plate 4 in my second book Listen to the Trees.
Each silver gelatin, selenium toned print is personally printed by me (as are all my prints), processed to current archival standards, signed, mounted, and matted to 16x20" on 100 percent rag museum board. Interior, The Grotto print is approximately 10-3/8 x 13-3/8" and Beech Forest, Blown Snow print is approximately10-1/4 x 13-3/8".
The discounted price for each print is $700, a $300 savings from the normal retail price of $1,000. As a subscriber to John's email newsletter, you can save an additional 10% on either or both of these two prints. To receive the special 10% discount; simply enter the code 'HOLIDAY10' (without the quotation marks) in the 'COUPON CODE' section of the secure web order form.
Normally there is a long waiting period for my original prints. This is a rare opportunity to obtain a print with prompt delivery, and at a special discounted price.
Prints ordered by December 4 will be shipped by December 10 in time for Holiday gift giving. Prints ordered after December 4 will be shipped by January 20, 2011.
All prints are carefully prepared and packaged in specially designed protective shipping boxes, and shipped fully insured via UPS ground. If you have any questions about John's prints, please feel free to contact my assistant Laura Bayless at 831-659-3130, or email: laura@johnsexton.com. Her office hours are Monday through Thursday from 10:00 am to 5:30 pm, Pacific Time.
---
KODAK SILVER ANNIVERSARY SPONSORSHIP OF JOHN'S WORKSHOPS
I am thrilled and honored that Kodak Professional will once again be the primary corporate sponsor for my 2011 John Sexton Photography Workshops program. This will be the 25th consecutive year Kodak has sponsored my workshops. This is unprecedented in Kodak's sponsorship of workshop programs. I want to heartily thank Kodak Professional, and in particular Scott DiSabato, Professional Film Marketing Manager for Kodak, for their dedicated support of my workshops and photographic endeavors for the past quarter of a century.
I am also pleased to announce that all of my other corporate workshop partners will be continuing as sponsors of the 2011 program. These include Light Impressions, Manfrotto Distribution, OmegaBrandess, The Tiffen Company, Dual Graphics, and Gore-Tex. I am honored that these fine companies have also chosen to continue support of my workshop program.
As mentioned above, we will be announcing the 2011 and early 2012 workshop program shortly after the first of the year in an email newsletter and on our web site. Stay tuned!
---
JOHN TO PRESENT KEYNOTE AT MOAB PHOTOGRAPHY SYMPOSIUM MAY 2011
I am honored to have been invited to present the keynote address at the upcoming 8th annual Moab Photography Symposium, May 12-15, 2011 in spectacular Moab, Utah. This event, organized by my long time friend and talented photographer, Bruce Hucko, should be a wonderful four days of information and inspiration. There will be lectures and workshops by Tom Till, Joan Myers, Jeff Vanuga, Michael Frye, Steve Traudt, Nat Coalson, Bruce Hucko, Rod Hanna, Rory Tyler, and yours truly.
In addition to my keynote address, which I will be presenting on Thursday evening, I will also be presenting my lecture Ansel Adams: A Personal Recollection on Saturday. I will be conducting mini-workshops on both Friday and Saturday afternoon. It sounds like it will be a busy, exciting, and interesting symposium.
I've known Bruce Hucko for many years, and we've shared a number of photographic trips and adventures during that time. Bruce's enthusiasm for photography is contagious to say the least. A number of my friends have instructed at past Moab Photography Symposiums, and all of their reports have been glowing. Bruce is a long-time resident of Moab and has picked some great sites for photography field sessions. The workshops are filling up quickly, so if you're interested check out the Moab Photography Symposium web site. All of the information you will need is there. I hope to see some of you next May in the beautiful Southwest.
---
ANSEL ADAMS APP FOR iPAD - JUST RELEASED!
For eNews subscribers who own an Apple iPad, I have some exciting news... as I am writing this newsletter, a brand new Ansel Adams app has just been released at the Apple iTunes app store.
I don't have an iPad myself (perhaps I should add one to my Christmas list!), but I was able to gift this app to a close friend and spend a little bit of time enjoying it on his iPad.
The app was published by Little, Brown and Company in collaboration with The Ansel Adams Trust. Andrea Stillman, whom I worked with at Ansel's in the late 70s and early 80s, selected the photographs, and contributed a lot of the information included in the app. Andrea has edited many books of Ansel's work and, in my opinion, is the leading expert on his work.
Ansel's images look great on the iPad display. There is a forty image slide show that includes well know, along with some lesser-known images. Each image has a brief essay by Andrea that is available by clicking on the image, or you can listen to Andrea read the text. I didn't have time to listen to all of the commentaries, but Anne and I are looking forward to doing so in the near future. Naturally, you can view the images in silence, or listen to them with synchronized music... or anything you have in your iTunes library.
There is another section called Letters and Images that has letters between Ansel and Alfred Stieglitz, Georgia O'Keeffe, Edward Weston, Garry Trudeau, President Carter, his wife Virginia, and others.
There are some really fun postcards that Ansel sent to his close friends Nancy and Beaumont Newhall while on the road photographing. You can even send a vintage looking e-postcard with an AA image, along with your own note, from within the app... Very cool!
There is a chronology of Ansel's life and career, a complete bibliography, and even web links that Ansel fans will find of interest.
I wish I had more time to enjoy the app, but I have to finish this newsletter so I can send it to you.
The app runs only on the Apple iPad. It will not run on the iPhone. If it did, the images would be too small to be fully appreciated.
You can find the Ansel Adams app at Apple's iTunes store. The price for is $13.99. It will make a great holiday gift for anyone you know who is fan of Ansel's work, and owns an iPad, and of course would make an excellent gift for yourself!
Anne and I had a great time exploring this new app. It was enjoyable, and we learned a few things we didn't know about Ansel. Now I have to figure out some other reasons to justify why I NEED an iPad!
---
AMAZING SPACE SHUTTLE VIDEO ONLINE
As most readers of this newsletter are aware, I worked on a self-assigned photographic project about the Space Shuttle from 1993 until 2000. Selections from this body of work became part of my book Places of Power: The Aesthetics of Technology. During my thirteen trips to the Kennedy Space Center there were many individuals who helped make my photographic project possible. On my first visit to KSC in March of 1993 I met one of the "gurus" of launch photography, Scott Andrews. We became friends and Scott was valuable in many ways in helping me achieve the photographs I made of the Space Shuttle.
I wanted to bring to your attention an amazing time-lapse video, Go For Launch!, which can be viewed online at the Smithsonian's Air and Space Magazine web site.
None other than Scott Andrews, along with Stan Jirman and Scott's son Philip Scott Andrews, made this video. The video begins in the Orbiter Processing Facility at Kennedy Space Center, where the orbiter Discovery has been prepared for the STS-131 mission. The photographers have condensed six weeks of painstaking work into three minutes and fifty-two seconds. The video is absolutely incredible in its technical achievement, and it brought back many fond memories of my unforgettable experiences at KSC.
As many of you know, the orbiter Discovery is scheduled for the final lift-off of its illustrious career no earlier than December 17th. NASA's Space Shuttle fleet began operations with the launch of Columbia on April 12, 1981. 2011 celebrates the 30th anniversary of the Space Shuttle program, and sadly will also mark the end of the program's unparalleled achievements. There will definitely be one more Space Shuttle mission in 2011, and the strong possibility of a special "extra" mission later in the year. Congratulations to NASA on all it has achieved with the Space Shuttle program, and kudos to Scott Andrews, Stan Jirman, and Philip Scott Andrews for a job well done with this remarkable video.
If you would like to take a peak at some of the work I did on my Places of Power project, check out Kodak Professional's and PDN's Legends Online John Sexton web site.
Unfortunately the book Places of Power is out of print, but if you're looking for one we have a few autographed copies available at the Ventana Editions online store.
---


TECH TIP: THE VIEWING FRAME: A GREAT VISUALIZATION TOOL
This issue's Tech Tip deals with a very simple, inexpensive tool that I have with me all of the time, whether I'm photographing or not. I refer to it as a photographic viewing frame. It is simply a piece of 4x5" plastic (or mat board if you prefer) that has a window cut in the center that corresponds to the aspect ratio of the film format I am working with. When I am working in my most common format - 4x5" - the opening is 2x2-1/2" (exactly 1/2 the linear dimension of the film). If I'm working with my Hasselblad camera, as I was when Anne and I both took our Hasselblad gear on a four-day backpacking trip into the Yosemite High Country, the opening is exactly the same size as the 120 negative - 6x6cm.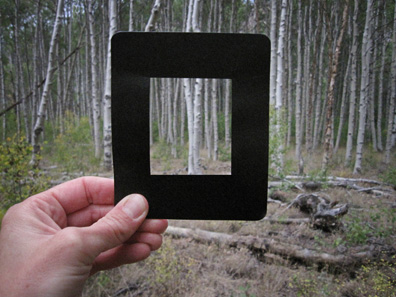 I first became aware of a viewing frame when I was a student at Ansel's Yosemite workshop in 1973. Along with lots of printed pages of photographic techniques, schedules, and other logistics, each participant received a piece of 8x10" black mat board with a 4x5" hole cut in the middle. The larger size viewing frame was, and still is, luxurious to use, and that's what Ansel preferred. Interestingly Charlie Cramer, with whom I recently co-instructed the Mono Lake and the Eastern Sierra: Exploring Autumn Light workshop, prefers to use the large size viewing frame, and easily carries it with him by sliding his arm through the 4x5" opening and "wearing" it on his arm. I, on the other hand, prefer a smaller "pocket-size" version.
The beauty of the tool is that it allows you to set up and organize an image almost instantaneously. As you can imagine with a large format camera, it takes a few moments to set up the tripod, camera, lens, etc. This saves you a great amount of time. One might assume that with a 35mm or digital camera equipped with a zoom lens the viewing frame would be irrelevant. I would disagree.
I've taught workshops for more than thirty-five years, and during that time had the opportunity to work with a few thousand workshop participants. I've observed that when the human eye approaches a camera's viewfinder the right index finger becomes overly active, and very quickly the shutter begins to be pressed. There is no such tendency to begin blindly pressing the shutter release or cable release when using a viewing frame.
Here are some ideas on how to use the viewing frame... I find it is much easier to be aware of near and far relationships, look for critical alignments and determine the optimum camera position, discover distracting elements at the edge of the frame, and decide when indeed you have a subject, lighting condition, and camera position that's worthy of making a photograph. Just as important - perhaps even more important - is that I find it puts you in a MUCH better position to decide when the photograph just won't work. At that point I make a mental photograph (my mental photographs always have a perfect exposure and tack sharp focus, unlike my "real" photographs) and move on. As photographers we spend more time NOT making photographs than making photographs. One mistake that many photographers make is they use the "spray and pray" approach, assuming that exposing more frames or more sheets of film or more exposures on pixels will generate more good photographs. Seldom is that the case. Many times I find that you come away with fewer good images than if you are careful and train your eye to see. The viewing frame helps with both of these things.
If you have a cutout opening that is the same size as the negative you're exposing, you simply hold the viewing frame the same distance from your eye as the focal length of the lens. For example, the normal lens on my Hasselblad camera is 80mm - just over three inches. If I hold my viewing frame with a 6x6cm opening (the same size as the camera negative) just over three inches from my eye, I see the same field of view as the 80mm lens. The same would is true with the large 4x5" cutout opening that Charlie Cramer uses for his photography. The distance from the eye equals the focal length of the lens. As I mentioned, my pocket-size 4x5" viewing frame has an opening 2x2-1/2", one half the linear dimension of the film. One of my most frequently used lenses is my 200mm Nikkor-M. It's small, light, and super sharp. 200mm is almost exactly eight inches. Since my viewing frame is half the size of the negative, if I hold the frame four inches from my eye it accurately simulates the field of view of my eight inch lens. Some photographers attach a string with index markers, others tie knots in the string, and I suppose if you're extremely dedicated to photography you could tattoo your arms with reference points to match the focal lengths of your lenses! In all seriousness, give it a try. At first it may seem awkward and tedious, but Anne and I, along with Charlie Cramer and many other working photographers, rely upon the viewing frame to help us improve our photographic seeing.
---
SOME THOUGHTS ON PHOTOGRAPHY... AND OTHER TOPICS
"Rules of composition are deduced from the work of strong masters
and used by weak imitators to produce - nothing!"
– Edward Weston
The Daybooks of Edward Weston
Volume II California