TREES IN MIST, HUANGSHAN, CHINA
AVAILABLE AT 25% OFF DISCOUNTED PRICE FOR A LIMITED TIME
This print, shown below, is now available for order online. This 11x14" silver gelatin print is being offered for a limited time at the very special price of $750 - a 25% discount off of the normal gallery retail price of $1,000. After December 31, 2017 the price will return to the normal retail price of $1,000.
You can place a secure online order for this print at the Ventana Editions web store.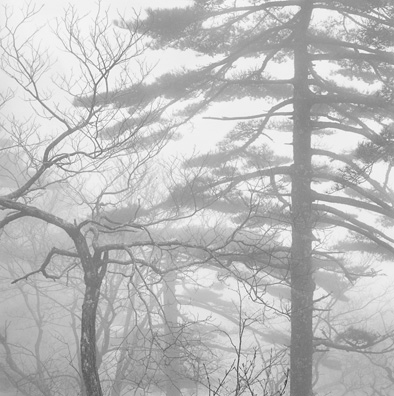 Trees in Mist, Huangshan, China
©1986 John Sexton. All rights reserved.
The image Trees in Mist, Huangshan, China was made during the last of three workshops I led in China during the 1980s. These workshops were part of a cultural exchange program between the Friends of Photography and the China Photographers Association. I led workshops in 1983, 1984, and 1986. Each of these workshops was approximately three weeks in length. My national guide, Mr. Yu, became a close friend as we traveled together on these expeditions. One evening, while taking a break from a bicycle ride we shared together, Mr. Yu told me of an old Chinese proverb, which went something like: 'If an artist dies without having seen Huangshan, his eyes will never close.' As you might imagine, this peaked my interest! I had never heard of Huangshan, but immediately wanted to visit there and began planning the 1986 event. I did learn that a gondola was being built to effortlessly ferry people from the base to the lodge, an elevation gain of 950 meters (2,985 feet). I knew that the gondola would not be completed when we visited in April of 1986, which pleased me greatly. I wanted to see Huangshan before the anticipated increase in visitors due to the ease of access provided by the gondola.
I turned out we were the first American photography group that had ever had an official visit to Huangshan. We had camera formats from 35mm to 8x10. The temperature was in the 70s and the humidity was at 100%. We hiked the steep 9 kilometers (5.6 miles) in a light rain. It was quite a trudge. I was wearing my first Gore-Tex jacket, but I was soaked. I generated as much moisture on the inside of the jacket as the rain generated outside – so much for breathable, waterproof fabric! We arrived at our primitive lodging. We were so excited.
The group's excitement, as well as mine, diminished significantly when we entered our 'accommodations.' There was a piece of plywood with a thin pad filled with some sort of seed or grass-like material. It was as humid in the room as it was outside. The 'rustic' lodge provided complimentary Mao jackets, which were as wet as the ones we were taking off. There were flush toilets in the facility, however the plumbing had stopped working some considerable time prior to our arrival (likely many days). I won't go into all the details, but it was a bit more "roughing it" than some of the workshop participants anticipated. That being said, everybody was flexible and we were excited to make photographs. There was a problem however…
Though we were atop Huangshan we NEVER saw Huangshan. The photograph I have included as this special print offer is the only image I made during our two-day trip to Huangshan, as this was the maximum visibility that occurred during our time there. We had hoped for mist and fog to have accentuated the legendary mythic spires of rock so predominant in Chinese landscape paintings, however we had way too much fog to even get a glimpse of the most subtle revelation of any such shapes.
Early on in my photography I learned an important lesson - not to have preconceived ideas of what I hoped to photograph. If I imagined a scene with dramatic clouds, the sky would be completely clear. If I hoped for soft light, there would be brilliant sunlight. Returning home after one such photographic outing it dawned on me that this was not an enjoyable or productive way to work, and in fact it was truly frustrating. In addition, I realized I was missing opportunities that were in front of me because I had been "blinded" by my predetermined ideas.
On my next photographic outing I took a different approach. I had an idea where I wanted to go, but beyond that I tried to just explore and photograph what came my way. I found this a much more enjoyable, and indeed a more productive experience. It is the way I try and operate to this day. When planning this photographic expedition to Huangshan I had many desires for the workshop group, as well as for myself. As I described above, the situation that unfolded was completely unexpected. I believe my approach of photographing that which I see, respond to, and feel gave me the 'gift' of this photograph, which I am very pleased to share with you.
This silver gelatin, selenium toned, print is approximately 9-7/8 x 10", personally printed by me (as are all my prints), processed to current archival standards, signed, mounted vertically, and overmatted to 16x20" on 100 percent rag museum board.
Prints will begin shipping on December 4, 2017. If you would like to receive your print in time for the Holidays, please be sure to let us know at the time of the order. It would probably be a good idea to follow up with an email. We will make every effort to ship prints out in time for Holiday gift giving to those who need them. All of the prints ordered will be shipped no later than February 28, 2018.
All prints are carefully prepared and packaged in specially designed protective shipping boxes and shipped fully insured via UPS Ground. If you have any questions about my prints, please feel free to contact Anne at 831-659-3130 or email: info@johnsexton.com. Our office hours are Monday through Thursday from 10:00 am to 1:00 pm Pacific time.
You can see this image and place a secure online order for this print at the Ventana Editions web store.

---
John Sexton Photographer
Post Office Box 30
Carmel Valley, California 93924 USA
Phone: 831/659-3130
Email: info@johnsexton.com
---
©2017 John Sexton. All rights reserved
Site last updated November 14, 2017