LIMITED EDITION SILVER GELATIN PRINT BY JOHN AVAILABLE ONLINE
AT SPECIAL DISCOUNTED INTRODUCTORY PRICE
DARKROOM EDITION PRINT SERIES
I am pleased to introduce my image Geologic Conundrum, Banff National Park, Canada as Darkroom Edition 2018. This 11x14" silver gelatin print is offered in a limited edition of 100, signed and numbered prints, plus ten Artist's Proofs. When the edition is sold out no further prints will be made for sale in any size. Though my open edition 11x14" prints have a retail price in galleries of $1,000, the special introductory price for this limited edition print is $800 – a 20% discount. After December 31, 2018 the retail price for any remaining unsold prints will increase to $2,000, and will escalate as the edition sells.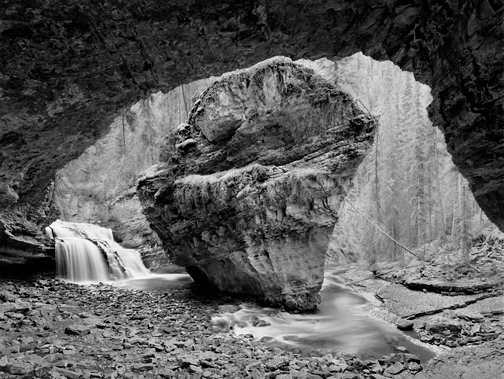 Geologic Conundrum, Banff National Park, Canada
©2004 John Sexton. All rights reserved.
To learn more about the print, Geologic Conundrum, or to place an order, follow this link:
http://ventanaeditions.stores.yahoo.net/gecobanapaca.html
This image was made on an extended photographic trip Anne and I made to the Canadian Rockies a number of years ago. Initially we were both photographing the waterfall you can see on the left side of the image above. We had packed up our gear and were heading back to the trail continuing to explore other possibilities with our viewing frames. I took one last look at the scene from the back of the large alcove the river had carved over the eons, and saw a surprising possibility. I only became aware of this when my viewing frame was jammed back against my nose simulating the field of view of a very wide-angle lens. I set up my camera again and began to study the possibilities more carefully. I was attracted to how different the scene appeared on the ground glass as rendered by my 75mm Nikkor wide-angle lens (similar to a 24mm wide-angle lens on 35mm or full frame digital cameras).
Over the years I have found that the best camera position for many photographs is seldom a comfortable one! To make this photograph it was necessary that I was sitting on the ground with my back pushed against the rock wall of this massive alcove. My tripod was set up very low and I was literally "trapped" between my tripod legs. This challenging position was necessary in order to reveal the large rock form in its entirety beneath the alcove roof. Anne had to hand me my film holder to make the exposure, and also assist me by setting my camera lens aperture, as I was unable to see anything on the front of the camera from my position. So in its own way, this photograph was made by both Anne and me!
Most of my titles are straightforward descriptions of the subject – something like Two Chairs or Aspens, Dusk. What I found interesting when studying this image on the camera ground glass, and even more strongly when making the first print of the negative, was the fact that what APPEARS to be a massive boulder on the other side of the river is actually a HUGE peninsula of land. For this reason I chose the title "Geologic Conundrum."
Prints will begin shipping on December 5, 2018. If you would like to receive your print in time for the Holidays, please be sure to let us know at the time of your order. It would be a good idea to follow up with an email as well. We will make every effort to ship prints out in time for holiday gift giving for those who need them. All of the remaining prints ordered will be shipped no later than March 31, 2019.
This limited edition silver gelatin, selenium toned, print is approximately 9-7/8 x 13" in size, personally printed by me (as are all my prints), processed to current archival standards, signed, numbered, mounted and overmatted to 16x20" on 100% rag museum board. As has been the case with all previous Darkroom Edition series prints, a beautifully printed archival presentation sheet will accompany each print. All prints will be carefully prepared and packaged in specially designed protective shipping boxes and shipped fully insured via UPS Ground. If you have questions about my prints, please feel free to contact Anne at 831-659-3130 or email: info@johnsexton.com. Our office hours are Monday through Thursday from 10:00 am to 1:00 pm Pacific time.
You can see this image and place a secure online order for this print at the Ventana Editions web store:
http://ventanaeditions.stores.yahoo.net/gecobanapaca.html
---
John Sexton Photographer
Post Office Box 30
Carmel Valley, California 93924 USA
Phone: 831/659-3130
Email: info@johnsexton.com
---
©2018 John Sexton. All rights reserved
Site last updated November 14, 2018