Anne and I hope 2012 is off to a good start for you. As most readers of this newsletter know, I had partial knee replacement surgery the day before Thanksgiving. The procedure went well. I was "test driving" my new bionically enhanced knee an hour after the surgery was over (with the aid of crutches and serious pain medication). I'm still doing physical therapy and am very pleased with the results, as is my surgeon.
I want to thank the many newsletter subscribers for making my recent Limited Edition print offer of Oaks in Fog, Sunrise such a great success. It took me a little longer than I had hoped to get back in the darkroom, but I am now proceeding "full speed ahead" in completing the prints.
Anne's family came from Denmark to spend the Holidays with us. We made a brief trip to Yosemite just before Christmas, and my knee worked well on some short strolls over uneven terrain. We had the rare and unexpected opportunity to go over Tioga Pass on December 22nd. The lack of snow was remarkable. Anne and I were photographing ice details with our Hasselblads on the edge of Tenaya Lake, while people were ice skating, playing ice hockey, and even having lawn chair races on the frozen lake. It was a bizarre and extraordinary occurrence.
The California Department of Resources does regular snow surveys to keep track of the amount of snow and water content in the mountains. The first survey of 2012, taken on January 3rd, showed that the snowpack was 18% of normal. To give you a visual comparison, take a look at this link from the Yosemite Blog, showing images made from the Yosemite Conservancy's web cam looking at Half Dome and the Yosemite High Country from Sentinel Dome - comparing January 3rd 2011 and January 3rd of this year. Amazing!
On January 6th Anne became a U.S. citizen. You can read more about this process and the ceremony below.
In this newsletter I'm pleased to announce my 2012 and early 2013 John Sexton Photography Workshops program. By popular demand I am again offering my Fine Tuning the Expressive Print workshop. Again this year we are offering two back-to-back sessions of the extremely popular Mono Lake and the Eastern Sierra: Exploring Autumn Light with my friend Charlie Cramer. As you know, Kodak filed for Chapter 11 bankruptcy protection on January 19th. In spite of this, they are still sponsoring my workshops, 2012 marking the twenty-sixth consecutive year. I'm proud to have two new corporate partners supporting my workshop program, Freestyle Photographic Supplies, as well as Panasonic. I made my first purchase at the then small Freestyle store in 1970 and have been a customer ever since. Freestyle is unique among photographic retailers in their commitment to traditional photographic products and the scope of their product selection. Thanks to Panasonic for providing their excellent Lumix still camera and video camcorder equipment to allow us to document our workshops, and begin our adventure in producing educational multimedia presentations.
More detailed information on all of my upcoming workshops can be found below.
I lost a number of photographic friends in 2011, most recently Rod Dresser and Henry Gilpin. I talk a little bit about our friendship and their photography in this issue of the newsletter.
Anne and I are hoping rain will return to California, so that we don't end up in a serious drought (it's not looking good at this point), and hope 2012 brings happiness, health, prosperity, and many good photographs to all the readers of this newsletter.
Cheers!
John
---
2012-2013 JOHN SEXTON PHOTOGRAPHY WORKSHOPS SCHEDULE ANNOUNCED
I am pleased to announce my new workshop schedule for 2012 through early 2013. One of the most gratifying aspects of my nearly forty years of teaching workshops is the number of friends I have made over the years. It makes me feel good to see people who have been pursuing their passion for photography for decades making great progress along the way. Recently I received a note from one such photographer. I was humbled and honored that they felt I had contributed in some small way to their success in photography.
We are happy to again offer three sessions of The Expressive Black and Print workshop, which has been offered with multiple sessions every year for the past twenty-nine years and still has great interest.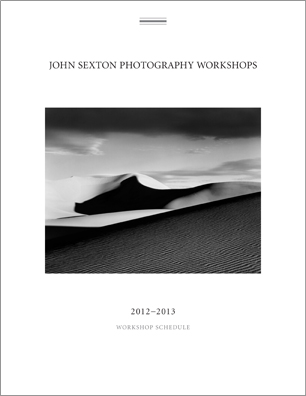 You can download a complete PDF brochure here.
By popular demand we are also offering the Fine Tuning the Expressive Print workshop on the new schedule, April 9-14, 2013. The Fine Tuning workshop is open only to those people who have taken The Expressive Black and White Print workshop, or a handful of other printing workshops listed in the downloadable workshop brochure. These days we do not offer this on an annual basis, so if you are interested in this workshop, please apply early.
A number of you have been waiting for the official announcement of the Mono Lake and Eastern Sierra: Exploring Autumn Light workshop for 2012. We are again this year offering two identical sessions, October 7-12, 2012 and October 14-19, 2012. We have a large waiting list of people who were not able to get into the 2011 sessions, so this workshop will likely fill up quickly. If you are interested, please apply for the workshop as soon as possible.
Charlie and I are also doing a repeat of our popular The Luminous Print: A Synthesis of Traditional and Digital workshop, March 19-24, 2012. This workshop is filled, but please feel free to apply for the waiting list (no deposit is required). We will let you know if there is a last minute cancellation, and you will be among the first to know about this workshop when the next session is offered.
Again, to learn more about the workshops, or to apply, please visit my web site www.johnsexton.com where you can download the complete workshop brochure and application form.
---
TWO FRIENDS GONE: ROD DRESSER AND HENRY GILPIN
The Monterey Peninsula photographic community recently lost two of its members: Rod Dresser and Henry Gilpin. Both of these fine photographers were long time friends with whom I shared a number of photographic adventures over the years.
I first met Rod Dresser when he attended Ansel's workshop in the early 80s. At that time he was just getting serious about photography. Rod had considerable knowledge about computers and wrote a program for plotting film characteristic curves for Ansel and me to use while conducting film tests for the revision of Ansel's book The Negative. Rod's passion and skill for photography grew, and he assisted me on a number of workshops.
In 1983 I began work on a project making black and white landscape photographs with the Polaroid 20x24 camera. Rod and I traveled around the state with this massive piece of equipment during the winter months, battling wind, sand, and other challenges, but having a great time together. Here is a photograph of Rod and me working with the 20x24 Polaroid at Zabriskie Point in Death Valley. Note that we are using a filter and I'm actually "burning in" the sky during the exposure.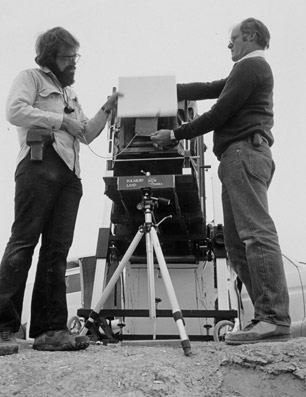 John Sexton and Rod Dresser with 20x24 Polaroid Land Camera
Death Valley National Park, California
©1983 John Sexton. All rights reserved.
Rod went on to help Ansel and was the business manager for the Ansel Adams Publishing Rights Trust for a number of years. He had a successful commercial photography business, but his passion was his personal work. A monograph of Rod's work Artist's Choice: The Photographs of Rod Dresser was published in June 2000. You can see a number of Rod's images and learn more about him at the Weston Gallery web site.
In addition, here is a link to the obituary that was published in the Monterey County Herald.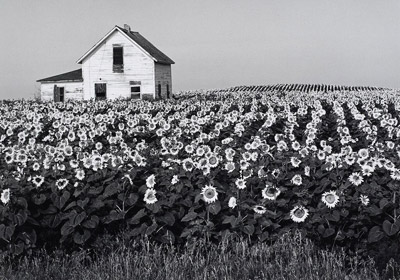 Sunflowers
©1981 Henry Gilpin. All rights reserved.
Henry Gilpin and I met in 1973 when I was a student at Ansel's Yosemite workshop and he was one of the instructors. I was attracted to Henry because of his gentle, good-humored teaching style. He "translated" Ansel's explanation of the Zone System into something that I, as a young photographer, could understand. The first time I looked through a spot meter was during that workshop when Henry let me take a peek through his at Washburn Point. After attending that workshop my good friend John Charles Woods and I would make pilgrimages to the Monterey Peninsula three or four times a year with portfolios of new work under our arms. Each time we would stop and visit Henry and his lovely wife Doris. They were very patient as they looked through our photographs and offered valuable constructive criticism. In 1974 Henry graciously arranged for the first exhibition I ever had at the Shado' Gallery in Oregon.
During World War II Henry was a pilot, flying a B-24 at the age of 21. Henry worked for the Monterey Sheriff's Department for twenty-five years. While working there he led the Search and Rescue Team, attended the FBI Academy, and was Captain of the Detectives Division when he retired in 1976. He taught photography at Monterey Peninsula College for thirty-seven years. Somehow Henry was able to balance all of these activities and maintain a constant devotion to and passion for the medium of photography.
I had the great privilege of teaching a number of workshops with Henry on the Monterey Peninsula and in Death Valley over the years. Not only was Henry a superb photographer, he was a first class person. His generosity with students and friends was exceptional. He was a wonderful husband and father, dedicated teacher, and all around nice guy.
I was honored when Henry and Doris asked me to write the introduction to a catalog that accompanied a wonderful retrospective exhibition of Henry's work at the Monterey Museum of Art in 1997. Here is link to my essay from the catalog. Also there was a touching obituary that describes many other aspects of Henry's amazing life in the Monterey County Herald.
There are MANY photographers who were influenced over the years by Henry's images, as well as his teaching, including me. Our loss, however, will pale in comparison to his family. Henry leaves behind a wonderful legacy of luminous images. Since he seldom sought notoriety or attention, his images may not be as easy to find as other photographers, but if you have the opportunity to see some of Henry's photographs it will be an experience you will not forget. I will miss him greatly.
---
KODAK FILES FOR CHAPTER 11 BANKRUPTCY
I have received a large number of emails and phone calls concerning Kodak's recent bankruptcy filing for protection from its creditors under Chapter 11. As many readers know, I have had a long-standing working relationship with Kodak, and I am proud that Kodak remains the primary corporate sponsor of my workshop program. 2012 marks the 26th consecutive year Kodak has sponsored my workshops. This is particularly pleasing to me in light of the serious challenges they face as a company today.
I have a number of friends who work at Kodak today, and many others who have retired over the years. I wish I knew what the future for Kodak holds, as I'm sure all of the employees and their families wish as well. Unfortunately, it's too soon to know what will happen at Kodak, as they reorganize under the umbrella of Chapter 11.
Here is a link to Kodak's press release concerning their Chapter 11 reorganization.
I still use Kodak Polymax paper, though it has not been manufactured in a number of years. My diminishing frozen supply is still performing beautifully. I think it's a bit premature for people to rush out and buy freezers and fill them with Kodak film at this time. I feel optimistic that Kodak will continue producing professional films in the foreseeable future. Hopefully, if products are discontinued, advance notice will be given, allowing those of us who might wish to do so to "stock up."
I have used Kodak Professional film by choice for nearly my entire photographic career. I find it to be the most consistent and trouble-free film available. I have not seen any compromise in the quality of Kodak Professional film in the last few years, and do not expect to see any deviation from their renowned quality as the company reorganizes. I have hopes for the continued manufacturing of Kodak film - which is a profitable aspect of Kodak's business according to Director of Worldwide Public Relations and Photographer Relations, Audrey Jonckheer as she is quoted in a recent post at the British Journal of Photography.
I have learned that during 2011 Kodak Professional Film revenue in the United States grew by approximately 20% compared to 2010. If, as photographers, we want to continue to have traditional photographic products available in the future, then we need to continue to use the products that we want to survive. Personally, I have a strong desire to be able to enjoy the magic of traditional silver based photography for many years to come, and hope that high quality products will continue to be manufactured by Kodak, and other manufacturers.
I, like many, was saddened to learn the news that Kodak had entered Chapter 11. I believe it is a sad day for photography and hope Kodak will emerge from the current challenging situation a stronger company, maintaining and perhaps even strengthening their long-standing commitment to the manufacture of film. I hope there is some sort of "silver halide lining" to the cloud they are currently under. I wish Kodak, as a company, as well as their many employees, the very best during this difficult time. If by chance I get additional information as to the state of affairs at Kodak, as it relates to photographic products we might use, I will certainly pass it on.
---
ANNE LARSEN - MY WIFE - IS NOW A UNITED STATES CITIZEN!
Over the years, many of you have had the opportunity to meet my wife, Anne Larsen, during my workshops and lectures. Those of you who have attended my workshops over the past eighteen years have had the opportunity to see Anne's beautiful black and white photographs. She was a successful commercial photographer in Copenhagen, Denmark prior to moving to the U.S., specializing in food and beverages. Anne moved to the U.S. in April of 1994 - nearly eighteen years ago. We have shared a life together since that time. We were married in March 2001.
I am thrilled to share with my readers that on January 6, 2012 Anne became a U.S. citizen. Anne's adventure on the way to U.S. citizenship began a number of years ago when we went through the arduous process of getting her a "green card." When she first applied we were working with the INS "Immigration and Naturalization Service." Since a short time after September 11, 2001 the citizenship process goes through 'USCIS' (United States Citizenship and Immigration Services), a part of the Department of Homeland Security. I must say that the efficiency of the organization is greatly improved from our initial dealings with them prior to 9/11.
Last summer Anne decided she was finally ready to take the leap and apply to become a U.S. citizen. Anne's oath ceremony took place in at the USCIS facility in San Jose at 8:30 am on Friday, January 6th. It seemed like an early time to hold a ceremony, especially since we live nearly a hundred miles away! Seventy-eight people from twenty-eight different countries were sworn in at the oath ceremony that morning. The ceremony was a moving experience for Anne, and I'm sure for the others becoming citizens that day. I can also tell you that it was a moving and memorable ceremony for others like me in the audience. I am very proud of Anne. It was a day filled with joy, gratitude, and pride, but as Anne says, also a bit of sadness at having to give up her Danish citizenship, as Denmark does not allow dual citizenship. Below you will find a snapshot I made of Anne with her Certificate of Naturalization immediately after the conclusion of the ceremony. Anne is looking forward to voting in this November's presidential election!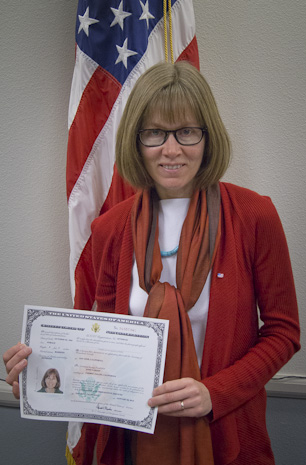 Anne Larsen - New U.S. Citizen
January 6, 2012
©2012 John Sexton. All rights reserved.