Read unsolicited comments from past workshop participants.
---
Below is a complete listing of the 2013-2014 John Sexton Photography Workshops program, along with workshops, seminars, and lectures. There may be additional lectures and seminars added throughout the year. Call or write for additional information. You may also download an Adobe Acrobat version of the complete illustrated brochure or just the application form and procedures.

Complete workshop brochure. Download now

Application form and procedures: Download now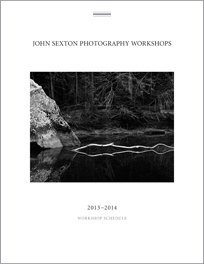 For further information, please contact:

Anne Larsen, Associate Director
John Sexton Photography Workshops
Post Office Box 30
Carmel Valley, CA 93924

Phone: 831/659-3130

E-mail: mailto:info@johnsexton.com

www.johnsexton.com


---
---
March 18 - 23, 2013
THE LUMINOUS PRINT: A SYNTHESIS OF TRADITIONAL AND DIGITAL WORKSHOP
Charles Cramer and John Sexton
Carmel Valley, California
---
April 9 - 14, 2013
FINE TUNING THE EXPRESSIVE PRINT WORKSHOP
Carmel Valley, California
27th offering of this advanced workshop
---
April 16 - 21, 2013
THE EXPRESSIVE BLACK AND WHITE PRINT WORKSHOP
Carmel Valley, California
30th consecutive year - three identical sessions offered
---
October 13 - 18, 2013
MONO LAKE AND THE EASTERN SIERRA: EXPLORING AUTUMN LIGHT
Charles Cramer and John Sexton
Lee Vining, California
---
November 12 - 17, 2013
THE EXPRESSIVE BLACK AND WHITE PRINT WORKSHOP
Carmel Valley, California
30th consecutive year - three identical sessions offered
---
March 17-22, 2014
THE LUMINOUS PRINT: A SYNTHESIS OF TRADITIONAL AND DIGITAL WORKSHOP
Charles Cramer and John Sexton
Carmel Valley, California
---
April 8 - 13, 2014
THE EXPRESSIVE BLACK AND WHITE PRINT WORKSHOP
Carmel Valley, California
30th consecutive year - three identical sessions offered
---

UPCOMING EVENTS
---
2013 is already shaping up to be a busy year for Anne and me. We are both already working in the darkroom completing ongoing projects, and printing for our two joint exhibitions.
We look forward to seeing some old friends, and making some new ones, if you are able to attend one of the events listed below. In addition, it's always a good idea to check our schedule at my web site as things are changing all of the time.
---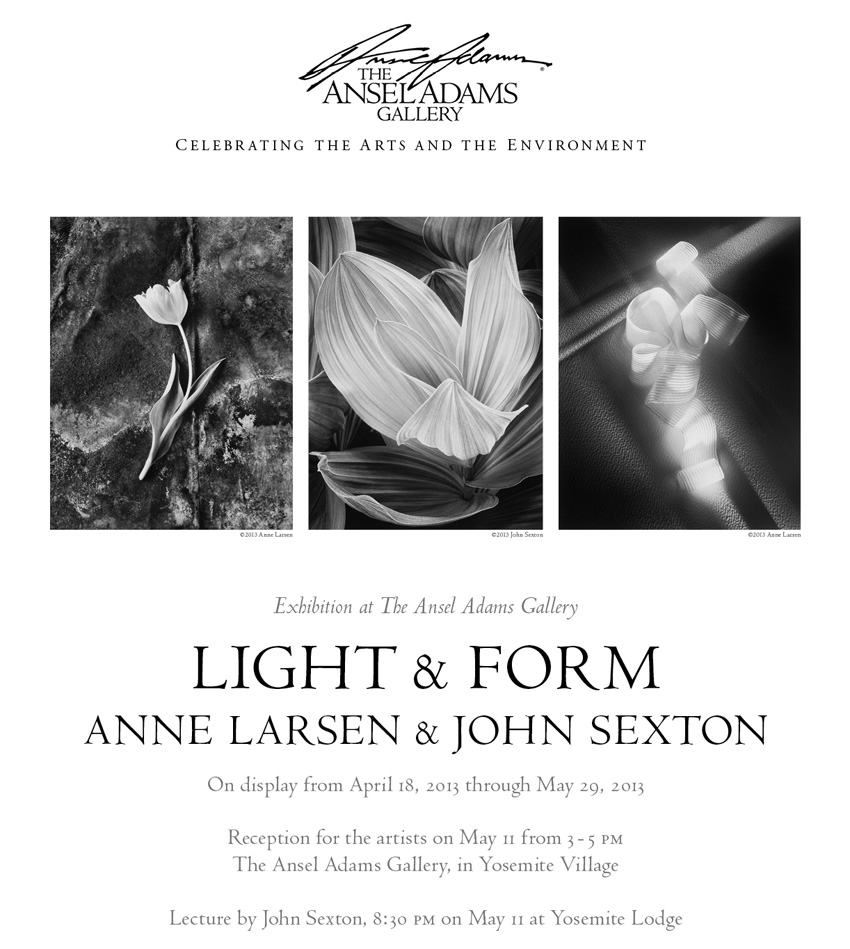 I am thrilled to announce the first joint exhibition that my wife, Anne Larsen, and I are sharing together at The Ansel Adams Gallery in spectacular Yosemite National Park. If you are going to be in Yosemite between now and May 29th please stop by the Gallery to see our black and white silver gelatin photographs.
If, by chance, you will be in Yosemite on Saturday, May 11th we would love to have the chance to share our images with you at our exhibition reception at the Gallery from 3:00 pm to 5:00 pm. In addition, at 8:30 pm that evening I will be presenting a lecture at the outdoor amphitheater at the nearby Yosemite Lodge at the Falls. Both events are free, and open to the public. Anne and I would love to see you, and have the chance to visit with you.
I have been represented by The Ansel Adams Gallery for more than three decades - longer than any other artist other than Ansel himself! Anne is the Gallery's most recent addition. For additional information be sure to visit The Ansel Adams Gallery web site. In addition, plan to stop in at the historic Gallery the next time you visit Yosemite - especially if you will be in Yosemite during our exhibition.

If you would like to be kept up to date on my photographic activities, please send and email to subscribe@johnsexton.com. We value your privacy, and never share contact information with anyone.
---
KEYNOTE ADDRESS
PHOTO MONCTON INTERNATIONAL
MONCTON, NEW BRUNSWICK, CANADA
May 30 to June 2, 2013
I am thrilled to be the keynote speaker at Photo Moncton International: a four-day conference showcasing photography seminars, presentations, workshops, as well as a trade show. My keynote presentation will be on Saturday, June 1st. I am looking forward to this event and the opportunity to spend time with attendees and other presenters. Anne and I have never been to this part of Canada, and are very excited to experience the Canadian Maritimes for the first time.
The organizers are still working on this large, and complex, event. The web page should go live around the first of the year. I will post additional details in a future newsletter, and the web site also has a link to the Photo Moncton International Facebook page, which will have regular updates.
---
KEYNOTE ADDRESS
BIOCOMM 2013
ASILOMAR STATE PARK
PACIFIC GROVE, CALIFORNIA
June 17-21, 2013
I have been invited to be the Maria Ikenberg Lindberg Keynote speaker for BIOCOMM 2013. BIOCOMM is the annual meeting of the BioCommunications Association. The BioCommunications Association, or BCA, is an international professional association of people working in the biological communications field. This event is ONLY open to registered conference attendees.
http://www.bca.org/annual_meeting/annual_meeting.html
---
CREATIVE DIGITAL TRAVEL PHOTOGRAPHY ON THE MONTEREY PENINSULA
CALIFORNIA STATE UNIVERSITY MONTEREY BAY
COURSE DATES: July 15 - 28, 2013
JOHN'S PUBLIC LECTURE: July 16, 2013 - 7:00 pm
JOHN'S CLASSES AS PART OF THE WORKSHOP: July 16 and 17, 2013
http://www.csusummerarts.org/courses2013/VA-Digital_Travel_Photography.shtml
I am pleased to be involved with the 2013 Summer Arts program at nearby California State University Monterey Bay. The faculty, that includes well-known photographers and instructors Rick Sammon and Nevada Wier, along with Michael Jones from West Coast Imaging and Professor Mark Larson, will provide excellent information and inspiration for those attending the session. I will be spending two days with participants, and presenting an evening lecture that is open to the public. Workshop participants will have an opportunity to learn creative seeing and photography techniques, along with insights into photography careers. In addition, participants will develop Photoshop skills for fine-art inkjet printing and print two large fine-art images for the public culmination exhibit.
For more information about the course contact Professor Mark Larson at mark.larson@humboldt.edu or 707-826-5925.
---
JOHN AND ANNE EXHIBITION
SUN TO MOON GALLERY
DALLAS, TEXAS
Exhibition Dates: September 5 - October 12, 2013
Opening Reception: Saturday, September 7, 2013 - 5:00 to 8:00 pm
Anne and I are very pleased to be having another two-person exhibition at the Sun to Moon Gallery in Dallas, Texas. The show will run from September 5 through October 12, 2013. There will be an opening reception on Saturday, September 7 from 5:00 to 8:00 pm. In addition we are planning a possible one-day workshop and public lecture sometime between September 5th and 8th. Anne and I visited the gallery last May, and it is a great display space. Sun to Moon represents a number of our longtime friends including Charles Cramer, Dan Burkholder, Jeff Conley, Scot Miller, Alan Ross, and Keith Walklet - among others. We are looking forward to sharing our images with our many friends from the Dallas-Fort Worth area, and making lots of new friends that weekend. Mark you calendars now, and we will share more details as the events draw closer.
If you are interested in the possibility of having John present a lecture or seminar for your organization, please contact Anne Larsen for further information. Phone: 831/659-3130 Email: info@johnsexton.com