ORIGINAL PRINT AVAILABLE AT A SPECIAL DISCOUNT PRICE ONLINE
From time to time, I make special print offerings available at reduced prices. My new Special Collector's Edition offering of Merced River and Forest shown below is now available for order online. This print is being offered for a limited time at the very special price of $700. To learn more about this print, or to order, follow this link: http://ventanaeditions.stores.yahoo.net/trblsnlied.html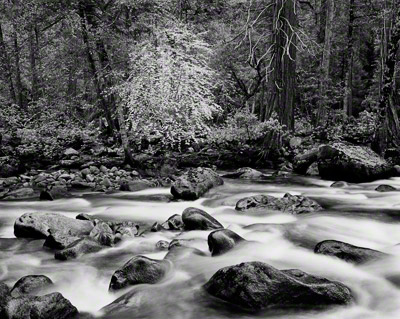 Merced River and Forest
Yosemite Valley, California
©1983 John Sexton. All rights reserved.

In the fall of 1983 I was working closely with Eastman Kodak Company in the product development of what would be known a year later as Kodak Elite Fine Art paper. My good friends at Kodak, Bob Shanebrook and Gordon Brown, had flown out to Carmel for a week of darkroom experimentation. Once I learned what they wanted to accomplish in the darkroom I realized, if we worked incredibly long days, we could get through their agenda in a shorter period of time than a week. Then we could all head to Yosemite to make photographs (Bob and Gordon are both passionate photographers). We worked in the darkroom together, running experiments, from early in the morning until the wee hours of the following morning for three days in a row. I remember coming out of the darkroom and finding Gordon asleep on the floor of my studio.

Once we completed our work, we loaded up our gear and headed for Yosemite. I, unfortunately, made one significant error. I brought along my empty film holders, rather than the ones I carefully loaded the day before!!! I was mortified when I realized my error. Fortunately, I became aware of it before we went out photographing and, having access to the Ansel Adams Gallery darkroom, I was able to use my backup film to load my film holders.

On our first evening we headed to Happy Isles. There isn't a lot of fall color in Yosemite Valley, but this particular tree on the other side of the Merced River had donned its autumn plumage. I used a Wratten #12 deep yellow filter on my 120mm wide-angle lens. I used the back tilt on my 4x5 view camera to exaggerate the scale of the foreground boulders. The image, Merced River and Forest, which was made in the dim but luminous light of dusk, required an exposure of five seconds at f/32. To increase the contrast of the soft illumination in the forest, I selenium intensified just the forest area of the negative. I included this image as Plate 2 in my first book Quiet Light.

The readers of this newsletter can save an additional 10% on this print. To receive the special 10% discount; simply enter the code 'MERCED' (without quotation marks) into the 'COUPON CODE' section of the secure web order form. Please remember to enter the coupon code during the checkout procedure to receive your special discount.
This silver gelatin, selenium toned print is approximately 10-3/8 x 13", personally printed by me (as are all my prints), processed to current archival standards, signed, mounted, and matted to 16x20" on 100 percent rag museum board.

The special discounted price is $700, and is available for a limited period of time. Prints in this size retail in galleries for $1,000, so the savings of $300 is significant. Normally there is a long waiting period for my original prints. This is a rare opportunity to obtain a print with prompt delivery, and at a special discounted price.

Prints will be shipped within four weeks from the date of order.

All prints are carefully prepared and packaged in specially designed protective shipping boxes, and shipped fully insured via UPS ground. If you have any questions about the print, please feel free to contact my assistant Laura Bayless at 831-659-3130, or email: laura@johnsexton.com. Her office hours are Monday through Thursday from 10:00 am to 5:30 pm, Pacific Time.
---
ADOBE DISTINGUISHED LECTURE SERIES: JOHN TO LECTURE JUNE 24

I am thrilled to have been invited to be a part of the Adobe Distinguished Lecture Series. I will be presenting a brand new lecture Ansel Adams: An Inspiration on Thursday, June 24 at 4:00 pm at Adobe's Park Auditorium at their headquarters in San Jose.

This lecture will focus primarily on Ansel's photography, and explore the nuances of his renowned photographic vision. During this audio-visual presentation Ansel's images will be transformed on the screen from the negative to the final print - progressing through various phases in the evolution of a finely crafted expressive print. In addition, I will be showing a number of my own images and discussing the inspiration and influence that Ansel has had on my photography, as well as his effect on other photographers and photography in general.

The lecture is free and open to the public. Directions to the facility can be found here. A book signing will follow the lecture, for those that are interested. I look forward to seeing some newsletter subscribers at this event.
---
JOHN'S RETROSPECTIVE EXHIBITION AT CENTER FOR PHOTOGRAPHIC ART
OPENING AND LECTURE JULY 10

I am pleased to announce that my traveling retrospective exhibition John Sexton: A Photographer's Journey will be on display at the Center for Photographic Art in Carmel, California from July 3 through August 27, 2010. The last time I had a large exhibition of my work in my own "backyard" was my exhibition at the Monterey Museum of Art in 1994. I'm looking forward to having the opportunity to share images with my many photographic friends and neighbors here on the Monterey Peninsula. If your travel plans will bring you to this area, I hope you'll take the opportunity to come by and see the exhibition.

On Saturday, July 10, I will be presenting a lecture and book signing from 2:00 to 4:00 pm, which will be followed by an opening reception in the gallery from 4:00 to 6:00 pm. Both events are free and open to the public. This lecture will be different from the Adobe presentation described above, as the talk will focus on my own photographs. Included in the exhibition and presentation will be some new images, as well as earlier photographs from my more than thirty-five year career in photography. During the lecture I will illustrate the evolutionary process of some of the images from the negative to the finished print, exploring a number of the creative controls I use in making my silver gelatin photographs. In addition, I will show some unique Ansel Adams images and discuss his influence on my photography. A book signing will be held following the lecture.

A portion of this exhibition was on display at Oregon State University in 2009. The exhibition will be traveling to other venues in the future, and announcements will be made in future issues of my newsletter.

I would like to thank Light Impressions, as well as Kodak Professional, for their support of this traveling exhibition, and Freestyle Photographic Supplies for their most generous support as the exclusive sponsor of exhibitions at the Center for Photographic Art.

You can learn about the exhibition, opening reception, and lecture here. For more information about the Center for Photographic Art and their many programs check out their web site. I look forward to seeing a number of you on July 10.

In the meantime, Wynn Bullock: Color Light Abstractions is the next show up at the CPA. It will be on display from May 15 to June 26. On Saturday May 15, there will be a panel discussion, Wynn Bullock: A Visionary Photographer Revisited, from 2:00 to 4:00 pm, followed by a reception from 4:00 to 6:00 pm. Panelists will include A.D. Coleman, Richard Gadd, Chris Johnson, Dr. Britt Salvesen, and Karen Sinsheimer.


---
ANSEL ADAMS GALLERY TO EXHIBIT JOHN'S WORK RECEPTION AND LECTURE AUGUST 21

Speaking of exhibitions... I'm looking forward to my upcoming exhibition at the Ansel Adams Gallery in Yosemite National Park, which will be on display from August 18 to September 26, 2010. This exhibition will have an opening reception on Saturday, August 21 from 4:00 to 6:00 pm. I will also be presenting a lecture at the Yosemite Lodge Amphitheater at 8:30 pm that evening. If you're looking for an excuse to come to beautiful Yosemite, it would be great to see you there. You can find additional information at the Ansel Adams Gallery web site.

I have been represented by the Ansel Adams Gallery since 1980, and have been fortunate to have had a number of exhibitions at the Gallery over the past thirty years. I am very pleased to have another opportunity to share my photographs at the Gallery, located in one of my very favorite places... Yosemite Valley.
---
KODAK PROFESSIONAL AND PDN LEGENDS ONLINE WEB SITE - A GREAT RESOURCE

Kodak Professional and Photo District News have an inspiring series of interactive web sites featuring twenty-five photographers. I was most honored when in 2006 I was invited to be part of the Legends Online series, and am still thrilled to have my work included with so many other fine photographers. Among the photographers included in the selection are Arnold Newman, Joel Meyerowitz, Steve McCurry, Jerry Uelsmann, Joyce Tenneson, Gordon Parks, Victor Skrebneski, Sebastião Salgado, Richard Avedon, Craig Gorman, Duane Michals, and others. You can check out the entire archive of webs sites here.

You'll find my Legends Online web site here. This web site, which is much more sophisticated than my simple and humble johnsexton.com web site, deals exclusively with the work I did for my book Places of Power: The Aesthetics of Technology.

Places of Power is now out of print and has become quite collectible. Along with images of ancient Anasazi ruins, Hoover Dam, Power Plants, and the Space Shuttle, there are video interviews with yours truly. When you have some free time, have fun exploring the wide variety of imagery available at this web-based compendium of photographic inspiration.
---
POLAROID COLLECTION AUCTION UPDATE

As you may recall, in the last email newsletter I made reference to the upcoming auction of some 1,200 prints from the Polaroid Collection. I wanted to give you a bit of an update on this.

At this point the auction is scheduled to proceed on June 21 and 22 at Sotheby's in New York City. You can get more information about the auction here.

It appears in the very near future there will be legal action taken to try and block the sale of this unique gathering of photographs. Fifty-nine photographers (including myself) are a part of this legal action. Artists involved in the suit are trying to block the sale because, when the Polaroid Collection obtained our photographs, they did not obtain all rights to the images. We feel that the Collection should remain intact, and hopefully some institution can be found to accommodate this one-of-a-kind gathering of photographic art.

Speaking of legal matters... the former head of Polaroid, Thomas Petters, was sentenced in April to 50 years in federal prison for orchestrating an elaborate $3.7 billion Ponzi scheme that took down Polaroid Corporation.

If you would like to get more information about Polaroid's bankruptcy and the Polaroid Collection check out A.D. Coleman's excellent Photocritic International blog.
---
JULIEANNE KOST: THOUGHTS ON ART AND CREATIVITY

I recently read an article titled The Art of Creativity by my long-time friend Julieanne Kost. Julieanne is the senior digital imaging evangelist for Adobe Systems. She is a renowned lecturer and gifted teacher, as well as a passionate photographer. I first met Julieanne in 1993 when we were teaching workshops simultaneously at the Palm Beach Photographic Workshops. Our classrooms were across the hall from one another.

During the weeklong experience I saw how dedicated Julieanne was to insuring that her students received not just information, but also inspiration. I could also see how her students grew during the week, and enjoyed the experience. Since that time we've encountered one another at numerous trade shows and other events where we've both been presenting lectures. Unfortunately our schedules never seem to synchronize, so that we can attend each other's events (for example Julieanne will be out of town teaching when I'm giving my lecture at Adobe this coming June 24th... bummer!).

The other day I visited Julieanne's web site and found her wonderful essay, The Art of Creativity. I hope that you'll take the time to download the PDF file here, and read what Julieanne has to say. Whether you're working in the digital domain, in traditional photography, or any other creative outlet for that matter, you will find some great suggestions on how to enhance your own creativity within our always challenging day to day lives. I highly recommend the essay and also invite you to take a look at Julieanne's beautiful book Window Seat. It's an interesting and inspiring volume.
---
TECH TIP: KEYCHAIN FLASHLIGHT, A VALUABLE PHOTOGRAPHIC TOOL

Sometimes the smallest things can make the biggest difference. Many years ago I received a small keychain flashlight as a gift. It was a Photon Micro-Light II. The light is about the size of a quarter and weighs about the same - a mere 6.3 grams. Initially I simply used it when arriving home at night to navigate my way from the car to the front door (it's very dark in Carmel Valley, where we have little light pollution and no street lights... thank goodness!). Today I still use the same type of light, and Anne has one on her keychain as well. Along with trying to safely get from the driveway to the front door, I've found it handy for a multitude of purposes over the years, from searching for something inside my black nylon briefcase to using it as an impromptu podium light while giving a lecture.

In addition, I find the light to be incredibly useful for photography. I keep a Photon II on the lanyard of the focusing loupe I use with my view camera. Even in bright sunlight it can be difficult to see the aperture in a deeply recessed lens board. Having the small LED light right around my neck makes this easy, and avoids the need to go back to my camera back to locate the small device. It's always there. As many of you know, I love to make photographs in the soft low light of dawn and dusk. The little Micro-Light again comes in handy.

Over the years, when photographing in industrial interiors (like when I was working on the Places of Power project photographing power plants, Hoover Dam, and the Space Shuttle), I found myself in incredibly dark areas and made exposures lasting as long as thirty minutes. With an extreme wide-angle lens it was difficult to know where the edge of the frame was. One of the neat features about the Photon Micro-Light II is that the light can be locked in the "on" position (other Photon models, as well as other brands, don't all have this capability, which I find very important). If I have someone assisting me, they can walk around the frame with the Micro-Light pointed back at the camera, and it's easy to see exactly where the frame ends.

In addition, in some situations I've actually taken one or more of my Micro-Lights and put them in the scene, pointed back at the camera lens. This has allowed me to focus on the small LED lights. They are such a small light source that they are easy to focus on... even at f/64!

If you're interested in trying one of these excellent lights, you can purchase it at many places, including Amazon.com. They usually sell for under $10. The two wafer type batteries last a very long period of time and can easily be replaced in less than five minutes with nothing more than a jeweler's screwdriver.

Remember, light is an important aspect of photography... even if it's just a small tool that adds a bit of convenience to making photographs.
---
SOME THOUGHTS ON PHOTOGRAPHY... AND OTHER TOPICS

"Meow"
Translation...
"Do you have that photograph in color?"

– Boots