It certainly looks like fall at our home in Carmel Valley... but not for a reason you might suspect! We are in the midst of our third infestation of oak worms. In late May the oak worms stopped their devastation of the Coast Live Oak forest that covers our nearby hills a few hundred yards from our home, but not this time. The Coast Live Oaks on our property and the surrounding terrain are supposed to be evergreens. However, in the cycle of the natural environment, we have periodic infestations of oak worms. In the nearly thirty-five years I've lived on the Monterey Peninsula - and twenty-five years in our current home in Carmel Valley - I've never seen anything like this. Along with the trees being bare, the exterior walls of our home are obscured by hundreds of thousands (perhaps millions) of these little worms. The black asphalt of our road and driveway is littered with a yellow-green dust of oak worm droppings. To say it's gross is an understatement. Hopefully in a few weeks the process will be complete, and things will return to normal. After the first rains of the season in November and December, the oaks will have a beautiful new set of vivid green leaves, with the exception of any weakened oaks that may not survive this particular infestation.
A couple of weeks ago Anne and I escaped to the Yosemite High Country on a backpacking and photography trip. We had a great time working with our Hasselblad cameras. The weather was interesting to say the least. We had numerous thunderstorms, some of which were quite intense, lightning (some of the strikes were very close), and even a bit of snow!
In a few days we are off to the east side of the Sierra to conduct back-to-back sessions of the Mono Lake and the Eastern Sierra: Exploring Autumn Light workshop with our close friend Charlie Cramer. We're hoping the weather and the light will be favorable for the workshop sessions. We had a terrific time on the initial offering of the workshop last year. The demand was so great that we offered two identical sessions this year. We anticipate having a great time, and are certain we'll be tired at the conclusion of the second workshop.
Speaking of Charlie Cramer... if you look below you will find details announcing the third annual offering of our The Luminous Print: A Synthesis of Traditional and Digital workshop March 19-24, 2012. We've updated the application information on the web site and you are welcome to apply. This workshop has operated full with a waiting list for both previous offerings; so if you are interested in this opportunity to work with both Charlie and me, please act promptly.
I hope you find some items of interest concerning the special print offer and tech tip, as well as information about my upcoming lecture in New Hampshire and exciting exhibitions by Ansel Adams and Jerry Uelsmann in California.
Wishing you the best,
John
---
ORIGINAL PRINT AVAILABLE AT A SPECIAL DISCOUNT PRICE ONLINE
From time to time, I make special print offerings available at reduced prices. My new Special Collector's Edition offering of Fern and Log shown below is now available for order online. This print is being offered for a limited time at the very special price of $700.
To learn more about this print, or to order, follow this link: http://ventanaeditions.stores.yahoo.net/redeliedboan.html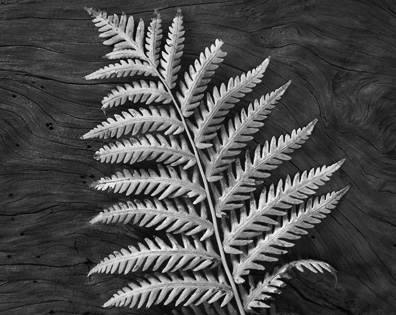 Fern and Log
Yosemite Valley, California
©1977 John Sexton. All rights reserved.
I'm pleased to offer another image in my ongoing series of Special Collector's Edition prints. This time I decided to select an intimate detail image that I made in the fall of 1977 in Yosemite Valley. I included the image Fern and Log as Plate 34 in my first monograph Quiet Light.
It was made on a chilly, misty autumn day in the Valley during a photography trip with my long-time friend and frequent workshop co-instructor Ray McSavaney. The gentle rain had moistened and darkened the log behind the fern. In addition, the moisture added a subtle glistening effect to the surface of the fern itself. I was attracted to the rhythmic arc of the light fern in contrast to the subtle dark wood patterns of the log. Working with my 4x5 camera and my 210mm lens (the only lens I owned for my 4x5 camera from 1973 until 1980), I utilized a Wratten #11 green filter to enhance the separation of the fern and the log. The exposure was 5 seconds at f/45 on Kodak Tri-X Professional film. I developed the negative in Kodak HC-110 developer, and gave Normal +1 development to the film to further accentuate the contrast in the image, illuminated by soft, delicate, quiet light.
This silver gelatin, selenium toned print is approximately 10-1/8 x 12-1/2", personally printed by me (as are all my prints), processed to current archival standards, signed, mounted, and matted to 16x20" on 100 percent rag museum board.
The special discounted price is $700 and is available for a limited period of time. Prints in this size retail in galleries for $1,000, so the savings of $300 is significant. Normally there is a long waiting period for my original prints. This is a rare opportunity to obtain a print with prompt delivery, and at a special discounted price.
Prints will be shipped by November 15, 2011.
All prints are carefully prepared and packaged in specially designed protective shipping boxes, and shipped fully insured via UPS ground. If you have any questions about my prints, please feel free to contact my assistant Laura Bayless at 831-659-3130, or email: laura@johnsexton.com. Her office hours are Monday through Thursday from 10:00 am to 5:30 pm, Pacific Time.
---
JOHN'S RECENT INTERNATIONAL EXHIBITIONS
During the past six months I've had the wonderful opportunity to have a number of my photographs included in international exhibitions.
From April 22nd to June 12th I was honored to be included in the premier exhibition at The "Galerie de la Photographie Classique" in Moscow. I was thrilled to have some of my photographs included in the 120 print exhibition, along with my mentor Ansel Adams, as well as good friends, including Alan Ross, Bob Kolbrener, Jeff Nixon and others. The premier exhibition was so popular that a select group of photographs from that show, including a number of my own, were on display again at the Classic Gallery during the month of August.
I was surprised and flattered to be included in an exhibition of West Coast black and white vintage prints organized by Enrico Bauer at his gallery in Zurich, Switzerland during May and June. This exhibition was comprised of 100 prints, and of course again included images by Ansel, as well as Ruth Bernhard, Henry Gilpin, Al Weber, Martha Casanave, Ryuijie, and Edward and Brett Weston.
From June 17th to August 21st I was privileged to be a part of an international exhibition titled From Polaroid to Impossible: Masterpieces of Instant Photography - The Westlicht Collection at the Westlicht Museum in Vienna, Austria. This exhibition consisted of Polaroid Land instant images and presented a selection taken from more than 4,400 photographs made by 800 international artists that were a part of the Polaroid Collection in Europe. Westlicht managed to take over the European Collection and save it from being dispersed. In addition to the show, a beautiful book was published From Polaroid to Impossible / Masterpieces of Instant Photography - The Westlicht Collection. I was thrilled to have a 4x5" original Type 52 Polaroid instant print that I made in 1978 included in the exhibition and book, along with photographs by luminaries such as Ansel Adams, Manuel Alvarez Bravo, Paul Caponigro, Walker Evans, Ralph Gibson, Robert Heinecken, Yousuf Karsh, Sally Mann, Robert Maplethorpe, Mary Ellen Mark, Robert Rauschenberg, Aaron Siskind, Andy Warhol, William Wegman, Minor White, and many others. A few people have contacted me about purchasing the book. It's a beautiful and sizable volume. It is available in the US at Amazon.com.
Finally, I recently learned from Timeless Gallery, my representative in Beijing, China, that I currently have an exhibition at the Dali Photography Festival. It's exciting and humbling to have the opportunity to share original prints with people so far away. One of the amazing attributes of visual imagery is its ability to effortlessly cross over language barriers.
---
LUMINOUS PRINT WORKSHOP WITH CHARLIE CRAMER - MARCH 2012 ANNOUNCED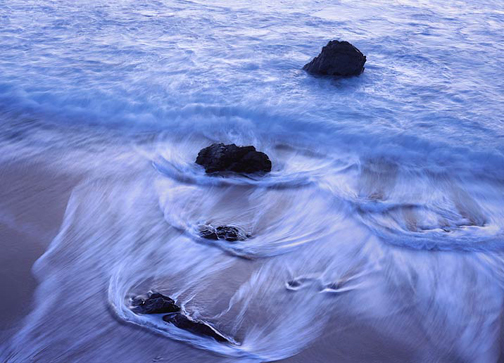 Garrapata Beach, Late Light, California
©2005 Charles Cramer. All rights reserved.
As I have mentioned, Anne and I will soon be joining Charlie Cramer for two back-to-back field workshops in the Mono Basin on the East side of the Sierra. In addition, I am pleased to announce the third annual offering of the very popular The Luminous Print: A Synthesis of Traditional and Digital workshop. The 2012 session will be offered from March 19th to March 24th. Charlie and I conceived this workshop a few years ago. It was our desire to offer a workshop that would address traditional black and white photographic processes, as well as color and black and white digital techniques. The goal in any of these approaches in terms of printing is simple: to create the finest expressive and luminous prints possible. In this workshop we work in the field, and have darkroom and digital demonstrations, in an effort to present a synthesis of ideas and techniques that can be of value to both darkroom and digital enthusiasts.
This unique workshop will help participants improve their fluency in the magical language of photography. The workshop will emphasize not just how to do things, but more importantly why, and is open to photographers working in all formats, recording their images on film or digitally. Along with the indoor instruction and demonstration sessions, there will be portfolio reviews by both Charlie and me. There will also be the opportunity to put concepts into practice during directed field sessions on the spectacular Monterey Peninsula.
There will be demonstrations in both traditional black and white printmaking and recommended digital processing techniques. Charlie will discuss making digital negatives to combine the best of both approaches, as well as properly preparing digital files for reproduction and display on the web. We will also talk about the importance of proper handling and storage of film, digital, and print files. Anne will be assisting Charlie and I on this workshop.
The workshop is based at our home and studio in Carmel Valley. It begins at 7:00 pm on Monday evening and concludes late on Saturday night. The workshop tuition includes daily refreshment breaks and three meals during the workshop, along with workshop handouts from both Charlie and me. The workshop will be limited to a maximum of twelve participants and is certain to fill quickly, as has been the case with the previous two offerings. It will be an intense experience, and for this reason we are sorry to say that no guests are allowed during the workshop.
The workshop fee will be $1,250. If you are interested, please visit the web site to download a workshop brochure and application form.
http://johnsexton.com/schedule.html
For more information call Laura Bayless at 831/659-3130 Monday through Thursday, 10:00 am to 5:30 pm Pacific Time.
---
NEW BRETT WESTON BIOGRAPHY BY JOHN CHARLES WOODS
JOHN REMEMBERS TIMES SHARED WITH WESTON AND WOODS
A new biography, A Restless Eye, by my long time friend and photographic compatriot John Charles Woods about the legendary photographer Brett Weston, has just been published by Erica Weston Editions. Erica is Brett's daughter. The 368-page hardbound volume includes ninety-five illustrations and sells for $31.95.
I had the opportunity to catch up with John a couple of weeks ago at the very successful book signing reception that was held at the Weston Gallery in Carmel, California. John has spent an incredible amount of time researching the book. This, combined with his very close relationship with Brett over many years, gives him a unique perspective in describing the distinctive and complex personality of Brett Weston.
You can order the book online by visiting www.ericawestoneditions.com. It is also available from the Weston Gallery.
If you're a fan of Brett Weston this is a book you will want to own.
As I mentioned, John and I go way back. We were photography majors together at Cypress College. In fact, it was John who first introduced me to Ansel's Zone System. We attended the 1973 Ansel Adams Yosemite Workshop together and have shared countless photographic explorations and escapades over the years. That's a story in and of itself... for another time.
During the Yosemite workshop Ansel generously offered to all participants the invitation to call ahead if we were coming to Carmel and bring along a portfolio of prints for commentary. John and I did this on a number of occasions. While we were preparing for such a visit we got the idea we would like to meet Brett Weston. We were both huge fans of his work. I remember that we tossed a coin to see who had to make the call. I lost. Brett answered the phone and I nervously explained that we were photographers from Southern California, coming to visit Ansel and other photographers on the Monterey Peninsula. We wondered if it would be possible to meet with him and show him our photographs. Brett replied that he was very busy, but to call when we arrived in the area. He could probably see us for twenty minutes, but he would not be able to look at our prints.
A few days later we followed Brett's instructions and went to visit him at his home in the Carmel Highlands. The twenty minutes flew by and soon nearly an hour had passed. We mentioned to Brett that he had indicated he only had twenty minutes he could share with us. He said that he did not think he would end up liking us, since we were from Southern California, but that he did and we were welcome to stay – and by the way didn't we have some photographs to show him. We got our portfolios out and ended up staying a few days camping in his driveway.
Brett invited us to come and watch him print in his darkroom. He stated that he started work about two or three in the morning. For one reason or another we didn't have an alarm clock with us. We were in our sleeping bags in Brett's driveway, waking one another up through the night to see what time it was. Finally about three in the morning we knocked on the door. A short while later Brett opened the door with a common greeting in the morning hours to anyone, "I've been up for hours." He instructed us to sit on the concrete floor (which was very cold), said that he didn't teach, but we could observe. In actuality Brett was a very good teacher. All you had to do was watch. The simplicity with which he approached photography is visible in the concise abstract images he made, and was a pervasive quality of his entire life. Later that day we had the opportunity to photograph with Brett for the first time at Point Lobos. The entire event was an unforgettable experience. Our friendship with Brett grew over the years. John preceded me in moving to the Monterey Peninsula and developed an even closer friendship with Brett. He helped Brett in every way. In John's book you can sense the affection John had for Brett, but also his objectivity as he looked at the underlying complexities of a single-minded artist who approached everything in a straightforward and utterly simplistic fashion.
Stay tuned for more personal recollections about the "good old days" in photography in future editions of the newsletter.
---
JOHN'S LECTURE NEW HAMPSHIRE INSTITUTE OF ART - NOVEMBER 3, 2011
Shortly after we return from our trip to the Eastern Sierra for our workshops with Charlie Cramer, Anne and I will be heading to New England. I'm honored to have been invited to be a part of the Distinguished American Artists lecture series offered by the New Hampshire Institute of Art in Manchester, New Hampshire. I will be presenting my lecture Inspirations: An Evening With Photographer John Sexton on November 3 at 6:30 pm.
I'm flattered to share the series with Alice Aycock and Chris Van Allsburg – two American artists whose works are remarkable and inspiring. Alice Aycock has created sculptural-architectural installations throughout the world. Two-time Caldecott Medal-winner Chris Van Allsburg has drawn readers into a magical, even surreal, world through his illustrated picture books, which include Jumanji and The Polar Express.
The event is open to the public. Tickets are $20 for my lecture, and $50 for the entire series. I will be talking about my own photography, as well as the time I spent working side-by-side with Ansel as his photographic and technical assistant. Along with my public lecture, I will be spending Friday with the photography students at the Institute. I am looking forward to this opportunity to meet the students, sharing information and images with them, and trying to answer their questions. If any of my subscribers are in the area, it would be great to see you at the lecture. In addition, please let your friends know about the event.
For more information contact:
Suzanne Lenz
New Hampshire Institute of Art
Phone: 60-836-2547
suzannelenz@nhia.edu
http://www.nhia.edu/john-sexton-2/
---
ANSEL ADAMS CALIFORNIA
TURLOCK, CALIFORNIA
September 10, 2011 through January 8, 2012
Ansel Adams: California is a unique inaugural exhibition of nearly 120 photographs at the new Carnegie Arts Center in Turlock, California. This is the first Ansel Adams exhibition to focus exclusively on images of California. Jeanne Falk Adams, daughter-in-law of Ansel Adams has curated the exhibition. Even those familiar with the photographs of Ansel Adams will find something new and exciting in this exhibition. It is a rare opportunity to see some of the wonderful jewels in Michael and Jeanne Adams personalcollection. In addition to the large number of original prints, the exhibition will also include memorabilia, such as the September 1979 Time Magazine cover featuring Ansel and the citation accompanying Ansel's Presidential Medal of Freedom, which was presented to him by President Jimmy Carter in 1980.
Anne and I are planning to make a trip to Turlock to see this show. The admission fee is $10. For more information visit the Carnegie Arts Center web site http://www.carnegieartsturlock.org/ or call them at 209/632-5731
---
JERRY UELSMANN EXHIBITION AND LECTURE
CENTER FOR PHOTOGRAPHIC ART, CARMEL, CALIFORNIA
OCTOBER 8, 2011 THROUGH JANUARY 7, 2012
Our good friend and renowned photographer and printmaker Jerry Uelsmann is having an exhibition of his photographs at the Center for Photographic Art in Carmel. I am sure this is going to be an interesting and memorable display of Jerry's beautiful black and white photographs.
Jerry will be presenting a lecture Process and Perception on Saturday, October 8 at 2:30 pm. The lecture will be held at the Sunset Center Theater, adjacent to the Center for Photographic Art gallery. An opening reception and book signing will take place from 3:30 to 5:30 pm in the theater lobby. The cost for the lecture is $5 for CPA members and $20 for non-members (a good reason to become a CPA member!). Students and teachers with appropriate ID will be admitted free. Tickets can be purchased in advance by calling 831/620-2048 or online at www.sunsetcenter.org. The doors will open at 1:30 pm.
Ted Orland has curated the show and designed a beautiful catalog. It contains all of the images from the exhibition, along with a number of candid images made by Ted Orland and Rex Naden during the image selection process earlier this year. Jerry will be signing and inscribing the catalogs at the reception. A limited number of catalogs will be on hand at the opening, but to insure you obtain a catalog - or if you are unable to attend the event - you may purchase one online at http://www.magcloud.com/browse/issue/262486
I've had the great pleasure to teach with Jerry on a number of Ansel Adams Workshops over the years. Not only is he a superb photographer, but he is a great teacher. From past experience I know his lecture will not only be inspiring and informational, it will be entertaining as well. Unfortunately, Anne and I will not be able to attend the lecture, as we will be in the midst of our two Mono Lake workshops. If only we knew how to be two places at once, we would definitely be there!
For further information about the exhibition and lecture, please visit the Center Photographic Art's web site http://www.photography.org/exhibitions.php#uelsmann
Speaking of the Center for Photographic Art... images from their upcoming annual photography art auction are online now. Anne and I are pleased to have donated prints again for this year's event. It is one of the most important fund raising activities of the year for the CPA. You can see the selection of beautiful images at http://www.photography.org/auction_2011/index.php Remember bid high and bid
---
TECH TIP: INSPIRATION IN THE SHOWER!
I don't know about you, but I often seem to come up with some of my best ideas - photographic or otherwise - in the shower. As I get older, it seems harder and harder to remember those brilliant ideas long enough for me to finish my shower and write them down. A few months ago I had a great idea I simply couldn't remember. It was so frustrating I decided to do a search on the web and quickly found the AquaNotes waterproof notepad.
The thing that is great about this product is its utter simplicity. It's a tablet of forty sheets of waterproof paper with a usable area of approximately 3-1/2 x 4 inches. The pages are perforated and the tablet has two very grippy suction cups that stick securely to the tiles in our shower. Along with the waterproof paper comes a seldom-used high tech device for recording ideas these days... a pencil. The pencil has a suction cup as well. So far neither the pencil nor the notepad have come off of the shower wall. I particularly like the inscription on the pencil: "No more great ideas down the drain!"
It might seem like a silly idea for a tech tip, but I've been amazed at the number of good ideas I've come up with and have been able to quickly jot down. You can learn more about AquaNotes and purchase them online at www.myaquanotes.com. They are also available from Amazon.com.