JOHN SEXTON PHOTOGRAPHY NEWSLETTER
OCTOBER 2006
---
- A NOTE FROM JOHN
- RECOLLECTIONS - AUTOGRAPHED COPIES AT DISCOUNTED PRICES
- FALL LECTURES AND BOOKSIGNINGS
- THE LOSS OF PHOTOGRAPHIC LEGENDS
- THE ASSISTANTS OF ANSEL ADAMS EXHIBITION
- SOME THOUGHTS ON PHOTOGRAPHY... AND OTHER TOPICS

---
Greetings,
I'm sorry to bother you with another email newsletter, but I wa nted to make sure that all of my email subscribers on the East Coast were aware of my upcoming lectures, seminars, and book signings.

I am currently in Augusta Maine where I have just conducted a lecture for the student body, and met with photography students, at the University of Maine. Last week was a busy one – with four lectures in Rochester, New York. We started our lecture "tour" last Tuesday with a presentation for photography students at the Rochester Institute of Technology. The next day I presented two lectures at Eastman Kodak Company. Thursday was filled with meetings at Kodak, including the opportunity to present a copy Recollections to Chairman and CEO Antonio Perez while speaking with him about the importance of continuing the manufacture of silver halide professional films. That evening we had a great crowd for my lecture and book signing at George Eastman House.

From here we will be heading to Boston and then back to Portland, Maine, and eventually to the PhotoPlus Expo at the Jacob Javits Center in New York City on November 2-4.

It would be great to see some of you at one of the upcoming events. If you happen to be attending the PhotoPlus Expo, I will be in the Kodak booth on Thursday and Friday from noon until 5:00 pm, and at the Light Impressions booth all day Saturday. In addition, I am giving a presentation, "Focus on Black and White," on Friday morning at the Expo from 9:00 am to 11:00 am.

The response to "Recollections" has been terrific so far. We have had excellent features in LensWork, Rangefinder, and Photo Techniques magazines. There will be additional articles and reviews appearing elsewhere soon.

All the best,

John
---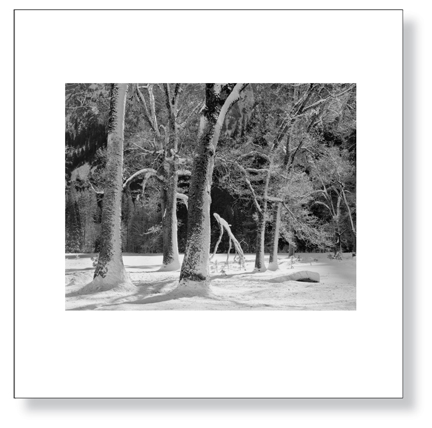 Trees in Snow, Winter Sun, El Capitan Meadow, Yosemite Valley, California

LECTURES AND BOOK SIGNINGS BY JOHN SEXTON

Thursay, October 26, 2006
Photographic Resource Center - Boston University
7:00 pm, Lecture and book signing
Photographic Resource Center
Boston, Massachusetts 02215
617/975-0600
www.prcboston.org
John Sexton Lecture at Photographic Resource Center

Saturday, October 28, 2006
Portland Museum of Art - Portland, Maine
9:00 - 4:00 All-day photographic seminar & book signing
Portland Museum of Art
Portland Camera Club
Portland, Maine 04101
Contact: Bob Darby - 207/377-4744
or Bruce Burnham -207/633-5516
John Sexton Seminar
www.portlandmuseum.org

Thursday, November 2, 2006
Photo Plus Expo - Jacob Javits Center, New York City
12:00 to 5:00 pm John in Kodak booth #1230 signing books
John Sexton Lecture at Photo Plus Expo

Friday, November 3, 2006
Photo Plus Expo - Jacob Javits Center, New York City
9:00 to 11:00 pm Seminar: "Focus on Black and White"
12:00 to 5:00 pm John in Kodak booth #1230 signing books
Photo Plus Expo

Saturday, November 4, 2006
Photo Plus Expo - Jacob Javits Center, New York City
10:00 am to 4:00 pm John in Light Impressions #1067 booth signing books
Photo Plus Expo

December 3, 2006
Portland Art Museum, Portland, Oregon
1:30 pm Lecture and book signing
Portland Art Museum
Portland, OR 97205
503/226-2811
www.pam.org
John Sexton Lecture at Portland Art Museum

If you are receiving this message in error, please accept our apologies. If you prefer not to receive future email updates from us, just send a quick note with your email address to mailto:remove@johnsexton.com and we'll take care of it. We respect your privacy, and do not disclose email information to outside mailers.

Copyright © 2006 John Sexton. All rights reserved.