ORIGINAL PRINT AVAILABLE AT A SPECIAL DISCOUNT PRICE ONLINE
From time to time, I make special print offerings available at reduced prices. My new Special Collector's Edition offering of Black Oak, Fallen Branches shown below is now available for order online. This print is being offered for a limited time at the very special price of $600. To learn more about this print, or to order, follow this link: http://store.yahoo.com/ventanaeditions/joseorpr.html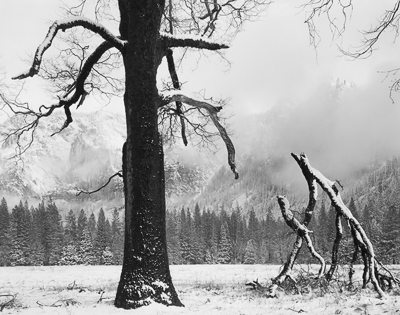 Black Oak, Fallen Branches
Yosemite Valley, California
©1984 John Sexton. All rights reserved.
Black Oak, Fallen Branches was made on an overcast winter day in Yosemite Valley. The sun had not shown the entire day. It was about three in the afternoon and I stopped at El Capitan Meadow – one of my favorite spots in Yosemite Valley. As I was wandering around the meadow with my 4x5 view camera looking for images the sky began to brighten and the heavy cloud cover began to lighten.
I set up on the Black Oak tree and the fallen limb – often referred to as the "walking tree". As I found an organization that I liked with my 120mm wide-angle lens the clouds opened up just a little. The favorable lighting conditions did not last long. Working quickly I used a Wratten #12 yellow filter to better separate the rapidly moving clouds from the sky and help distinguish the subtle separations in the snow. If you happen to own my second book Listen to the Trees, you can find this image reproduced as Plate 33.
This silver gelatin, selenium toned print is approximately 10-3/8 x 13-1/4", personally printed by me (as are all my prints), processed to current archival standards, signed, mounted, and matted to 16x20" on 100 percent rag museum board.
The special discounted price is $600, a $300 savings from the retail price of $900. My prints in this size retail in galleries for $900, so the savings of $300 is significant - nearly 33%.
If you would like to order this print, please be sure to enter the discount code YOSEMITE during the checkout process to receive your additional 10 percent discount price.
You can see the image and place a secure online order for this print at the Ventana Editions web store:
http://ventanaeditions.stores.yahoo.net/joseorpr.html
Please note that all of John's original print prices will be increasing effective January 1, 2010. This will be the last opportunity to purchase a Special Collector's Edition print at the $600 price. Future Special Collector's Edition print offerings will be at a higher price.
Prints will be shipped within three weeks from the date of order.
All prints are carefully prepared and packaged in specially designed protective shipping boxes, and shipped fully insured via UPS ground.
If you have any questions about the print, please feel free to contact my assistant Laura Bayless at 831-659-3130, or email: laura@johnsexton.com. Her office hours are Monday through Thursday from 10:00 am to 5:30 pm, Pacific Time.
---
SPECIAL 10% DISCOUNT FOR EMAIL NEWSLETTER READERS
The readers of this newsletter can save 10% on all purchases at the Ventana Editions online store between now and December 31st, 2009. This includes all of my books and posters, along with the new Collector's Edition print described above. In addition, we have autographed books by Mark Citret, Mariana Cook, Tillman Crane, Richard Garrod, Ray McSavaney, and Huntington Witherill - along with a number of interesting photography DVD's. The Ventana Editions online store can be found at: http://store.yahoo.com/ventanaeditions
To receive the special 10% discount, simply enter the code 'YOSEMITE' (without quotation marks) into the 'COUPON CODE' section of the secure web order form. Please remember to enter the coupon code during the checkout procedure to receive your special discount. This special 10% discount is good for orders placed through December 31, 2009. Remember that UPS ground shipping (to the 48 continental United States) is only $5.00 per order. If you prefer, you may also place an order by calling Ventana Editions at 831-659-3130, Monday through Thursday from 10:00 am to 5:30 pm, Pacific Time.
---
JOHN'S PRINT PRICES TO INCREASE JANUARY 1, 2010
It has been more than four years since I last increased the prices on my original handmade silver gelatin photographic prints. It seems that all of our photographic materials (along with everything else in life!) has gone up in price. So the time has come for me to raise the prices on my prints.
Effective January 1, 2010 the following prices will apply to my open edition original prints:
11x14" or smaller size prints - $1,000
(Price until December 31 - $900)
See the Special Collector's Edition print offer for considerable savings on my image Black Oak, Fallen Branches.

16x20" prints - $1,500
(Price until December 31 - $1,200)
In addition, there are a number of images that have a special higher price structure. Those will be going up as well, along with any remaining Limited Edition prints and Deluxe Limited Edition book and print sets.
If you have any questions about ordering prints, please contact Laura Bayless at 831-659-3130 or laura@johnsexton.com. Her office hours are 10:00 am to 5:30 pm, Monday through Thursday. Do note that our studio and office will be closed from mid-day December 24th through January 3rd for the Holidays.
---
ANSEL ADAMS MOON AND HALF DOME ENCORE NOVEMBER 28, 2009
I suspect that many readers of this newsletter are already aware of this news, but in case you are not I wanted to share with you that, on Saturday, November 28th, at 4:04 PM PST a celestial encore of Ansel's iconic Moon and Half Dome image will occur in Yosemite. The moon will be a fraction of a degree north of where it was on December 28th, 1960 when Ansel made his well-known image.
Texas State University Astronomer, Donald W. Olson, and his team have studied a number of Ansel's famous moon photographs, and worked out the exact dates the negatives were made. On November 28th the sun will be about 1.5 degrees off of its 1960 position, so the shadows, as well as the position of the moon, will be very similar... that is if the weather cooperates and the sun is out at that time! The Ansel Adams Gallery is presenting a special program focused on the making and printing of Moon and Half Dome on the afternoon of the 28th. You can check out the Ansel Adams Gallery web site for more information or call them at 209-372-4413. Here is a link to the page about the special program. http://theanseladamsgallery.blogspot.com/2009/11/moon-and-half-dome-encore-november-28.html
I imagine if the weather is good there will be quite a crowd in the Ahwahnee Meadow. Since the moon is a tiny bit to the north of where it was when Ansel made his photograph, it will be necessary for photographers to position themselves a short distance to the south of Ansel's 1960 camera position. In addition, it will be necessary for photographers to back up a bit further west from Half Dome, because trees have grown up and partly blocked the view from the precise spot where Ansel placed his tripod so many years ago. I think the best photograph will likely be of the crowd of photographers and tripods attempting to emulate Ansel's photograph. I hope a few photographers are successful in making images that interpret this event with new and different eyes.
If you're worried about where to set up your tripod, you can go to Donald Olson's Texas State University web site and check out the aerial photograph with a suggested tripod location diagram. Amazing!! http://uweb.txstate.edu/%7Edo01/moonandhalfdomeencore.htm
For those that won't be able to attend the event (like us, but want to experience some of the excitement, try checking out the Yosemite Association's Ahwahnee Meadow web cam. If the weather cooperates, it should be an excellent view... complete with photographers! Here's the link: http://www.yosemite.org/129/Web-Cam-View.htm
As an added bonus, the Gallery in Yosemite will host an opening reception for Alan Ross from 5:00 to 6:30 PM. This would be a great time to meet Alan and see his photographs, which are on display at the Gallery through January 3, 2010.
---
NEW ADOX VARIABLE CONTRAST FIBER BASE PHOTOGRAPHIC PAPER IN STOCK AT FREESTYLE PHOTOGRAPHIC SUPPLIES INITIAL TEST RESULTS LOOK IMPRESSIVE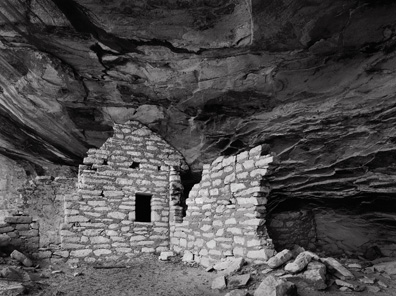 Converging Walls, Colorado Plateau
©1991 John Sexton. All rights reserved.
Printed on Adox Premium MCC 110 Variable Contrast fiber base paper
Over a year ago Anne and I had the opportunity to experiment with a test emulsion of what is now the new Adox Premium MCC 110 Variable Contrast fiber base photographic paper. This paper is an evolution of the Agfa Multicontrast Classic paper that enjoyed a great popularity around the world before Agfa discontinued their manufacturing of films and papers. I used a lot of the Multicontrast Classic paper to print a number of the Anasazi ruin photographs from my Places of Power project.
Anne and I, along with a number of other trusted photographic friends and colleagues, found the earlier test emulsion to have almost identical performance characteristics to the "original" Agfa Multicontrast Classic. One noticeable difference is that the discontinued Agfa paper had a "natural" white base. The Adox test emulsion, and the new Adox MCC 110 paper, have a much brighter white base. I really liked the Agfa natural base, and was initially concerned about how the bright white base would work with this warmer tone emulsion. I was pleasantly surprised to find that I thought it worked fine. Most people I've spoken with find that they actually prefer the Adox bright white base over the natural white base the Agfa paper had.
We received an early shipment of the paper from Freestyle Photographic Supplies just prior to departure on our recent photographic trip. We put the paper in cool storage, and just a couple of weeks ago finally had an opportunity to do some experiments with the production run of the paper. The results were virtually identical to the results we got from the test batch more than a year ago. That is a good sign in terms of quality control. I went to work using my normal working procedures, including Dektol paper developer. I've not yet had a chance to experiment with other paper developers. That being said, I was very pleased with the results I obtained with Dektol.
I worked extensively with one of my Anasazi negatives on the new Adox MCC 110 paper, and was very impressed with the results. Like nearly all papers, the maximum black of the paper is enhanced with selenium toner. We used Kodak Rapid Selenium Toner diluted 1+10 with working strength Hypo Clearing Agent, and toned for about three minutes. This was controllable and there was a noticeable image tone shift. I did not experience any undesirable "split-toning," as can be a common occurrence on warmer tone emulsions.
We are still successfully using our frozen "vintage" Kodak Polymax Fine Art as a cold/neutral tone paper. The new Adox MCC 110 paper, with its decidedly warmer image tone (not super warm, just pleasantly warm), looks like a great addition in terms of a high quality printing paper choice. As is the case with almost all Agfa papers in the past, the application of steam will remove a slight "haze" that may be apparent in the blacks. Steaming will enhance the surface gloss in a very pleasant way, and increase the D-Max of the paper. I found the steaming technique worked well with the Adox paper as well. See the tech tip in my November 2008 email newsletter for more information about this simple and effective print enhancement technique.
More good news! Eric Joseph, Senior VP Merchandising & Product Development at Freestyle Photographic Supplies, says they are now "in stock" on the Adox MCC 110 paper. He also stated that an additional new emulsion coating was just produced, and should be arriving in the US within 60 days. Along with the more common sheet sizes, Freestyle will be adding 42 inch x 33 feet mural rolls to their product selection. Here is a link to the Adox MCC 110 paper at Freestyle http://www.freestylephoto.biz/adox_mcc_110.php
I've been on the Freestyle Advisory Board of Photographic Professionals since its inception. I congratulate Freestyle and their German partner, FotoImpex, for working diligently to bring this paper to life. Hopefully it will be a valuable tool for traditional black and white printmakers for years to come. As Eric mentioned in a recent email, this product introduction has been a "home run!" It's exciting to hear that type of news about a traditional photographic product.
---
NEW INTERVIEWS AND ARTICLES FEATURING JOHN
I am very flattered to have my image Tree Fern Detail, Carmel on the cover of the new Calumet Focus magazine published by Calumet Photographic. I have an interview included in the magazine, along with a number of other images. I'm very pleased with the way the interview turned out. David Gremp, Calumet's Senior Editor, made the entire process very enjoyable. I've worked with David on various Calumet projects for more than twenty-five years. He is a dedicated photographer and has a great sense of humor. David said that this issue of Calumet Focus is in the mail. Many of you should be receiving it soon.
In addition, the interview from Focus magazine, along with additional questions and answers, will be live on Calumet's web site next Tuesday, November 24th. Here is a link to the page: www.calumetphoto.com/p/spotlight/johnsexton
Remember it doesn't go live until next Tuesday. If you have some spare time on Thanksgiving with absolutely nothing else to do, check it out.
I also wanted to let you know that I had an article in the most recent issue of Photo Techniques (November/December 2009). My article, Patience, Practice, and Printing, is part of Photo Techniques ongoing series Master Print Classes. It discusses the making and printing of my image Lower Calf Creek Falls Detail, Utah.
---
TECH TIP: COLD WEATHER PHOTOGRAPHY - KEEPING HANDS AND TOES WARM
With winter approaching, and thoughts of trips to Yosemite Valley in pursuit of beautiful snow, comes the realization of standing ankle deep in the snow waiting for "just the right light." If you're on the move, carrying your camera, it's fairly easy to stay warm. However, once you stop, set up the tripod and the camera, and have to wait, it's another story.
There are a number of things that can help make this situation more comfortable. Insulated waterproof boots (the current ones we have use Gore-Tex, which allows our feet to breathe but keeps them dry), along with heavy wool socks and Gore-Tex gaiters to keep the snow out of the boots, help a lot. Remember that insulated boots and warm socks - as well as jackets, pants, gloves, etc. - do not generate heat. They merely trap heat generated by the body. If you are active you generate a significant amount of heat (as well as perspiration). If you are not active - like when you are standing around waiting for just the right light - you do not generate much body heat. You can easily end up cold, especially at the extremities like your toes and fingers.
Finding gloves that will still allow you to work with your camera can be a challenge. Some people like fingerless gloves or mittens, but since my hands were partially frostbitten many years ago my fingertips are simply too sensitive, unless they're covered with some sort of fabric. The best compromise I've found has been to use polyester fleece glove liners.
They give you a bit of protection from the cold and the wind, but still provide a relative degree of dexterity. When not operating the camera, I insert my liner-covered hands into good waterproof Gore-Tex mittens. Not only does the Gore-Tex provide a waterproof barrier, but they are truly windproof. The same goes for Gore-Tex rain pants and our always-present Gore-Tex rain/wind parkas.
If you've never tried them, Anne and I have both found the chemical toe and hand warmers to be extremely valuable when your body is not active in generating its own heat. There are a few different brands of these devices. They are easy to find, compact, lightweight, and reasonably priced. The toe warmers have an adhesive that allows you to keep them in position (most of the time) in your boots. The hand warmers simply reside in your mittens (or pockets).
Here are links to hand warmers and toe warmers at REI:
http://www.rei.com/product/777596
http://www.rei.com/product/777597
Each of them claims to last 8-10 hours. In reality, I think they are effective around 6 hours - which is quite a long time. If you're going to be doing some cold weather photography this winter, give them a try. It's a lot easier to concentrate on what's going on in the viewfinder or ground glass when your fingers and toes are not numb!
---
ANSEL ADAMS: EARLY WORKS AT SAN JOSE ART MUSEUM
JOHN LECTURING ON ANSEL AT THE SYMPOSSIUM ON ELECTRONIC IMAGING
There is an interesting and unique exhibition of vintage Ansel Adams prints at the San Jose Museum of Art in San Jose, California- Ansel Adams: Early Works. According to the Museum web site, this exhibition focuses on the masterful, small-scale prints made by Adams from the 1920s to the 1950s. During this time, Adams' printing style evolved from his soft-focus, warm-toned, painterly Parmelian prints of the 1920s; through the sharp-focused photography of the f/64 school that he co-founded with Edward Weston and Imogen Cunningham in the 1930s; to the cooler, higher-contrast approach he embraced thereafter.
For further information about the exhibition, which runs until February 28, 2010, check out the Museums' web site: http://www.sjmusart.org/content/exhibitions/current/exhibition_info.phtml?itemID=419
We have not yet been to see the exhibition, but hope to do so in the next few weeks. It will be a rare opportunity to see some of Ansel's vintage prints of well known and lesser-known images. The earliest known print of Ansel's iconic Clearing Winter Storm (an 8x10" contact print) is a part of this exhibition. The negative was made in 1938 – though Ansel's erroneously dated it as circa 1944 during the latter years of his life. Ansel always said he was terrible with dates... and I'm afraid I must agree with him. I even remember working with him on the Museum Set projects and loading that negative into the enlarger, and noting it was on a nitrate based film. I thought 1944 was a little late for nitrate films, but Ansel replied there were still a few around at that time. The 1938 date makes much more sense.
I am honored to be presenting a keynote address, Photographing the Range of Light: Works by Ansel Adams and John Sexton, at the 22nd annual Symposium on Electronic Imaging, sponsored by The Society for Imaging Science and Technology and SPIE in January, which will be based just across the street from the Museum. Unfortunately the event is not open to the public.
John McCann, who worked closely with Dr. Edwin Land at Polaroid Corporation for a number of years (and was in charge of the 20x24 camera project, among many things), has invited me to give a presentation to this annual Electronic Imaging conference. It's the first time I've presented a scientific "paper." In fact I don't have a "paper" to present beforehand. That's not how I work when I do public speaking. After John McCann's presentation and my lecture, the group will be invited across the street to tour the exhibition with Jodi Throckmorton. It should be an interesting day, dealing with both the science of human vision and image making, as well as the aesthetics of the creative aspects of photography. See the quotation at the bottom of this newsletter about how two photographic pioneers viewed the two-sided sword of the technological medium of photography.

---
PHOTOGRAPHIC LEGENDS IRVING PENN AND ROY DECARAVA PASS AWAY
In October we lost two great photographic legends - Irving Penn and Roy DeCarava. Both of these individuals had a dramatic and important impact on the world of creative photography. I never met Irving Penn, but certainly had a great respect for his photographs. Irving Penn passed away at age 92 on October 7, 2009. To read more about his life and career follow this link:
http://www.nytimes.com/2009/10/08/arts/design/08penn.html?_r=3
I did have the honor to meet Roy DeCarava and teach with him at a few Friends of Photography workshops. He was a quiet person, as were his photographs. His images are deep, somber, and understated. In spite of their seeming simplicity, they spoke volumes about the human condition. Many are images that you never forget. I vividly remember David Drake, my photography professor at Cypress College, bringing in the book The Sweet Flypaper of Life and showing it to us during one of our photography class sessions. Roy collaborated on this 1965 book that chronicled the lives of Harlem residents with noted writer and poet Langston Hughes. Years later you can imagine how thrilled I was when I had the opportunity to teach with Roy. He passed away on October 27, 2009 at the age of 89.
Roy DeCarava's images, like Irving Penn's, will live on as a lasting legacy, impacting photographers and non-photographers alike. To learn more about Roy's life and his photographic career click here:
http://www.nytimes.com/2009/10/29/arts/29decarava.html?scp=3&sq=roy%20decarava&st=cse
---
SOME THOUGHTS ON PHOTOGRAPHY... AND OTHER TOPICS
"The production of a perfect picture by means of photography is an art;
the production of a technically perfect negative is a science."
– Ferdinand Hurter & Vero C. Driffield
The opening sentences from their seminal paper
that served as the cornerstone for the science of sensitometry
Photochemical Investigations and a New Method of Determination
of the Sensitiveness of Photographic Plates
published May 31, 1890