It's hard to believe that Thanksgiving is less than two weeks away, followed by the Holiday season and a new year in just over a month. I'm not sure where 2011 has disappeared to, but it certainly seems to have gone by in a flash.
Anne and I recently returned from an exciting trip to New England. I had the privilege of presenting a lecture on my work to an enthusiastic "sell out" crowd of 250 at the New Hampshire Institute of Art about ten days ago. I spent the following day with senior photography majors at the Institute. I was extremely impressed with the skill, dedication, and passion for photography exhibited by the students. In addition, I was especially impressed with the facility, faculty, and administration at the New Hampshire Institute of Art. They seem dedicated to providing a holistic curriculum in photography, with state of the art digital laboratories with the latest and greatest Apple computers and a wide array of Epson professional printers. In addition, they have an active and vital curriculum of traditional film and wet darkroom instruction, not to mention the classes they offer in 19th Century processes, including platinum, palladium, albumen, and other classic practices. It was exciting and enjoyable to share original prints, along with insights about photography, with the students. I hope they enjoyed the session half as much as I did. The time flew by.
This past October Charlie Cramer, Anne, and I taught two back-to-back filled to capacity offerings of the Mono Lake and the Eastern Sierra: Exploring Autumn Light workshop. As we desired, we had a blend of dedicated digital and traditional workshop participants. Both groups had lots of energy and worked hard. During the first workshop session we had to adjust our planned itinerary because of a snowstorm that came in. Fortunately we were able to revise all of our field trips, and that group got the added bonus of having the opportunity to photograph fresh snow in the Yosemite High Country. It was beautiful. If you have a passion for the photographic print, whether traditional or digital, be sure and check out information below about the upcoming The Luminous Print: A Synthesis of Traditional and Digital workshop Charlie and I will be offering in Carmel Valley next March.
Tomorrow we begin the final offering of the Expressive Black and White Print workshop for 2011. Even though the workshop has been offered multiple times a year for thirty years, we still have a great deal of interest in this particular workshop. This session is filled to capacity with photographers from near and far. We even have participants joining us from Ireland and Australia. It should be a fun experience.
Two days after the conclusion of the workshop, I'm going to become "bionic" when I have a partial knee replacement. I injured both my knees a number of years ago and have had several surgical procedures to remedy problems. Finally it's time to replace some worn out parts with new equipment. At some point my knee might be as complicated and as high-tech as my Gitzo carbon fiber tripods. See below for some tips in maintaining your carbon fiber tripods for optimum leg performance. I'm sure I'll learn some tips during rehabilitation and physical therapy after the surgery to help me keep my knee operating properly.
Anne and I hope that you and your family have a wonderful Thanksgiving and Holiday Season ahead.
John
---
LIMITED EDITION PRINT AVAILABLE AT A SPECIAL DISCOUNT PRICE ONLINE
I am thrilled to introduce a new Limited Edition print offer. As many of you know, most of my prints are issued as non-numbered "open editions," but over the years I have offered a number of Limited Edition prints for special projects. I am pleased to say that nearly all of these previous Limited Edition prints sold out very quickly which, as you might imagine, has been very flattering. My new Limited Edition print of Oaks in Fog, Sunrise, Carmel Valley is now available for order online. This print is being offered for a limited time at the very special introductory price of $700.
To learn more about this print, or to order, follow this link: http://ventanaeditions.stores.yahoo.net/redeliedboan.html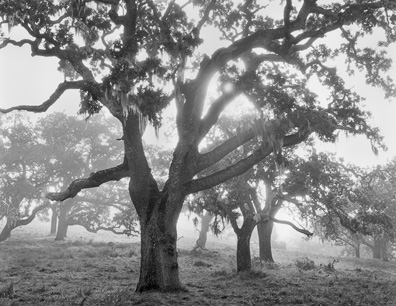 Oaks in Fog, Sunrise
Carmel Valley, California
©1995 John Sexton. All rights reserved.
The image Oaks in Fog, Sunrise has not been offered for sale previously, and appropriately enough it's from right here in Carmel Valley. The image was made on a misty morning not far, as the crow flies, from our home. As I began exploring this wonderful area of oak trees, the ridge was completely enshrouded in fog. My wristwatch indicated that the sun had already risen, but there was no evidence of it. Then suddenly the fog began to lift and thin, and the sun appeared through the mist-filled sky, creating an ethereal illumination among the oaks. I worked very quickly with my Linhof 4x5 camera and 120mm lens. I exposed two negatives, as I typically do, giving them an identical exposure. Even though only a few seconds passed between the two exposures, the diffused fog and lighting had changed. Within a moment or two after exposing the negatives the entire scene was in full sun, and the magical quality of light had evaporated.
This print is offered in a Limited Edition of 100 numbered silver gelatin prints, plus 10 Artist's Proofs. When the edition is sold out no further prints will be made for sale in any size. Though my open edition 11x14" prints have a retail price in galleries of $1,000, the introductory price of this Limited Edition print is $700.

To further sweeten the offer between now and December 1st, you can save an additional 10% on this special price if you simply enter the code 'TURKEY' (without the quotation marks) in the 'COUPON CODE' section at the Ventana Editions secure online store. The price will increase to $1,000 once the first seventy-five prints have been sold, or on January 1, 2012, whichever comes first. If you're interested in owning this particular print, based upon past experience, I might humbly suggest that you place your order soon.
This silver gelatin, selenium toned print is approximately 10-1/4 x 13-1/4", personally printed by me (as are all my prints), processed to current archival standards, signed, numbered, mounted, and matted to 16x20" on 100 percent rag museum board. Normally there is a long waiting period for my original prints. This is a rare opportunity to obtain a print with prompt delivery, and at a special discounted price.

Prints will begin shipping on December 12, 2011, and all prints will be shipped no later than February 29, 2012.

If you would like to receive your Oaks in Fog, Sunrise print in time for the Holidays, please be sure to let us know at the time of the order. It would probably be a good idea to follow up with an email or phone call. We will make every effort to ship prints out in time for Holiday gift giving to those who need them. All of the Limited Edition prints ordered will be shipped no later than February 29, 2012.
All prints are carefully prepared and packaged in specially designed protective shipping boxes, and shipped fully insured via UPS ground. If you have any questions about my prints, please feel free to contact my assistant Laura Bayless at 831-659-3130, or email: info@johnsexton.com. Her office hours are Monday through Thursday from 10:00 am to 5:30 pm, Pacific Time.
---
SPECIAL EVENT ADDED TO LUMINOUS PRINT WORKSHOP WITH CHARLIE CRAMER

In the September 2011 issue of my email newsletter I announced the upcoming The Luminous Print: A Synthesis of Traditional and Digital workshop, March 19-24, 2012, which I am co-teaching with Charlie Cramer.
I am thrilled to announce a very special addition to the workshop schedule. The workshop group will be visiting Ansel Adams's home, thanks to the generosity of Ansel's son and daughter-in-law, Michael and Jeanne Adams. We will have the opportunity to see Ansel's darkroom, which today is almost the same as it was when Ansel made his last prints there in early 1984. There will be a number of Ansel's original prints on display in an intimate setting. Michael Adams, Ansel's "original assistant," will share stories and anecdotes about his father. I have known Michael since 1973 and every time I am around him I hear a new and interesting story about Ansel. We had the opportunity to make a similar visit on the initial offering of The Luminous Print workshop two years ago.
The response to this workshop has been very gratifying. There are still a few spaces available. If your passion is the print - whether traditional or digital - this is a workshop to consider. We will not only be discussing the "how" of the photographic process, but also the "why."
If you are interested in the workshop, please visit the web site to download a workshop brochure, which contains additional information, and an application form.
http://johnsexton.com/schedule.html
For more information call Laura Bayless at 831/659-3130 Monday through Thursday, 10:00 am to 5:30 pm Pacific Time.
---
PHOTOGRAPHER'S GUIDE TO YOSEMITE IPHONE AND IPAD APP BY MICHAEL FRYE
It seems that nearly everyone involved in photography has either photographed in Yosemite or has a strong desire to do so. It is certainly one of my favorite locations, and Yosemite is of course where Ansel Adams had a life-changing experience during his first visit in 1916 at the age of fourteen. From time to time when visiting with photographers, I am asked questions like these — where's a good place to photograph in Yosemite? When is a good time of year or time of day to photograph in Yosemite? Well now there's an app for that!
Our good friend, and excellent photographer, Michael Frye has created a wonderful app for the iPhone and iPad The Photographer's Guide to Yosemite. The app is based upon information contained in Michael's best-selling book of the same title. I'm very impressed with the quality and quantity of information, as well as the functionality of the app. It works beautifully on either the iPhone or the iPad (the app was recently updated to include high-resolution pictures on the iPad version).
Michael has lived in or near Yosemite National park since 1983, and currently resides just outside the park in Mariposa. He knows Yosemite inside and out. Along with a large selection of Michael's beautiful images, the app is broken down into specific locations, including: Yosemite Valley, Selected Valley Hikes, Merced River Canyon, Wawona and Glacier Point Road, the Tioga Road, as well as Mono Lake and the Eastern Sierra. Once you click on a location there is a sub menu, which gives specific locations, such as El Capitan Meadow, Tunnel View, Horsetail Fall, Lower Yosemite Fall, and others. That's just in Yosemite Valley! There's a sub menu for each general location. By clicking on a specific location you see images from that area, along with specific information about the best times to photograph in terms of the best months, as well as the best time of day for interesting light. There are detailed and specific directions, as well as a link that shows them on a map. In addition, Michael has provided specific photographic advice based upon his many years working as a photographer.
Along with the location section there are sections of different maps of the various areas referred to. There is also a sunrise and sunset listing, along with moonrise and moonset, for today's date, as well as the opportunity to set the app to any day you would like for advance planning. Finally there are links with additional tips. There's a section on photographic tips that range from clearing storms, close-up photography, depth of field, HDR, night photography (including lunar rainbows... see article below), and using filters. There's an "extras" section, which includes dates of the full moon, a depth of field calculator, video tutorials, resources and links, as well as the opportunity to view a slide show of all of the beautiful photographs included in the app.
Here is a link to Apple's app store, where you can purchase the app for $6.99. http://itunes.apple.com/us/app/the-photographers-guide-to/id459969580?ls=1&mt=8

Here is a link to Michael's blog post about it, including a video demonstration:http://www.michaelfrye.com/landscape-photography-blog/2011/09/15/the-photographers-guide-to-yosemite-iphone-app-is-available-today/
For those of you who do not have an iPhone or iPad, or prefer turning the pages of a traditional book, here's a link to the printed copy of Michael's book of the same title. http://www.amazon.com/Photographers-Guide-Yosemite-Michael-Frye/dp/1930238002/ref=sr_1_1?s=books&ie=UTF8&qid=1321320800&sr=1-1
Anne and I are looking forward to making a winter trip as soon as I have recovered sufficiently from my upcoming knee replacement surgery. I'm sure we will find Michael's app to be a valuable addition to our photographic experience in Yosemite. I've learned a lot looking through it myself, and I first visited Yosemite Valley fifty-six years ago, albeit at the age of two!
---
STEVE JOBS, ANSEL ADAMS, AND EDWIN LAND
THE INTERSECTION OF ART AND TECHNOLOGY
I believe it is safe to say that Steve Jobs recent death on October 5th was shocking news to many people around the world. There have been countless articles, news features, and web discussions about the unique person - Steve Jobs. Today he is most widely known as the person who not only co-founded Apple, but also brought it back to the prosperous and vigorous success it enjoys today. As a loyal Apple consumer for more than twenty years, I make use of the devices and innovations Steve has brought to our lifestyle on a daily basis.
What some readers of the newsletter may not be aware of is that Steve enjoyed fine photography. He was a huge fan of Ansel Adams, and had Ansel's original prints in his sparsely furnished home and viewed them as personal treasures. The team that developed the Macintosh computer under Steve's leadership (affectionately known as the "Pirates") worked in an area where Jobs surrounded them with objects that might inspire an obsession with excellence in design and craftsmanship. These items included a Bosendorfer piano, a BMW motorcycle, and original Ansel Adams prints. When Steve held a press conference to introduce his NeXT computer, Ansel's image Clearing Winter Storm was on the monitor next to Steve at the event. Some of you may recall Apple's Think Different advertising campaign, which featured portraits of notables including Albert Einstein, Thomas Edison, Pablo Picasso, Frank Sinatra, John Lennon, Bob Dylan, Ansel with his 4x5" view camera, and others.
Along with his admiration of Ansel and his photography, Steve had one person that, more than any, was his hero and after whom he modeled his obsessive passion for perfection - none other than one of Ansel's best friends Dr. Edwin Land of Polaroid fame. If you want to read more about how important Edwin Land was to Steve Jobs, check out this recent article The Man Who Inspired Jobs by Christopher Bonaons in the New York Times (you may need to login to view the article, but there is no charge). In addition there is an article by Chunka Mui in Forbes, as well as an article by Erik Calonius, author of the new book Ten Steps Ahead, that may be of interest to you. Check out a excerpt from the Playboy Magazine 1985 interview with Steve Jobs at the end of this newsletter.
I never had the opportunity to meet Steve Jobs. He actually attended an opening I had in Palo Alto in 1990. Unfortunately, I was not aware he was in attendance until after the conclusion of the opening when the gallery owner asked me if I had met Steve. I was disappointed that day, and am disappointed now that I will never have the opportunity to meet someone as brilliant as Steve Jobs, as well as someone who had the same heroes as I have. I was fortunate to have the opportunity to study with, know, and work with Ansel Adams for a number of years, and to have had a one-on-one meeting with Dr. Land, while I was a consultant to Polaroid Corporation - a meeting I will never forget.
These three men Adams, Jobs, and Land, each in their own unique way, seemed to always be seeking that magical "intersection of art and science" to use Dr. Land's words. I think each of them found that place through their life's work.
---
NEW ONLINE VIDEO: YOSEMITE MOONBOWS
A new video about Yosemite moonbows, or lunar rainbows, was recently posted as part of the Yosemite Nature Notes series. Though moonbows are only visible during the coincidence of high water and full moon, which typically occurs in the spring and early summer, I thought readers might enjoy this video, revealing this seemingly mysterious occurrence. While you're visiting the web page, be sure to check out some of the other interesting videos in the Yosemite Nature Notes series. You will find the moonbow video here:
http://www.youtube.com/watch?v=_68ytOYnTvs&feature=related
In the late 70s and early 80s, if the situation was appropriate, I would offer to take workshop participants on a late night moonbow walk to the base of Lower Yosemite Falls during Ansel's annual June workshops held in Yosemite. I can assure you there were individuals who went along that were skeptical that they would see anything. I can clearly remember some people gasping with their jaws dropping, as a moonbow would appear and disappear as the winds shifted the heavy spray in the brilliant moonlight. One evening we actually had a double moonbow!
As you'll see in the video, it's a popular activity to photograph, but I still enjoy just watching the ethereal and somewhat ghostly experience. If you find yourself traveling to Yosemite during high water months when there's a full moon, be sure and take advantage of this unique experience. I hope you have clear nights. These days you may have to battle the crowds. Thirty years ago there was seldom anyone else enjoying the view, which added to the meditative experience. Check out Don Olson's excellent Yosemite moonbow web site for additional information on Yosemite moonbows, and the best opportunities for viewing them.
http://uweb.txstate.edu/~do01/
---
TECH TIP: POWDER FOR YOUR TRIPOD LEGS?
During our recent Mono Lake and the Eastern Sierra workshops I was amazed at the amount of sophisticated (and expensive!) equipment participants had. We had a number of participants who had the new, state of the art, Phase One IQ180 digital back. Let me tell you, they don't give those babies away. There are quite a few new automobiles that can be purchased today for less money than one of those backs.
Along with the camera hardware, we see a greater number of the excellent Gitzo carbon fiber tripods in use on the workshops. I was very flattered when Gitzo asked me to field test one of the earliest of their carbon fiber prototype tripods in 1992, and I've been using those tripods ever since. I've been very impressed with the way the product has evolved over the years.
One of the things I found early on with the carbon fiber tripods - which has been improved by a change in the leg-lock mechanism and the bushings - was that the legs did not extend and retract as smoothly as the older style aluminum Gitzo tripods. Paul Wild, who at that time was the President of Manfrotto (the company that owns Gitzo), offered me a great suggestion I want to pass on to you.
He suggested LIGHTLY applying some talcum powder (baby powder) to the tripod legs. I got some powder, sprinkled a bit on an extended leg, and then brushed it all off with a soft, natural bristle paintbrush, leaving just a ghost-like coating of the talcum powder. This really improved the smoothness of extending and retracting thetripod legs. I still use this procedure today from time to time.
When you're looking for powder I recommend you get powder based on talc, rather than cornstarch. Remember, a little bit goes a long way. Unless the tripod has some type of problem, I normally do not remove the legs for the application of the powder. I would NOT recommend putting the powder in the threads of the locking mechanism, just coating the extension legs themselves and then removing as much of the powder as possible. It's cheap, it's easy, it doesn't attract grit, and you don't need to do it very often. It just makes things work a little bit better. Thanks to Paul Wild for the very helpful advice so many years ago.
---
SOME THOUGHTS ON PHOTOGRAPHY... AND OTHER TOPICS

Excerpt from the February 1985 Playboy Magazine interview with Steve Jobs
by David Sheff
PLAYBOY: What's the difference between the people who have insanely great ideas and the people who pull off those insanely great ideas?

JOBS: Let me compare it with IBM. How come the Mac group produced Mac and the people at IBM produced the PCjr? We think the Mac will sell zillions, but we didn't build Mac for anybody else. We built it for ourselves. We were the group of people who were going to judge whether it was great or not. We weren't going to go out and do market research. We just wanted to build the best thing we could build. When you're a carpenter making a beautiful chest of drawers, you're not going to use a piece of plywood on the back, even though it faces the wall and nobody will ever see it. You'll know it's there, so you're going to use a beautiful piece of wood on the back. For you to sleep well at night, the aesthetic, the quality, has to be carried all the way through.
Read the interview in its entirety here.