---
2013-2014 JOHN SEXTON PHOTOGRAPHY WORKSHOPS SCHEDULE ANNOUNCED
I am pleased to announce my new workshop schedule for 2013 through early 2014. One of the most gratifying aspects of my nearly forty years of teaching workshops is the number of friends I have made over the years. It makes me feel good to see people who have been pursuing their passion for photography for decades making great progress along the way. Recently I received a note from one such photographer. I was humbled and honored that they felt I had contributed in some small way to their success in photography.
We are happy to again offer three sessions of The Expressive Black and Print workshop, which has been offered with multiple sessions every year for the past thirty years and still has great interest!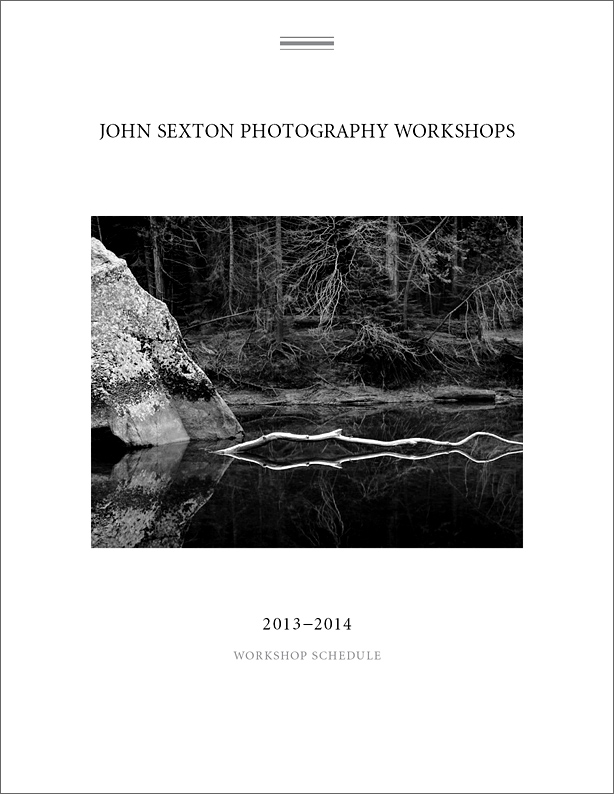 You can download a complete PDF brochure here.
By popular demand we are also offering the Fine Tuning the Expressive Print workshop, April 9-14, 2013. The Fine Tuning workshop is open only to those people who have taken The Expressive Black and White Print workshop, or a handful of other printing workshops listed in the downloadable workshop brochure. This session of the workshop is full, but those who have attended one of the prerequisite workshops are invited to apply to the waiting list. No deposit is necessary.If you are not enrolled in the 2013 Fine Tuning workshop, you will be among the first to know about future offerings.
A number of you have been waiting for the official announcement of the Mono Lake and Eastern Sierra: Exploring Autumn Light workshop for 2013. This very popular workshop will be held October 13-18, 2013. We have a waiting list of people who were not able to get into the 2012 session, so this workshop will likely fill up quickly. If you are interested, please apply for the workshop as soon as possible.
Charlie and I are also doing another session of our popular The Luminous Print: A Synthesis of Traditional and Digital workshop, March 17-22, 2014. For those that don't want to wait that long, and feel lucky, the March 18-23, 2013 workshop is filled, but please feel free to apply for the waiting list (no deposit is required). We will let you know if there is a last minute cancellation.
Again, to learn more about the workshops, or to apply, please visit my web site www.johnsexton.com where you can download the complete workshop brochure and application form.
---
2013 EXHIBTIONS, LECTURES, SEMINARS, AND KEYNOTES
2013 is already shaping up to be a busy year for Anne and me. We are both already working in the darkroom completing ongoing projects, and printing for our two joint exhibitions.
We look forward to seeing some old friends, and making some new ones, if you are able to attend one of the events listed below. In addition, it's always a good idea to check our schedule at my web site as things are changing all of the time.
JOHN AND ANNE EXHIBITION
THE ANSEL ADAMS GALLERY
YOSEMITE NATIONAL PARK, CALIFORNIA
Exhibition Dates: April 18 through May 29, 2013
Opening Reception: Saturday, May 11, 2013 - 3:00 to 5:00 pm
Lecture by John Sexton - Yosemite Lodge at the Falls - Saturday, May 11, 2013 - 8:30 pm
I am proud to say that I have been continually represented by The Ansel Adams Gallery since 1980 - longer than any other artist other than Ansel himself! Over the past three decades I have been privileged to have had a number of one-person exhibitions at the Gallery. I am very pleased that the very first exhibition that Anne and I will be sharing will take place next spring in Yosemite Valley - where we WERE married!
There will be an opening reception, followed by an outdoor lecture at the nearby Yosemite Lodge Amphitheater that same evening. It should be a fun time, and I hope to see some of you in Yosemite. It's a great excuse to make a photography trip to the Valley... but who needs an excuse to visit such a beautiful place at a time of year when the waterfalls are roaring and the dogwoods are in bloom?
KEYNOTE ADDRESS
PHOTO MONCTON INTERNATIONAL
MOCTON, NEW BRUNSWICK, CANADA
May 30 to June 2, 2013
I am thrilled to be the keynote speaker at Photo Moncton International: a four-day conference showcasing photography seminars, presentations, workshops, as well as a trade show. My keynote presentation will be on Saturday, June 1st. I am looking forward to this event and the opportunity to spend time with attendees and other presenters. Anne and I have never been to this part of Canada, and are very excited to experience the Canadian Maritimes for the first time.
The organizers are still working on this large, and complex, event. The web page should go live around the first of the year. I will post additional details in a future newsletter, and the web site also has a link to the Photo Moncton International Facebook page, which will have regular updates.
KEYNOTE ADDRESS
BIOCOMM 2013
ASILOMAR STATE PARK
PACIFIC GROVE, CALIFORNIA
June 17-21, 2013
I have been invited to be the Maria Ikenberg Lindberg Keynote speaker for BIOCOMM 2013. BIOCOMM is the annual meeting of the BioCommunications Association. The BioCommunications Association, or BCA, is an international professional association of people working in the biological communications field. This event is ONLY open to registered conference attendees.
http://www.bca.org/annual_meeting/annual_meeting.html
CREATIVE DIGITAL TRAVEL PHOTOGRAPHY ON THE MONTEREY PENINSULA
CALIFORNIA STATE UNIVERSITY MONTEREY BAY
COURSE DATES: July 15 - 28, 2013
JOHN'S PUBLIC LECTURE: July 16, 2013 - 7:00 pm
JOHN'S CLASSES AS PART OF THE WORKSHOP: July 16 and 17, 2013
http://www.csusummerarts.org/courses2013
I am pleased to be involved with the 2013 Summer Arts program at nearby California State University Monterey Bay. The faculty, that includes well-known photographers and instructors Rick Sammon and Nevada Wier, along with Michael Jones from West Coast Imaging and Professor Mark Larson, will provide excellent information and inspiration for those attending the session. I will be spending two days with participants, and presenting an evening lecture that is open to the public. Workshop participants will have an opportunity to learn creative seeing and photography techniques, along with insights into photography careers. In addition, participants will develop Photoshop skills for fine-art inkjet printing and print two large fine-art images for the public culmination exhibit.
For more information about the course contact Professor Mark Larson at mark.larson@humboldt.edu or 707-826-5925.
JOHN AND ANNE EXHIBITION
SUN TO MOON GALLERY
DALLAS, TEXAS
Exhibition Dates: September 5 - October 12, 2013
Opening Reception: Saturday, September 7, 2013 - 5:00 to 8:00 pm
Anne and I are very pleased to be having another two-person exhibition at the Sun to Moon Gallery in Dallas, Texas. The show will run from September 5 through October 12, 2013. There will be an opening reception on Saturday, September 7 from 5:00 to 8:00 pm. In addition we are planning a possible one-day workshop and public lecture sometime between September 5th and 8th. Anne and I visited the gallery last May, and it is a great display space. Sun to Moon represents a number of our longtime friends including Charles Cramer, Dan Burkholder, Jeff Conley, Scot Miller, Alan Ross, and Keith Walklet - among others. We are looking forward to sharing our images with our many friends from the Dallas-Fort Worth area, and making lots of new friends that weekend. Mark you calendars now, and we will share more details as the events draw closer.
---
THE SPACE SHUTTLE: END OF AN AMAZING ERA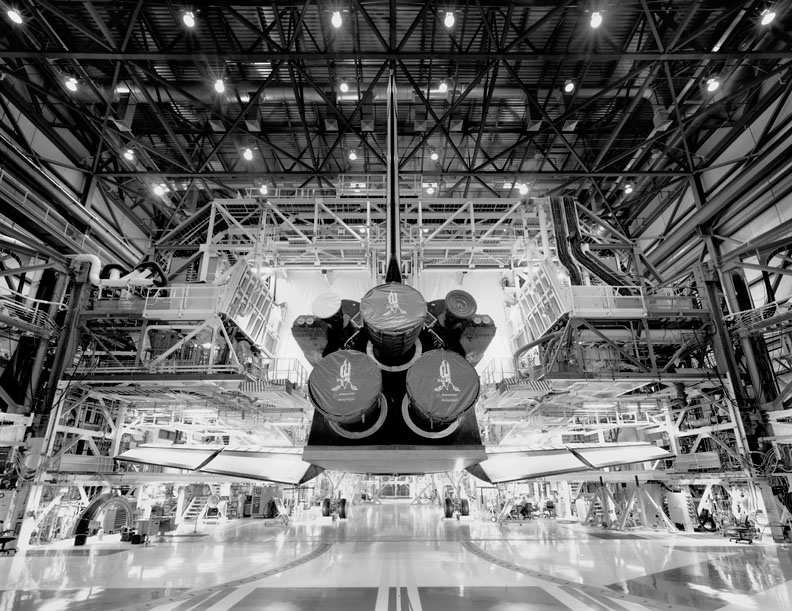 Endeavour, Aft View, Kennedy Space Center, Florida
©1999 John Sexton. All rights reserved.
As many readers know, I undertook a personal photographic project to photograph NASA's Space Shuttle program nearly twenty years ago. That body of work - made over 7 years - is included in my book Places of Power: The Aesthetics of Technology.
It took nearly three years to get permission for the access I desired to the Shuttle, and its related systems. I made 13 trips to the Kennedy Space Center, along with numerous trips to the Palmdale, California facility where all of the orbiters were built. I have said many times that when I was photographing one of the orbiters in the Vehicle Assembly Building at KSC I arguably had the world's most expensive prop to photograph, and had the thrill of working in one of the world's largest studios.
On September 21, 2012, when the orbiter Endeavour landed at Los Angeles International Airport it marked the last time a Space Shuttle would ever be airborne. It also marked the end of an important era in human space flight, and in the technological undertakings of human kind. Some of you may have been fortunate to see Endeavour's last "low and slow: multi-day flight across the USA. Unfortunately, Anne and I were in the Yosemite high country on a photographic trip the day that Endeavour flew over the Monterey Peninsula on the way to Los Angeles - its final destination.
For your possible enjoyment I have included below some links to web sites with amazing videos of that final flight, virtual reality images of the flight deck of Endeavour, as well as cool images and information about the Space Shuttle program and the amazing accomplishments of the only fleet of reusable manned space vehicles. Godspeed Space Shuttle!
http://www.theatlantic.com/infocus/2012/09/endeavours-last-flight/100374
http://www.youtube.com/watch?v=5TnCumH1mL4&feature=related
http://www.launchphotography.com/Endeavour_Flight_Deck.html
http://www.space.com/17695-space-shuttle-endeavour-surprising-facts.html
http://framework.latimes.com/2012/10/15/time-lapse-video-space-shuttle-endeavours-trek-across-l-a