DARKROOM EDITION PRINT SERIES
30th ANNIVERSARY
LIMITED EDITION PRINT JUST RELEASED BY JOHN AVAILABLE ONLINE
AT SPECIAL DISCOUNTED INTRODUCTORY PRICE

I am thrilled to introduce Darkroom Edition 2016, a limited edition silver gelatin print as part of my ongoing Special Collector's Edition print series. I have been contemplating the idea of producing a limited edition print of my image Trees in Snow, Winter Sun, El Capitan Meadow, Yosemite Valley, California for a number of years. I decided that now is the time to do so, and am pleased to introduce it as Darkroom Edition 2016.
The first limited edition print I released was my image Birch Trunks, New Hampshire. It was offered under the mantle of Darkroom Edition 1986 thirty years ago. The idea behind that limited edition print was to generate funds for the design and construction of our studio darkroom complex in Carmel Valley. Fortunately the edition was a great success, and we are still enjoying the luxury of working in such a fine darkroom, studio, and workshop facility. Much to my surprise I received a number of letters (this was long before emails and eNewsletters!) asking if I would be offering another Darkroom Edition. It had never crossed my mind. Over the years I have offered six previous Darkroom Edition limited edition prints - all of which have sold out. Since 2016 marks the 30th anniversary of the Darkroom Edition series, it seemed like a perfect time to rejuvenate the idea.
This 11x14" silver gelatin print is offered in a limited edition of 100 signed and numbered prints, plus ten Artist's Proofs. When the edition is sold out no further prints will be made for sale in any size. Though my open edition 11x14" prints have a retail price in galleries of $1,000, the special introductory price for this Darkroom Edition limited edition print is $800 – a 20% discount. After December 31, 2016 the retail for any remaining unsold prints will increase to $2,000, and will escalate as the edition sells.
To place a secure or online order for this print:

Darkroom Edition 2016 - Trees in Snow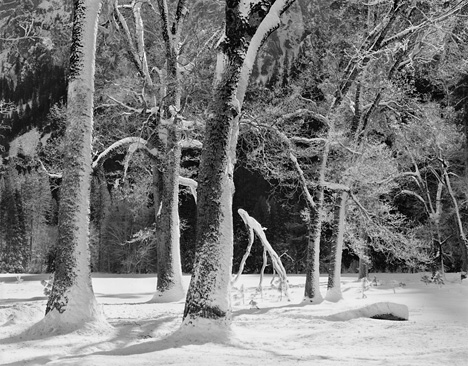 Trees in Snow, Winter Sun, El Capitan Meadow
Yosemite Valley, California
©1989 John Sexton. All rights reserved.
This image has held a special place in my heart since I made the negative and first printed it a number of years ago. I liked the image so much that I selected it as Plate One in my book Recollections: Three Decades of Photographs. I made this image during a winter trip to my favorite photographic location, Yosemite Valley. The day started out with a heavy overcast that soon lead to a steady snowfall. I made a few negatives as I explored the valley, and the snow kept falling and falling. In early afternoon the clouds suddenly broke and strong, crisp low-angle sunlight raked across El Capitan Meadow. The light moved quickly so I had to respond in kind. Using the 150 mm lens on my 4x5 Linhof Technika camera I made an exposure of 1/2 second at f/45. The high contrast between the intense sunlight on the bright snow and the deep shadows in the background forest necessitated N-1 reduced development, a technique to allow the negative to accommodate such a high contrast situation.
It is an understatement to say that this negative is difficult to print. Dodging takes place during the entire basic exposure with both hands. This is followed by extensive burning in, as well as localized print flashing, a technique to add detail in extremely bright areas. While the printing techniques are challenging, the excitement one gets when turning on the white lights in the darkroom and seeing a print that is "just right" makes it all worthwhile.
I hope you will find this print to be as appealing and as exciting as I do. Each time I see the print I can once again feel the chill in the air, in contrast to the radiant warmth of the winter sun striking my face, along with the "crunch" of fresh snow under my boots.
Prints will begin shipping on December 5, 2016. If you would like to receive your print in time for the Holidays, please be sure to let us know at the time of the order. It would be a good idea to follow up with an email as well. We will make every effort to ship prints out in time for Holiday gift giving to those who need them. All of the prints ordered will be shipped no later than March 31, 2017.
I wish I could say that I would be able to ship out all of the prints sooner, however it will be a few weeks before I am able to stand and work in the darkroom for extended periods of time in the darkroom, due to my resent knee replacement surgery. I have found from past experience that it is not just standing, but it is healing to the point where I am not consciously aware of my "bionic" knee, which allows me to focus all of my attention and concentration on the intricacy of printing this challenging negative. Your patience is greatly appreciated.
Before my knee surgery I was able to make a number of prints for the limited edition thanks to an injection of Synvisc-One that I received, combined with pre-surgical physical therapy. This did not allow me to work for my normal long periods of time in the darkroom, but I was able to accomplish more than I thought would be possible prior to my surgery. I wish I could say that I was able to complete the edition prior to my knee replacement, but unfortunately such was not the case.
This silver gelatin, selenium toned, print is approximately 13-1/4 x 10-1/4", personally printed by me (as are all my prints), processed to current archival standards, signed, numbered, mounted, and overmatted to 16x20" on 100 percent rag museum board. As has been the case with all previous Darkroom Edition prints, a beautifully printed archival presentation sheet will accompany each print. All prints are carefully prepared and packaged in specially designed protective shipping boxes and shipped fully insured via UPS ground. If you have any questions about my prints, please feel free to contact Anne at 831-659-3130 or email: info@johnsexton.com. Our office hours are Monday through Thursday from 10:00 am to 1:00 pm Pacific time.
Click to see all of the Darkroom Edition prints in the series.
---
John Sexton Photographer
Post Office Box 30
Carmel Valley, California 93924 USA
Phone: 831/659-3130
Email: info@johnsexton.com
---
©2016 John Sexton. All rights reserved
Site last updated November 21, 2016