Watch John Sexton, along with his longtime friend Kim Weston, discuss their passion for the black- and- white print in these brand new videos produced by Epson.
New Epson Web Site Celebrates the Black-and-White Print and it even includes videos of me, and my longtime friend Kim Weston. Epson launched this web site today. I am very pleased with the way my
video interview turned out. If you have a few moments, you may want to check it out, along with the interview with Kim Weston. There are three additional segments coming. In addition there are tutorials on black and white digital techniques by pals Dan Steinhardt and Tony Corbell.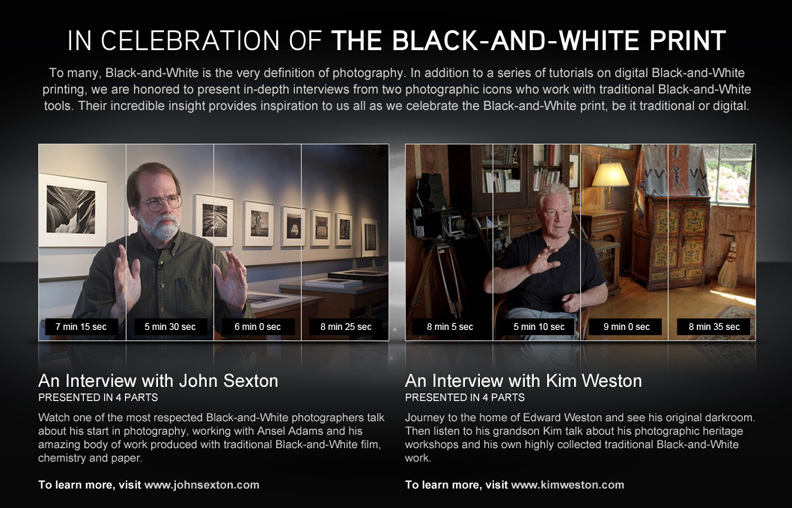 ---
Watch the recently released video: Remembering Brett Weston with Randy Efros, John Sexton, and Kim Weston. Gain insights into the man, and the photographer, Brett Weston, and learn about his passion for photography and for life.
---
Remembering Ray McSavaney

Photographer, Educator, Author, and Friend

December 18, 1938 – July 2, 2014
Read more about Ray McSavaney.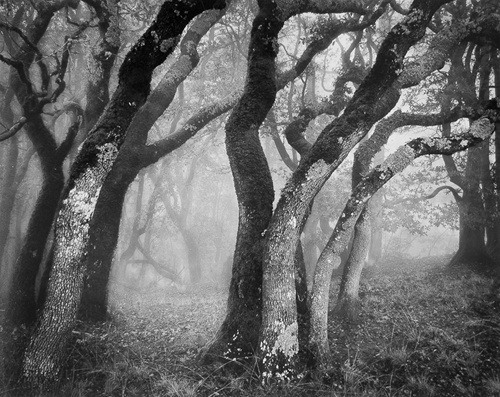 My dear friend of forty years, photographer Ray McSavaney passed away on July 2, 2014. I have prepared a tribute to my fallen friend. I hope you will take a look and let me tell you about an amazing photographer, and loyal friend.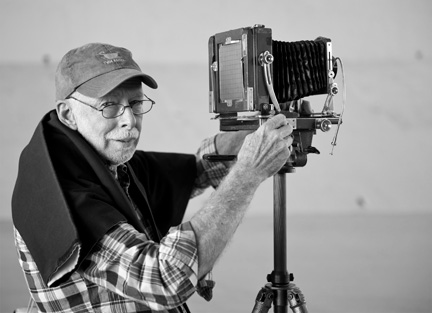 ---
John's photographs included in the "Power of the Image" exhibition in Beijing, China - April and May 2014
John is a recipient of the inaugural "Power of the Image - George Eastman Medal"

I had twelve photographs included in the "Power of the Image" exhibition on display during April and May 2014 at the Temple of Heaven in Beijing, China. Along with my images, the exhibition features more than 200 photographs by 20 internationally-renowned professional photographers, including Pep Bonet, Michael Crouser, Lauren Greenfield, Peter Guttman, Jocelyn Bain Hogg, Nadav Kander, Frederic LaGrange, Yann Layma, Roman Loranc, Gerd Ludwig, Steve McCurry, Eric Meola, Sylvia Plachy, Matthew Jordan Smith, Eddie Soloway, Art Streiber, Joyce Tenneson, Art Wolfe and Qin Yuhai. The photographers included in the exhibition were each awarded the inaugural Power of the Image - George Eastman Medal.
---
Camera Craftsmen of America Annual Meeting - April 2014
John presents Keynote Address
John inducted as first Honorary Member since Wynn Bullock in 1970

In April I was invited to present the Keynote Address at the annual meeting of the Camera Craftsmen of America in beautiful Napa, California. Anne and I had a wonderful few days with the members of this historic organization, which was founded in 1905. I was stunned when I was invited to become an Honorary Member of the CCA during the introduction for my lecture by longtime friend, and talented photographer, Tony Corbell. I was informed that I had been selected for the honor by a unanimous vote of the attending members. Needless to say I gladly, and graciously, accepted the honor. The last time that an Honorary Member had been invited to join the CCA was when Wynn Bullock (whom I studied with, and revere) was inducted in 1970!

---
Imaging USA - Phoenix, Arizona - January 2014
John Receives 2014 American Society of Photographers International Award
John Presents "Inspirations: A Life In Photography" Lecture
I was honored, and humbled, to receive the International Award from the American Society of Photographers during the Professional Photographers of America 2014 Imaging USA conference in 2014. This award is the highest honor that the ASP bestows to non-members. The beautiful crystal trophy reads, "For contributions to professional photography as an art and a science." Needless to say this was an unexpected, and greatly appreciate honor.
A few hours before the black tie ASP awards ceremony I presented a lecture, Inspirations: A Life in Photography to a packed house of over 600 enthusiastic photographers. I was astounded when I received an extended standing ovation from the audience at the conclusion of my talk. The beginning of my lecture was also a special experience. My longtime friend, and former student - the legendary entertainer Kenny Rogers - was receiving the PPA's highest honor, an honorary "Master of Photography" degree during the conference. Kenny was kind enough to fly in a day early to attend my lecture and award ceremony, and he generously offered to introduce me at my lecture. I am certain that this will be the only time in my life that I will have Kenny Rogers as my "opening act!"
Kenny received his prestigious award the following evening at a gala event. He invited me to join him on stage at the Phoenix Symphony Hall for his photographic presentation Places I've Been, Things I've Seen. We had a great time reminiscing about photographic adventures we shared together over the past thirty years. The one-hour on stage flew by for us, and based upon the feedback of photographers in the audience (as well as Anne) it was an enjoyable experience for all.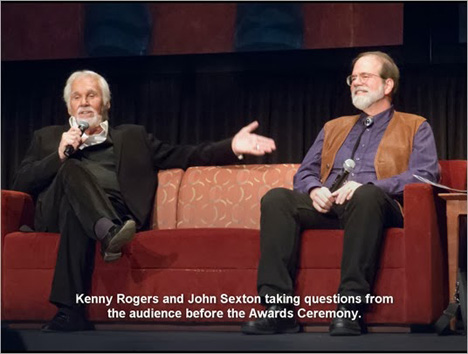 ---
JOHN SEXTON EXHIBITION
REFLECTIONS ON NATURE IN BLACK AND WHITE
SFO MUSEUM
SAN FRANCISCO INTERNATIONAL AIRPORT
DECEMBER 2013 - FEBRUARY 2014

TERMNAL 2
Departures - Level 2 - Pre-Security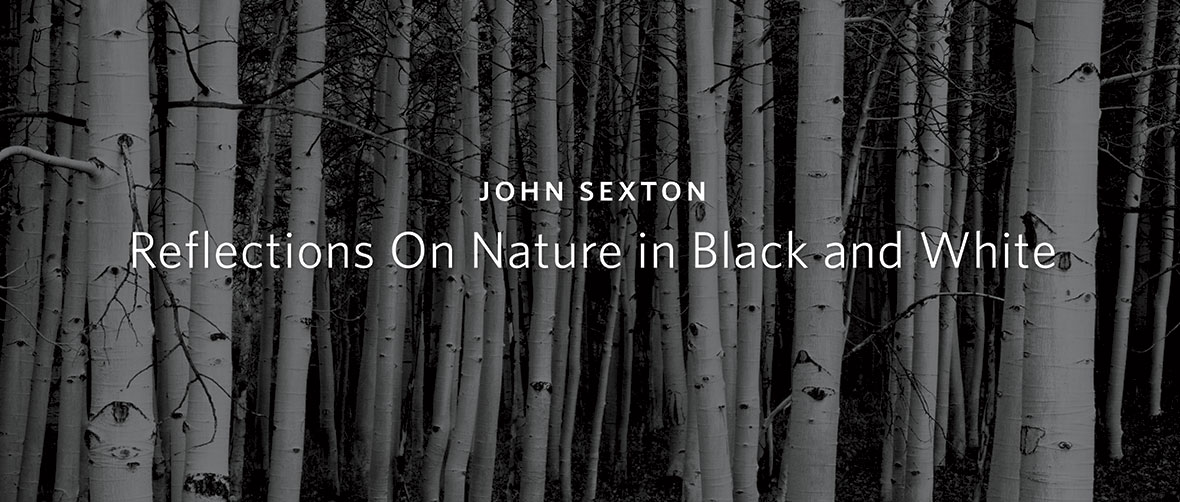 I am pleased to announce an exhibition of my photographs at the SFO Museum at San Francisco International Airport. The exhibition, Reflections On Nature in Black and White, consists of twelve 16x20 silver gelatin prints, and was curated by Ramekon O'Arwisters of the SFO Museum.The prints will be on display through February 28, 2014.
---
ANNOUNCING A NEW BOOK AND COMPANION iOS APP
LOOKING AT ANSEL ADAMS: THE PHOTOGRAPHS AND THE MAN
BY ANDREA G. STILLMAN
FOR MORE INFORMATION ON THE RECENTLY RELEASED BOOK AND APP
CLICK HERE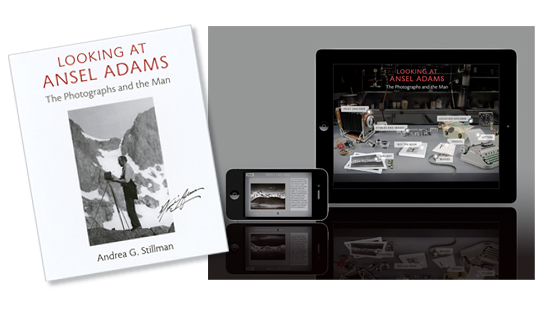 ---
JOHN AND ANNE EXHIBITION
SUN TO MOON GALLERY
DALLAS, TEXAS
Exhibition Dates: September 5 - October 12, 2013
Opening Reception: Saturday, September 7, 2013 - 5:00 to 8:00 pm
All Day Seminar: Friday, September 6, 2013 - Sun to Moon Gallery
Free Public Lecture, Saturday, September 7, 2013 - 1:00 pm - Richland College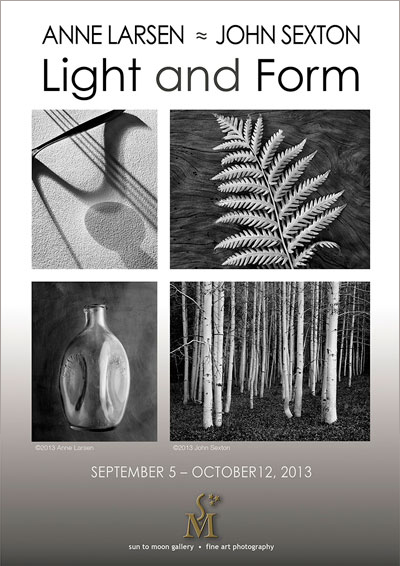 Anne and I are very busy preparing for our upcoming two-person exhibition at the Sun to Moon Gallery in Dallas, Texas. The show will run from September 5 through October 12, 2013. There will be an opening reception on Saturday, September 7 from 5:00 to 8:00 pm
In addition we are planning a one-day seminar on Friday, September 6 from 9:00 am to 5:00 pm. We are hoping we can provide an interesting, and informative day that will provide both information and inspiration to participants.

The seminar fee is $179 - which includes lunch. I have included information that Sun to Moon Gallery recently published on the seminar below, along with their contact information. For additional information about the seminar, please visit the Sun to Moon Gallery web site.
There are only 20 spaces available, and similar events at Sun to Moon Gallery have filled quickly, so if you are interested contact the gallery soon.
I am pleased to announce that Richland College is hosting a public lecture on Saturday, September 7 at 1:00 pm. The event if open to the public, and the admission is free. There will be a poster sale and signing following the lecture. The event will be held in the Fanning Performance Hall, F102, at Richland College. Richland College has hosted some great photography lectures in the past, and I am honored to be a part of their photography lecture series. I will also be spending some time with the Richland photography students, which I am really looking forward to. For further information about the lecture contact photography professor Wayne Loucas loucas@dcccd.edu.
If you are able to attend the lecture, be sure to stick around for the opening reception that evening. Richland College is about a 30 minute drive from the Sun to Moon Gallery. We are looking forward to seeing a bunch of our photography friends from Texas.
---
CREATIVE DIGITAL TRAVEL PHOTOGRAPHY ON THE MONTEREY PENINSULA
CALIFORNIA STATE UNIVERSITY MONTEREY BAY
COURSE DATES: July 15 - 28, 2013
JOHN'S PUBLIC LECTURE: July 16, 2013 - 7:00 pm
JOHN'S CLASSES AS PART OF THE WORKSHOP: July 16 and 17, 2013
http://www.csusummerarts.org/courses2013/VA-Digital_Travel_Photography.shtml
I am pleased to be involved with the 2013 Summer Arts program at nearby California State University Monterey Bay. The faculty, that includes well-known photographers and instructors Rick Sammon and Nevada Wier, along with Michael Jones from West Coast Imaging and Professor Mark Larson, will provide excellent information and inspiration for those attending the session. I will be spending two days with participants, and presenting an evening lecture that is open to the public. Workshop participants will have an opportunity to learn creative seeing and photography techniques, along with insights into photography careers. In addition, participants will develop Photoshop skills for fine-art inkjet printing and print two large fine-art images for the public culmination exhibit.
For more information about the course contact Professor Mark Larson at mark.larson@humboldt.edu or 707-826-5925.
---
PETER SPENCE NIKONIANS NORTHERN EXPOSURE PODCAST INTERVIEW WITH JOHN - JUNE 2013
http://blog.nikonians.org/archives/2013/06/nikonian-northern-exposure-10-2.html
During the 2013 Photo Moncton International photographic conference in New Brunswick, Canada, I joined my colleague Peter Spence for an insightful interview that is engaging for photo enthusiasts whether you are a professional or an amateur. Peter is a professional photographer in Halifax, Canada and he promotes photography with a radio show for Nikon called Northern Exposure. Our interview shares my insights around my career that reveal the choices in equipment, my relationship with Nikon, and the approaches that have been part of my photography over the years. Peter and I explore my inspirations, which have contributed, to my love affair with black and white photography and led to the preferences in equipment that have accompanied my passion in photography.
---
A CONVERSATION WITH JOHN SEXTON AT PHOTO VISION
Thomas Harrop, editor of PhotoVision magazine, conducts an in depth interview with John. John discusses his ongoing excitement and passion for photography and the magic of the black and white print.
---
KODAK PROFESSIONAL LEGENDS ONLINE JOHN SEXTON WEBSITE
Please visit the Kodak Professional/Photo District News Legends Online web site featuring John Sexton. Here you can see many of John's images, and watch him commenting about them with streaming video clips.

Kodak Professional: Legends Online: John Sexton
---
EXHIBITION

ANNE LARSEN AND JOHN SEXTON: LIGHT AND FORM

THE ANSEL ADAMS GALLERY
YOSEMITE VALLEY, CALIFORNIA

APRIL 18 THROUGH MAY 29, 2013