---
JOHN SEXTON eVENT UPDATE
December 23, 2013
JOHN SEXTON EXHIBITION
REFLECTIONS ON NATURE IN BLACK AND WHITE
SFO MUSEUM
SAN FRANCISCO INTERNATIONAL AIRPORT
DECEMBER 2013 - FEBRUARY 2014

TERMNAL 2
Departures - Level 2 - Pre-Security
---
If you are having trouble reading this email, please visit our html version online.
---
You are receiving this email because you have previously expressed an interest in John Sexton's photographs, workshops, or publications. If you would prefer to NOT receive any further email messages, simply send a return email requesting that you be removed from our email list. Thank you.
If you are not currently a subscriber to John's email newsletter and eVent updates, and would like to subscribe, please send an email to subscribe@johnsexton.com
If the links listed below do not function properly in your email program, simply copy the entire link, and paste it into the navigation field in your browser.
---
I am pleased to announce an exhibition of my photographs at the SFO Museum at San Francisco International Airport. The exhibition, Reflections On Nature in Black and White, consists of twelve 16x20 silver gelatin prints, and was curated by Ramekon O'Arwisters of the SFO Museum.The prints will be on display through February 28, 2014.

If you are visiting San Francisco International Airport, and have time, please drop by to see the exhibition. It is located in Terminal 2 on the Departures level. It is before security screening, so if you want to stop in just to see the show, it's not a problem. If, however, you are flying through SFO you would have to leave security to see the prints, and then go through the security screening process again - something I would not recommend doing!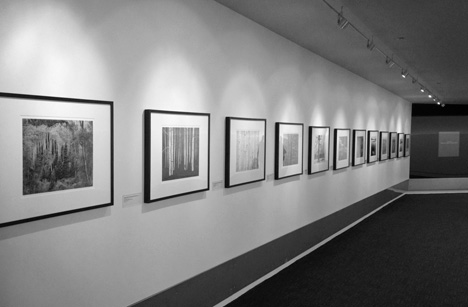 You can learn more about the exhibition, and see a slide show of the images, at the SFO Museum web site, I have included a simple map showing the gallery location below.
The SFO Museum began in 1980 as a collaboration between the San Francisco Airport Commission and the Fine Arts Museums of San Francisco. The program was accredited by the American Alliance of Museums in 1999, becoming the first and only accredited museum to be located in an airport. The SFO Museum features more than twenty galleries throughout the Airport terminals displaying a rotating schedule of art, history, science, and cultural exhibitions. I am honored to have my photographs included in their exhibition program.
Anne and I want to wish all of you a Happy Holiday season, and a wonderful 2014.
-John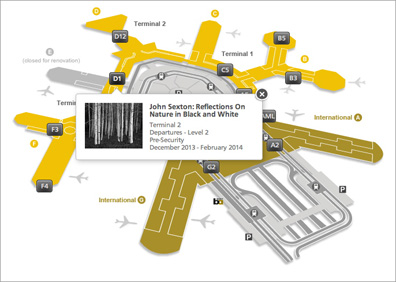 If you are receiving this message in error, please accept our apologies. If you prefer not to receive future email updates from us, just send a quick note with your email address to remove@johnsexton.com and we'll take care of it. We respect your privacy, and do not disclose email information to outside mailers.
Copyright © 2013 John Sexton. All rights reserved.