---
JOHN SEXTON eVENT UPDATE
April 25, 2013


---
Exhibition
Anne Larsen and John Sexton: Light and Form
The Ansel Adams Gallery
Yosemite Valley, California
April 18 through May 29, 2013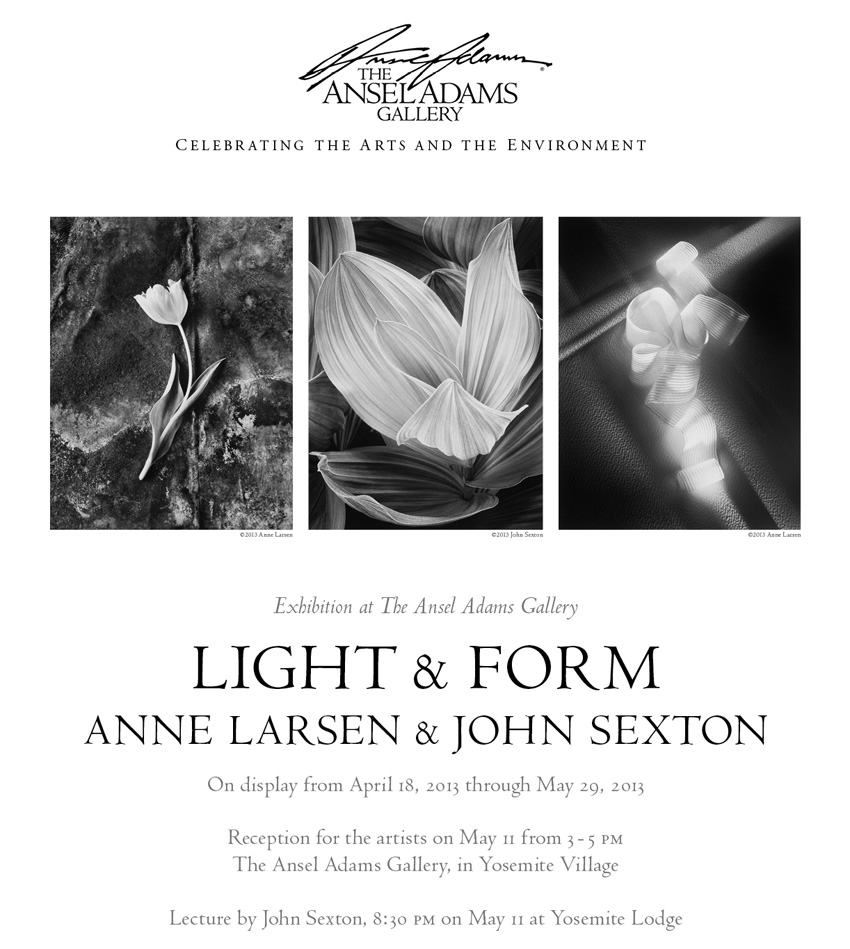 I am thrilled to announce the first joint exhibition that my wife, Anne Larsen, and I are sharing together at The Ansel Adams Gallery in spectacular Yosemite National Park. If you are going to be in Yosemite between now and May 29th please stop by the Gallery to see our black and white silver gelatin photographs.
If, by chance, you will be in Yosemite on Saturday, May 11th we would love to have the chance to share our images with you at our exhibition reception at the Gallery from 3:00 pm to 5:00 pm. In addition, at 8:30 pm that evening I will be presenting a lecture at the outdoor amphitheater at the nearby Yosemite Lodge at the Falls. Both events are free, and open to the public. Anne and I would love to see you, and have the chance to visit with you.

I have been represented by The Ansel Adams Gallery for more than three decades - longer than any other artist other than Ansel himself! Anne is the Gallery's most recent addition. For additional information be sure to visit The Ansel Adams Gallery web site. In addition, plan to stop in at the historic Gallery the next time you visit Yosemite - especially if you will be in Yosemite during our exhibition!
Cheers,
John

---
---
CONTACT US WITH QUESTIONS, OR COMMENTS:
John Sexton
Post Office Box 30
Carmel Valley, California 93924
Voice: 831-659-3130
Fax: 831-659-5509
info@johnsexton.com
www.johnsexton.com
---
THE FINE PRINT
If you are receiving this message in error, please accept our apologies. If you prefer not to receive future email updates from us, just send a quick note with your email address to remove@johnsexton.com and we'll take care of it. We respect your privacy, and do not disclose email information to outside mailers.
Copyright © 2013 John Sexton. All rights reserved.