---
JOHN SEXTON eVENT UPDATE
May 23, 2013


---
Welcome to a special Canadian edition of my eVent Update.
In just ten days, at 7:00 pm on Saturday, June 1, 2013, I will be presenting a keynote address at Photo Moncton International - a photographic conference in Moncton, New Brunswick, Canada. If you are in that part of the world, it sounds like a most interesting and inspiring weekend. You can find more information at the Photo Moncton web site.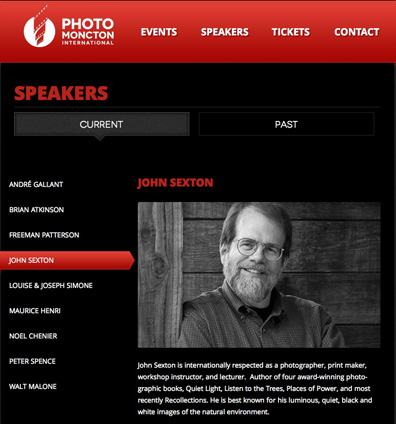 I am honored to be presenting with other fine photographers including Freeman Patterson, Brian Atkinson, Noel Chenier, André Gallant, Walt Malone, Louise & Joseph Simone, Peter Spence, and event organizer Maurice Henri. The conference runs from May 30 to June 2, 2013. The price for an all access pass, which allows unlimited access to all Photo Moncton events, is $150 (CAD). The price to attend only my lecture is $25 (CAD).
Anne and I look forward to seeing some old friends and students, and making many new friends in Moncton.
John
---
---
CONTACT US WITH QUESTIONS, OR COMMENTS:
John Sexton
Post Office Box 30
Carmel Valley, California 93924
Voice: 831-659-3130
Fax: 831-659-5509
info@johnsexton.com
www.johnsexton.com
---
THE FINE PRINT
If you are receiving this message in error, please accept our apologies. If you prefer not to receive future email updates from us, just send a quick note with your email address to remove@johnsexton.com and we'll take care of it. We respect your privacy, and do not disclose email information to outside mailers.
Copyright © 2013 John Sexton. All rights reserved.