---
JOHN SEXTON eVENT UPDATE
May 7, 2013


---
Greetings,
Welcome to a special edition of my eVent Update. It was my intention to send a full version of my periodic eNewsletter, but unfortunately personal and professional time sensitive projects have made that impossible.
I did want to bring a few special events to your attention with this "mini" edition. As you likely already know, Anne and I are sharing our first joint exhibition together at The Ansel Adams Gallery in Yosemite. As part of the events related to our show, the Gallery is offering one image by each of us at a 25% discount. You can see reproductions of the images, along with more information, below. We head to Yosemite in a few days for the exhibition reception this Saturday, May 11, 2013 from 3 to 5 pm. At 8:30 pm that evening I will be presenting an outdoor lecture, Inspired by Yosemite: The Photographs of Ansel Adams and John Sexton, at the nearby Yosemite Lodge Amphitheater. Both events are free, and open to the public. We have already heard from a number of friends, as well as eNewsletter subscribers, that are planning to be at the events. The more the merrier! Our exhibition runs through May 29, 2013.
In just a few weeks, on Saturday, June 1, 2013, I will be presenting a keynote address at Photo Moncton International - a photographic conference in Moncton, New Brunswick, Canada. If you are in that part of the world, it sounds like an interesting weekend. You can find more information at the Photo Moncton International web site.
Much closer to home, I will be presenting a public lecture, Inspirations: A Life In Photography on the Monterey Peninsula, at California State University Monterey Bay on July 16, 2013 at 7 pm. This lecture is part of the SummerArts 2013 program. I am honored to be one of the instructors for a portion of the Digital Travel Photograph on the Monterey Peninsula Workshop, which runs from July 15 -28, 2013.
You should be receiving the next full edition of the eNewsletter in mid June. In that installment I will bring you up to date about our recent activities, and preview some exciting upcoming events including new workshops, exhibitions, lectures, and more.
Anne and I thank you for your interest in our photographic endeavors,
John
---
Special Anne Larsen and John Sexton Print Offer
25% Discount for a Very Limited Time
The Ansel Adams Gallery
Yosemite Valley, California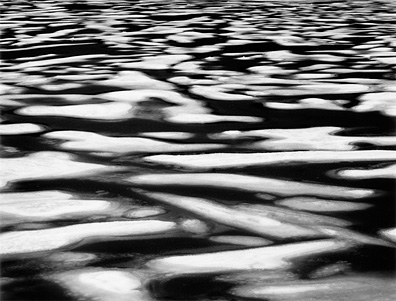 Ice Forms, Lake Irwin, Colorado
©2004 Anne Larsen. All rights reserved.
In conjunction with our current exhibition, Anne Larsen & John Sexton: Light & Form, The Ansel Adams Gallery is offering special discount pricing (25% off) on one of my images, along with a real jewel of a print by Anne.
Details of this special offer, along with additional information about the making of our photographs, can be found at The Ansel Adams Gallery web site. The special pricing is only good for orders placed through the close of business, Sunday, May 19th at 6:00 pm PDT.
Anne's intimate, and exquisite, silver gelatin prints have a retail price of $450. During this special offer the price for the print above is $337.50.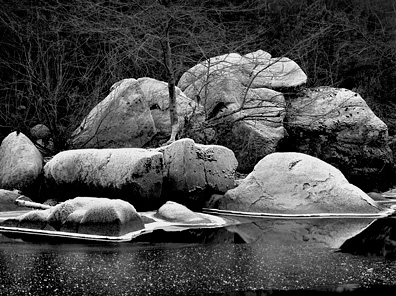 Frost Covered Boulders, Yosemite National Park, California
©1980 John Sexton. All rights reserved.

My 11x14" silver gelatin prints have retail price of $1,000. During this limited time offer, the price is $750. To learn more about this print, or to place an order, visit The Ansel Adams Gallery web site.
I am honored to have been continuously represented by The Ansel Adams Gallery for thirty-three years - longer than any other artist other than Ansel himself! Anne is thrilled to be the most recent addition to The Gallery's small group of distinguished represented artists.
Cheers,
John
---
---
CONTACT US WITH QUESTIONS, OR COMMENTS:
John Sexton
Post Office Box 30
Carmel Valley, California 93924
Voice: 831-659-3130
Fax: 831-659-5509
info@johnsexton.com
www.johnsexton.com
---
THE FINE PRINT
If you are receiving this message in error, please accept our apologies. If you prefer not to receive future email updates from us, just send a quick note with your email address to remove@johnsexton.com and we'll take care of it. We respect your privacy, and do not disclose email information to outside mailers.
Copyright © 2013 John Sexton. All rights reserved.