---
JOHN SEXTON eVENT UPDATE
July 16, 2012


---
Special John Sexton Print Offer
The Ansel Adams Gallery
Yosemite Valley, California
This Week Only
Ends Sunday, July 22, 2012 6:00 PM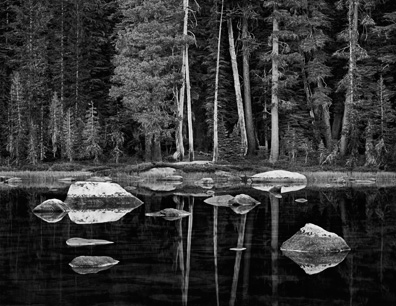 White Boulders and Forest, Dawn
Yosemite National Park, California
©2003 John Sexton. All rights reserved.
I am honored to have my image White Boulders and Forest, Dawn featured as this month's special discounted print offer at The Ansel Adams Gallery in Yosemite. A number of eNewsletter subscribers purchased this print when it was a Special Collector's Edition offering for eNewsletter subscribers in 2004. That being said, I wanted to let new as well as longtime, subscribers know about this special offer through The Ansel Adams Gallery.
The normal retail price for this 11x14" print is $1,000. This week the print may be ordered from the Gallery for $750 - a 25% savings. This special discounted price is good only through Sunday, July 22nd at 6:00 PM PDT.
You can learn more about the image, and get additional details on this special offer, at The Ansel Adams Gallery web site.

I have been represented by The Ansel Adams Gallery for more than three decades - longer than any other artist other than Ansel himself! If you haven't visited the Gallery's website, be sure to check it out. In addition, plan to stop in at the historic Gallery the next time you visit Yosemite.
Cheers,
John
---
---
CONTACT US WITH QUESTIONS, OR COMMENTS:
John Sexton
Post Office Box 30
Carmel Valley, California 93924
Voice: 831-659-3130
Fax: 831-659-5509
info@johnsexton.com
www.johnsexton.com
---
THE FINE PRINT
If you are receiving this message in error, please accept our apologies. If you prefer not to receive future email updates from us, just send a quick note with your email address to remove@johnsexton.com and we'll take care of it. We respect your privacy, and do not disclose email information to outside mailers.
Copyright © 2012 John Sexton. All rights reserved.