---
JOHN SEXTON eVENT UPDATE
August 23, 2013
AN INVITATION TO
ANNE LARSEN and JOHN SEXTON
LIGHT and FORM EXHIBITION OPENING RECEPTION
SUN TO MOON GALLERY, DALLAS, TEXAS
SATURDAY, SEPTEMBER 7, 2013 - 5pm to 8pm

JOHN SEXTON - FREE PUBLIC LECTURE
RICHLAND COLLEGE, DALLAS, TEXAS
SATURDAY, SEPTEMBER 7, 2013 - 1 pm
---
If you are having trouble reading this email, please visit our html version online.
---
You are receiving this email because you have previously expressed an interest in John Sexton's photographs, workshops, or publications. If you would prefer to NOT receive any further email messages, simply send a return email requesting that you be removed from our email list. Thank you.
If you are not currently a subscriber to John's email newsletter and eVent updates, and would like to subscribe, please send an email to subscribe@johnsexton.com
If the links listed below do not function properly in your email program, simply copy the entire link, and paste it into the navigation field in your browser.
---
Anne and I are looking forward to our upcoming exhibition, Light and Form, at Sun to Moon Gallery in Dallas, Texas. Along with the opening reception and book signing at Sun to Moon from 5 pm to 8 pm, I will be presenting a free public lecture at nearby Richland College at 1 pm.The lecture will be followed by a poster signing.
We hope that some of our many photographic friends in the Dallas area will be able to join us at one, or both, of the events.We are also looking forward to making some new friends that day. Both events are free and open to the public.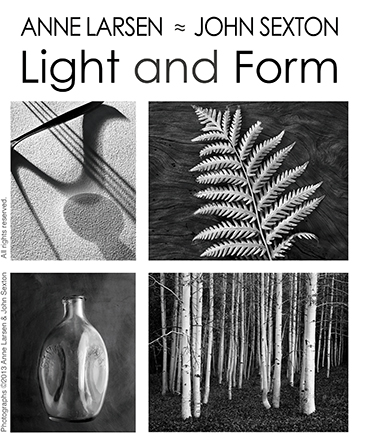 Our exhibition runs from September 5 though October 12, 2013. The reception on Saturday, September 7 will be a great time to see our traditional silver gelatin prints and ask us anything you would like about the images, and enjoy yourself. There will be a limited number copies of my books, Recollections and Places of Power, available for sale that evening. Naturally, I will be happy to sign and inscribe the books.
As some of you know Anne and I will be conducting an all day photographic seminar the day before the reception.It filled almost immediately, and has a sizeable waiting list.
You can find more information about our exhibition by visiting the Sun to Moon Gallery web site, or by calling them at 214-745-1199. Please note the gallery is closed for inventory and installation until September 5, 2013.
I am honored to be presenting a public lecture at nearby Richland College at 1 pm on Saturday, September 7, 2013 - just a few hours prior to our opening reception. Richland College has an ongoing series of photographic lectures, and it is an honored to be a part of that series. Past presenters in this distinguished lecture series include Mary Ellen Mark, Jerry Uelsmann & Maggie Taylor, Ralph Gibson, Joyce Tenneson, Keith Carter, Arno Minkkinen, Jock Sturges, and Mitch Dobrowner. The lecture is free, and open to the public. You can find more details about the event at this Richland College web page.or for additional information, please contact Wayne Loucas at: loucas@dcccd.edu.

I have added some new material to my lecture in preparation for this event. I will be sharing images and stories from my forty year photographic career. In addition, I will be sharing photographs and recollections from my friendship and close working relationship with Ansel Adams. I will do my best to make this an informative and entertaining presentation.
It would be wonderful to have some of you attend both events. It's never fun to present a lecture, or have a reception when you are the only ones in attendance!. We hope to see you in Dallas next month.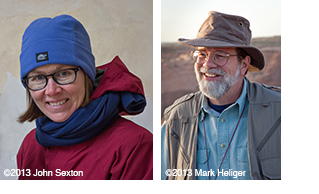 Sun to Moon Gallery
1515 Levee Street
Dallas, TX 75207
Gallery Hours: Thursday - Saturday 11 am to 5 pm, and by appointment.
Note: the gallery is closed for inventory and installation until September 5th.
Phone 214-745-1199
www.suntomoon.com


Richland College
Fannin Performance Hall
Room F-102
12800 Abrams Road
Dallas, TX, 75243
If you are receiving this message in error, please accept our apologies. If you prefer not to receive future email updates from us, just send a quick note with your email address to remove@johnsexton.com and we'll take care of it. We respect your privacy, and do not disclose email information to outside mailers.
Copyright © 2013 John Sexton. All rights reserved.