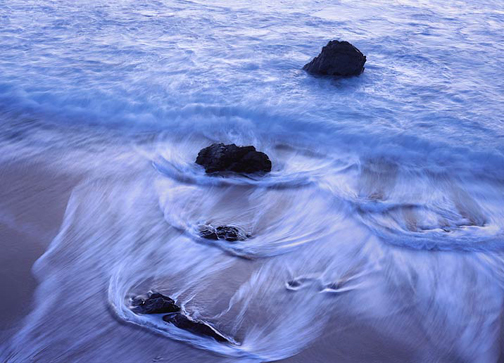 Garrapata Beach, Last Light, California
©2005 Charles Cramer. All rights reserved.
THE LUMINOUS PRINT: A SYNTHESIS OF TRADITIONAL AND DIGITAL
CHARLES CRAMER AND JOHN SEXTON

MARCH 19–24, 2012

Offered for the third consecutive year, this popular workshop brings together two talented and skilled photographers who have specialized in making prints of exceptional quality for many years. Although Sexton works in a traditional black and white darkroom, and Cramer in color with digital techniques, their end goal is the same: to create the finest expressive and luminous prints possible. This workshop will present a synthesis of their ideals and techniques that will be of value to both darkroom and digital proponents.

Photography is a language of light. This unique workshop will help participants improve their fluency in this magical language. The workshop will emphasize not just how to do things, but more importantly, why, and is open to photographers working in all formats, recording their images on film or digitally. There will be indoor instruction and demonstration sessions, along with constructive and supportive portfolio reviews by both instructors, as well as an opportunity to put concepts into practice during directed field sessions.

There will be demonstrations in both traditional black and white printmaking, and recommended digital processing techniques. Charlie will discuss making digital negatives to combine the best of both approaches, as well as properly preparing digital files for reproduction and display on the web. John and Charlie will talk about the importance of proper handling and storage of film, digital, and print files. Talented photographer Anne Larsen will be assisting John and Charlie.

The workshop is based in John Sexton's studio in Carmel Valley and will begin at 7:00 p.m. on Monday evening, and conclude late on Saturday night. The workshop tuition includes daily refreshment breaks and three meals during the workshop, along with workshop handouts from both Charlie and John. The workshop will be limited to a maximum of twelve participants, and is sure to fill fast. We are sorry, but no guests are allowed.
A special highlight of this workshop will be a visit to Ansel Adams's home, thanks to the generosity of Ansel's son and daughter-in-law, Michael and Jeanne Adams. We will have the opportunity to see Ansel's darkroom, which today is almost the same as it was when Ansel made his last prints there in early 1984. We will also see a number of Ansel's original prints in an intimate setting. Michael Adams, Ansel's "original assistant," will share stories and anecdotes about his father. I have known Michael since 1973 and every time I am around him, I hear a new and interesting story about Ansel. We had the opportunity to make a similar visit on the initial offering of The Luminous Print workshop two years ago.

Fee: $1,250 (Includes all park entrance and permit fees)
Read unsolicited comments from past workshop participants.
See the full workshop schedule
---

Back to: JohnSexton.com

©2012 John Sexton. All rights reserved
Site last updated February 27, 2012