LIMITED EDITION PRINT BY JOHN AVAILABLE ONLINE AT DISCOUNTED INTRODUCTORY PRICE
I am thrilled to introduce a new Limited Edition print offer as part of my Special Collector's Edition print series. As many of you know, most of my prints are issued as non-numbered "open editions," but over the years I have offered a small number of Limited Edition prints. It has been two years since my last Limited Edition print offer, so the timing seems right. I am pleased to say that nearly all of these previous Limited Edition prints sold out very quickly which, as you might imagine, has been very flattering. My new Limited Edition print of Black Oaks, Snowstorm, Yosemite Valley, California is now available for order online.
This print is offered in a Limited Edition of 100 signed and numbered silver gelatin prints, plus 10 Artist's Proofs. When the edition is sold out no further prints will be made for sale in any size. Though my open edition 11x14" prints have a retail price in galleries of $1,000, the introductory price of this Limited Edition print is $700. After December 31, 2014 the price will increase to $1,500.
You can place a secure online order for this print at the Ventana Editions web store.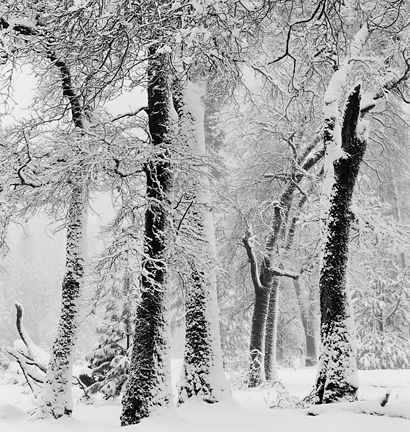 Black Oaks, Snowstorm, Yosemite Valley, California
©2011 John Sexton. All rights reserved.
Learn more about the print Black Oaks, Snowstorm, Yosemite Valley, California
---
WELL-KNOWN ORIGINAL PRINT AVAILABLE IN 16X20 SIZE
AT SPECIAL DISCOUNT PRICE ONLINE
This image below, Aspens, Dusk, Conway Summit, has always had a special place in my heart. It was made in the fall of 1978. Not too long before making this image I had made my first long exposure after sunset, but photographing until it was completely dark was not yet part of my normal photographic routine. On this particular evening, while photographing the aspen grove, I noticed how the luminosity of the white aspen trunks seemed to intensify as the ambient light level diminished. During the making of this photograph I made a conscious decision to continue to photograph as long as there was enough light to make a technically successful exposure. This is a working procedure that I still employ today - which means Anne and I often have late dinners! The exposure on the 4x5" Kodak Tri-X Professional film (currently celebrating it's 60th anniversary!) was 2 minutes at f/22.
I currently have this negative in the enlarger, and am working to fulfill some orders in 16x20" print size. The other day I decided that as much as I still have great fondness for this negative, it is time to retire it - so this will be the last time I will be printing Aspens, Dusk, Conway Summit as a silver gelatin print in any size.
Up to this point, I have not offered any images in 16x20" print size as a Special Collector's Edition for my eNewsletter readers. So this is a rare opportunity to purchase one of my best-known images, Aspens, Dusk, Conway Summit, in this larger size from the final silver gelatin printing session.
This print, shown below, is now available for order online. This 16x20" print is being offered for a limited time at the very special price of $1,500. After December 31, 2014 the price will increase to $3,000. The print is only being made in 16x20" size, and I am sorry to say that we do not have any 11x14" prints for sale. Aspens, Dusk, Conway Summit was offered in my August 2009 eNewsletter in 11x14" print size.
To place a secure online order for this print, follow this link: http://ventanaeditions.stores.yahoo.net/trblsnlied.html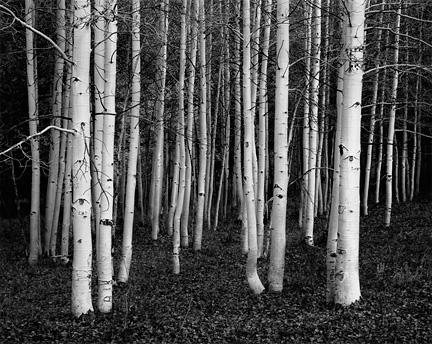 ---
WE ARE PLEASED TO ANNOUNCE THE 2015-2016 JOHN SEXTON PHOTOGRAPHY WORKSHOPS

2015 marks the 25th year of the John Sexton Photography Workshops program. We are pleased to be offering a selection of excellent workshops for 2015 and early 2016.
Learn more about John's workshops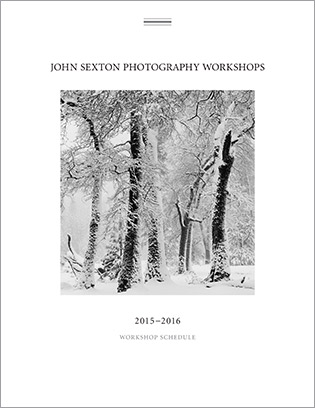 John Sexton Photography Workshops selected as one of the "Twelve Best Photography Workshops" by American Photo magazin.
"As John Sexton Photography Workshops celebrates a silver anniversary, its reputation as the pinnacle of black-and-white printing education only continues to grow. Sexton and his small but dedicated team have helped over 1,200 students on their quest to make better black-and-white photography," –American Photo magazine
---
Watch John Sexton, along with his longtime friend Kim Weston, discuss their passion for the black- and- white print in these brand new videos produced by Epson.
Epson Web Site Celebrates the Black-and-White Print and it even includes videos of me, and my longtime friend Kim Weston. Epson launched this web site today. I am very pleased with the way my
video interview turned out. If you have a few moments, you may want to check it out, along with the interview with Kim Weston. There are three additional segments coming. In addition there are tutorials on black and white digital techniques by pals Dan Steinhardt and Tony Corbell.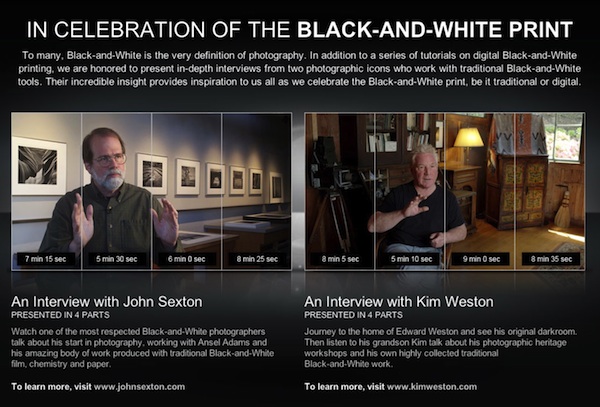 ---
LEXUS - ANSEL ADAMS: CHASING LIGHT VIDEO FEATURING JOHN SEXTON
NOMINATED AS FINALIST IN DIGIDAY VIDEO AWARDS
Exactly one year ago Anne and I were in Lone Pine working with a young and energetic production crew from The Enthusiasts Network (TEN), on a video for Lexus. The production, undertaken with the cooperation of The Ansel Adams Publishing Rights Trust, culminated in a 13-minute video: Chasing Light – Inspired by Ansel Adams.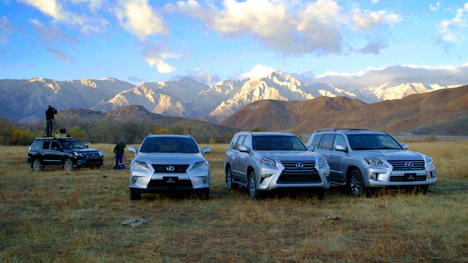 Lexus Vehicles at Ansel Adams' Winter Sunrise Location
Lone Pine, California
Well, the video has just been nominated as a finalist in the prestigious Digiday Video Awards in the "Best Video Design - Consumer" category. I was pleased to be a part of the production, and Anne and I thought the final result was excellent. We are thrilled for the hard working production team at TEN, and have many fond memories from the intense week we spent with them visiting photographic locations around California. Our days regularly began at 4:00 am (ugh!!!) and on occasion we were still rigging or driving after midnight! It was hard work, but we had fun!
You can read in greater detail about the project in last year's eNewsletter here.
If you haven't already seen it, I hope you will watch the video here.
By the way... those Lexus SUV's are very comfortable! It was the fist time I had experienced air-conditioned seats in a vehicle (aka bun chillers!). I hope you enjoy the video, and I am sure you will learn a thing or two about Ansel that you might not already know through the insightful comments of William Turnage, the Managing Trustee of the Ansel Adams Publishing Rights Trust.